Onuma Park
大沼公園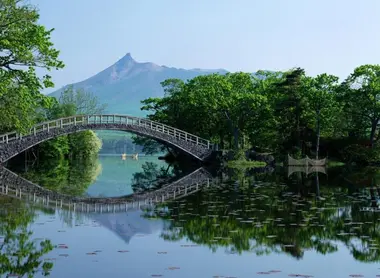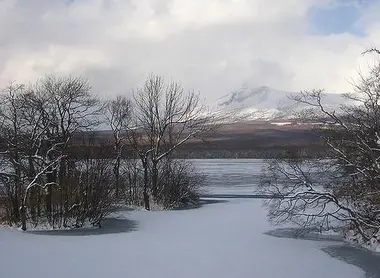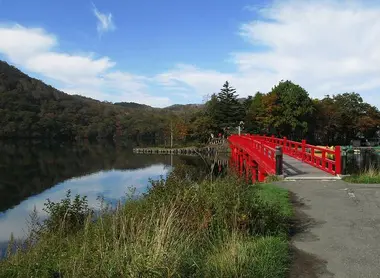 Hokkaido's natural beauty
Hokkaido, Japan's northernmost island, is known for its wide open spaces and the beauty of its landscapes. Onuma Park, in the southeast of the island, is a good example.
Onuma Park, located just 20km north of the town of Hakodate in the Oshima Peninsula, was declared a "quasi-national park" in 1958, and covers an area of ​​over 90 km². It is easily visited in a day.
The three largest lakes in the park, Onuma, Konuma and Junsainuma are the result of an eruption of the volcano, Mount Komagatake.
Year-round scenery
Each season, the landscape is different and the activities on offer vary accordingly.
From spring to autumn, hiking trails allow you to discover the banks and islands of the lakes, sometimes connected by bridges, which add to the picturesque scenery.
The stretch between Lake Onuma ("large lake", 24km in circumference) and Konuma ("little lake") is reputed to be the prettiest and can be explored on foot.
Climbing Mount Komagatake (1,131m above sea level), an active volcano, is forbidden.
There are many bike paths, and you can also go horse riding. The lake also offers many water activities: fishing, canoeing or boat trips.
Winter sports enthusiasts will be thrilled with snowmobiling, sledding, skiing and fishing for wakasagi (a species of trout), through holes in the icy lakes.
A little comfort doesn't hurt
Around the lakes, there are campsites and hotels, as well as restaurants and souvenir shops, so you can enjoy nature in modern comfort. Gourmets can taste the "Hakodate Onuma" beef, raised in the vast meadows of Hokkaido.
The week of April 29 to May 5, during the cherry blossom season, and on weekends and holidays between July 18 and August 8, a "Hakodate Onuma" steam locomotive allows the nostalgic to travel to the park in style, and take a ride on this old-fashioned train.
---
Address, timetable & access
All the themes of the city