Kirishima Guide
Read a guide to Kirishima including information on hotel accommodation, temples & shrines, onsens, travel information & local transport, festivals, images, hiking and onsens.
Kirishima 霧島
by Stephanie Plewes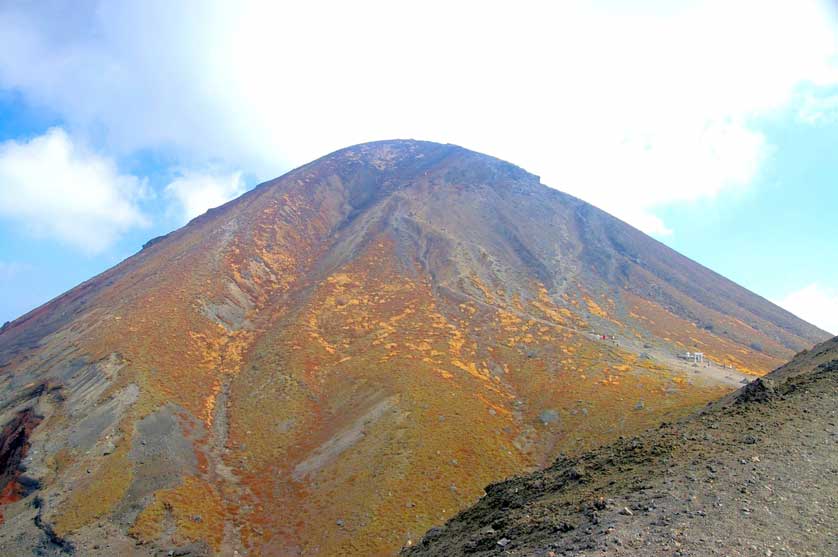 Kirishima Mountain Peak Takachiho-no-mine
location: north-eastern part of Kagoshima Prefecture in southern Kyushu
Kirishima population: about 127,000 in the national park area
approximately 1-2 hours drive from Kagoshima city, 45 minute drive from Kagoshima Airport
area is covered by the Kirishima-Yaku National Park
Kirishima known for its hot springs (onsen) and forested mountain walks
23 mountain peaks in the area
climb Karakuni-dake (1700 meters) and Takachiho-no-mine (1574 meters)
numerous volcanic crater lakes
a region linked with ancient legend and myth
stay in Ebino Kogen to the north or Kirishima Jingu to the south
If you're going to Kirishima National Park...
Kirishima National Park is a beautiful area in Kagoshima Prefecture and a great place to spend one or two relaxing days.
The Kirishima volcanic chain provides a scenic hiking area, where it is possible to view crater lakes and a wide array of flora.
The town's volcanic activity also makes it an opportune place to enjoy a variety of indoor and outdoor onsens.
An eerie open-air art museum, a variety of temples and shrines, and the famous soba noodles are the area's other main attractions.
Kirishima Sightseeing
Kirishima Town Tourist Information Center
The Kirishima Town Tourist Information Center (Takachiho-gawara Visitors Center) has sightseeing, driving, and climbing maps available in English. Takachiho-gawara Visitors Center also provides further information about Kirishima's wildlife and culture.Takachiho-gawara Visitors Center at the foot of Mt. Takachiho.Tel: 0995 57 2505Open 9 am-5 pm
Hiking/Volcanoes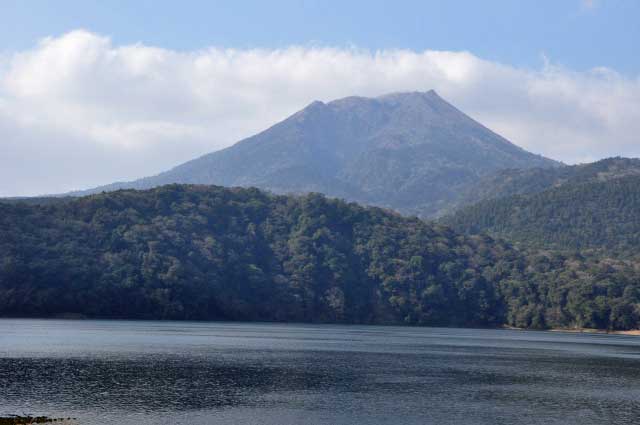 Mt. Takachiho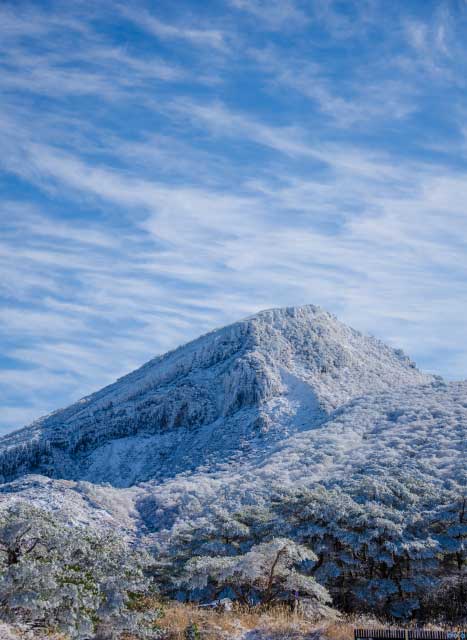 Mt. Karakuni (Karakunidake (韓国岳) rises to 1,700 meters, Kirishima
There are a variety of hikes that you can do, but one of the best places to hike in Kirishima is Mt. Takachiho, 1574m, because of its magnificent scenery and views - Sakurajima is visible on a clear day. In order to reach the top of Takachiho, you must climb to the top of Mt. Ochahi and hike around the crater lake, which is 2-3 meters deep and has a stunning color.
It is not advised to make this hike on windy days, as it can be quite dangerous. Kirishima has ten crater lakes, but this is the only one that you are able to get close to and it is definitely worthwhile. The summit is a 3-hour hike from Kirishima-jingu or half that from Takachiho-gawara, 7 km up the road.
Kirishima Open Air Museum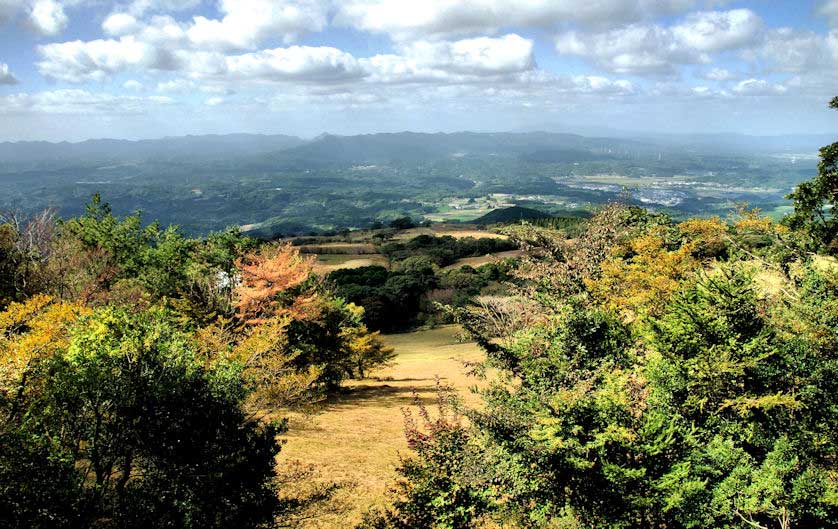 The view down over the countryside from inside Dani Karavans' artwork "In the Beginning" at Kirishima Open Air Museum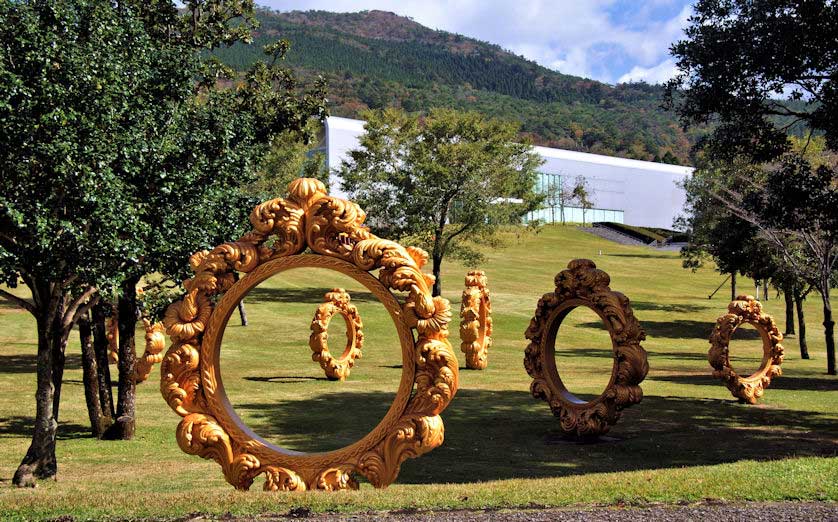 "You are the Art" by Korean artist Choi Jengwha, a series of ornate frames to use for photos of your group or the scenery at the Kirishima Open Air Museum
The Kirishima Open Air Museum is a large-scale, open-air museum, which utilizes landscapes and forest space in its outdoor sculpture exhibitions. It is a modern art museum that displays all original pieces from Japanese and foreign artists who visited the space and created works with cultural and/or historical significance.
As the sculptures sometimes blend into the scenes of the forest, it can be an eerie experience, but it is a very intriguing and unique museum, definitely not one to be missed. The museum is closed on Mondays (when there is a holiday on Monday it is closed on the Tuesday), but otherwise open daily from 9 am - 5 pm. Admission is 310 yen/adults, 200 yen/students, 150 yen/6-15 year olds.
Shinwa-no-Sato Park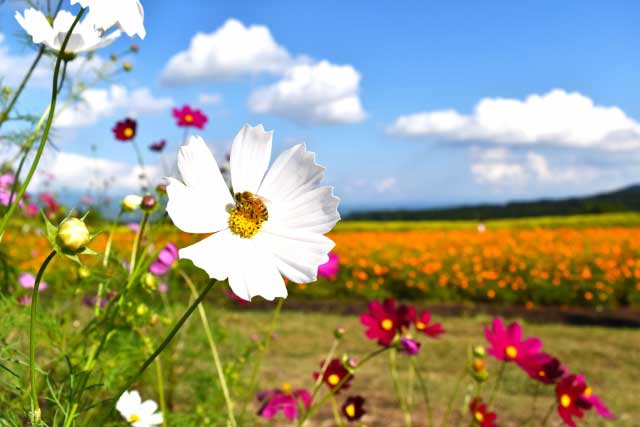 This park is a great place to go with a family, as it has a wide array of activities for people of all ages. You can partake in grass skiing, which costs 1000 yen/hour for adults and 6000 yen/hour for students, or take a lift to the top of the hill and take a ride down the massive slides. The Super Slider costs 400 yen/slide (including lift fee) and the Fancy Slider (40m) is also 400 yen/slide. There is also an 18-hole miniature golf course (800 yen/ a round) and a Children's Play Area.
Shrines
Kirishima-jingu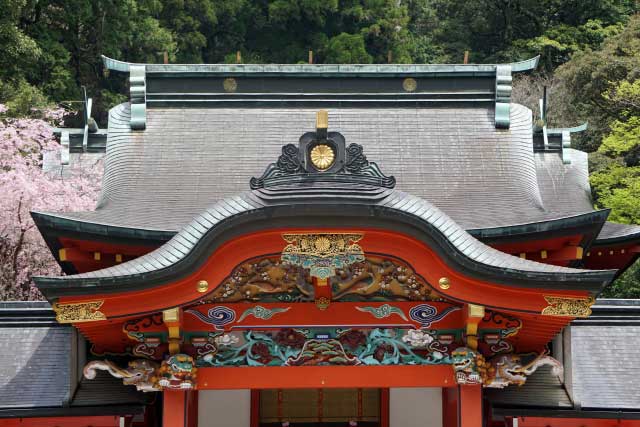 Kirishima Jingu
There are plenty of nice shrines to see in Kirishima, but the most beautiful and most significant is Kirishima-jingu. In 1989, this shrine was deemed a cultural asset to the nation. Not only is it a large, beautiful shrine, but it also has a rich history.
According to ancient texts, the first shrine was built in 1460, between Mt. Takachiho and Mt. Ohara, but was destroyed by a volcanic eruption. When it was rebuilt many years later, it was wiped out in the first year by a second eruption.
For 250 years it existed peacefully in another location, but in 1484 Lord Shimazutadamasa ordered it rebuilt in its current location. It was once again a target of volcanic eruption, but was rebuilt once again in 1715 and has remained there ever since.
Tel: 0995 57 0001Bus from JR Kirishima-jingu (15 minutes)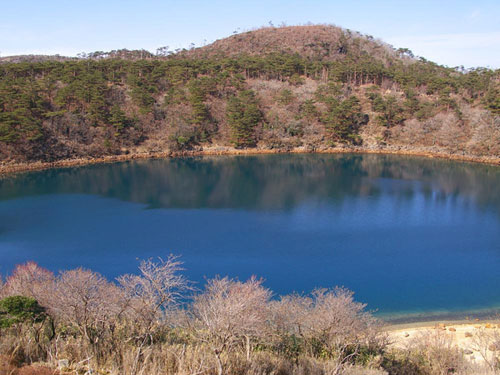 Fudo-ike (Lake Fudo), Miyazaki Prefecture, Kyushu
Senri-ga-taki Waterfall, Kirishima, Kyushu
Ryodo River 両度川
The Ryodo (i.e. "Twice") River is located about 300m west of Kirishima Jingu, and supposedly every year in June, despite flowing constantly, the river dries up after ten days. A few days later, it is said to be full again. Whether the legend is true or not, it is a beautiful sight.
Kerinji Graveyard
500m west of Kirishima Jingu, lies the Kerinji Graveyard. Before the Meiji Period law of 1868 that amalgamated Buddhist temples and Shinto shrines, forcing them to share the graveyard, this was used for the graves of the high priests of Keriji.
The ancient tombstones have an original style, and graves created between 1593 and 1827 are both unnamed and undated.
Kirishima Festivals
Kirishima Nanohana Flower Walk
Taking place on the last Saturday of March, you are welcome to join in this exploration of Kirishima's beautiful flora.
Minami Kyushu Kagura Festival
On the last Saturday of August stalls with food and crafts are set up and you can watch traditional myths reenacted with kagura music and dance.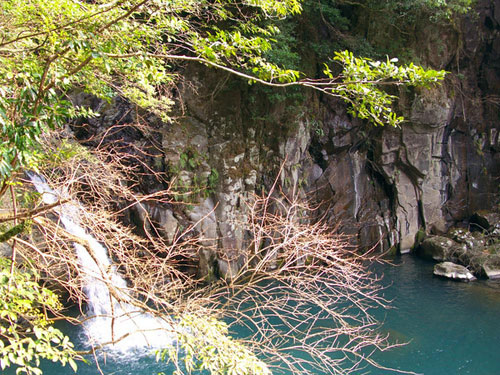 Senri-ga-taki Waterfall, Kirishima, Kyushu
Fire of the Gods Festival
This festival takes place on November 11th annually at Takachiho-gawara Furumiyaato. The festival commemorates the descent of the god, Niniginomikoto. During this festival, Shinto priests in white robes begin to pray when night falls. With taiko drums playing in the background, they set fire to holy firewood in order to help the gods find their way back to earth.
Harvest Thanksgiving Festival
This festival takes place on November 23rd annually at Kirishima Jingu and Midori-no-mura, to give thanks to the gods for a fruitful harvest. There is an open-market and activities include a children's parade, sumo and yabusame archery.
Getting to Kirishima-Yaku National Park
The main train stations for access to the Kirishima-Yaku National Park are JR Kirishima-jingu and Kobayashi stations or bus from Kagoshima or Miyazaki to Ebino-kogen. Ebino-kogen has an information center (Tel: 0984 35 1111), ryokan, minshuku and hotel accommodation and a campsite.
In Kirishima-jingu there are ryokan, minshuku and hotels, a youth hostel (Tel/Fax: 0995 57 1188) and campsite (Tel: 0995 57 0996).
Also by Stephanie Plewes
Guide To Yakushima Guide To Sakurajima Hina Matsuri
Book Hotel Accommodation in Kirishima Here
All the themes of the city