Gujo Hachiman
Gujo Hachiman, Gifu 郡上八幡 岐阜県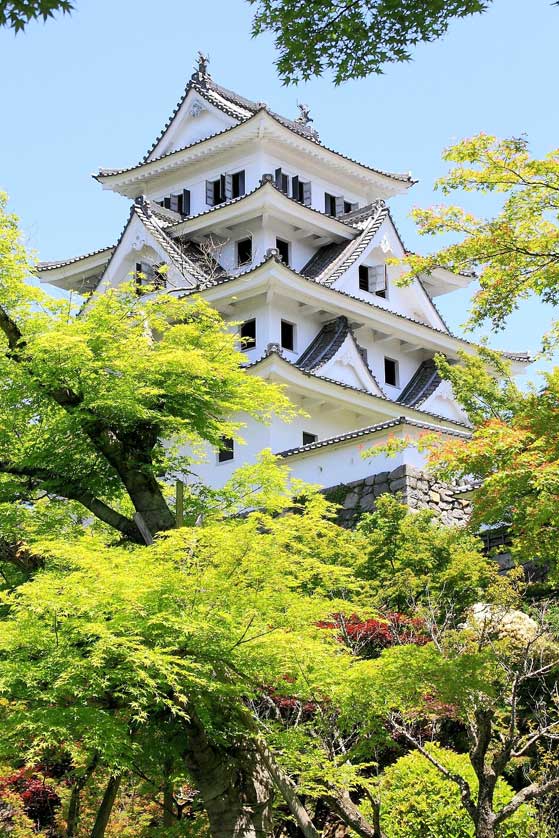 Gujo Hachiman is a small historic castle town located in the mountains of Gifu Prefecture to the north of Gifu city and Nagoya.
Located on an old trade route north to the Japan Sea, Gujo Hachiman sits in a valley where the Yoshida, Kodara and Nagara Rivers all converge to form a natural moat around the town. Gujo Hachiman's preserved wooden and plaster buildings, including traditional-style inns (or, ryokan) make for a taste of old Japan.
Gujo Hachiman Attractions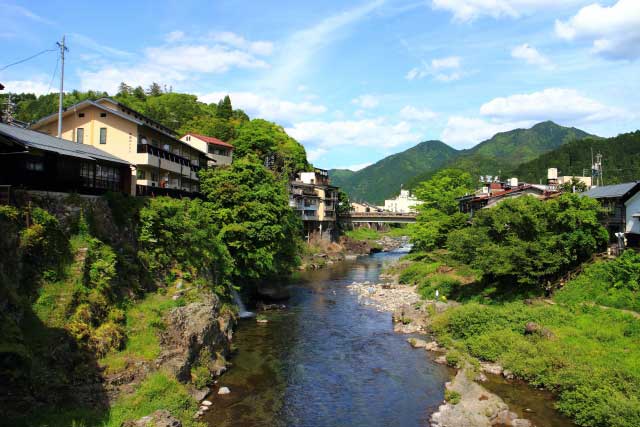 Gujo's Hachiman Castle, which originally dates from the mid sixteenth century, was pulled down in the Meiji Era (1868-1912) and rebuilt on a grander scale in 1933. There are fine views looking down on the town from the castle, which is a 20-30 minute hike uphill from the center of Gujo Hachiman from the main bridge.
The prevalence of Gujo's fast-running, clean water streams has seen the town's citizens build a system of channels and stone or wooden basins (mizu fune) to provide drinking water and places to wash vegetables and even laundry. Nowadays these pretty water channels are stocked with an abundance of koi carp.
The Sogi Sui water spring and shrine, named after a fifteenth century Japanese poet, is a tourist draw and a place to sample Gujo's fresh mineral water.
The town's deep rivers are noted for their supply of Japanese trout (ayu) and provide a safe place for children to make their traditional rite of passage jumps from Gujo's main bridges. In winter, the waters are also used by local indigo dyers to fix their fabric dyes.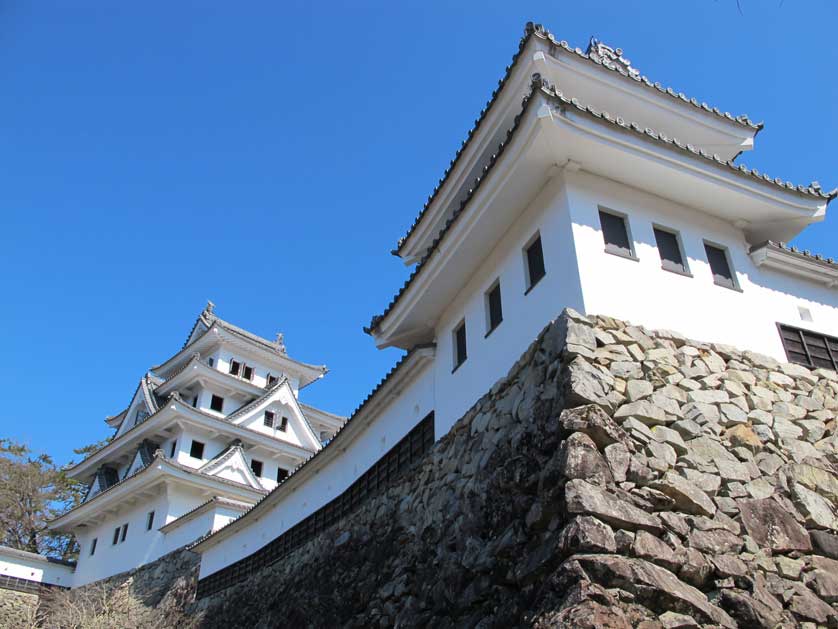 Gujo Hachiman Castle, Gifu Prefecture, Central Japan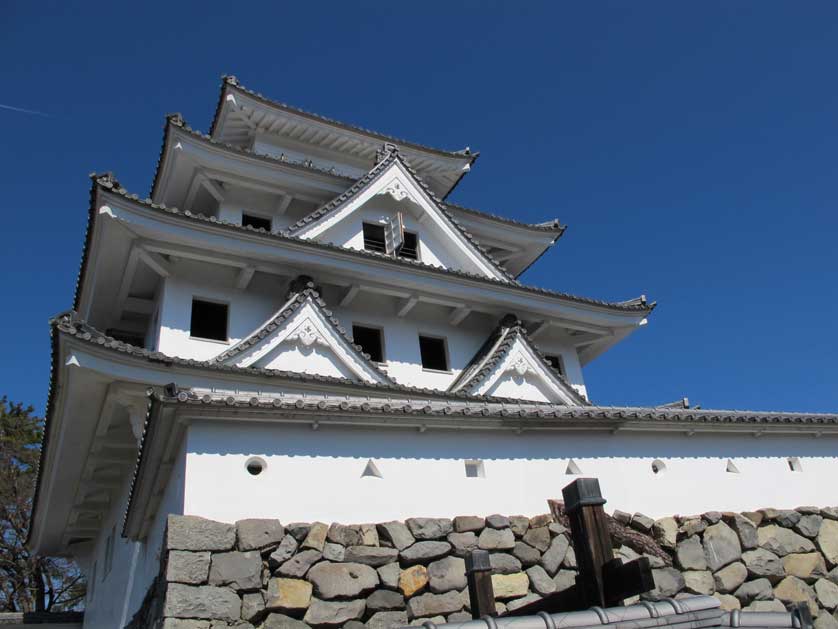 Gujo Hachiman Castle
Gujo's streets are lined with wood and plaster Edo Period-style buildings with the sound of running water everywhere in evidence. British writer Alan Booth's description of the town in his 1995 book Looking For The Lost still rings true: "The lanes...are narrow, steeply walled, and end in dimly lanterned eating places or in small stone bridges that arch over splashing streams. It was like an Edo-era stage set."
There are a number of temples and shrines worth visiting in Gujo. Jionzenji Temple has a noted Zen Garden famed for its autumn leaves. The garden was rebuilt following a landslide in the 1950's and, though classified as a "strolling garden", is viewed from the temple itself. The typically Zen garden includes a pond and a waterfall. Anyoji is the largest wooden temple in Gifu Prefecture and has an interesting Treasure House with Buddhist paintings, calligraphy scrolls and ritual objects on display.
Gujo Odori Festival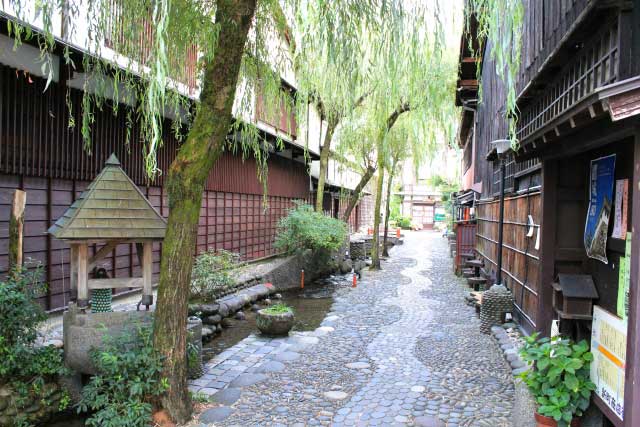 Gujo Hachiman is now best known for its annual Gujo Odori, which lasts for 31 festive nights from mid-July to mid-September and includes four nights of all-night street dancing involving thousands of yukata-clad dancers during the Obon Festival in mid-August.
The Gujo Odori dance festival dates from the Edo Period (1603-1868), when the feudal lord Endo Yoshitaka supposedly encouraged the dances to bring his subjects together. There are ten traditional dances and visitors can take lessons in season at the Tourist Office. Accommodation fills up fast for the Gujo Odori period, so book early or stay in nearby Nagoya or Gifu.
Gujo also hosts a dai kagura lion dance festival in Spring and a amazake (sweet sake) festival to mark the end of winter.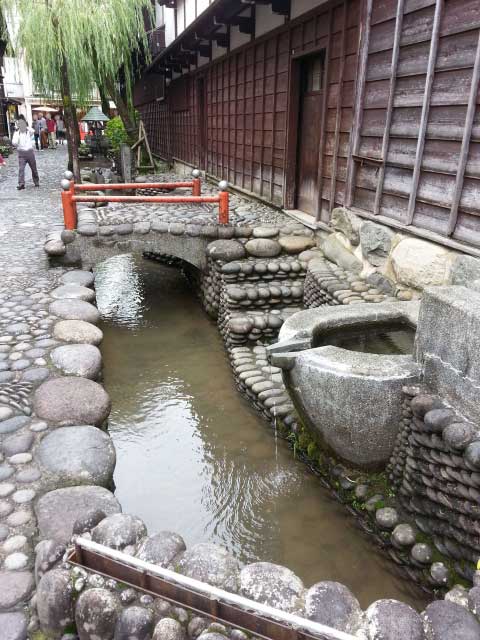 Gujo has several small museums of interest: the Gujo Hachiman Hakurankan/City Museum explains the town's history and the Odori dance festival, the Saito Museum is a tea ceremony museum, the Omodakaya Museum exhibits local folk crafts and the Yudokan Art Gallery features origami by local artist Masao Mizuno.
The Mingei Museum (Folk Art Museum) has a private collection of samurai arms and armor. The Rakugeikan Medical Museum was formerly Gujo's hospital and opened as such in 1904. Now it is a museum with displays of medical instruments.
It is also possible to visit a couple of local craft workshops on a limited basis: the Watababe Indigo Dyers and Shima Bamboo Crafts.
Gujo Hachiman also lays claim to inventing plastic food replicas and to producing 80% of Japan's total food replica output! Sample Village Iwasaki and Sample Kobo are both fun places to visit to try your hand at making food replicas under the watchful eyes of a professional. You can also observe food replicas being made at Sample Village Iwasaki.
Jionzenji Temple is a 16th century temple with a famously beautiful Zen garden, located on the south side of the Yoshida River, not far from Shinbashi Bridge.
There are a number of interesting cave complexes near Gujo which can be explored, including the 800m long Otaki Shonyudo - with a 30 meter high waterfall - the tallest underground waterfall in Japan. The entrance to the cave is reached by funicular.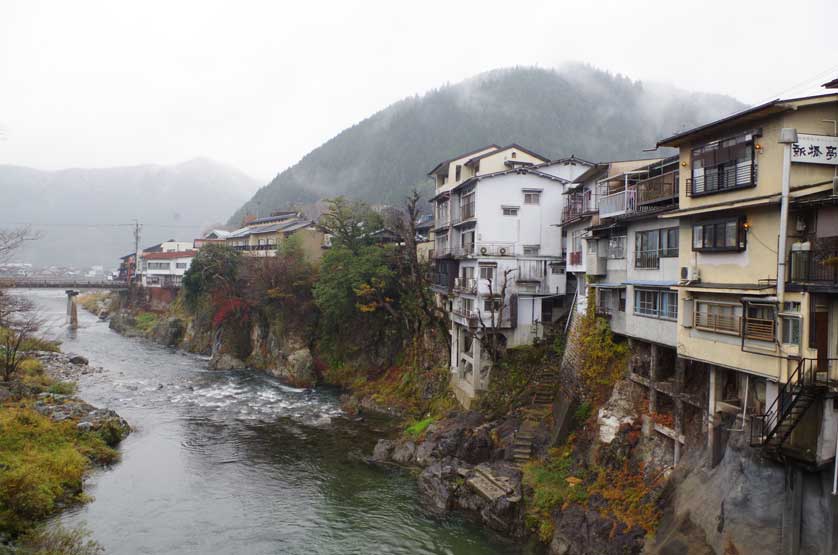 Gujo Hachiman Town, Gifu Prefecture, Central Japan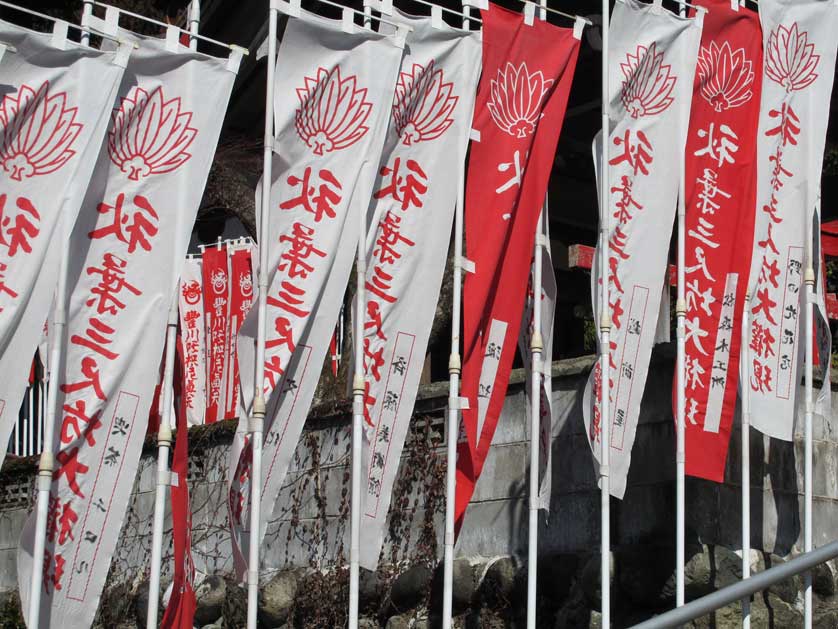 Gujo Hachiman Temple Flags, Gifu Prefecture, Central Japan
Tourist Office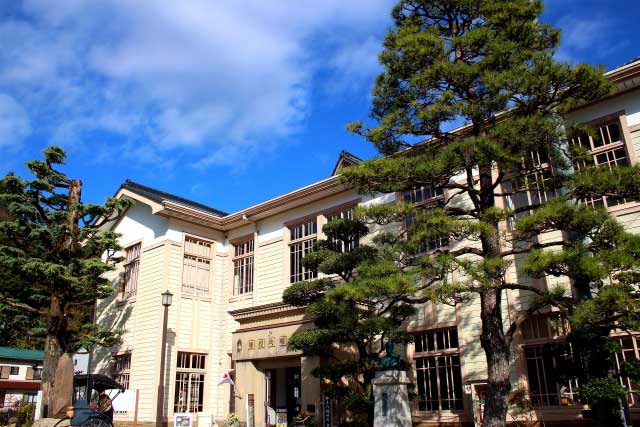 Gujo Hachiman Tourist Office
Hachiman-cho
Shimatani 520-1
Gujo Hachiman 501-4222
Tel: 0575 67 0002
Hours: 9 am-5 pm
Accommodation in Gujo
It is possible to stay in a variety of ryokan or minshuku in Gujo Hachiman and details can be obtained from the tourist office in town or in Nagoya. Some recommended places to stay in Gujo Hachiman are: Hotel Sekisuien, Miharaya Ryokan, the 3-star hotel Hotel Gujo Hachiman, (some way south of town) and Ryokan Manshuya, with a choice of either a Japanese-style or Western-style rooms.
Access - Getting to Gujo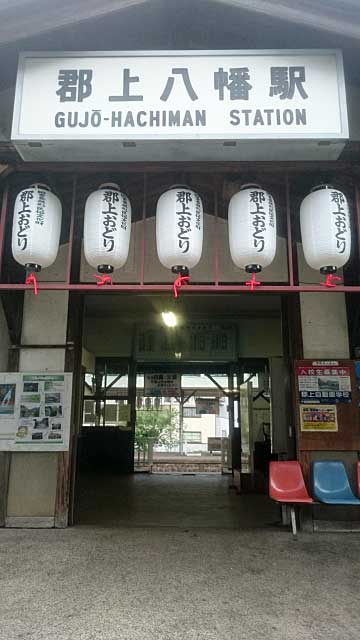 There are express Meitetsu buses from Gifu Meitetsu Station via Gifu JR Station and Mino to Jokamachi Plaza and Gujo Station. Buses leave Gifu Meitetsu Station at 7.38 am, 8.52 am, 10.22 am, 11.52 pm, 1.32pm, 3.02 pm, 4.42 pm, 6.02 pm, 7.07 pm, 8.07 pm, and 9.07 pm. Journey time to Jokamachi Plaza is 1 hour and 10 minutes.
From Nagoya Station there is 1 bus a day which leaves at 9am from Meitetsu Bus Station which takes 1 hour, 40 minutes (depending on traffic) and arrives at Jokamachi Plaza in Gujo Hachiman at 10.40 am. This is the bus for Shirakawa-go, where it arrives at 11.53 am. The 11 am bus from Meitetsu Bus Station to Shirakawa-go does not stop at Jokamachi Plaza. The fare from Nagoya to Gujo Hachiman is 2,060 yen (2018). The return bus from Jokamachi Plaza leaves at 4.41 pm and arrives in Nagoya at 6.01 pm (depending on traffic).
There are more frequent highway buses from Nagoya to Takayama that stop at Gujo I.C. (Interchange) on the highway, which is some way from the center of Gujo. These leave Nagoya at 7.30 am, 8.30 am, 9.30 am, 10.30 am, 1 pm, 2.30 pm, 4 pm, 5.30 pm and 8.30 pm. These buses take approximately 90 minutes. A taxi would be convenient for reaching the center of Gujo.
Alternatively take the more scenic but slower train route from Nagoya Station (2 hours and 45 minutes). This involves catching a JR Takayama Line train to Mino Ota via Gifu, then changing to the Nagaragawa Railway for the journey to Gujo Hachiman Station.
Gujo Hachiman is easily explored on foot or there is bicycle hire at the Tourist Office (Tel: 0575 67 0002)
There are Kintetsu West Liner Highway buses from Osaka from Osaka JR Station, Osaka City Air Terminal (OCAT) or Universal Studios. The journey takes 3 hours and 30 minutes and the bus stops outside town - take a taxi to the center. These buses go to Gujo via Kyoto Station where they stop at the Hachijyo exit (South Exit). Buses leave Osaka OCAT at 7.35 am, 8.50 am and 4 pm arriving at Kyoto Station at 8.55 am, 10.10 am and 5.30 pm.
By car take the Tokai-Hokuriku Expressway north from Ichinomiya to Gujo Hachiman Interchange or National Highway 156 from Gifu city.
The journey back to Nagoya on the Expressway and Highway can be crowded on public holidays and weekends.
Gujo Hachiman Video
Book Hotel Accommodation in Nagoya Japan
Read a guide to Gujo Hachiman, a lovely Edo-period preserved town in Gifu Prefecture, central Japan and a center of plastic food replica production in Japan.
All the themes of the city