Shinojima
Shinojima, Aichi Prefecture 篠島
Shinojima, situated off the east coast of the Chita Peninsula, south of Nagoya, is part of the so called "Aichi Archipelago" along with its near neighbor Himakajima and the art island of Sakushima.
Shinojima is the least-visited of the three islands but the main beach (Sun Sun Beach; サンサンビーチ) on the eastern side of the island, on the opposite coast from the port, is a beautiful 800 meter-long stretch of sand, known for its spectacular sunrises.
The beach is backed by sea front lined with minshuku and ryokan, known for excellent seafood, in particular fugu (blowfish).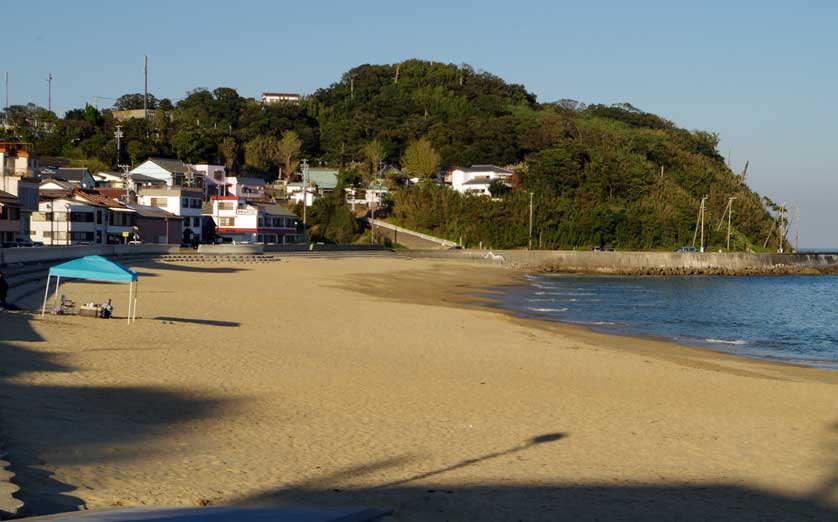 Sun Sun Beach, Shinojima, Aichi Prefecture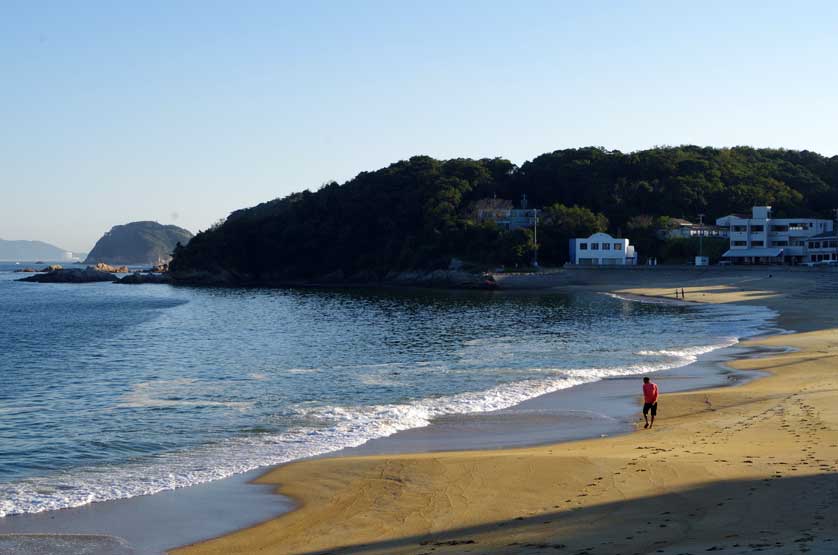 Sun Sun Beach, Shinojima
Shinojima Attractions
Besides enjoying the water at the main beach, visitors can follow an 8km walking course around the island when it is open in the summer and explore the twisting, narrow lanes of the main settlement perched on a hill in the center of the island. There are one or two small temples and shrines to visit and an ancient well, said to have provided water to an imperial prince in 1338, whose boat was driven ashore here.
The highest point of the island is 49 meters at the top of Bear Mountain and there are lovely views out to sea from this spot.
Shinojima is famous for its sea bream and each year on October 12, a large sea bream, a fish of good fortune in Japan, is presented to Ise Jingu, Japan's most important shrine.
Shinojima also lays claim to being Japan's number one producer of whitebait.
Shinojima's main festival called Daimyo Gyoretsu takes place around New Year on 3 and 4 January and features dancing by men clad in happi coats with colorful obi.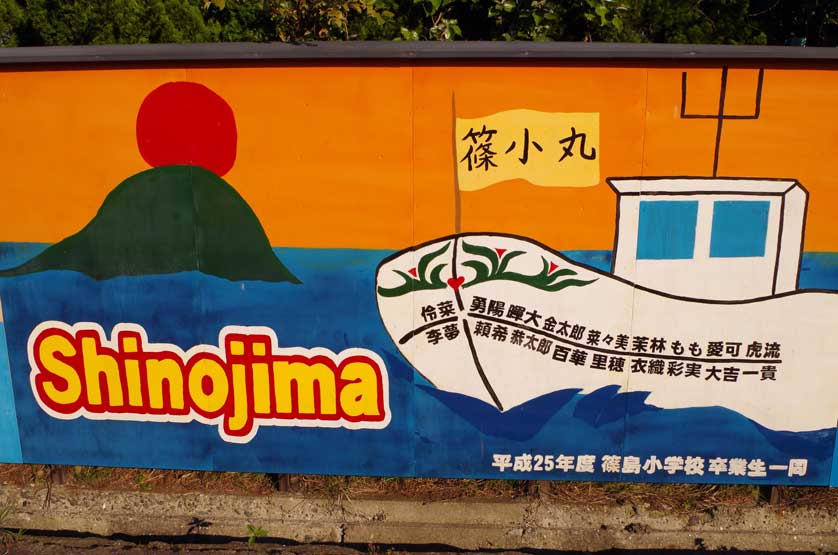 Sunset on Sunset Beach, Shinojima, Nagoya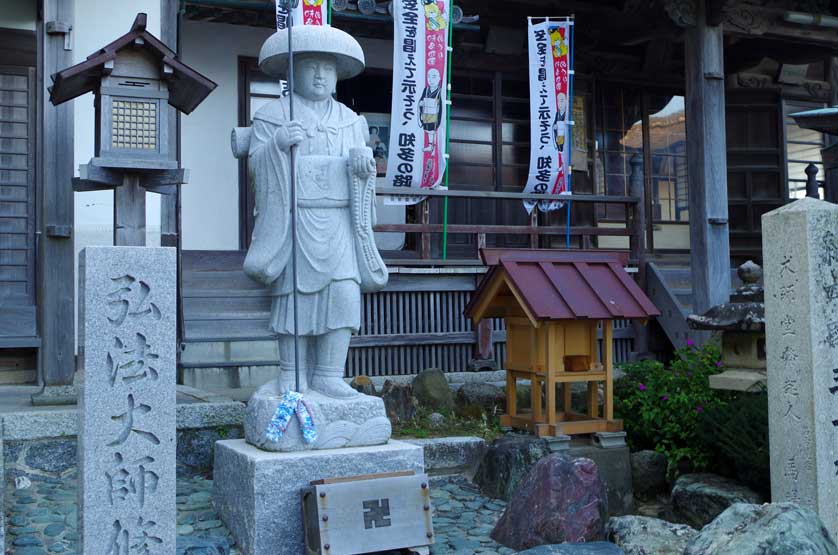 Shinojima Temple, Aichi Prefecture
Shinojima Transport - Getting to Shinojima
There are Meitetsu ferry connections to Shinojima from Kowa (25 minutes), Irago (20 minutes), Shinojima and Morozaki (10 minutes). There are free shuttle buses to Kowa Port from Kowa Station but the crossing is cheaper if you take a Meitetsu bus (20 mins) to Morozaki.
From Nagoya Meitetsu Station, Kanayama Station or Jingu-mae Station take a Meitetsu train to Kowa (47 mins). From Toyohashi take a Meitetsu bus to Irago (90 mins) then a ferry to the island (30 mins).
Return fares on the express ferry to Shinojima & Himakajima from Kowa are now 2,690 yen (2015). From Irago on the other side of the Chita and Mikawa bays, the fare is the same. From Morozaki the ferry crossing to Shinojima or Himakajima is 700 yen on the express ferry or 600 yen on the slower car ferry 920 minutes). The boat fare from Shinojima to Himakajima is 400 yen.
There are a number of ryokan, minshuku and hotels on Shinojima. The Shinojima Royal Hotel Kasuiso can be booked online. Other accommodation options include Ryokan Nanpu (Tel: 0569 67 2240), Shinojima Kanko Hotel Osumi (Tel: 0569 67 2039) with its own bath with views of the ocean, Hotel Umibara (Tel: 0569 67 2043), Shinojima Hill Top View Takamineso (Tel: 0569 67 2119) and Masago Yuyuan (Tel: 0569 67 2740).
Many of the upmarket ryokan on Shinojima offer ocean views, full course Japanese sea food cuisine and hot spring baths (onsen).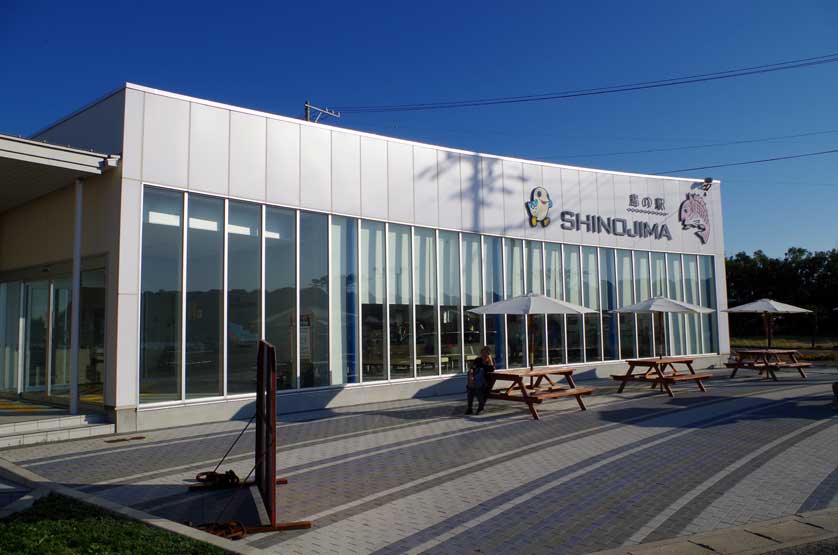 Port Building, Shinojima, Aichi
View a map of Nagoya & Central Japan
Related Nagoya Resources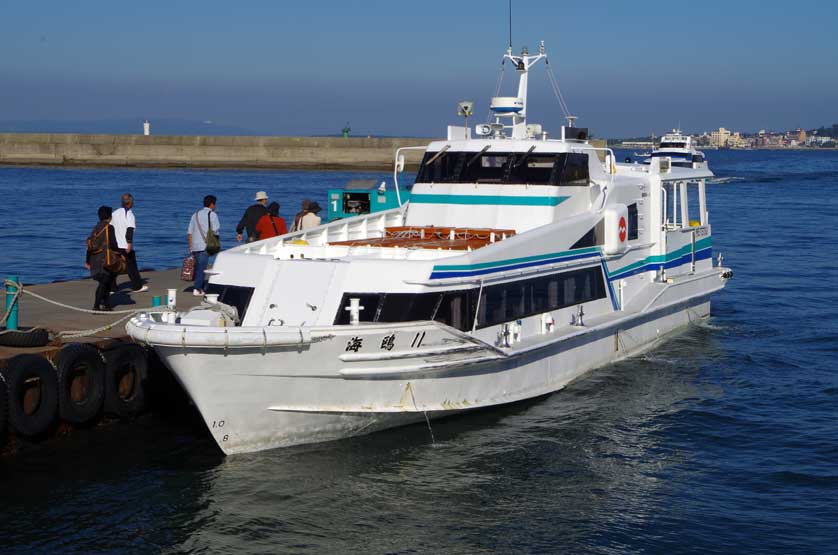 Express Ferry from Morozaki to Shinojima, Aichi Prefecture
Book Hotel Accommodation in Nagoya
Shinojima: read a guide to Shinojima Island, off the Chita Peninsula in Aichi Prefecture, known for its tranquility and fresh sea food.
All the themes of the city