Miho Beach
三保の松原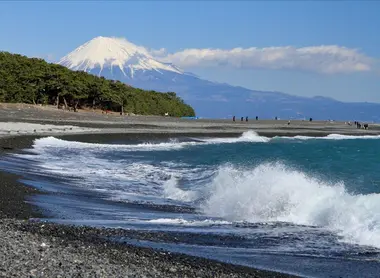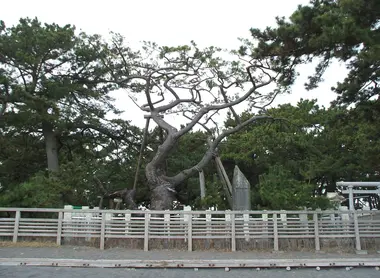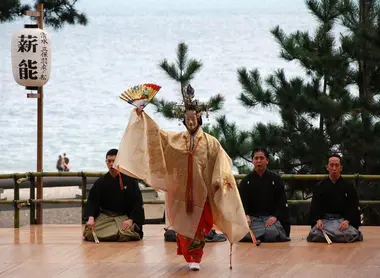 The legend of the Angel
Miho is one of those places full of the charms of Japan - ancient legends, Noh theatre, the majestic Mount Fuji in the background, and much more. A romantic place, classified as a UNESCO world heritage site.
Miho Beach is a long strip of black volcanic sand on Suruga Bay. The 7km long beach is bordered by Japanese pine woods, which have been rooted in these sands for hundreds of years. But it is Mount Fuji, which dominates the bay, that impresses the most.
A source of inspiration for artists
The place has long fascinated the Japanese who see it as one of the three best views of Japan (Shin Nihon Sankei). In their works the great masters of ukiyo-e, Hiroshige and Hokusai both immortalized this range in their prints (a Hiroshige Museum is also not far away).
The legend of the Hagoromo
But there's an old story Miho is best known for. The tale of Hagoromo (a feather cloak). Legend has it that an angel wearing a hagoromo was enchanted by the place and would have undressed for swimming. A fisherman passing by saw her and then stole the clothes hanging from a pine tree. The fisherman only returned the clothes after having obtained a heavenly dance from the angel, and watched her fly back up to the moon afterwards.
Art on the Beach
And the legend continues... A small altar is built around the Hagoromo pine tree where the garment was hung, and the nearby Miho Shrine holds the feathers. It is also a classic Noh theater repertoire, and every year in October a Noh festival is organized, where this legend is played out under glowing lights in the dark evening. 
The beach is devoted to dance, art, drama and beauty in general, all under the watchful gaze of Mount Fuji. You will not find any bathers here, but listen closely, and you may just hear the sound of beating wings...
All the themes of the city