Jinpukaku
Jinpukaku is a grand Western-style mansion right next to the ruins of Tottori Castle, Tottori City, that is a rare example of architecture from Japan's early modernization.
Jinpukaku 仁風閣
The Jinpukaku is a grand Western-style mansion in Tottori City, built over a century ago on the grounds of the former Tottori Castle. Jinpukaku is open to the public as a kind of museum.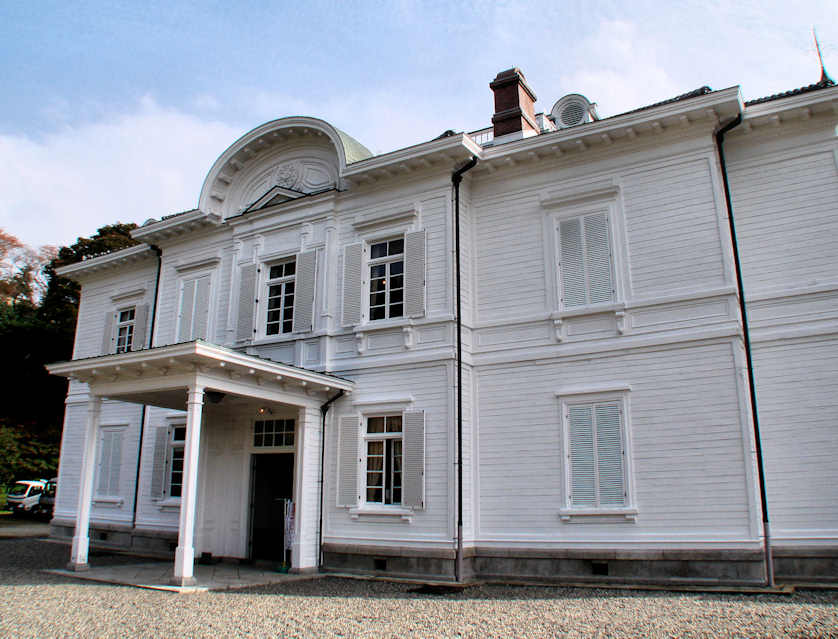 Jinpukaku, Tottori City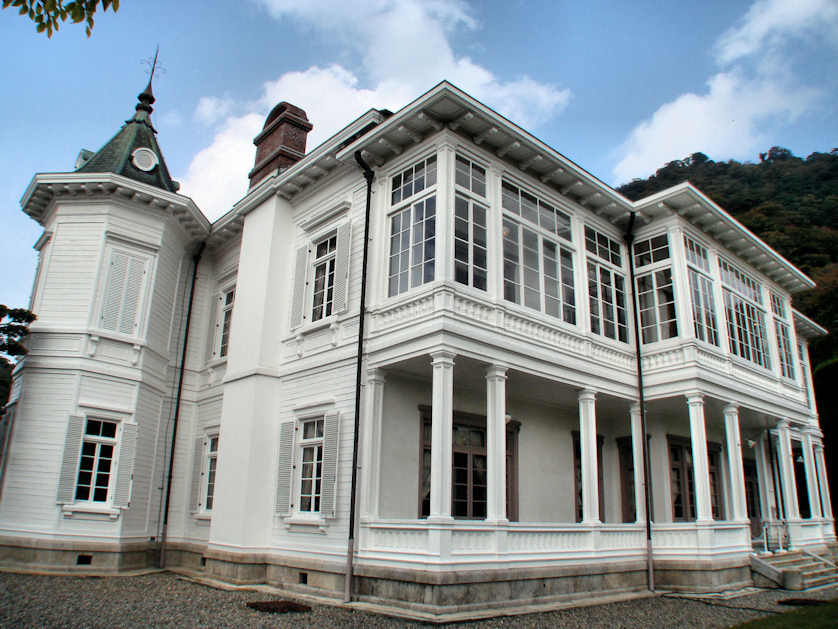 Jinpukaku exterior architecture, Tottori City
Jinpukaku means "Palace of the Wind of Virtue" and was built in 1907 by then head of the Ikeda clan, Nakahiro Ikeda (1877-1948), whose 16th century ancestor constructed the now ruined Tottori Castle very nearby. The walls of the former castle form the north-eastern edge of the Jinpukaku grounds.
It is unclear whether it was built more as a home for the Ikeda family or as a place to host Crown Prince Yoshihito who was about to tour this part of Japan, and would become Emperor Taishō in 1912.

Jinpukaku house and gardens, Tottori City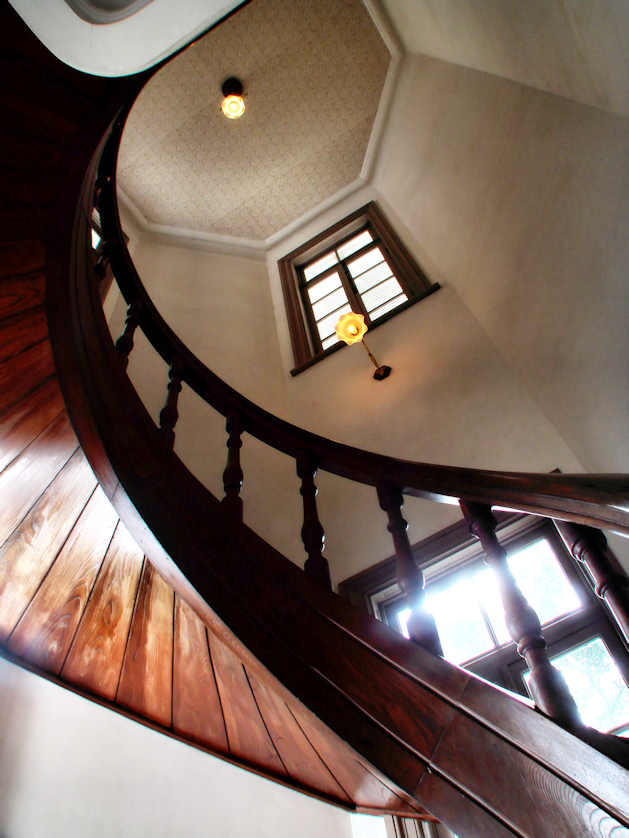 Staircase at Jinpukaku, Tottori City
Jinpukaku was designed by Tōkuma Katayama (1854-1917), who was one of Japan's first Western-style architects, held a post in the Imperial Household, and also designed the original imperial museums of Nara and Kyoto. Jinpukaku was the first building in Tottori to have electric power, making it all the more symbolic of the region's modernization.
From 1912, Jinpukaku became a public hall. It was damaged by an earthquake in 1943, and from 1949 until 1972 was the Tottori Prefectural Museum (which now stands just across from it). Something of its museum role remains in the several exhibits relating to the former lords of Tottori, the Ikeda clan.
Jinpukaku is two stories, and is worth wandering through for a taste of its massive, Western-style spaciousness that must have been a unique experience for Japanese at the time.
Jinpukaku's spiral staircase is an architectural feature that further distinguishes the building. Of special interest, too, to modern visitors is the preserved wooden toilet, providing a rare insight into how modern ladies and gents of the time relieved themselves.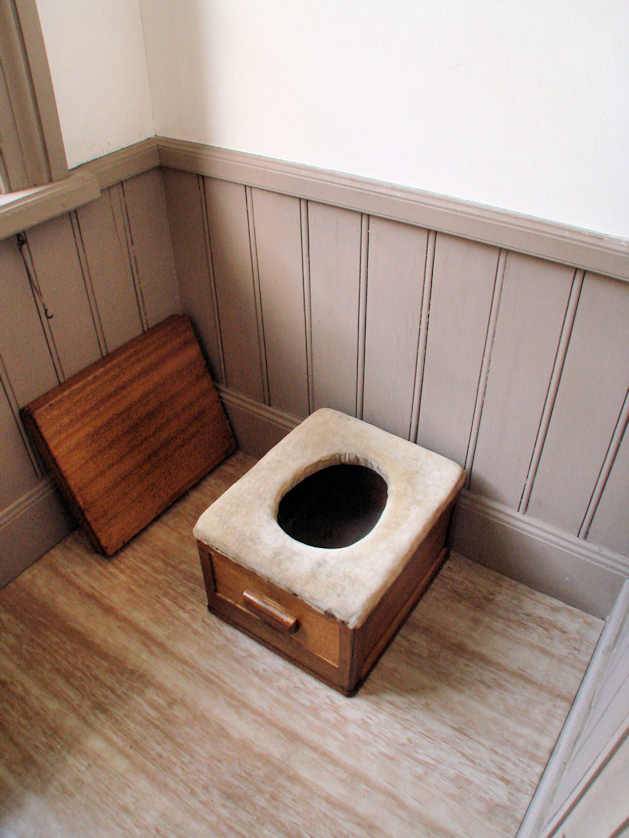 Wooden toilet at Jinpukaku, Tottori City
Hours and Admission
9am - 5pm (last entry 4:30pm. Closed Monday, except when Monday falls on a national holiday; Jinpukaku then closes the next day, Tuesday. Closed December 29 - January 3.
150 yen general admission fee, but free for school age and visitors aged 65 or over.
Access
Jinpukaku is located alongside the small Kyusho Park and is just 300 meters from Tottori Castle Ruins.
By Kurunashi 100-yen bus from Tottori Station, take a Green Route bus and get off at bus stop no.11 "Jinpukaku/Kenritsu Hakubutsukan."
By Loop Kirin Jishi bus from Tottori Station, get off at bus stop no.3 "Tottori Joseki."
Jinpukaku is 2km north-north-east from Tottori Station, so would take about half an hour to walk to.
2-121 Higashimachi, Tottori-shi, Tottori-ken, 680-0011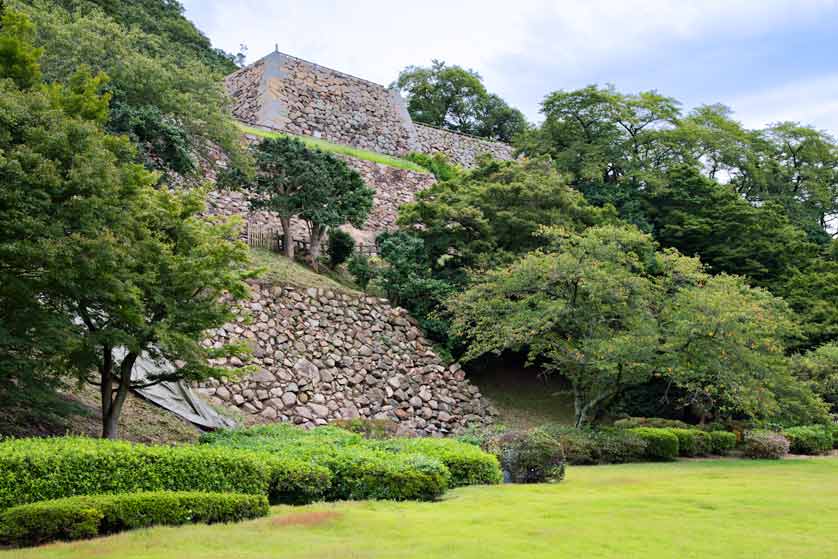 Tottori Castle walls at the edge of Jinpukaku grounds, Tottori City
Nearby
Nearby Jinpukaku is the Tottori Prefectural Museum and the adjoining Kyusho Park, Tottori Castle Ruins, and, across the moat and one block down, Tottori Prefectural Office.
All the themes of the city