Muro-ji Temple
室生寺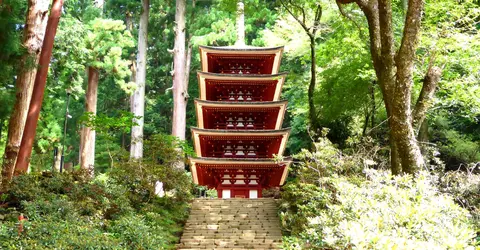 The Women's Temple
Built at the end of the 8th century in Uda, in the north of Nara prefecture, the Muro-ji is home to the smallest 5-storey pagoda in Japan. It is also one of the few Shingon temples to have always accepted women.
According to legend, the Muro-ji was founded in the forest where the monk Kenkei came to pray for the health of Prince Yamabe. It is his disciple Shu-en who would have chosen the layout of the various buildings, scattered in the mountain.
The "Nyonin-Koya"
The temple, located in the forest of Muro-yama Mountain , is not very popular with tourists. Nevertheless, it remains famous for having always welcomed women, which was rare within the Shingon Buddhist current , founded by the monk Kukai. This is why it is nicknamed the " Koya-san of women" , in reference to the main temple of the Shingon school (reserved for men), located in Wakayama prefecture, about a hundred kilometers away.
The four national treasures
Several elements of the site have been classified as "national treasures", starting with the Kondo (main building). This part - the oldest of the Muro-ji ( 9th century) - was renovated during the Edo period (1603-1868).
The Kondo houses another treasure: the statue of Shaka-Nyorai , dating from the Heian period (794-1185). This wooden statue, over 2.30 meters high, represents the founder of Buddhism, Shakyamuni , in a state of deep meditation.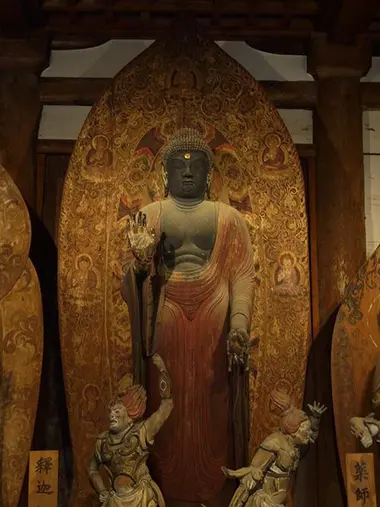 The statue of Nyoirin-Kannon , goddess of compassion, would also date from the Heian period. " Nyoirin" actually corresponds to the objects that the goddess holds in her hands: a lucky gemstone and a wheel, which would notably give her a power of longevity.
Last national treasure: the famous 5-storey pagoda , renowned for its beauty… and its small size! Its 16 meters high (and less than 3 meters wide) even makes it the smallest pagoda in Japan . Damaged by a falling tree during a typhoon in 1998, the pagoda was renovated for 2 years.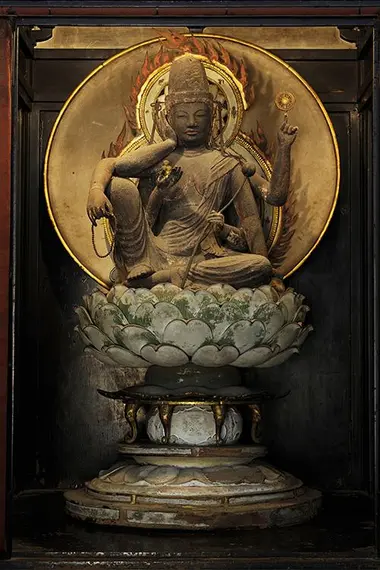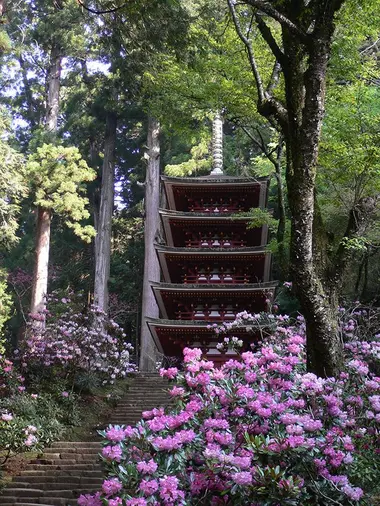 A statue visible once a month
The bravest will climb the 700 steps adorned with rhododendrons of the staircase nicknamed " Yoroizaka" ("slope of armor") up to the Oku-No-in . This building, located at the very top of the steps, is dedicated to Kukai, the founder of the Shingon Buddhist school . His sacred statue, built at the end of the Kamakura period (1185-1333) is visible on the 21st of each month. It has been classified as an Important Cultural Property.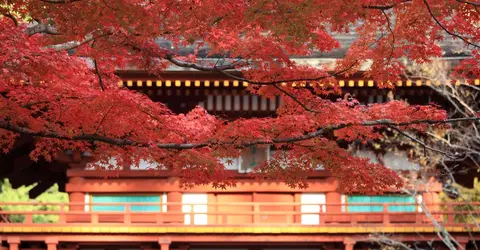 Two periods lend themselves particularly well to visiting Muro-ji: between April and May , when the thousands of rhododendrons are in bloom, or in autumn , when the maple trees take on a flamboyant red hue.
---
Address, timetable & access
Address

Timetable

At Murôguchi-Ono station (Kintetsu line), take a bus to Muro-ji.

Price

Adult: 600 yenChild: 400 yen

Access

Open from 8:30 a.m. to 5 p.m. from April to November Open from 9 a.m. to 4 p.m. from December to March
All the themes of the city