Japan Visas
Japan visas: view Japan visa information for foreign visitors including details about Japan visa exemption and permitted length of stay in Japan.
Japan Visas 観光ビザ
Japan Tourist Visas 観光ビザ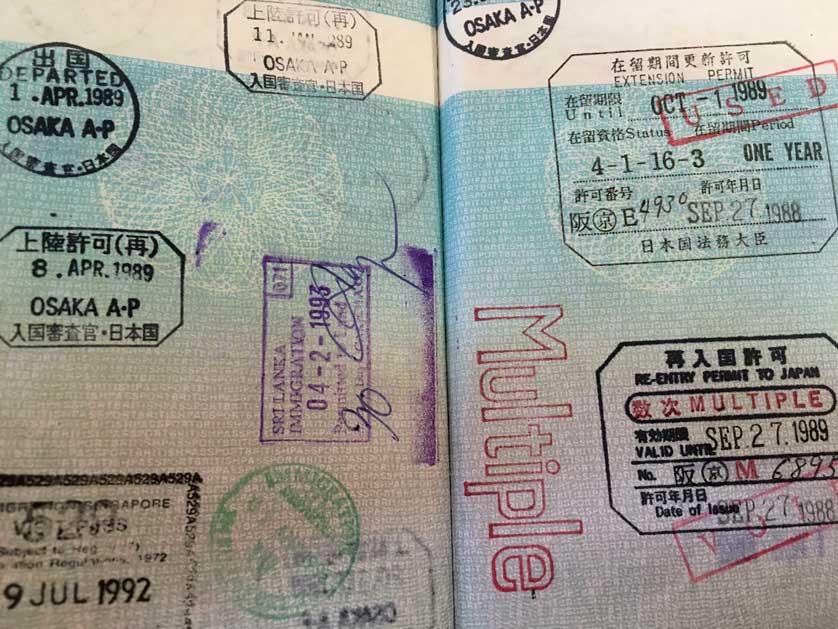 Visitors to Japan from most European countries, Australia, New Zealand, North America and Singapore are usually issued a 90 day tourist visa for Japan on each entry to the country (see below). Holders of a valid HKSAR (Hong Kong Special Administrative Region) passport also are granted visa-free access to enter Japan for tourism and short-term visits up to 90 days.
Nationals from other countries have to obtain a visa in advance to enter Japan.
Foreign tourists are required by Japanese law to carry their passports with them at all times.
Citizens of nations other than those listed below must apply for a 90-day tourist visa in their home countries from the Japanese embassy or consulate. Passport photos and a return ticket are usually necessary. Processing is usually free of charge, though there is a fee for the visa itself. For further details see our Japanese visa requirements section.
All visitors to Japan including permanent residents are electronically fingerprinted on both index fingers and photographed on entry to the country following a change to the law in 2007.
*For nationals of Malaysia (since July 1, 2013), visas are not required for holders of an ePassport in compliance with ICAO standards.
**For citizens of Hong Kong, visas are not required for holders of Special Administrative Region (SAR) passport issued by the Hong Kong SAR of the People's Republic of China or British National Overseas (BNO) passports who have the right of residence in Hong Kong. For citizens of Macao, visas are not required for holders of SAR passport issued by the Macao SAR of the People's Republic of China.
***For citizens of Taiwan, visas are not required for holders of Taiwan passport which includes a personal identification number. Those without a personal identification number require a visa.
****Brunei & Thai visitors with a return ticket, evidence of financial support (cash/credit card) and whose activities in Japan are categorized as "Temporary Visitor" may enter Japan for not more than 15 days without a visa.
Activities allowed under the "Temporary Visitor" category are sightseeing, visiting friends, attending lectures or business meetings.
*****In most cases citizens of the Philippines require a visa to visit Japan obtained through an accredited agency. See the Embassy of Japan in The Philippines for further details.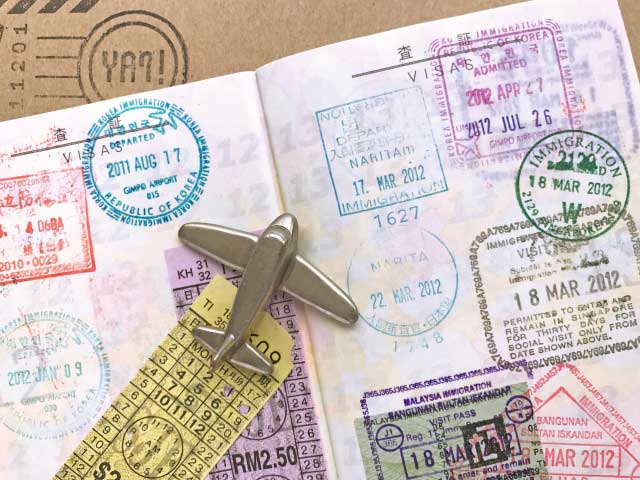 Reciprocal visa exemption for Japan
Countries that have reciprocal visa exemption arrangements with Japan are:
6 months or less: (An extendable 90-day visa is usually issued on arrival, for further details see Immigration Offices).
Austria, Germany, Ireland, Liechtenstein, Mexico, Switzerland, UK.
*For nationals of those countries with visa exemptions permitting stays of up to 6 months under the bilateral visa exemption arrangements, those who wish to stay in Japan for more than 90 days are required to apply for an extension of the period of stay to the Ministry of Justice (Regional Immigration Bureau) before the period of permitted stay is to expire.
90 days or less: (A non-extendable 90 day visa is usually issued on arrival).
Andorra, Argentina, Australia, Bahamas, Belgium, Canada, Chile, Colombia, Costa Rica, Croatia, Cyprus, Czech Republic, Denmark, Dominican Republic, El Salvador, Estonia, Finland, France, Greece, Guatemala, Honduras, Hong Kong, Hungary, Italy, Israel, Iceland, Lesotho, Luxembourg, Macau, Malaysia, Malta, Macedonia, Mauritius, Monaco, Netherlands, Norway, Poland, Portugal, San Marino, Serbia, Singapore, Slovenia, South Korea, Spain, Surinam, Sweden, Taiwan, Tunisia, Turkey and Uruguay.
90 days or less: (A non-extendable 90 day visa is usually issued on arrival).
Barbados, New Zealand and the USA.
14 days or less:Brunei.
If in doubt, check with the Japanese Embassy or Consulate in your country.
Foreign Embassies & Consulates in Japan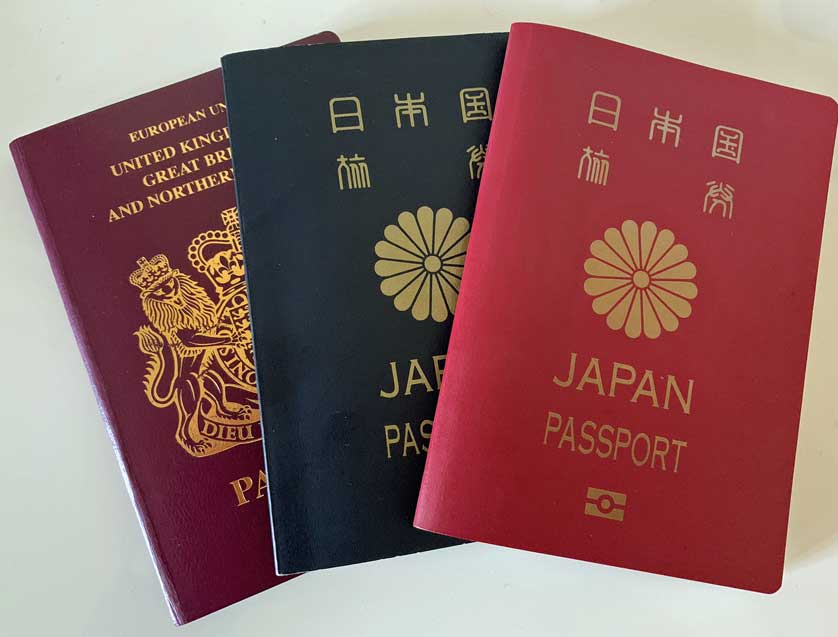 Types of Japan Residence Visa
Visa Telephone Service Number: 03 5501 8431
According to Japanese law there are 27 types of residence visa in addition to the tourist visas described above. Residency periods for these visas range from a 15 day transit visa to permanent status, including visas for 15 days, 90 days, 6 months, 1 year and 3 years. Visas which allow paid work generally require a Japanese company, school, university or individual to act as sponsor. Find more information on Japan working visas.
Diplomatic (gaikoh 外交)
Official (kohyoh 公用) for non-diplomats working in embassies and consulates
Professor (kyohju 教授) for professors, assistant professors and lecturers (full-time or part-time) who work in a Japanese university, usually 1 or 3 years
Cultural activities (geijutsu 芸術) - students of Japanese arts and martial arts etc, technically not allowed to receive an income
Religious activities (shuukyoh 宗教) - members of religious groups sent to Japan to undertake religious activities
Journalist (hohdoh 報道)
Investor/business manager (tohshi/keiei 投資・経営) - managers of trading companies with offices and 2 or more full time employees
Legal/accounting services (hohritsu/kaikeigyohmu 法律・会計業務)
Medical services (iryoh 医療) - qualified doctors or Japan-licensed nurses
Researcher (kenkyuu 研究) - paid research under contract with a public or private institution
Instructor (kyoh-iku 教育) - teachers in junior high school, senior high school, teaching foreign languages etc.
Engineer (gijutsu 技術)
Specialist in humanities/international services (jinbunchishiki/kokusaigyohmu 人文知識・国際業務) - a visa typically associated with the Japan Exchange and Teaching (JET) Program
Intra-company transferee (kigyoh-nai-tenkin 企業内転勤) - employee of a foreign company with main or branch office in Japan, transferred to Japan for a specified period of time
Entertainer (kohgyoh 興行) - actors, singers, dancers, professional sportspeople, etc., 15 days, 3, 6 or 12 months
Skilled labor (ginoh 技能)
Highly skilled foreign professional (ginoh-jisshuu 技能実習)
Cultural activities (bunkakatsudoh 文化活動) - students of Japanese arts and martial arts etc - technically are not allowed to receive an income
Temporary visitor (tankitaizai) 短期滞在 - tourist visa
College student (ryuugaku 留学) - exchange student, international student, studying at an educational institute of some kind in Japan. (Read more about Japan study visa.)
Training (kenshuu 研修)
Family stay (kazokutaizai 家族滞在) - for partners and dependents of those holding specified visas
Designated activities (tokutei-katsudoh 特定活動)
Permanent resident (eijuusha 永住者)
Spouse, etc. of a Japanese national (nihonjin-no-haigusha-nado 日本人の配偶者等) - Spouse visa holders can legally work
Spouse, etc. of a permanent resident (eijuusha-no-haigusha-nado 永住者の配偶者等) - Spouse visa holders can legally work
Long-term resident (teijuusha 定住者)
Re-entry to Japan
With the Special Re-Entry Permit System, visa holders may leave Japan and reenter Japan during the term of their stay without having to make any prior application for a permit.
The procedure simply involves placing a check mark in the "Departure with Special Re-entry Permission" box on the Embarkation/Disbarkation ("ED") card when departing.
Working Holiday Visas For Japan
Japan has mutual working holiday visa agreements with Australia, Britain (UK), Canada, Denmark, France, Germany, Hong Kong, Ireland, Korea Republic (South Korea), Taiwan, New Zealand and Norway. Young people normally between the ages of 18-25 (sometimes 30 with the agreement of the immigration office) may work part-time during a one-year stay in Japan.
The working holiday visa is a single entry visa with stays permitted from 6 months (extendable for another 6 months) for Australia and Canada to one year (non-extendable) for Denmark, New Zealand, the Republic of Korea, France, Germany, Ireland, UK, Taiwan, Hong Kong and Norway.
*The Working Holiday Visa is only issued once to an applicant and is free except for nationals of the UK, Norway and Taiwan.
For further details on visas for Japan contact the Japanese embassy in your home country
Residence Card
The holder of a visa valid for three months or more receives a Residence Card (zairyuu kaado) at the airport (Narita, Haneda, Chubu and Kansai) or, in the case of entry via a smaller airport, by mail later.
The holder of a Residence Card must register with the local authority within 14 days of arriving in Japan to complete Certificate of Residence formalities.
Residence Cards need to be updated if the holder's visa status changes or the holder moves to live in a different ward of the same city or to a different city within Japan.
The Residence Card replaced the former Alien Registration Card on July 9, 2012.
Read more about the Residence (Zairyu) Card.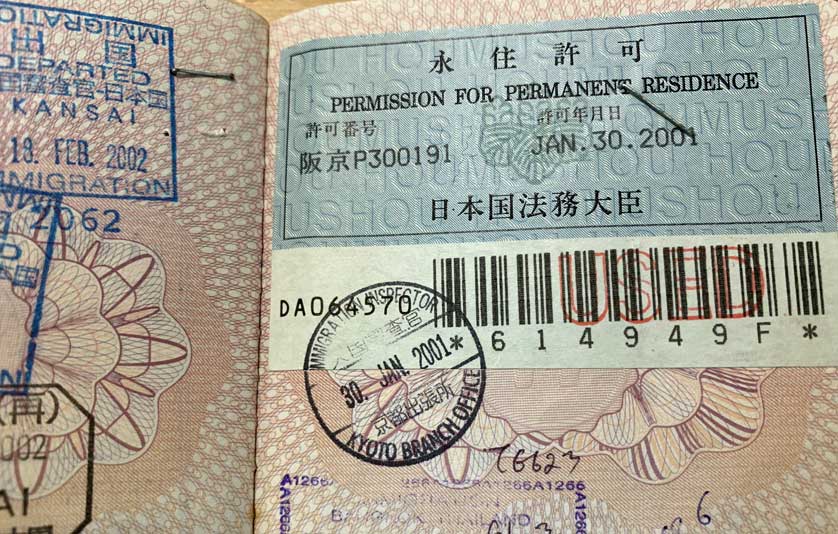 Permanent Resident Visas
Foreign nationals with a Japanese spouse may, after a minimum period of 5 years of residency and marriage, apply for a permanent resident visa (永住権 eijuuken) instead of renewing their spouse visa. Single foreign nationals may have to wait for 10 years to apply. Applicants for a permanent residents visa need to show evidence of income/job including an annual tax withholding statement (gensenchoushuusho 源泉徴収書), which should be given you by your employer, and a copy of the family register (koseki touhon 戸籍謄本) of your Japanese spouse and your own residence certificate (juminhyou 住民票), both obtainable from the local ward office. The application fee for a permanent resident visa is 8,000 yen. Foreign Permanent Residents must still pay for a re-entry permit, and the validity of the re-entry permit is 3 years (see above).
Overstaying Your Japan Visa
If you are caught overstaying your Japan visa you may be detained and confined for an undetermined period before being deported and served with an official banning order from re-entering Japan for a period of 5 years. If you voluntarily appear at an Immigration Office and announce your overstay, you should usually not be detained and you will be issued with a Departure Order. After being issued a Departure Order you will be banned from re-entering Japan for a period of one year.
Useful Japan Visa Resources
Japanese Ministry of Foreign Affairs (MOFA)
All the themes of the city