Disabled access in Japan
日本におけるバリアフリー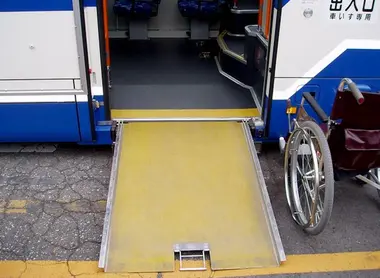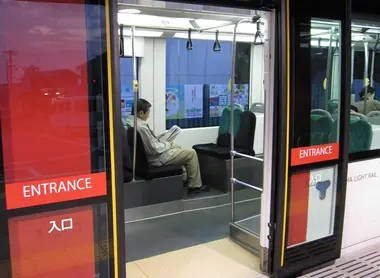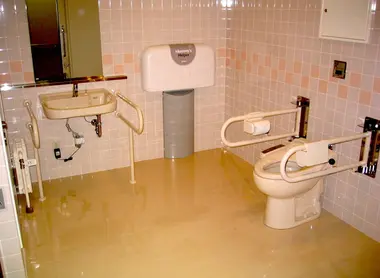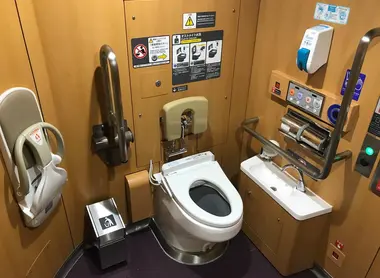 Access all areas
In recent years, Japan has revised a large part of its public infrastructure and transport to accommodate people with reduced mobility. These changes are being made both to make accessibility easier for seniors and to welcome visitors from around the world to the Tokyo Olympics in 2020.
Barrier free
It starts with a global awareness that all public places must be accessible to everyone, including people with reduced mobility. In 2008, the Ministry of Land, Infrastructure and Tourism introduced the new "Barrier-free" law to improve accessibility in everyday life. It's introduced for the safety of the elderly, the number of whom is constantly growing in Japan, but also for a whole category of people with disabilities, both temporary and permanent (blind, deaf, physically disabled in a wheelchair, etc.).
In recent years, there has been a strong perception of change throughout Japan, in public spaces, railway stations, administrations... The preparations for the 2020 Olympic and Paralympic Games have also meant many necessary amenities  have been added, to enable everyone to come and enjoy them. There's no doubt that the country aims to be an example in this field, as a lot of funds and energy have been put into it. A blue sticker will be visible, indicating accessibility.
To read: The 2020 Olympics
Transport for all!
When it comes to transport, a major effort has been made in major Japanese cities to ensure that every train, metro, tram or bus is accessible.
For trains, lower ticket machines for wheelchair users have been installed, with tactile surfaces (in Japanese only) and audio guides for the visually impaired. Wider automatic gates located next to the staff office when needed, and an available whiteboard so a mute person can communicate their needs through writing. It's always possible to ask the help of station staff to help get onto the platform, as well as on the train. A ramp can be arranged to facilitate this. If the destination station is specified, staff can be waiting for you there to help at the other end. On the ground, there are raised yellow lines (Tactile Ground Surface Indicators) everywhere to help guide the visually impaired, as well as LED indicators.
In the Shinkansen trains, there are places reserved for wheelchair users, all in the front of a car, with a system to secure it in place and a wide enough corridor. There is also a tamokuteki shitsu, a "multipurpose room", which can be booked on the Tokaido Shinkansen, which is a special room that can be made available, primarily to people with disabilities but also for moms needing to nurse their baby quietly, or in case of discomfort of a traveler. Only the conductor has the key, so must be asked in case of need.
As far as buses are concerned, the "Non-Step Bus" system has grown to such an extent that all the buses in Tokyo are now easily accessible to everyone, and there is always a place reserved for a wheelchair.
Wherever you are
The toilet system has been completely revised at all levels and in all public places. In train stations, on trains, in department stores and supermarkets too, you will find adapted toilets, tamokuteki toilets, with automatic opening and closing doors, plenty of space, and a call button in case of emergency (a fall, illness, etc.).
Note that in department stores, there is often the possibility of loaning a chair, or even a stroller.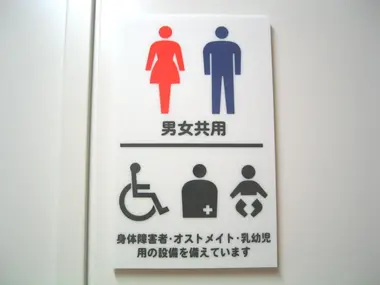 In Japan, public places, restaurants, shops and supermarkets pets are generally prohibited, mainly for hygiene reasons, except for seeing eye dogs. A blue sticker of a dog will indicate if this is allowed.
A competition is organized each year by the Ministry of Land, Infrastructure and Tourism to award the accessibility prize for the quality of the work done. The most recent winners are: Takayama City, Tokyo Metro Company, AEON Shopping Centers and Kurashiki City.
The foreign disability card does not benefit from reduced rates in Japan.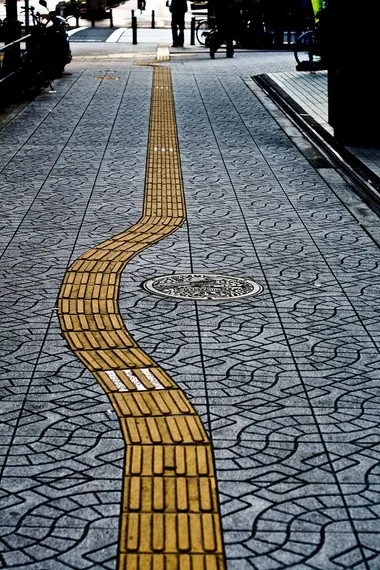 Completely accessible places
At Senso-ji Temple in Asakusa, the floor is smooth and large spaces are available. An elevator is available to get inside the temple and there is a multi-purpose toilet. The Tokyo Skytree, opened in 2012, also offers easy access. Ueno Park has a promenade to admire the cherry blossoms or simply to stroll every day of the year that offers access to the toilets and a café with an elevator.
In Kyoto, be careful because temples often have gravel paths, which makes travel difficult. However, there are the MK Taxi and Miyako Taxi companies, that offer vehicles called "Universal Design Taxis" which can transport wheelchairs, to more easily reach the temples. Kiyomizu-dera temple has a course adapted for people with reduced mobility (information is on the official site along with an interactive map).
See also: Kiyomizu-dera temple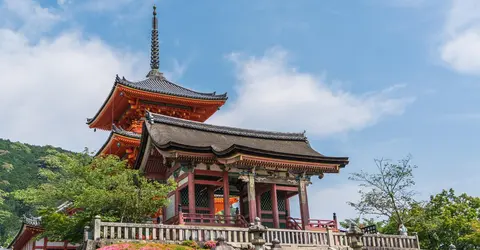 Most restaurants in Japan are accessible, just ask ahead of time or when booking.
A final important point is access to a ryokan with an onsen, one of the great pleasures of the Japanese. Families often travel three generations together: children, parents and grandparents, so buildings need to be adapted to these new kinds of uses. The Barrier-Free onsen system has been developed, which offers access to an onsen directly from the room. The Fuji Lake Hotel for example, at the foot of Mount Fuji, offers three Barrier-Free rooms.
All the themes of the city