Japanese Masks
Japanese masks can be found in performances of Noh theater, Kagura, dancing, religious ritual and in a variety of festival settings.
Japanese Culture: Masks 大面
Jake Davies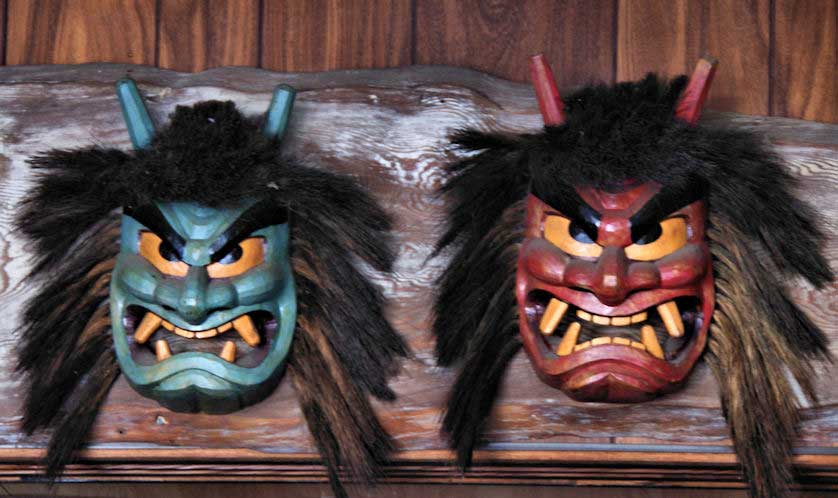 A pair of Namahage Oni masks
Nobody knows for sure exactly when the Japanese began wearing masks, but their use in ritual and entertainment, often the same thing, goes back as far as the beginning of recorded history.
Nowadays masks can be found in performances of Noh theater, Kagura dancing, religious ritual, and in a variety of festival settings.
Displays of masks, often used to ward off evil, can be found at many Shinto shrines and Buddhist temples as well as in the treasure house museums of those establishments. Increasingly masks can be found in the entrance spaces of private homes, again for their function of warding off evil.
There are a massive variety of mask styles to be found in Japan, especially regional variations. Historically masks were carved out of wood, but nowadays Japanese style papier mache is used and also of course plastic. They make for a memorable souvenir of your time in Japan.
The major styles that you might come across when visiting Japan are as follows.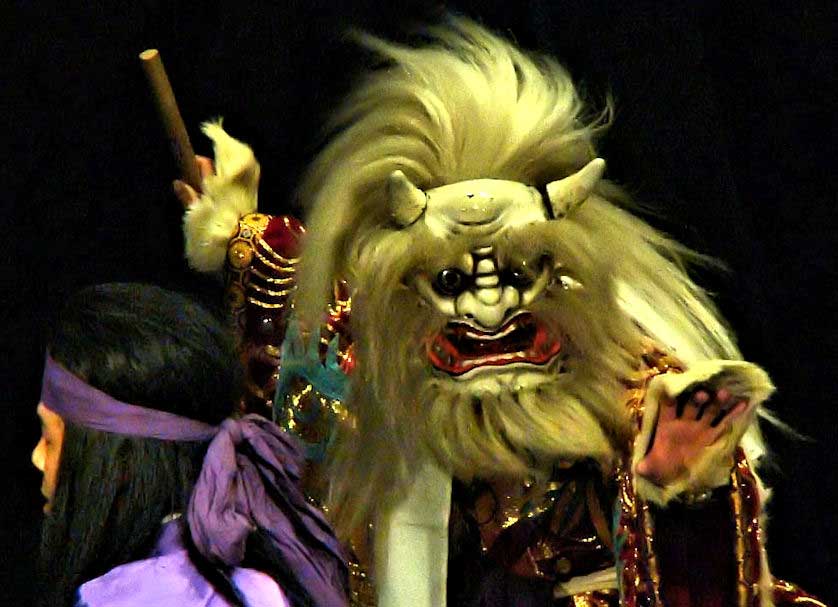 Iwami Kagura performance of the famous Oeyama legend from Kyoto. Made of paper, Iwami kagura masks are known to be the most expressive and detailed of all kagura masks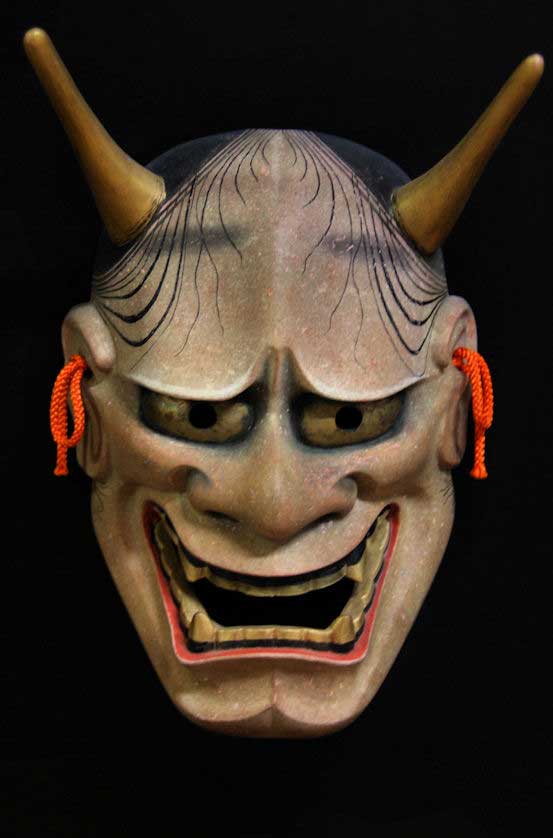 A modern Hannya mask, carved in wood, from Oita in Kyushu
Oni (ogre)
Usually translated as "demon", the Japanese oni is probably better described as "ogre" as they are not the pure evil that the English word demon often connotes.
While regional variations are plentiful, in general they tend to be very hairy and with two horns.
Red is the most common color though red and blue/green pairings are not unusual. Oni masks are common around Setsubun, the New Year according to the old lunar calendar that is now celebrated usually in February.
During this time beans are thrown at Oni to drive them away. Also around mid-winter time many regions have similar traditions involving Oni perhaps the most famous being the Namahage of Akita in the far north of Japan.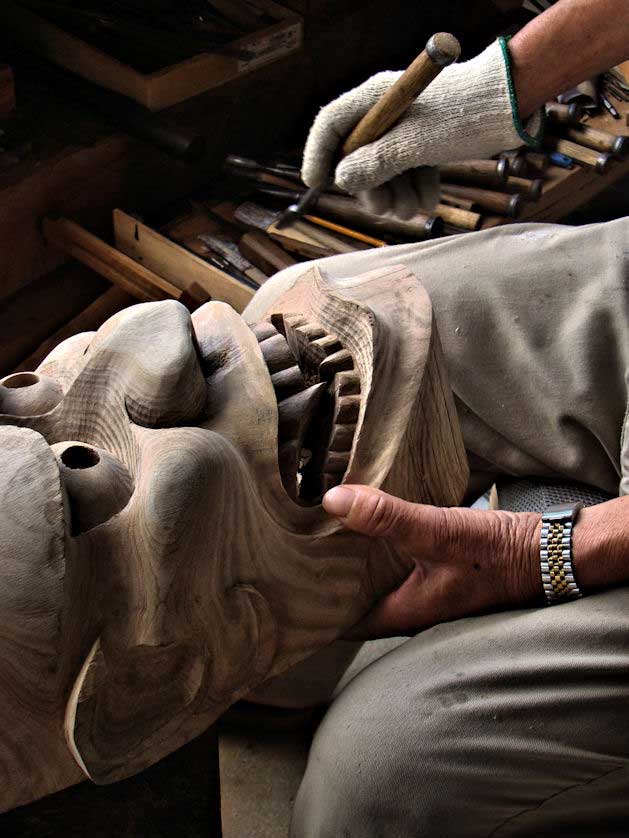 A mask maker at work carving a Hannya mask in his workshop in Kunisaki, Oita
Hannya
Perhaps the most recognizably Japanese mask is the Hannya or Hanya. The Hanya is a kind of female demon, but whereas the Oni tends to represent the dangerous "other" or external force, the Hanya is representative of the dark side of women's nature.
When a woman becomes obsessed with jealousy or anger she transforms into a Hanya, and there are also many masks showing the gradual changes from a woman's face into a full demon face. A true hanya mask is cleverly crafted so that when the angle of the mask changes the underlying sadness is visible, not just the horror.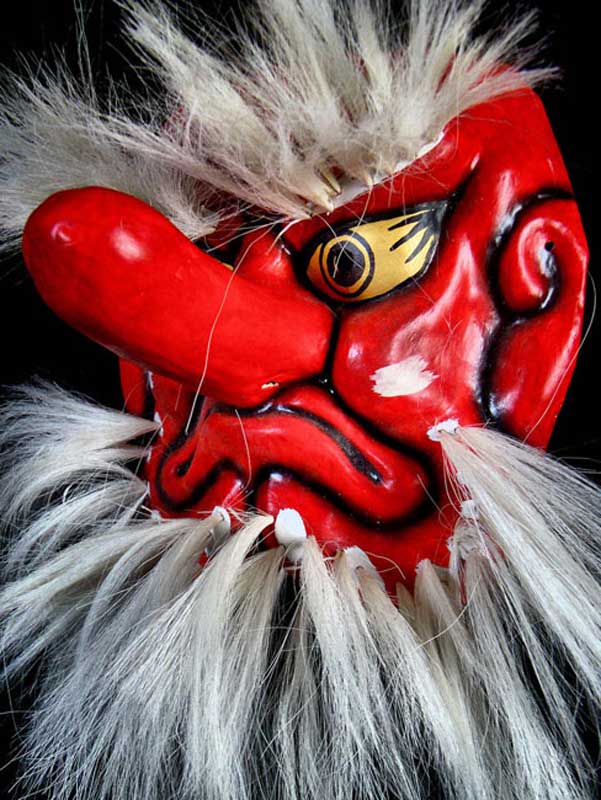 Tengu mask
Tengu
Often translated as "forest goblin", Tengu masks are most often red and feature a very long nose, although originally depicted more bird-like with a beak, both types paired together can sometimes be seen.
The tengu is most commonly associated with the Yamabushi, itinerant mountain priests who studied magic and ritual deep in the mountains, and so Tengu masks are commonly found at the numerous shrines and temples associated with these Shugendo priests.
Most Tengu masks will have a small, black cap as worn by yamabushi. However, it seems that the long-nosed version grew out of older traditions of Sarutahiko and Aragami.
Sarutahiko appeared in the earliest myths as an "earthly deity" who guided the "heavenly deities" down to earth.
Sarutahiko can often be found purifying a space before a ceremony or ritual and can be found in this role leading a matsuri procession.
Related to the concept of earthly deities are Aragami, deities who represent the violent and dangerous aspect of nature.
Often local, land deities, in some local kagura traditions the  red-faced, long-nosed Aragami are ritually pacified by priests or other heroes. Nowadays many people mistakenly identify Sarutahiko or Aragami masks as Tengu.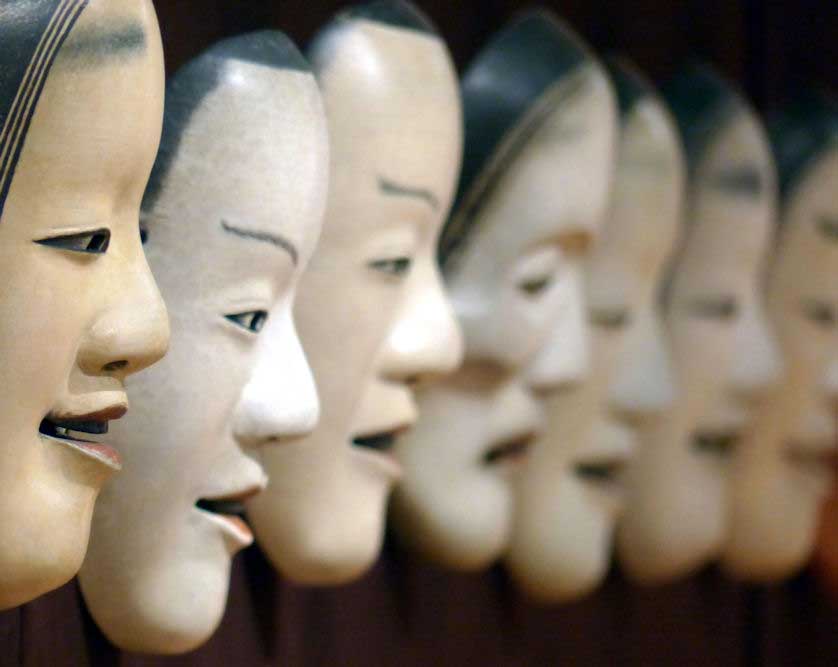 Noh masks are known for their delicate and subtle expressions
Otafuku
Otafuku masks represent a full-faced, homely, female character, often a housewife.
Sometimes called Okame, she is said to represent an idealized female figure, especially a wife. She is often found paired with a long-nosed character as a kind of fertility pair.
Not so common nowadays, bawdy performances related to fertility rituals can still be seen in places like Takachiho Kagura dances and the fertility festival Onda Matsuri at Asuka Niimasu Shrine.
In Noh, Kyogen and Kagura, many characters wear white faced masks that go by different names according to the different traditions.
Representing both young males and young females, they can sometimes be quite androgynous in appearance, but usually females will have shaved eyebrows.
They usually represent young members of the ruling classes, as white face shows you spend your life indoors.
Peasants are depicted with brown faces because they work in the sun. Such masks also sometimes represent male and female deities. For several centuries females were forbidden from performing on stage and so males played all the female characters.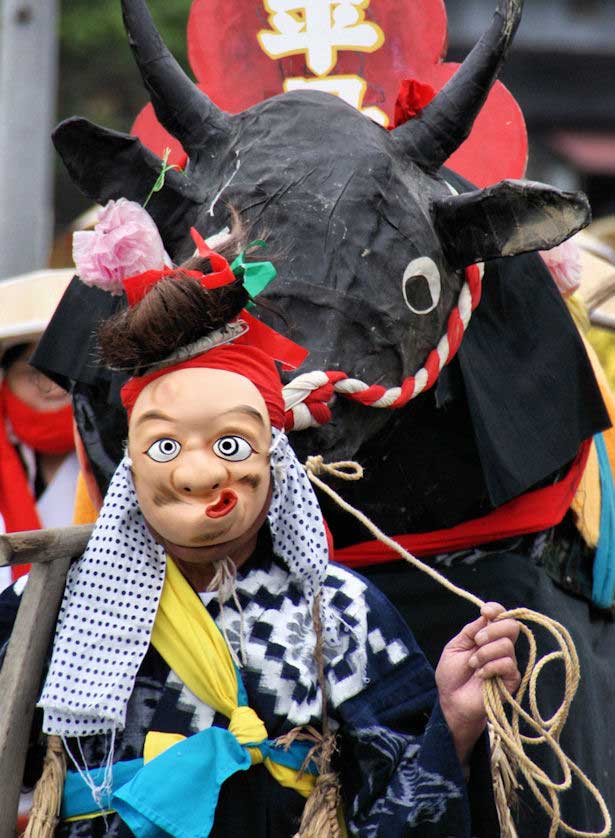 A figure in Hyottoko mask leads a procession to a traditional Tauebayashi, rice-planting festival
Hyottoko
A comic figure that can be equated to a fool or a clown, Hyottoko masks often have a mouth stuck in a twisted position from spending too long blowing through a bamboo tube to keep a charcoal fire going. The mask can be seen in many of the traditional theatrical styles as well as festivals and folk dances.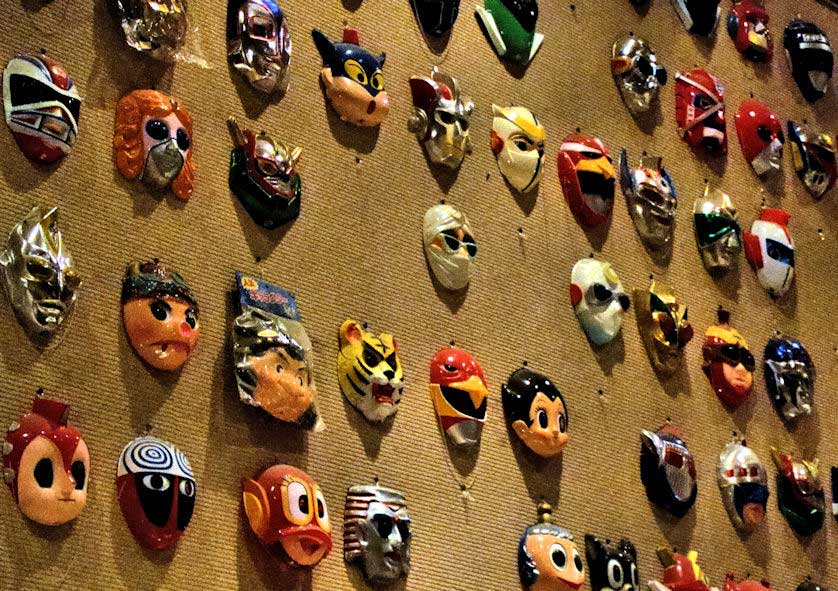 Children's masks from the late 20th Century

Modern Children's Masks
Thanks to the influence of the manga and anime of such artists as Mizuki Shigeru, Osamu Tezuka and Studio Ghibli, creatures from the ancient myths and folklore are kept alive today, as well as introducing newer characters.
Children's masks worn at festivals come in an astonishing array of characters and styles like Oni, Kappa, Foxes (Kitsune), as well as the 12 animals of the Chinese zodiac.
TV shows have also introduced masked characters like the superheroes such as those known as Power Rangers outside of Japan. Cheap and often mass produced in plastic, such masks can make unique souvenirs and gifts.
The tradition of mask wearing, though now surgical masks in white, black and gray, can be seen on any Japanese commuter train or office.
Where To See Japanese Masks
As mentioned earlier, masks can be seen at many festivals, ceremonies and rituals in Japan, and also seen displayed at many shrines and temples.
They can also be viewed in many history museums, both the smaller, local history and folklore museums, or the larger, more prestigious museums, and there are also quite a few mask museums scattered around.
Though quite difficult to reach, The Japanese Oni Museum is located deep in the mountains of rural Kyoto at the site of one of the most famous Oni legends immortalized in stories and plays, the Demon of Oeyama.
Japanese Oni Museum
909 Bushoji, Aza, Oe Kasagun, Kyoto 620-0321Tel: 0773 56 1996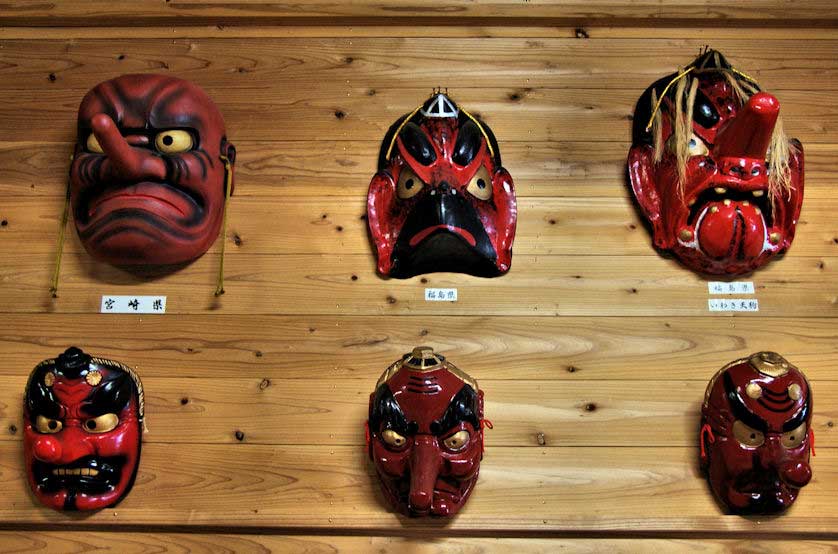 A set of different Tengu masks on display at the Kirishima Tengu Museum
Located in front of the Kirishima Jingu Shrine in the Kirishima Mountains of northern Kagoshima Prefecture, the Kirishima Tengu Museum obviously has many kinds of Tengu mask on display, but also has literally hundreds of masks of all types from all regions of Japan as well as masks from all over the world. This is the best mask museum this author has found in Japan.
Kirishima Tengu Museum2459-60 Kirishimataguchi, Kirishima-shi, Kagoshima 899-4201Tel: 0995 64 8880
The Japanese traditional theater called Noh has many museums devoted to it but probably the biggest and best is the Kanazawa Noh Museum in Kanazawa where you can see a multitude of Noh masks.
Kanazawa Noh Museum1-2-25 Hirosaka, Kanazawa-shi, Ishikawa 920-0962Tel: 0762 20 2790
Related Japan Articles
Japan House & HomeNoren Curtains
Japan Seasons
Japan Weather
Japan's Natural History
About JapanUrban & Rural Japan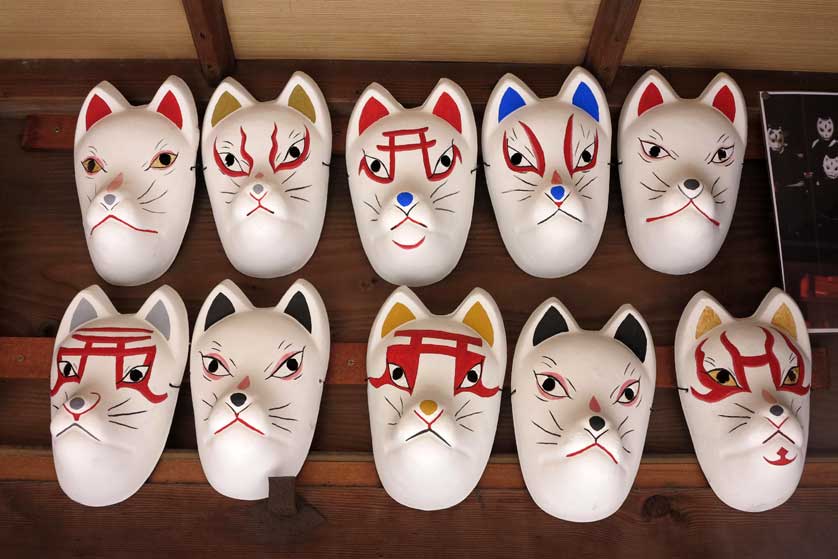 Kitsune fox masks on display, Otatsu Inari Shrine, Kyoto
All the themes of the city