Kobe Subway
Kobe subway: read a guide to the Kobe subway including subway lines, stations and travel passes.
Kobe Subway 神戸市営地下鉄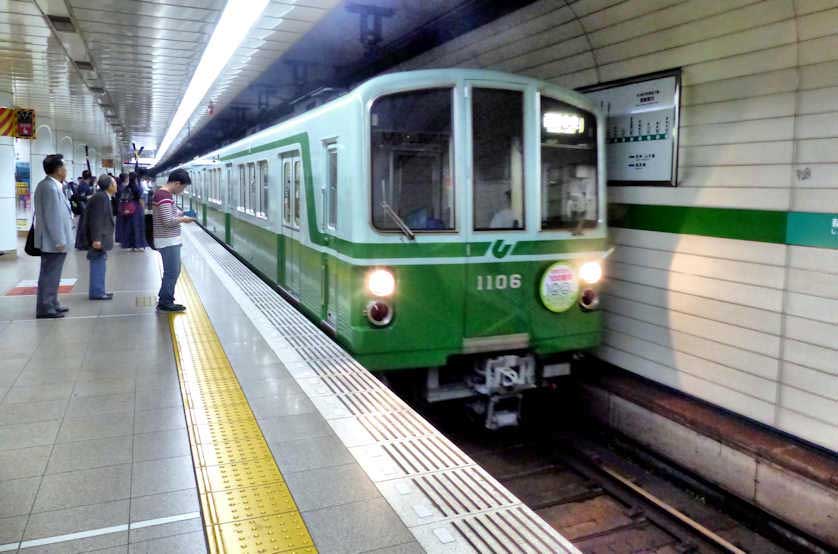 Kobe Subway train
Kobe's subway system in the port city of Kobe in Hyogo Prefecture has two lines:
-the Seishin-Yamate Line (color-coded Green), which runs between Tamigami Station in north Kobe to Seishin-Chuo Station in Nishi-ku. The Seishin-Yamate Line is often referred to as the U-Line due to its shape on maps.
-the Kaigan Line (color-coded Blue), which operates between Sannomiya-Hanadokeimae in Chuo-ku and Shin-Nagata Station in Nagata-ku.
The intersecting stations between the two subway lines are Sannomiya-Hanadokeimae and Shin-Nagata. Shin-Kobe Station on the Seishin-Yamate Line connects with the Shinkansen, Sannomiya with the Hankyu Line, Hanshin Line and Port Liner. Nagata and Itayado connect with the Sanyo Line to Himeji and through to Umeda Station in Osaka on the Hankyu Line.
Altogether there are just over 40km of track with 30 stations. The first sections of the Seishin-Yamate Line were opened in 1977 with extensions added in the 1980's. The Kaigan Line opened in 2001. Trains of the Kaigan Line use linear motors.
Trains operate on Kobe's subway system from around 5.30 am to midnight and after. Announcements on the train are in both Japanese and English.
Seishin-Yamate trains continue on the Hokushin Line one stop north of Shin-Kobe Station to Tamigami Station on the Arima Line.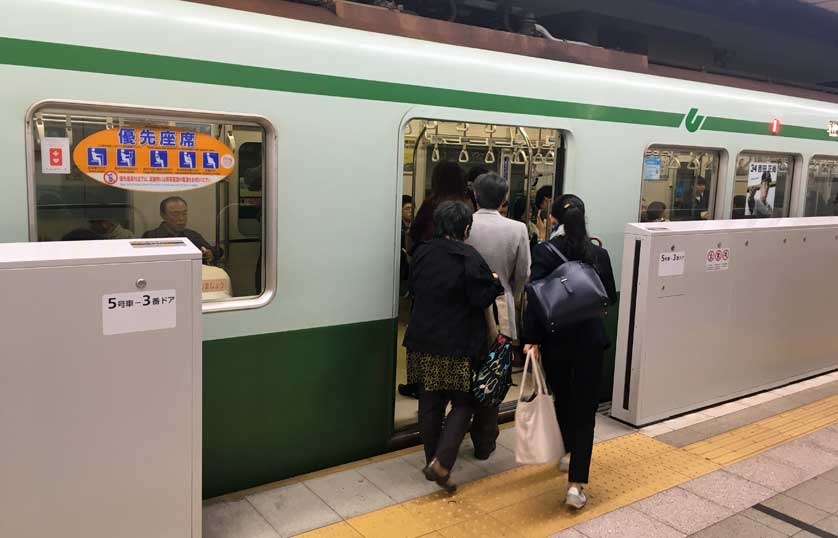 Kobe Subway train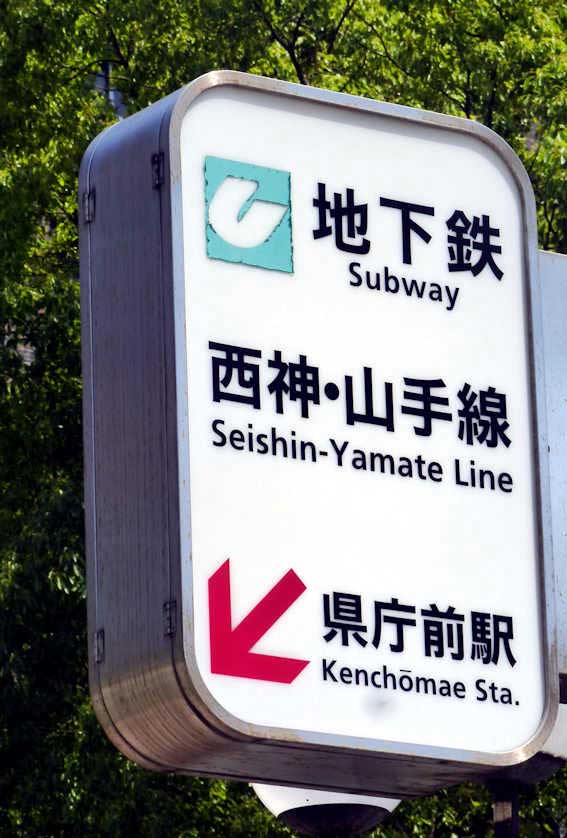 Kobe Subway Sign
Kobe Subway Tickets & Passes
The cheapest ticket on the Kobe subway is 210 yen.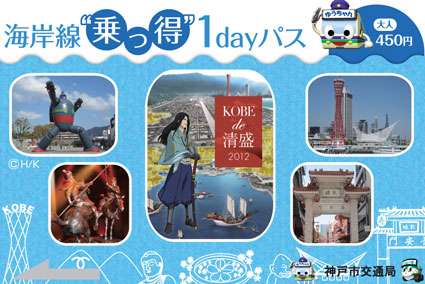 Kobe Subway Pass
Bus/Subway One-Day Pass
A one-day pass that can be used on both Kobe's subway lines and city buses (Shi Bus Chikatetsu Kyotsu Ichinichi Johsha Ken 市バス・地下鉄共通1日乗車券) is available for 1,030 yen, or a subway-only one-day card (Chikatetsu Ichinichi Johsha Ken 地下鉄1日乗車券) for 820 yen.
New U-Line Card
For a longer stay, depending on your needs, there is also the New U-Line card for both bus and subway, which is simply a pre-paid card deducted from with each use. Available in 1000-yen, and 3,000-yen (providing 3,200 yens' worth of travel). You also receive a 20 yen discount for each same-day transfer between a bus and a train.
Attractions near Kobe Subway Stations
Misaki Koen Station and Wada Misaki Station on the Kaigan Line are close to Kobe Stadium (aka Kobe Wing Stadium) the home ground of J-League soccer team Vissel Kobe and the rugby team Kobe Steel Kobelco Steelers. The entertainment areas of Kobe Harborland and Meriken Park with the Kobe Maritime Museum are accessible from Harborland Station and Minato Motomachi Station respectively on the Kaigan Line.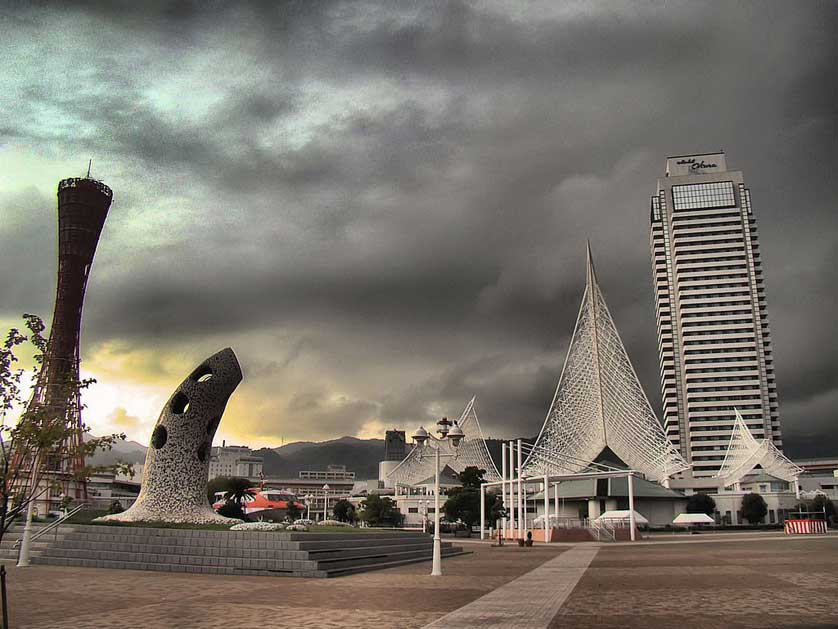 Meriken Park, Kobe, Hyogo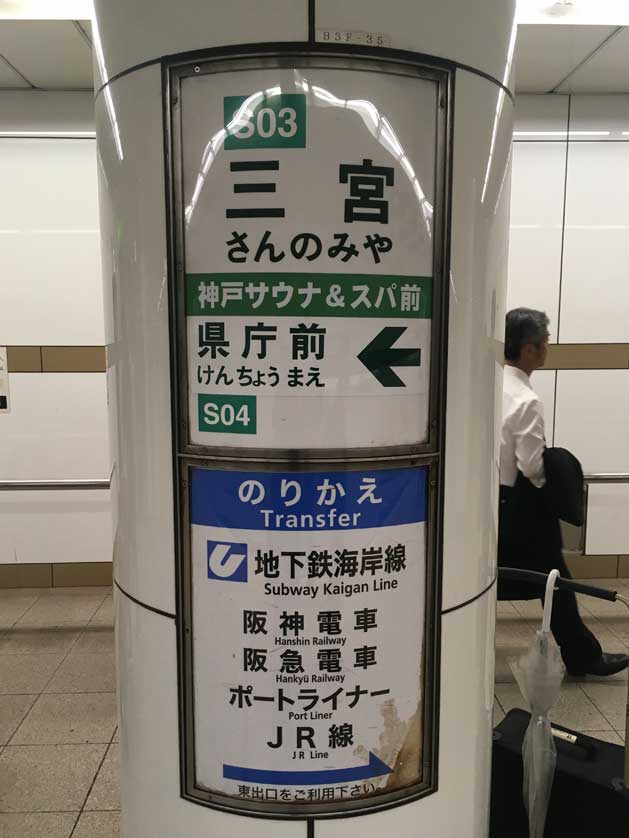 Kobe Subway Sign
Book Hotel Accommodation in Kobe
All the themes of the city