Nagasaki Station
Nagasaki Station, Nagasaki Prefecture 長崎駅
Seaside Liner is a Rapid Express type train that operates between Nagasaki Station and Sasebo stopping at Huis Ten Bosch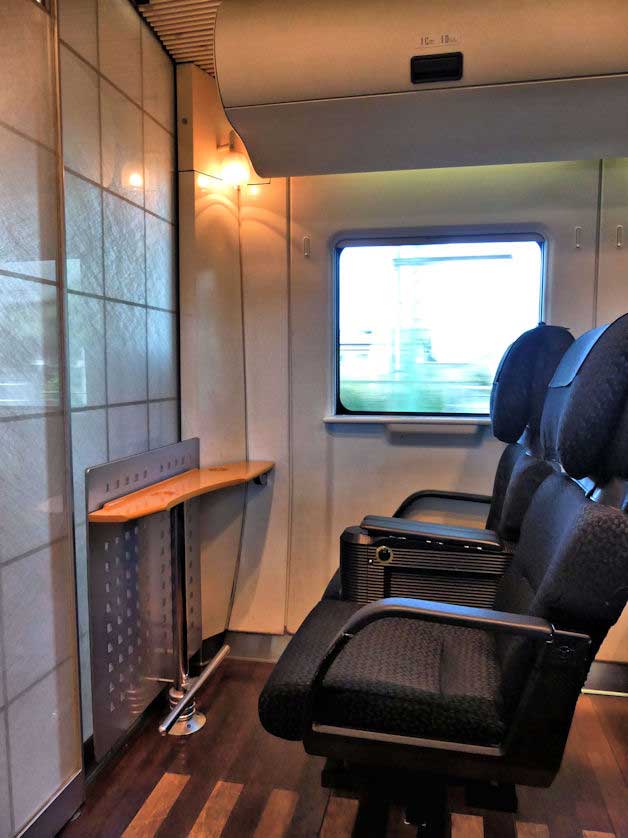 Interior of the Kamome Express, an 885 series express that runs between Hakata and Nagasaki, stopping at Shin Tosu Station, the closest Shinkansen stop to Nagasaki
Nagasaki Station in Nagasaki is the main point of access to this pleasant and historic port city on the west coast of Kyushu.
Lines
Nagaski Station is the terminus of the Nagasaki Main Line from Shin-Tosu Station which connects with the Kyushu Shinkansen to Kagoshima.
A planned spur of the Kyushu Shinkansen to Nagasaki is planned to open in the future.
Nagasaki Station connects to Hakata Station in Fukuoka by the Kamome Limited Express in 2 hours.
Nagasaki Station also serves local JR trains going to Isahaya, Omura, Huis Ten Bosch, Haiki and Sasebo as well as Kikitsu, Hizen-Yamaguchi, Saga, and Tosu.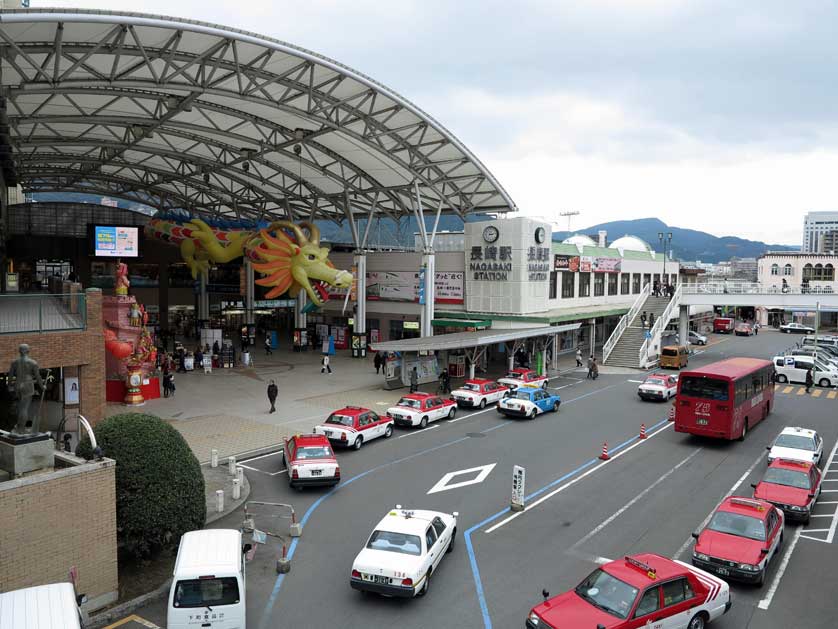 Nagasaki Station (長崎駅), Kyushu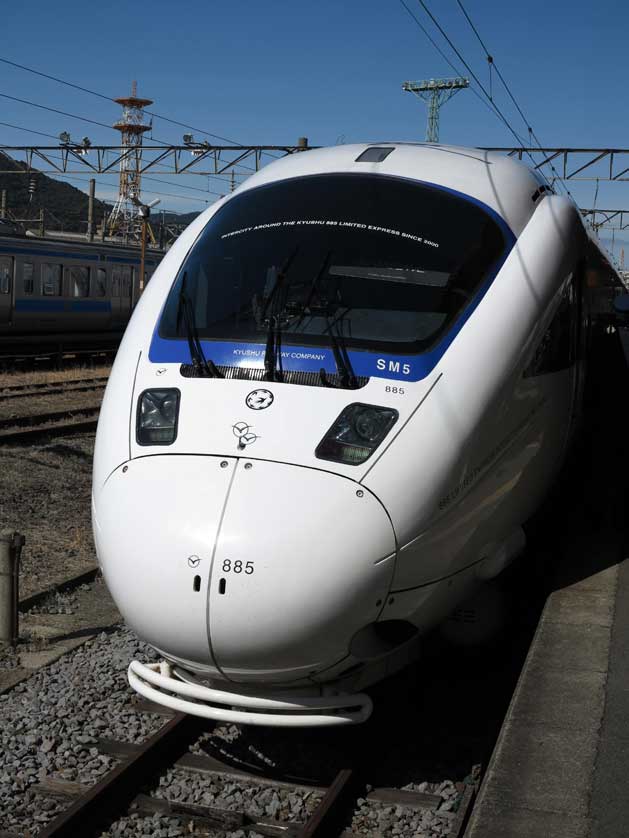 Kamome Limited Express Train to Fukuoka, Nagasaki Station, Kyushu
Trams
Nagasaki Station is also a stop for Nagasaki trams. Just walk over the pedestrian bridge or take the elevator to the tram stop which serves routes 1 & 3. Tram routes #1 & #3 both run up to the Nagasaki Peace Park and route #1 also goes to Dejima.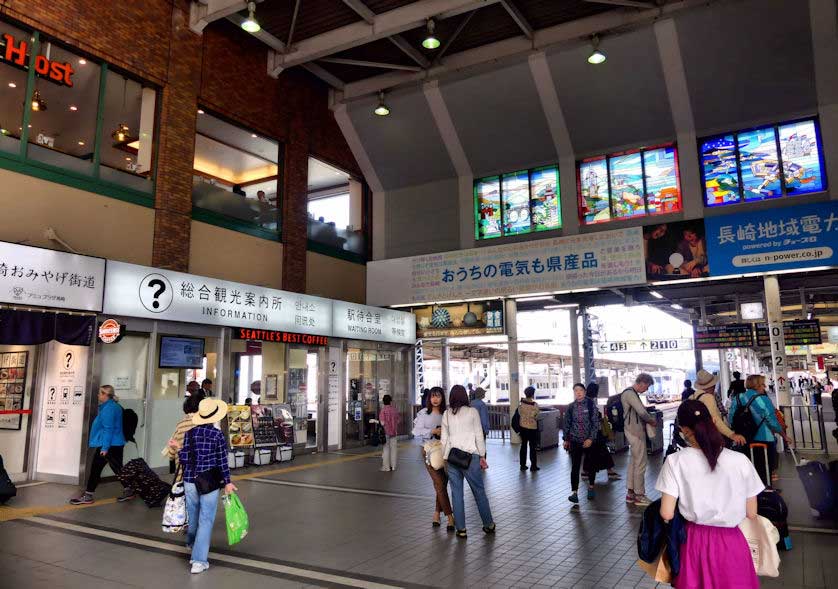 Main concourse of Nagasaki JR Station. The Tourist Information Office, waiting room, and coffee shop all share the same space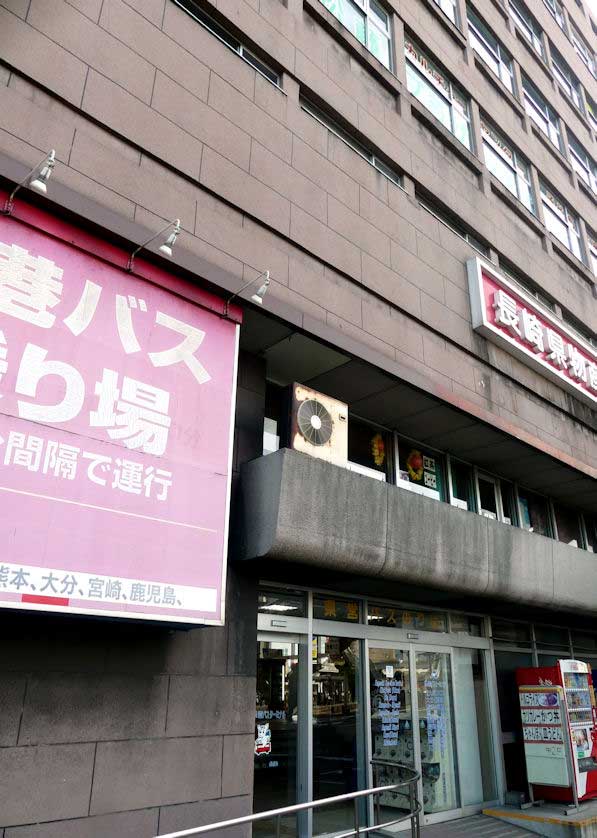 The entrance to the Long Distance / Expressway Bus Terminal in Nagasaki is quite hard to spot. Located across the street from JR Nagasaki Station, it is accessible via an elevated walkway from the station
Highway Buses
Highway buses with services to Fukuoka and night services to Osaka and Nagoya leave from the Ken-ei Bus Terminal opposite Nagasaki Station on the other side of the road.
Buses from Nagasaki to Miyazaki take 5 hours, 30 minutes and there are also buses to Sasebo, Huis Ten Bosch, Kumamoto, Kagoshima, Kita-Kyushu, Nagasaki Airport, Beppu and Oita.
There is also another bus terminal near Dejima with buses to Nagasaki Airport.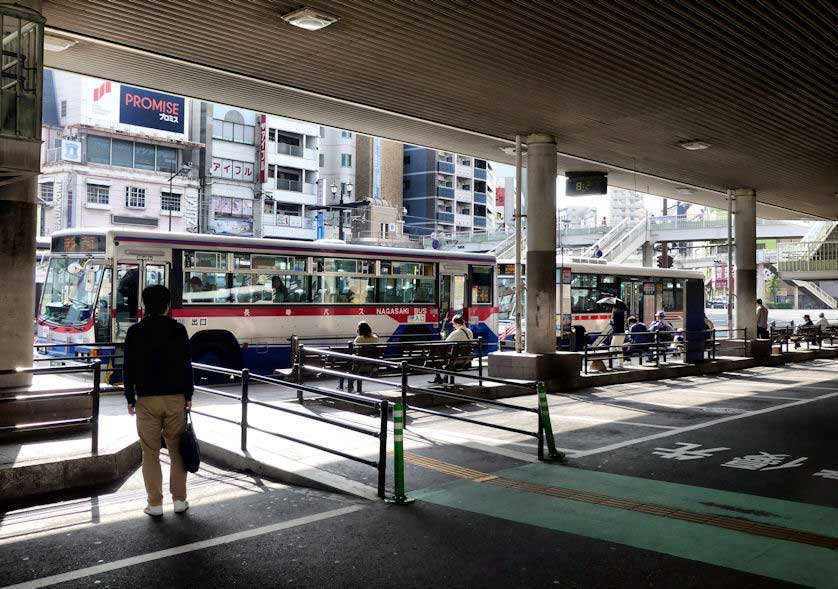 Local bus stops in front of Nagasaki JR Station. This is for buses neading north from the station. Buses heading south stop across the street
Facilities
The Nagasaki Station building contains a department store, a convenience store / kiosk, a Tourist Information Center, coin lockers, various cafes and restaurants. Eateries include a branch of Royal Host, there is also a Kuro Neko delivery company office and various souvenir stalls selling Nagasaki's signature champon and kasutera.
Nagasaki Station is barrier free.
Taxis congregate outside the main exit and you can rent a car at the station.
Hotels Near Nagasaki Station
The area around Nagasaki Station has numerous hotels including the Royal Hotel, the Hotel Cuore Nagasaki Ekimae and the APA Hotel Nagasaki Ekimae. Just across from Nagasaki Station are a couple of narrow streets packed with low budget eateries and izakaya.
Nagasaki Lantern Festival, Nagasaki Station, Kyushu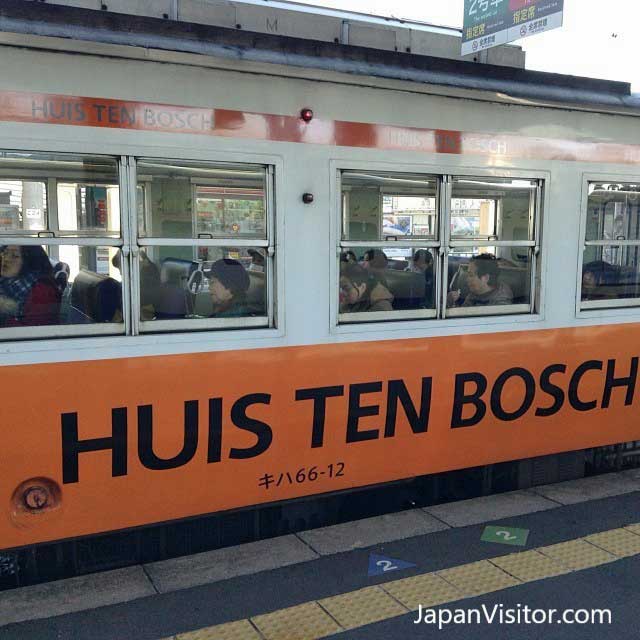 Local train to Huis Ten Bosch at Nagasaki Station in Kyushu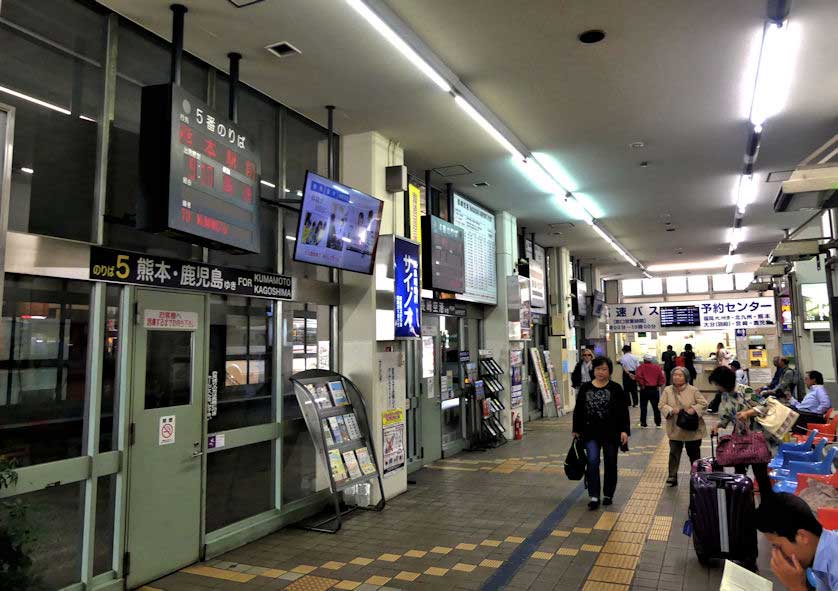 Inside the Long Distance Bus Terminal at Nagasaki
Book Hotel Accommodation in Nagasaki Japan
Nagasaki Station: read a guide to Nagasaki Station which has connections to Hakata Station in Fukuoka, Sasebo, Huis Ten Bosch and other destinations in Nagasaki Prefecture.
All the themes of the city