Kitakyushu Guide
Japan City Guides: Kitakyushu 北九州
Things to see and do in Kitakyushu
Kitakyushu is a large metropolis on the northern tip of Japan's southern island of Kyushu. Kita-kyushu covers an area of more than 483 square kilometers and has a population of more than 1 million.
Kitakyushu was formed in 1963 by merging the towns of Moji, Kokura, Tobata, Yahata with its main attraction of Space World (closed in 2018) and Wakamatsu.
Kitakyushu was the intended target of the second A-bomb in World War II but bad weather and smoke screens diverted the attack to Nagasaki.
Kitakyushu is the largest port in Kyushu, Shikoku, and the Chugoku region.
Known primarily as an industrial area, Kitakyushu was once among the most polluted places in Japan but is a now a government designated "Eco Model City".
For the visitor the areas of most interest are Kokura, Mojiko, Yahata/Space World, and Shimonoseki, across the straits in Yamaguchi Prefecture.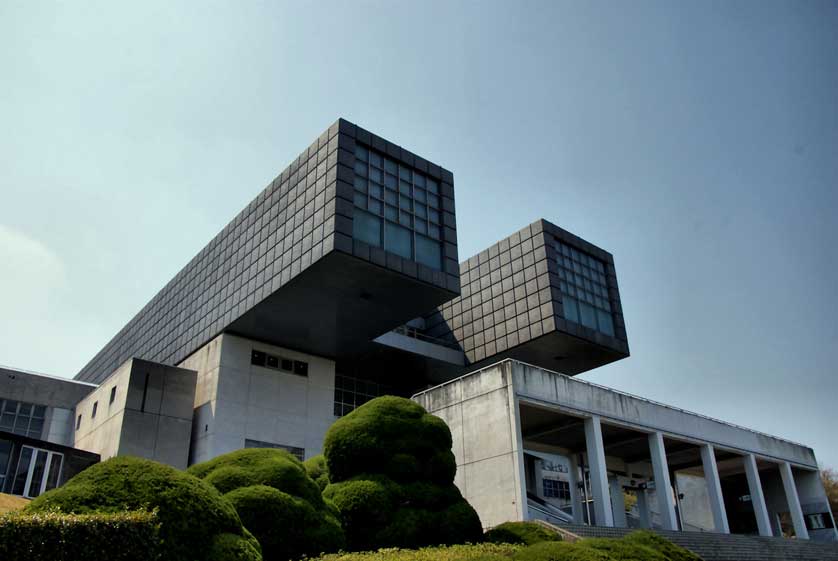 Kitakyushu Municipal Museum of Art, Kitakyushu, Kyushu
Kokura Castle, the only castle left standing in Fukuoka Prefecture, was first built in 1602 by Hosokawa Tadaoki and completed six years later. Kokura castle was destroyed by fire in 1837, with parts of it rebuilt by 1839.
Overshadowing the castle is the large Riverwalk Kitakyushu, a shopping and entertainment complex with a multiplex cinema, a food court, the Kitakyushu Performing Arts Center (Tel: 093 562 2655) and a branch of the main Kitakyushu Municipal Museum of Art (Tel: 093 882 7777). The Riverwalk Kitakyushu design was undertaken by the same Jon Jerde-led architectural team who built the similar multi-use Canal City in Fukuoka.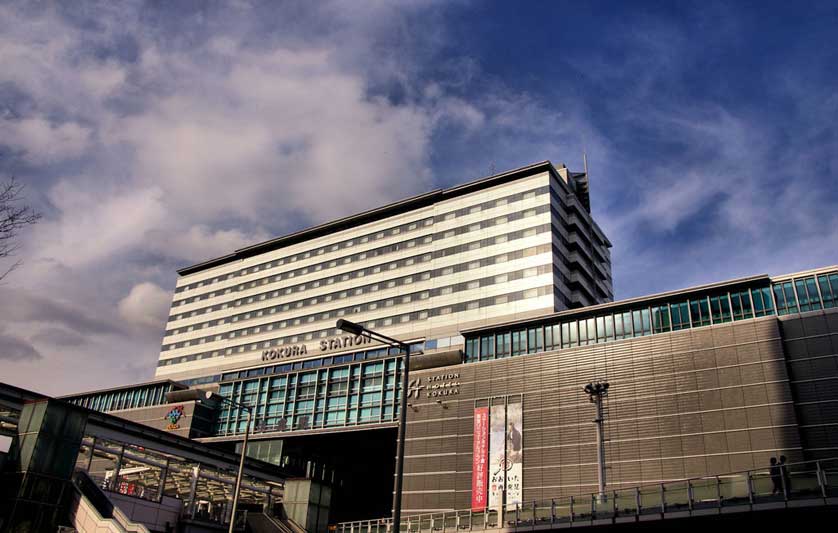 Kokura Station building, Kitakyushu, Kyushu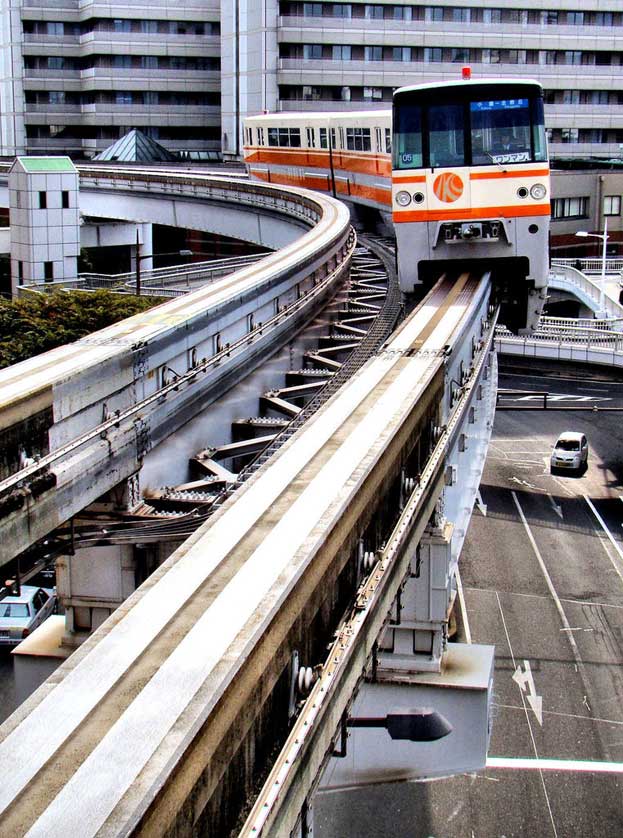 Kokura monorail, Kitakyushu, Kyushu
Kitakyushu Festivals
There are numerous local festivals held throughout the year in the Kitakyushu area but the most popular are the three Gion Matsuri held every July involving huge floats in the wards of Tobata, Kurosaki, and Kokura.
The biggest of these is the Tobata one. The biggest festival in Kitakyushu is the Wasshoi Hyakuman Natsu Matsuri held in early August.
This is a modern festival created to celebrate the creation of Kitakyushu and it features elements from the other traditional festivals as well as a massive yosakoi dance parade and a giant fireworks display.
The Kanmon Bridge links Kitakyushu in Kyushu with Shimonoseki in Honshu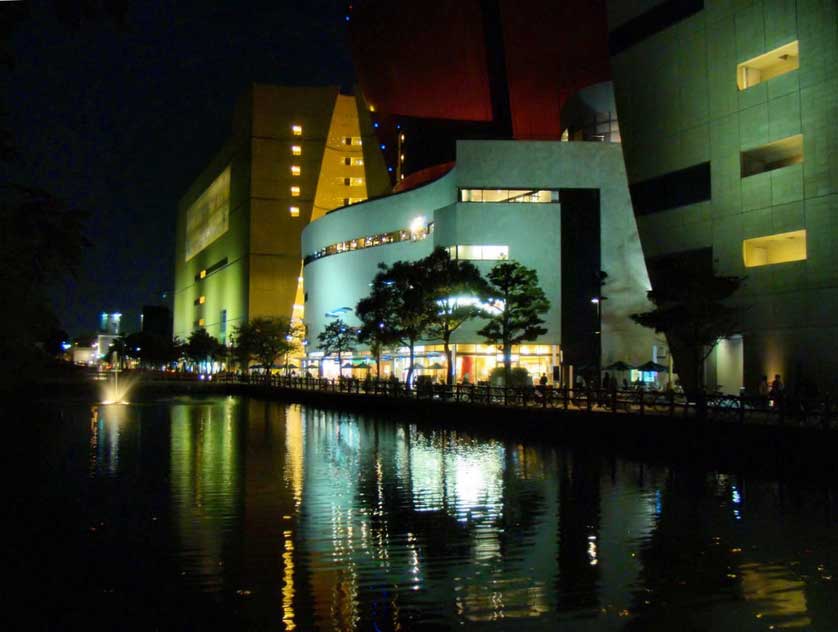 The Riverwalk Kitakyushu by Jon Jerde
Tourist Information Centers in Kitakyushu
The main Tourist Information Center for Kitakyushu is located within the concourse at Kokura Station.
Accommodation in Kitakyushu
Much of the available accommodation in Kitakyushu is situated around Kokura Station. Places include the three star Daiwa Roynet Hotel Kokura Ekimae, the Hotel Relief Kokura Station, also three star, the JR Kyushu Hotel Kokura, three star again and the Hotel Crown Hills Kokura.
See here for a full listing of hotels in Kitakyushu.
Kitakyushu Access - Getting To Kitakyushu
Air
Kitakyushu Airport is a new airport built on an an artificial island and is unusual in that it operates 24 hours a day. Several airlines run scheduled flights to and from Tokyo Haneda Airport, but Fukuoka Airport is less than 30 minutes away by train and has flights from many more domestic and international airports.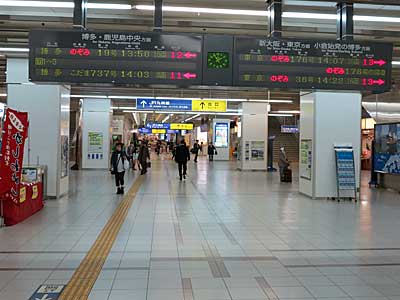 Kokura Station concourse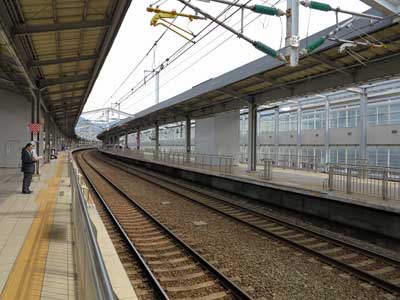 Kokura Station shinkansen platform
Train
Kokura is the first station of the Sanyo Shinkansen in Kyushu and all trains stop here. It takes less than 5 hours from Tokyo, 3 hours from Nagoya, and a little over 2 hours from Osaka. The newly opened Kyushu Shinkansen connects to Kumamoto in less than an hour and  Kagoshima in just over 100 minutes. From Kokura take the Sonic Limited express to Kunisaki, Oita & Beppu.
The Sanyo Line runs a fast shuttle to and from Shimonoseki. The Kagoshima Line and the Nippo Line connect to all areas of Kyushu. Within Kitakyushu the Monorail runs about 9 km from Kokura Station to Kokura Minami.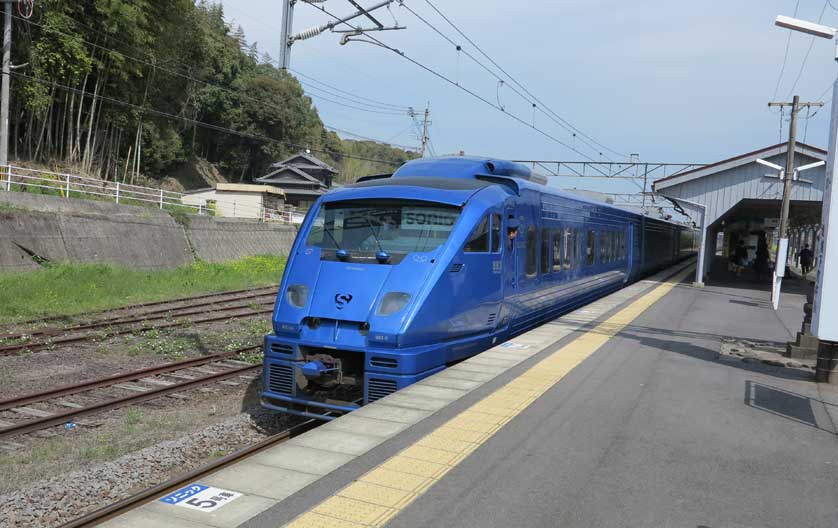 Sonic Express from Hakata & Kokura stations at Kitsuki Station
Ferry
Kitakyushu is served by several long distance domestic car ferries. A daily ferry from Tokyo stops at Tokushima on Shikoku, There are several ferries from Osaka and one from  Kobe, and a direct ferry from Matsuyama on Shikoku. There are also small passenger ferries across the narrow straits to Shimonoseki and also to some smaller nearby islands. There is a high-speed speed ferry to Ulsan in Korea.
Book Accommodation in Fukuoka
Kitakyushu guide: read a guide to the metropolis of Kitakyushu made up of the towns of Moji, Kokura, Tobata, Yahata and Wakamatsu.
All the themes of the city