Lake Tazawa
Japan City Guides: Lake Tazawa, Akita Prefecture (田沢湖)
Matt Baxter
Lake Tazawa Attractions
Lake Tazawa (Tazawa-ko) is an almost luminous caldera lake, located directly east of Akita city, known across Japan as a great spot to relax almost any time of the year. The colour changes over the year from sapphire blue, to what could be described as jade green.
The almost perfectly circular lake never gets too busy, but has all the essentials of a great Japanese tourist spot. This means excellent transportation, hot springs and outstanding hiking up in the nearby mountains.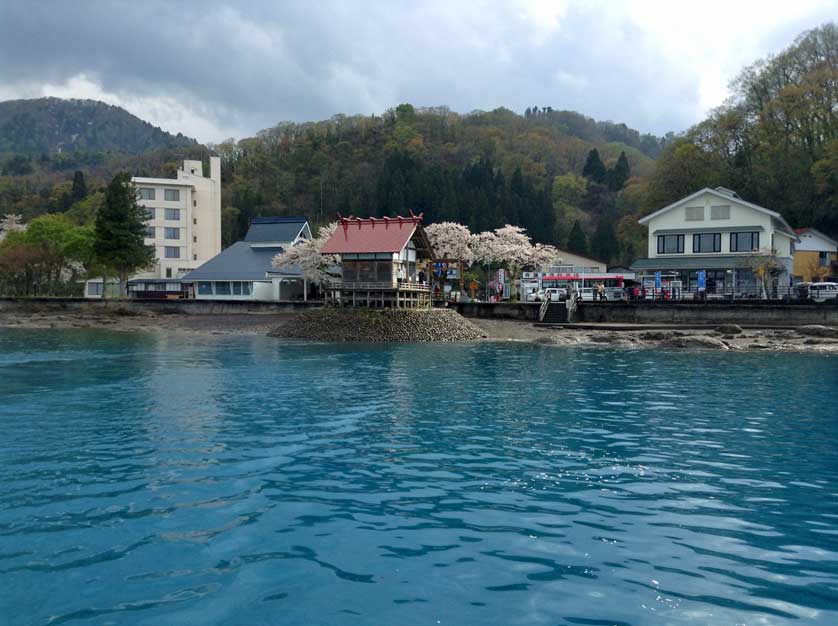 Lake Tazawa, Akita Prefecture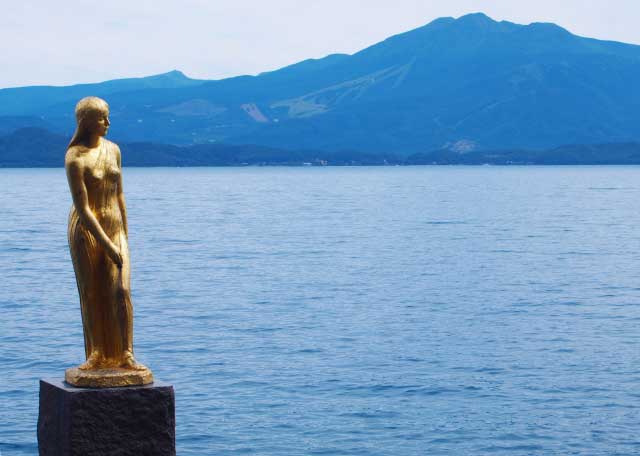 Tatsuko Statue, Lake Tazawa, Akita Prefecture
The most iconic spot in Lake Tazawa is the much photographed Tatsuko Statue, on the western shore. The myth goes that a beautiful woman called Tatsuko wished and prayed for her beauty to last eternally, but instead was cursed by the gods and turned into a dragon, sinking into the lake below.
The best way to see the Tatsuko Statue is to take a boat tour. There are four services a day from Shirahama Port, a few minutes walk from Tazawa-Kohan bus terminal. Tours take visitors all the way to the statue and around the lake, with a bit of audio commentary to explain the history of the statue and the lake itself. Tours cost 1,170 yen and operate late April to late November.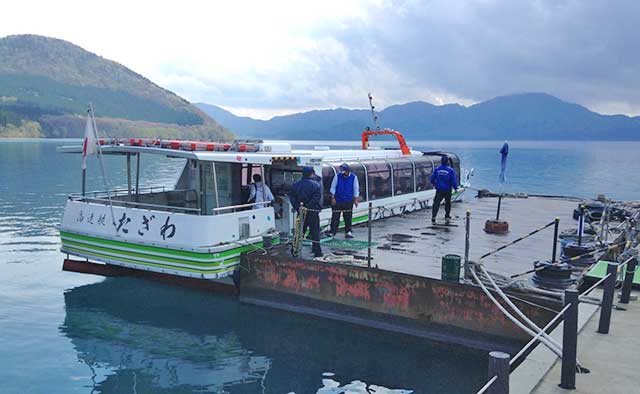 Sightseeing boat, Lake Tazawa, Akita Prefecture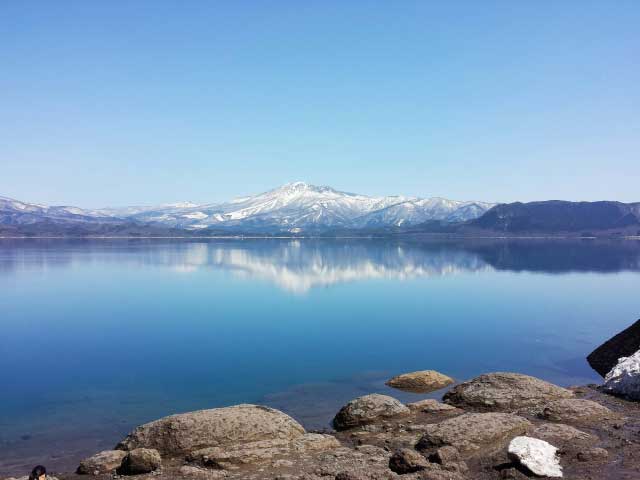 Lake Tazawa, Akita Prefecture
On the the northern shore is Goza-no-ishi Shrine. Tour boats go near to the shrine, but it is also possible to go inside if you take the bus or head there on a bike. The bright red gates make for another great photo or two. Legend has it that feudal lords used to visit this shrine and admire the sapphire blue waters below and the spiritual feelings that it gave them.
Those looking for a hike should check out Mt. Komagatake. At 1,637 metres high, the highest mountain in Akita Prefecture gives a commanding view over the Tazawa Lake.
Those that reach the summit will be greeted by stunning flower fields. The mountain is connected to the bus network, with the summit only being a 1 hour walk from the final bus stop (the 8th station).
Note that buses to the mountain do not operate in winter. Those that would like an easier walk should visit Katamaeyama Forest Park, near Tatsuko Statue. The small forest has paved paths up to a viewing point over the lake.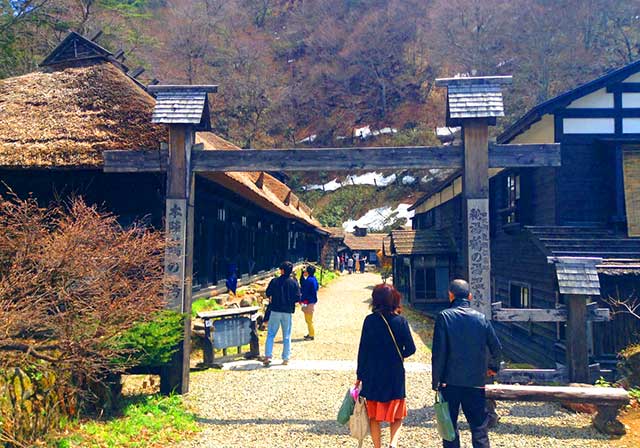 Tsuru-No-Yu Hot Spring, Lake Tazawa, Akita Prefecture
Lake Tazawa Hot Springs
The best known hot spring in Lake Tazawa is Nyuto Onsen. Located up Mt. Nyuto-zan to the east, the site features traditional onsen buildings, with thatched roofs and some basic amenities. It definitely feels like the real deal, unlike some modern onsen that can sometimes feel more like leisure centers.
Tsuru-No-Yu Hot Spring is the most popular, with its milky, lukewarm water. Set at the top of the mountain, the very photogenic buildings around are worth the trip themselves. The baths are open from 10am to 3pm for the public, and cost 500 yen per person.
Another well known onsen is Tae No Yu Hot Spring. Stunningly set beside a wide stream in the forested mountain, it is slightly more modern, but still feels authentic with its wooden baths and laid back atmosphere. This one is open from 10am to 2pm, and costs 1,000 yen per person. Best to visit Tae No Yu Hot Spring if you want a less crowded bath to chill out in.
There is a hiking route that actually heads from Tsuru-No-Yu Hot Spring, all the way down the mountain via Tae No Yu Hot Spring, to nearby Lake Tazawa. Taking 3-4 hours from the foot of the mountain, it's a moderately difficult hike along quiet streams and through cedar forests. Note that it is not accessible in winter.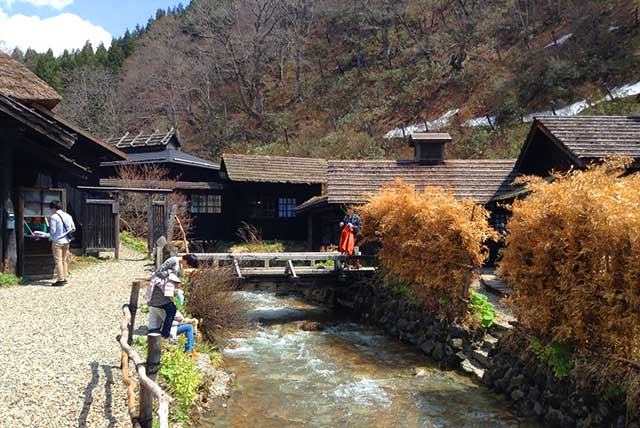 Tsuru-No-Yu Hot Spring, Lake Tazawa, Akita Prefecture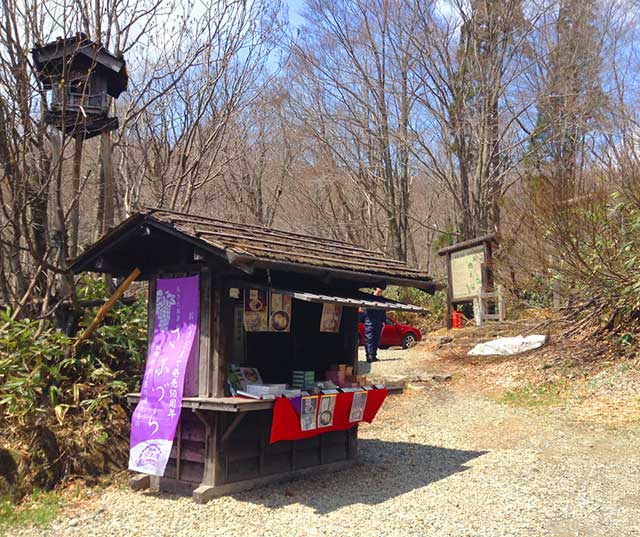 Hiking trail, Lake Tazawa, Akita Prefecture
Tazawa Tourism Association
Located in the train station.
Tel: 0187 43 2111
Hours: 8.30am-5.30pm
Lake Tazawa Accommodation
There are a small number of ryokan (Japanese inns) in town and up into the mountains. Hotel Morinokaze Tazawako is located near the town to the east of the lake and has a posh hot spring for its customers, plus an on-site restaurant.
Tazawa Kogen Hotel, up Mt. Komagatake, has Japanese rooms with mountain views and free wifi.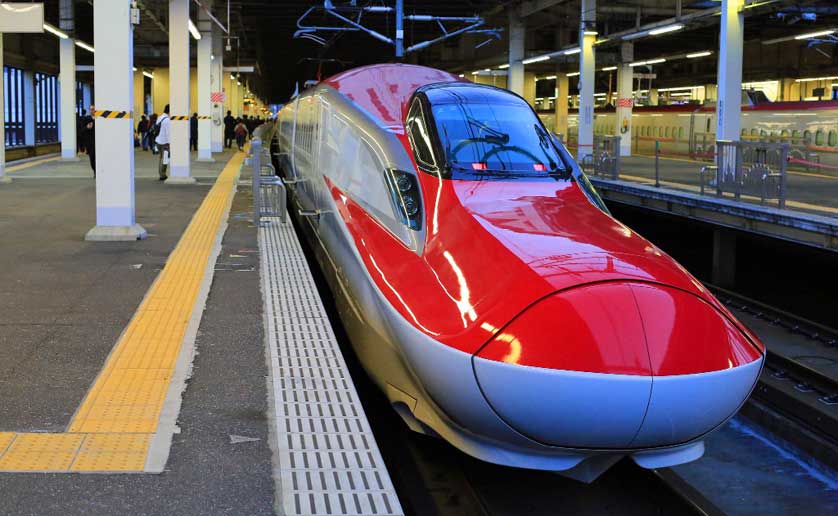 Komachi Mini-Shinkansen, Lake Tazawa, Akita Prefecture
Lake Tazawa Access
From Tokyo Station or Ueno Station, JR Akita Shinkansen Komachi trains run via Omiya, Sendai and Morioka to Tazawako station (16,170 yen, 3 hours) and continue on to Akita Station.
This 'mini-Shinkansen' uses the super fast Shinkansen line up to Morioka, then seamlessly moves onto the old countryside track to Lake Tazawa. The trip is fully covered by the JR Rail Pass. All seats are reserved.
If you are on more of a budget, take a highway bus with JR Bus or Willer Bus to Morioka Station (from 4,500 yen, 7 hours). From here, get a local train to Lake Tazawa. This uses the same track as the mini-Shinkansen, but as the Shinkansen has priority, there are only several local trains a day.
Check train times before leaving Tokyo, so you don't have to wait too long at Morioka Station. Taking an overnight night bus to Morioka, then an early local train is the best option for budget travelers.
Getting around Lake Tazawa
Lake Tazawa and the surrounding areas are well set up for easy transportation. English route maps are displayed at all bus stops, with colour coded routes and easy to understand costs.
From Tazawa Station there are buses every hour or so to all the main tourist sites, such as Tatsuko Statue, Nyuto Onsen and Mt. Akita Komagatake. It costs 360 yen to Lake Tazawa itself. Rental bicycles are also available just outside the station and in town for 200 yen. The land around the lake is quite flat, so a bicycle is a great way to go around it and the town to the east.
Map of Aomori & Akita
Akita Day Trip
Akita Prefecture
Book Hotel Accommodation in Akita
Lake Tazawa (Tazawa-ko) is Japan's deepest lake at 423m and is an almost luminous caldera lake in Akita Prefecture.
All the themes of the city