Yufuin
湯布院

Yufuin is a small town of around 36,000 people nestled in the picturesque valley below Mount Yufu-dake near Beppu on the southern island of Kyushu.
Yufuin Travel Guide
25km inland from Beppu on the coast on the road to Mount Aso, Yufuin is a very different kind of onsen resort to its more famous neighbor by the sea. Whereas Beppu has always been a hot spring town catering to male visitors with its red-light district and sex museum (now sadly closed) included, Yufuin was from the onset supposed to be very different - a thoroughly clean and healthy place geared towards women and young families, with lots of cultural activities, art galleries and museums on offer.
Yufuin Attractions
Yufuin has a number of things to do and the town makes for a pleasant day-trip from Beppu or a stop over on your way to Mount Aso.
Kinrinko Lake is a noted beauty spot with a number of onsen, restaurants and cafes on its shores including the Kamenoi Besso ryokan - a classic ryokan from the 1930s and considered one of the of the best and most expensive in Japan, complete with an excellent restaurant and a store selling Western-style meat and dairy products from the farms up on the Kuju Highlands. Shitan-yu is an old, mixed bathing, open-air, hot spring public bath located by the side of the lake. The building is thatched with the onsen pool being half-covered by a roof and half-open to the elements.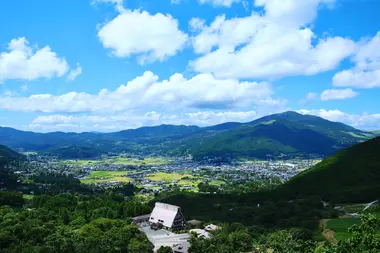 Yufuin Museums
The Yufuin Kiyoshi Yamashita Museum (Yufuin Yume Art Museum) on the main road to Kinrin Lake has a really good selection of the eccentric artist's works. Yamashita (1922-1971) was known as the "Japanese Van Gogh" or the "Naked General" for his habit of wandering the country wearing only a vest and was famous for his chigiri-e art works - art made from cut or torn pieces of paper.
The Sueda Art Museum was established by artists Ryusuke and Shiori Sueda. The interior of the modern building was designed by Hiroshi Hara, who was the architect of Kyoto Station.
The Marc Chagall Yufuin Kinrinko Lake Museum contains paintings by the Russian artist on the second floor with a lake side cafe on the ground floor.
The Yufuin Film Festival is Japan's oldest film festival, dating back to the 1970's and is held in August in a town without a movie theater! The event takes place in a multi-functional communal hall and consists of a number of fairly academic symposiums and about 20 film screenings.
The Kyushu Yufuin Mingei Mura (Folk Craft Village) displays the area's many crafts with demonstrations in indigo-dying, glass blowing, pottery & washi paper manufacture by local artists in historic buildings re-assembled at the site. These structures include an old village headman's house and a sake brewery.
Yufuin's many other museums and galleries include the Dordogne Museum of Art displaying works by Teppei Ujiyama, a contemporary artist from Hida, Kagono Art Museum with abstract art by Kokuta Suda (1906–1990), illustrations by Tsuneyoshi Araki (1934-2014) and others, the Kyushu Museum of Automobile History with over 70 vintage cars, the Yufuin Motorcycle Museum, the small Norman Rockwell Yufuin Art Gallery and the Tennichi Museum of Crafts and Sculptures with artworks by Kenji Zenigame a sculptor and painter.
Yufuin Temples & Shrines
Yufuin's temples and shrines are not the main reason people visit the town. However, they are often much less crowded spaces than the main attractions and well-worth some of your time. They are all set in stunning natural surroundings. Tenso Shrine, Bussanji Temple, Rokusho-gu (Unagihime Shrine) and Ogosha Shrine are the best four to see.
Lake Shidaka
A short drive from Yufuin is the beautiful Lake Shidaka, 600 meters in elevation and part of the Aso Kuju National Park. Lake Shidaka (Shidaka-ko) stunning views of Yufu-dake and Tsurumi-dake. A camping site on the shores of the lake makes for a perfect place to relax.
Yufuin Station is a cedar wood "period piece" designed to look like a locomotive boiler by Arata Isozaki. Yufuin Station was built in 1990 and the station's floor is heated by a hot spring. Yufuin Station also contains the town's tourist information office and a small art gallery.
Train buffs can buy a platform ticket to see the luxury Yufuin-no-Mori train - the distinctive green train with a wooden interior runs from Hakata to Beppu via Yufuin.
Yufu-date (1584m) has twin peaks and towers above the town. It takes about 90 minutes to get to the top - there are no shops or refreshments on the way.
Yufuin Access
Local JR trains on the Kyudai Line take 1 hour and 15 minutes from Beppu via Oita. Limited expresses do the same journey in 60 minutes.
From Hakata Station in Fukuoka, Yufuin is 2 hours, 16 minutes by Limited Express. From Kokura take the Sonic Limited Express to Oita (90 minutes) and change to the Kyudai Line.
Oita is 3 hours by train from Miyazaki and Kagoshima 2 hours from Miyazaki. The quickest way from Kagoshima to Yufuin is to take the Kyushu Shinkansen to Kurume (78 minutes) and then change to the luxury Yufuin no Mori express to Yufuin (1 hour, 30 minutes).
From Kumamoto ride the Kyushu Shinkansen to Kurume (30 minutes) and then change to a Limited Express to Yufuin.
From Nagasaki take the Kamome Limited Express to Tosu and change (1 hour, 30 minutes).
All the themes of the city