Kagoshima City Aquarium
Kagoshima City Aquarium いおワールドかごしま水族館
Located on the seafront near the Sakurajima Ferry Terminal and the new Dolphin Port development in Kagoshima city, Kagoshima Aquarium (Io World Kagoshima Suizokukan) opened in 1997.
The seven floors of Kagoshima Aquarium feature displays mostly concerned with local marine life, including the island chains that extend south from Kagoshima including Yakushima, Tanegashima and Yoron Island.
The biggest display is the Kuroshio Tank, showing sea creatures from the Kuroshio Current, which flows past Kyushu and includes rays and a whale shark.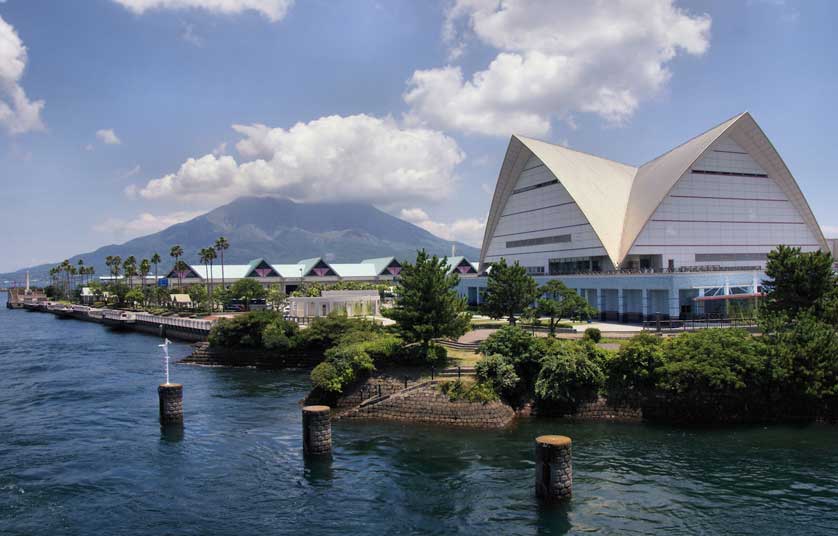 Kagoshima Aquarium with Sakurajima in the background, Kyushu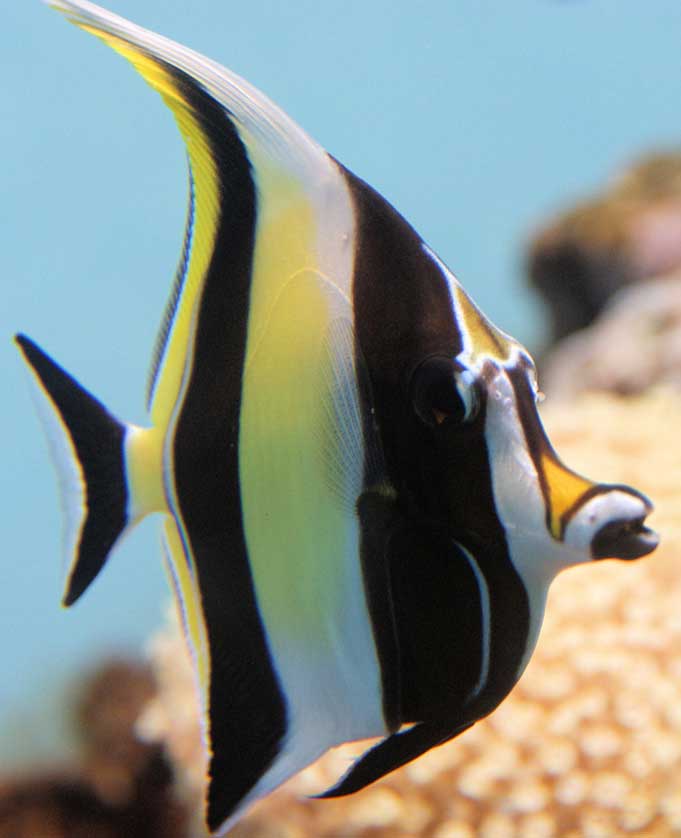 Io World Kagoshima Suizokan, Kagoshima, Kyushu
Another floor features life from among the coral Nansei Archipelago that extend south from Kagoshima to the Okinawan Islands, and another section focuses on Kagoshima Bay.
There is a dolphin tank with shows throughout the day, but on most days, depending on the weather and water conditions, there are also dolphin feedings and shows outside the aquarium in the waterway.
The outdoor shows are free. There is a small cafe with excellent views across the bay to Sakurajima, and free wi-fi throughout the building.
Access - Getting to Kagoshima Aquarium
3-1 Honkoshinma
Kagoshima
892-0814
Tel: 099 226 2233
Accessible by either of the Kagoshima City View Bus routes from Kagoshima Chuo Station from Suizokukan-guchi tram stop (15 minutes from JR Kagoshima Chuo Station).
The Kagoshima Aquarium is open from 9.30 am to 6 pm everyday except 4 days from the first Monday in December.
1,500 yen for adults, 750 yen for kids. An annual pass is 3,000 yen for adults.
Hotels In Kagoshima
The area around Kagoshima Chuo Station has many hotels including the Hotel Gastof, the Hotel Urbic Kagoshima, the Toyoko Inn Kagoshima Chuo-eki Nishi-guchi, the JR Kyushu Hotel Kagoshima Hotel and the APA Hotel Kagoshima Chuo-Ekimae.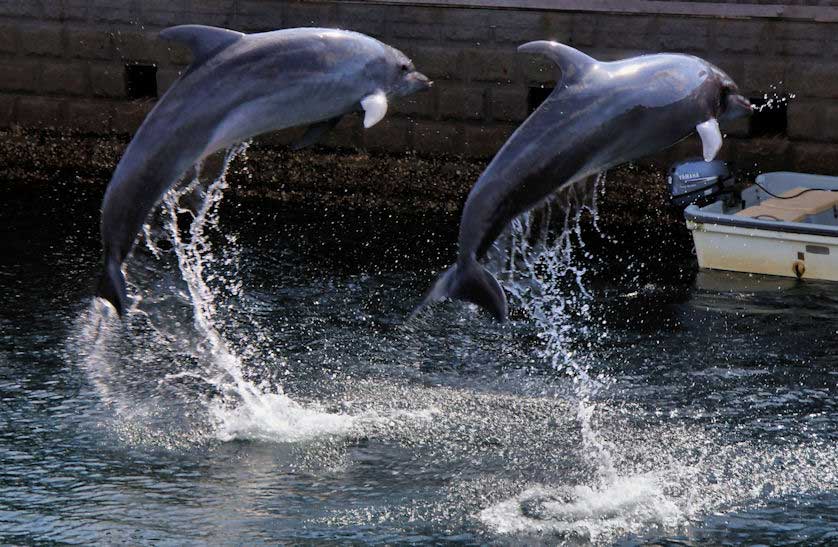 Dolphin Show, Kagoshima Aquarium, Kyushu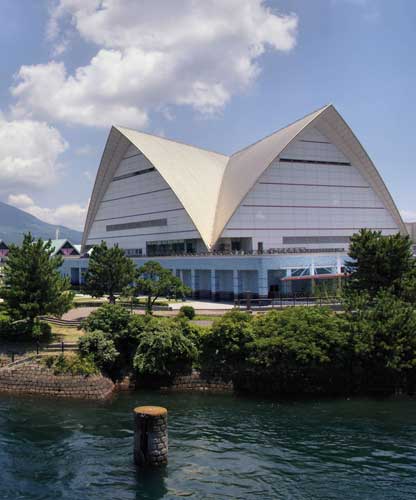 Kagoshima Aquarium, Kagoshima, Kyushu
Book Hotel Accommodation in Kagoshima Japan
Kagoshima City Aquarium has seven floors featuring displays of mostly local marine life including the Kuroshio Tank with rays and a whale shark.
All the themes of the city