Hosokawa Gyôbu-tei
旧細川刑部邸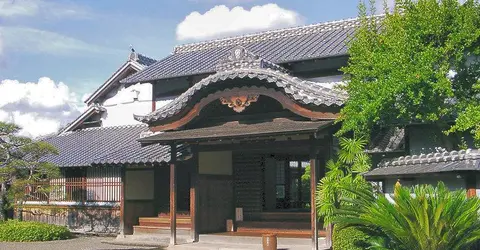 Elite guerrière 
Ancienne demeure de samouraïs de haut rang, Hosokawa Gyôbu-tei, dans le parc du château de Kumamoto, nous fait revivre le quotidien des aristocrates de l'époque Edo.
The Hosokawa Gyôbu-tei residence, formerly owned by the Hosokawa clan, is one of the best preserved buildings from the Edo period (1603-1868).
Erected in 1678 by Hosokawa Okitaka, it was initially located  in the Higashikokai machi district and was a simple house of rest for the masters of the city. But with the Meiji Restoration, the family had to leave the Kumamoto-jo, which had become the headquarters of the imperial army. Gyôbu-tei thus became the principal residence of the clan. In 1873, the imposing residence was moved to the castle park, San-no-maru.
In the samurai's den
Inside, Hosokawa Gyôbu-tei offers a good insight into the environment of the warrior elite. The different rooms, faithfully restored in the 90s, seem like a museum. In the office, kitchen and bedroom, we can discover precious objects belonging to the powerful family. Go games, painted shells, tea services, lacquered combs, which plunge us into the atmosphere of a bygone era.
With raked gravel and stone lanterns, the garden of the 990m2 property is a magnificent example of Japanese tradition. It is particularly popular in autumn for its numerous red and gold maples.
---
Address, timetable & access
All the themes of the city