Nobeoka Castle
Nobeoka Castle: read a guide to Nobeoka Castle in Miyazaki Prefecture, now in ruins but a popular park.
Nobeoka Castle, Miyazaki Prefecture 延岡城
Jake Davies
Nobeoka Castle, in Nobeoka city in Miyazaki Prefecture, Kyushu, was constructed in 1603.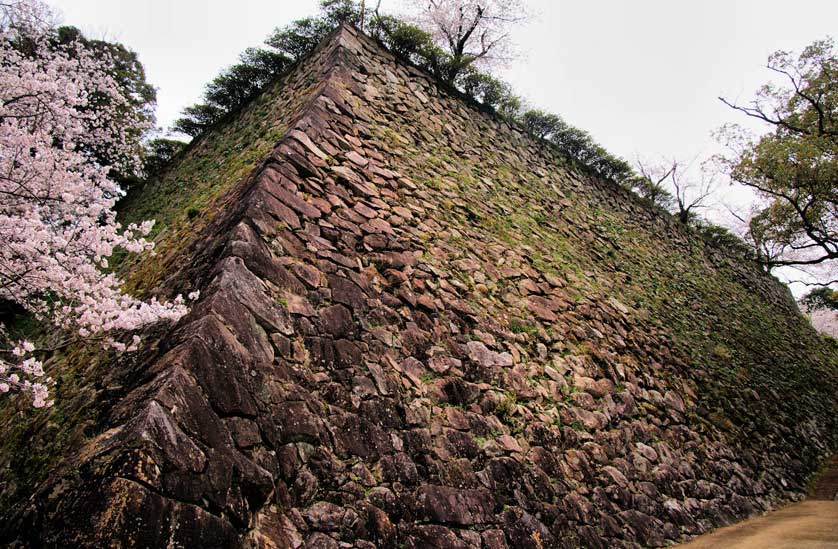 Nobeoka Castle in Nobeoka, Miyazaki Prefecture
History of Nobeoka Castle
In 1587 Takahashi Mototane was given control of much of northern Hyuga, now Miyazaki Prefecture. In 1601, to better control the area, he began construction of Agata Castle on a hilltop between two rivers that earlier was home to the fortified palace of the Tsuchimochi.
It was completed in 1603 but was not very big, without even a keep. In 1613 Takahashi was replaced by Arima Yasuzumi, and in 1653 changed its name to Nobeoka Castle and increased the fortifications including a three storey turret, but it burned down 30 years later and was not replaced.
The castle changed hands several more times until the Naito Clan were installed here in 1747 and they ruled until the castle was decommissioned in 1870 at the beginning of the Meiji Period. The castle never saw a battle until 1877 when Saigo Takamori and his forces occupied the hilltop, but were driven out by government troops.
The grounds are now a park, and with over 250 cherry trees it is very popular during hanami season. The only structure is a 1993 reconstruction of the main gate, the Otemon. There is a story told about one of the steep sections of curving wall, 22 meters high. It is said that if a keystone is removed the wall will collapse and kill as many as 1,000 soldiers of an attacking army, though no-one has tested the truth of the story.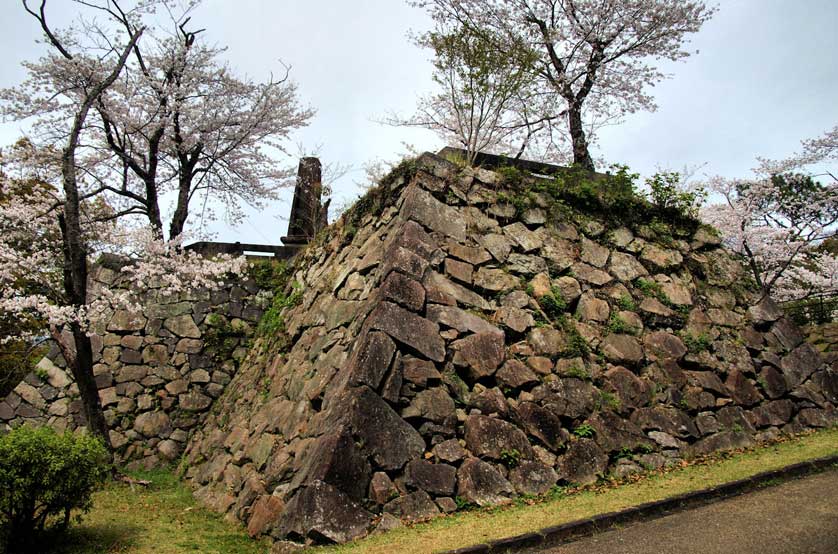 Nobeoka Castle in Miyazaki, Kyushu, is now a park famous for its cherry blossoms in spring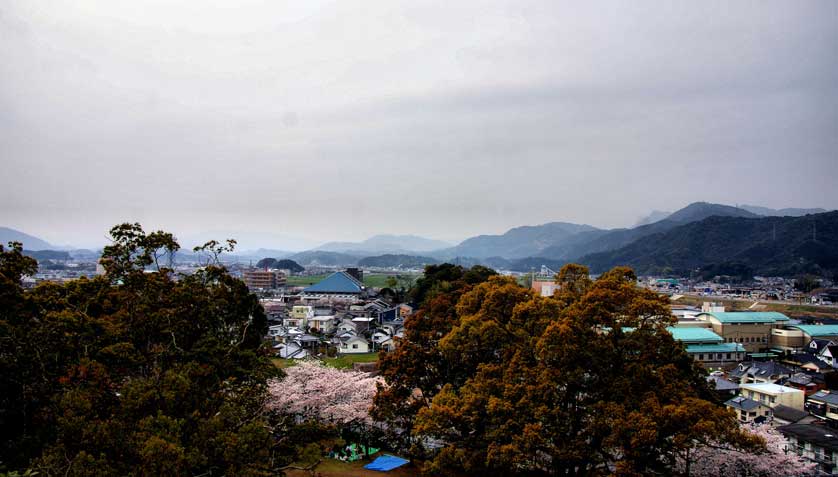 View from Nobeoka Castle out over the town

Nobeoka Castle Access
The park is located about 1.5 kilometers from Nobeoka JR Station on the Nippo Line. Buses run from just outside the station to the castle park.
Honkoji, Nobeoka City, Miyazaki 882-0812
Tel: 0982 34 2111
Entrance is free.
Nobeoka is 2 hours, 11 minutes from Oita Station by train.
Nobeoka Castle in Miyazaki Prefecture

Book Hotel & Hostel Accommodation in Japan
All the themes of the city