Ena Guide Gifu Prefecture
Ena 恵那
Ena is a small town in Gifu Prefecture within easy reach of Nagoya. Ena is located on the historic Edo Period Nakasendo highway between Kyoto and Edo (Tokyo) and is a favorite starting point for onward hikes on the Nakasendo to Nakatsugawa and on to Magome &Tsumago, Kiso-Fukushima and Narai.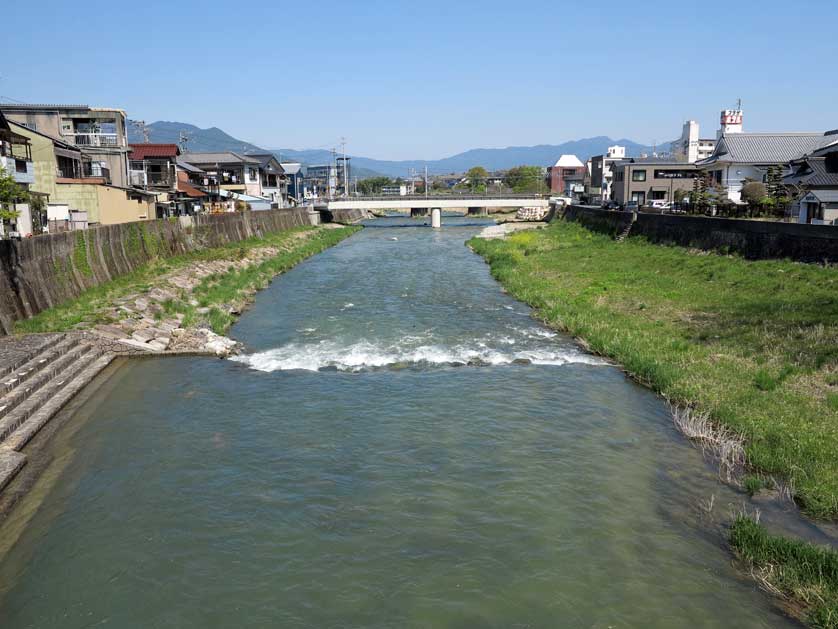 View of the Agigawa River, Ena, Gifu Prefecture
Ena is also the starting point of the quaint Akechi Railroad which connects to the Taisho Village in Akechi, the former castle town of Iwamura and a small onsen in Hanashiro.
Nearby Ena Gorge offers beautiful scenery and boat rides on the Kiso River. Ena Gorge came into being when a dam was constructed by Momosuke Fukuzawa, the adopted son of Yukichi Fukuzawa, and the lover of Sadayakko Kawakami, an ex-geisha who became known as "Japan's first actress" and performed in the West in Paris and America. Momosuke Fukuzawa was an energy tycoon involved in hydro-electric power and his power stations can be seen along the Nakasendo including one in Tsumago and a bridge he built in Nagiso in 1922.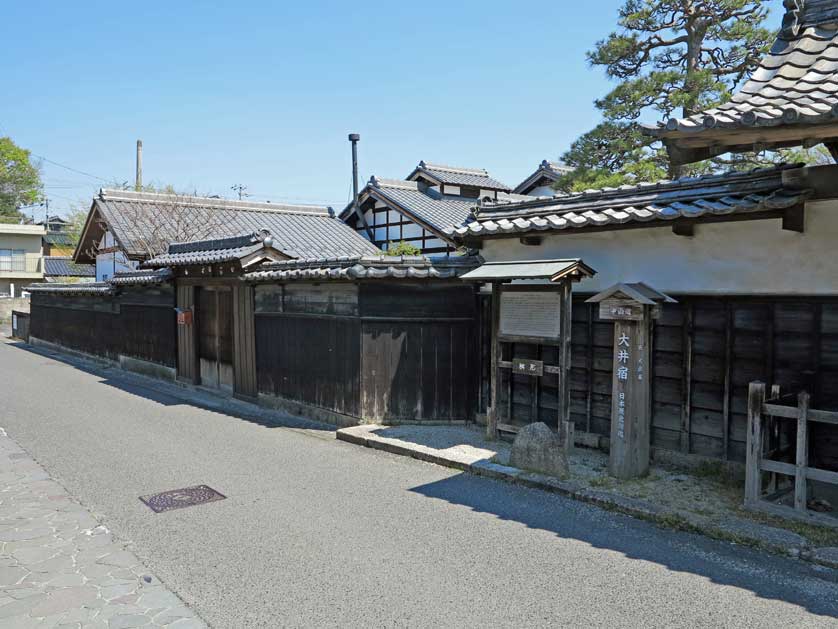 Honjin Gate, Ena, Gifu Prefecture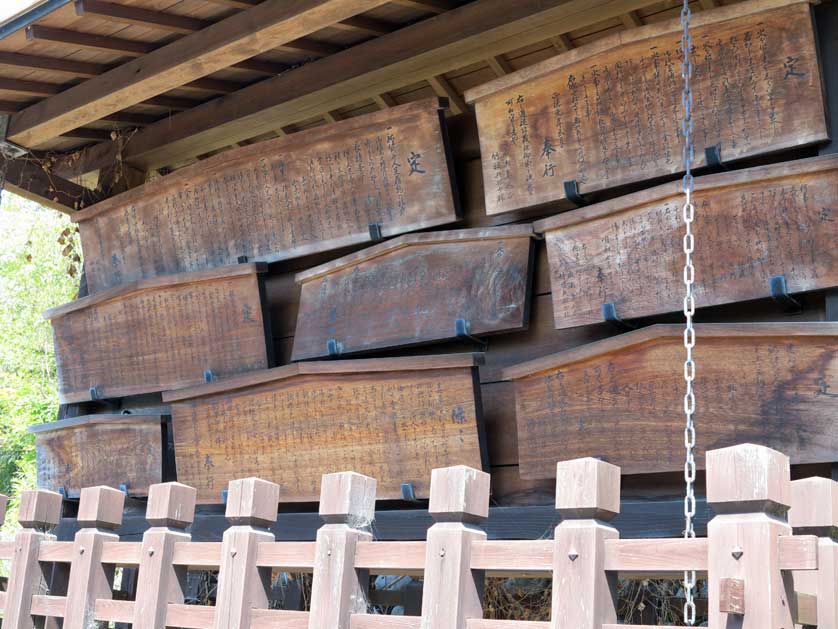 Kosatsuba noticeboard with regulations for travelers on the Nakasendo Highway in Ena
Ena Attractions
Ena (then known as Oii) was an important post town on the Nakasendo and this Edo Period heritage can still be seen at the Honjin (a lodging house for feudal lords), the town's manhole covers and a kosatsuba noticeboard on the edge of the city.
The Nakasendo was often favored by traveling daimyo (feudal lords) and their large train of servants and soldiers as it was safer than the Nakasendo on the Pacific Coast which involved crossing many dangerous rivers.
Unfortunately the Oii Honjin burnt down in 1947 and only the beautiful gate remains today.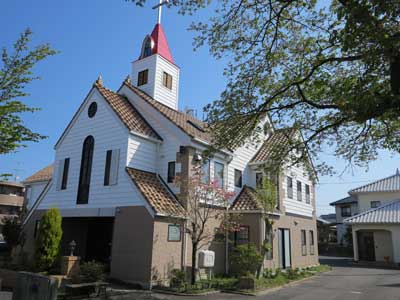 Church in Ena, Gifu Prefecture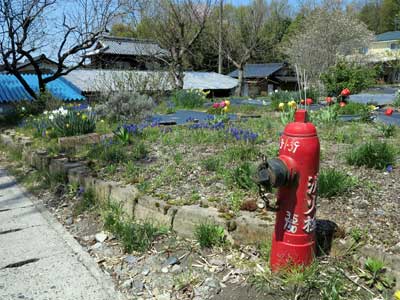 Countryside just out of town on the old Nakasendo highway
Ena's Hiroshige Museum of Art (Tel: 0573 20 0522) has a collection of over 500 ukiyo-e woodblock prints on display including the "Sixty-nine Stations of Kiso-kaido" (Nakasendo) by Utagawa Hiroshige and Keisai Eisen, a follow up to Hiroshige's more famous "The Fifty-three Stations of the Tokaido".
The Hishiya Museum (Tel: 0573 20 3266) is the restored house of a village headman (shoya) and gives an interesting insight into the life of a prosperous family in the Edo Period of Japanese history.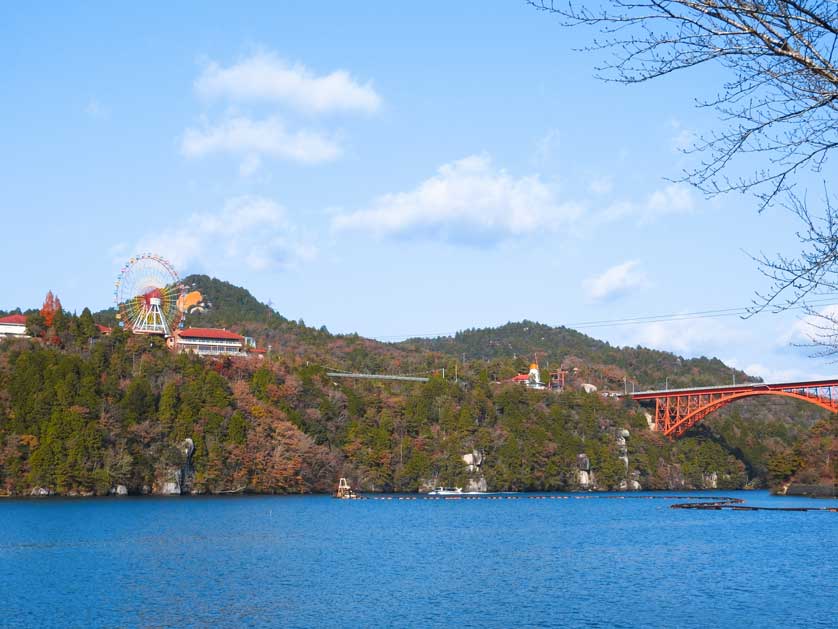 View of Ena Gorge, Gifu Prefecture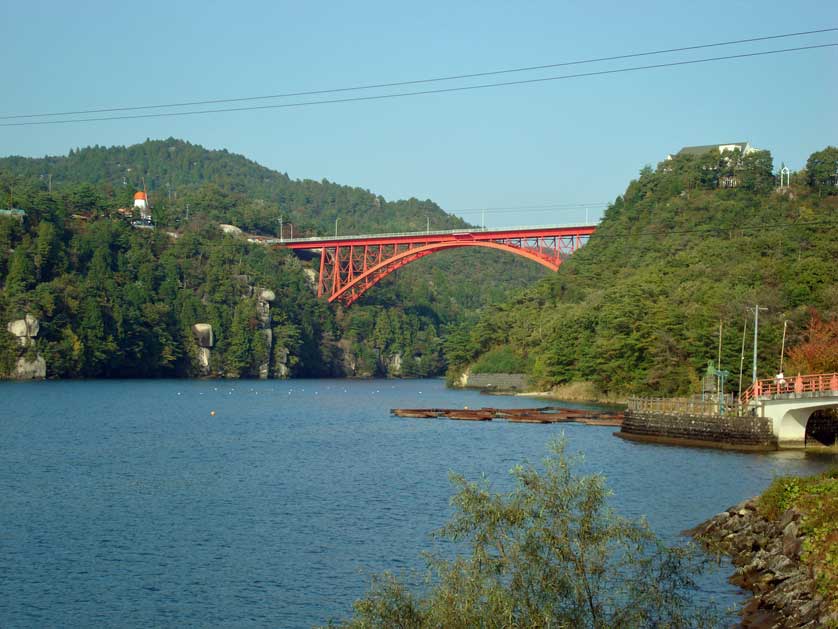 View of the scenery at Ena Gorge from a cruise boat
The Tokai Nature Path runs south from the Nakasendo and goes through beautiful countryside to Iwamura and then on to Akechi.
Just off National Highway 408 visitors can try their hand at soba noodle making at Rassei Misato (Tel: 0573 28 3310).
Hiking The Nakasendo from Ena to Nakatsugawa
Allow 2 or 3 hours for the walk along the Nakasendo to Nakatsugawa. The route is well-signposted and passes through some lovely, rolling countryside. From Nakatsugawa the Nakasendo passes through Ochiai and on to Magome, Tsumago, Nagiso, Yabuhara and Narai.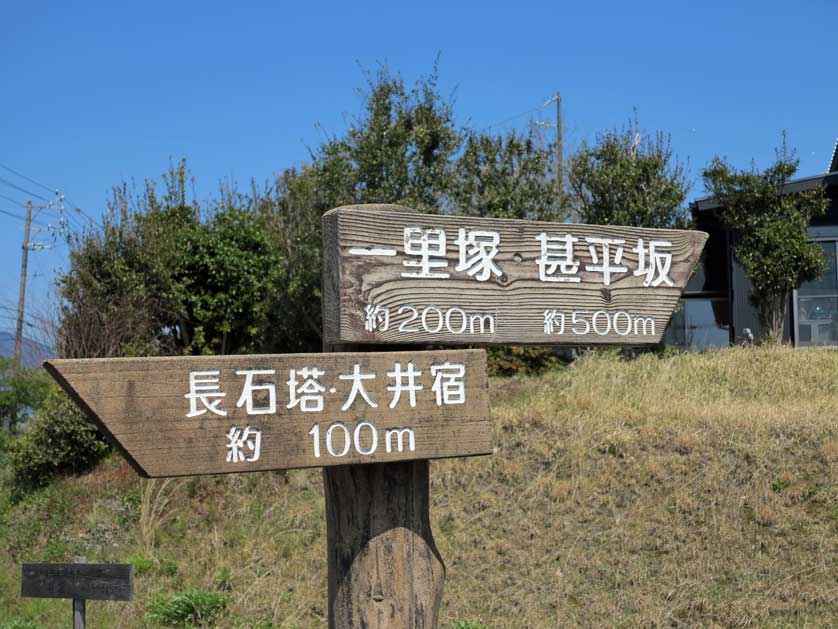 Signpost on the Nakasendo Highway, Ena
Accommodation in Ena
There are a number of ryokan in Ena or the Hotel Route Inn Ena (Tel: 0573 20 0050) is a reasonably western-style priced option with a fine hot bath on the ground floor, a buffet-style breakfast and WiFi in the lobby and cable LAN in the rooms.
A coin laundry service is also available. There is a large Valor department store/supermarket nearby with a variety of restaurants along this street including soba noodles and Korean BBQ. It is also possible to get a massage near here to ease your aching limbs after a long day hiking. The Hotel Route Inn Ena has details.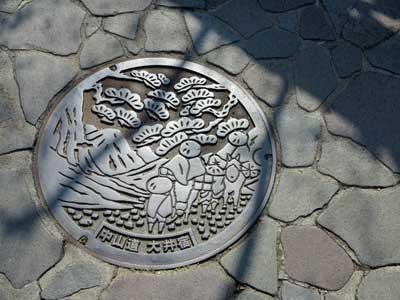 Ena manhole cover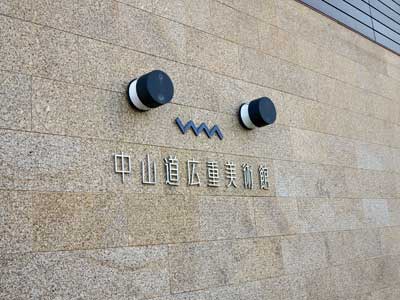 Hiroshige Museum of Art
Ena Access
Air
Chubu International Airport is the nearest airport to Ena. There are direct connecting trains on the Meitetsu Centrair service to Nagoya Station and Kanayama Station for JR trains to Ena.
Rail
JR rapid service trains on the Chuo Line take about one hour to Nagoya Station. The Akechi Railway connects south to Iwamura and its castle ruins, Hanashiro and the Taisho Village in Akechi.
Car/Bus
Ena I.C. is the nearest intersection on the Chuo Expressway between Nagoya and Tokyo. National Highways 19 and 363 also go via Ena from Nagoya.
Ena Gorge is a short bus journey from Ena Station or can be walked in around 30 minutes.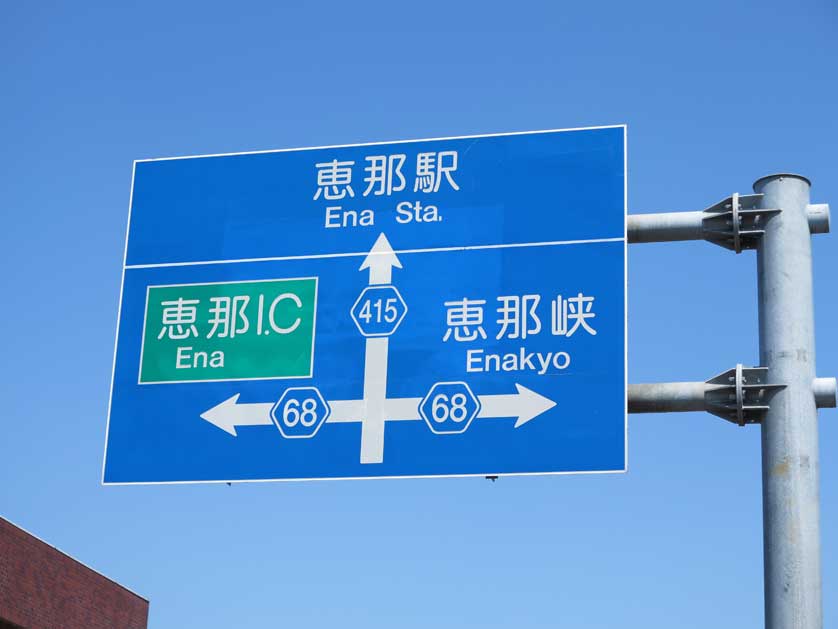 Getting Around Ena
Ena is small enough to walk around or cycle.
Ena Map
Ena guide: Ena formerly known as Oii was an important post-town on the Nakasendo Highway in Gifu prefecture.
All the themes of the city