Gamagori Guide
Gamagori 蒲郡
Gamagori is the largest onsen resort town in Aichi Prefecture, located 55 km east of Nagoya on the Pacific Coast on the railway route to Toyohashi.
There are four onsen (hot spa) quarters in and around this town of around 82,000 inhabitants: Miya Onsen, Gamagori Onsen, Katahara Onsen and Nishiura Onsen.
Gamagori receives visitors throughout the year for the hot springs in winter and for swimming and marine sports such as wind-surfing and yachting in summer.
Gamagori also has a boat racing (kyotei) track which attracts numerous visitors. Boat racing is, along with horse racing (keiba) and bicycle racing (keirin), the only three types of public gambling in Japan.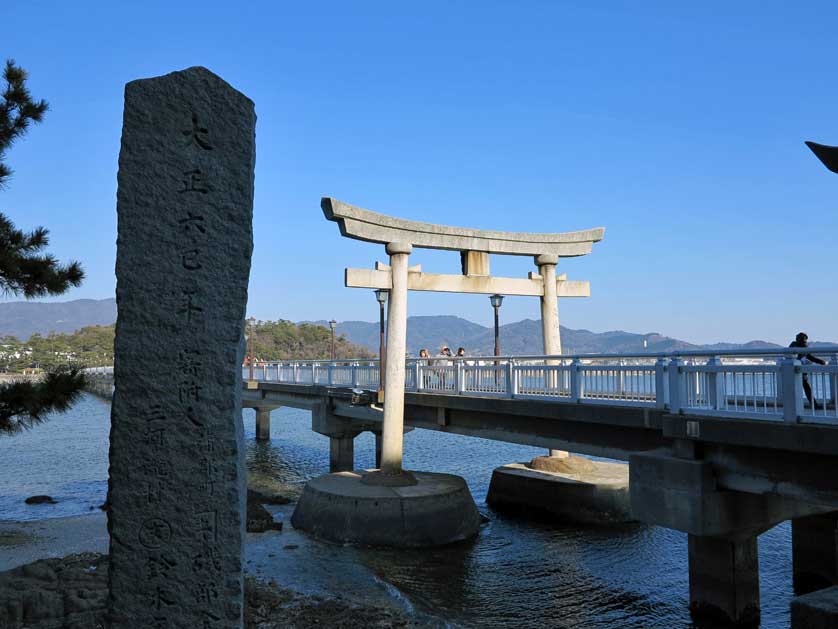 Torii gate at the entrance to Takeshima Island and Yaotomi Shrine.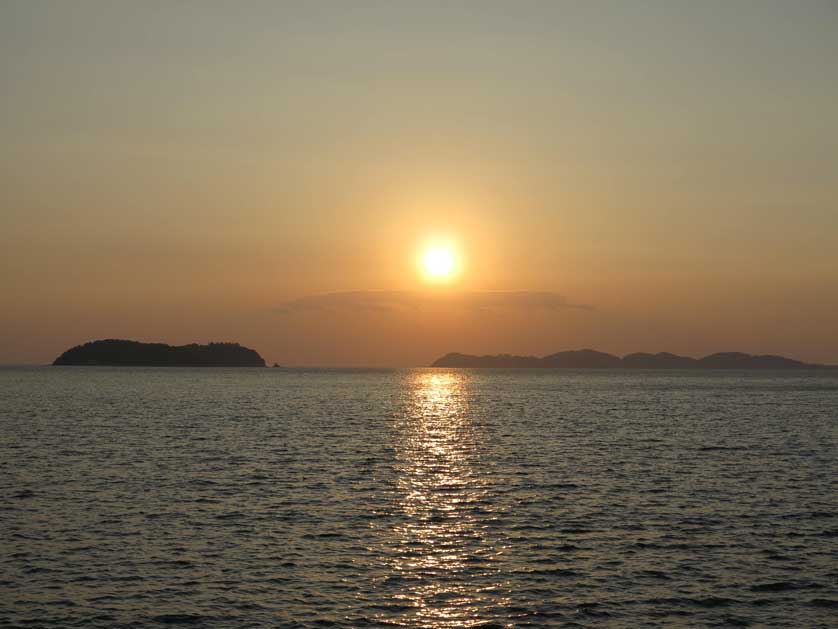 Approaching sunset at Gamagori, Aichi Prefecture.
Gamagori Attractions
Gamagori's main modern attraction nowadays is Laguna Ten Bosch - a multi-purpose marine resort including a Ferris Wheel and fun fair with various rides and water sports, a shopping mall (Festival Market) and a luxury hotel and spa - Hotel Laguna Hill.
The Laguna resort has been recently taken over by the Japanese travel giant H.I.S and re-packaged as Laguna Ten Bosch, a sister resort of Huis Ten Bosch in Nagasaki Prefecture.
The Laguna resort also includes an onsen and spa complex, Thalgo Laguna, which offers health and beauty treatments using sea water, and a museum dedicated to ships and the sea.
The Festival Market shopping mall backs on to the ocean with a yacht marina and the America's Cup yacht - Nippon - on display outside. The mall has numerous places to eat and shop.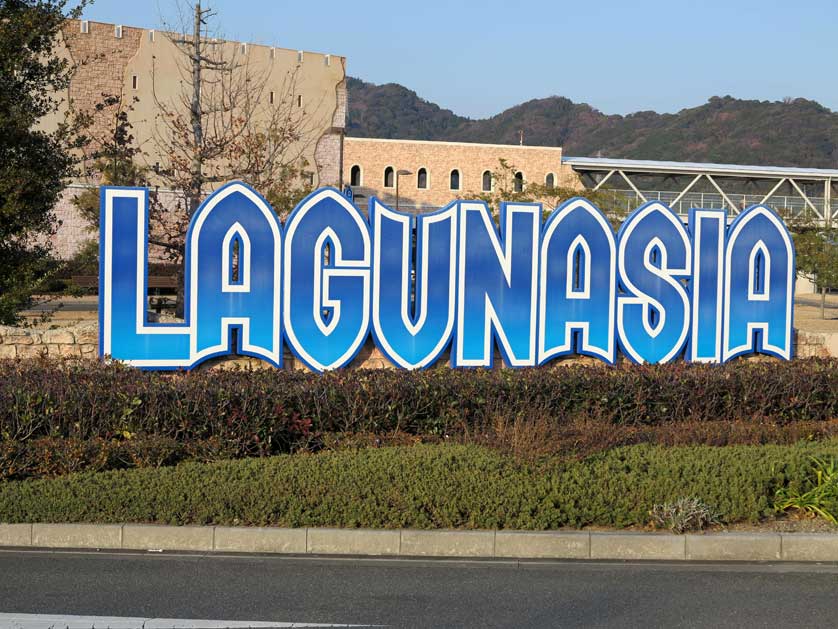 Lagunasia - part of the Laguna Ten Bosch marine theme park.
Takeshima Island is a small islet with a circumference of 620m just off the coast and connected by a 387m-long foot bridge. The hilly interior contains the interesting Yaotomi Shrine dedicated to Benten. There is a 600m path around Takeshima with good views back to the shore and out to nearby Mikawa and Oshima Islands. Takeshima has a very diverse flora with over 230 different plant species and is now designated a Japanese national Treasure.
Many of Gamagori's other attractions are gathered close to the entrance to the foot bridge to Takeshima. These include Takeshima Aquarium - a small but interesting aquarium where visitors can pet giant crabs and small sharks, There are tanks containing seawater, fresh water and tropical fish. One minus is the size of the pool for the performing California seals. Entrance 500 yen.
The Memorial Building of Culture by the Sea is a wooden building done in late Meiji or Taisho Period architecture. The interior has short wall panels on various Japanese writers including Nobel Prize-winning author Kawabata Yasunari. One part of the museum is a lovely tatami-room study. Visitors can enjoy a cup of Japanese green tea (matcha) and post a letter to themselves to be delivered in 5 or 10 years time.
Just south of Gamagori Station is the Sea of Life Science Museum, a small museum in a modern building with replicas of dinosaur fossils, specimens of meteorites and audio-visual displays. On the second floor is a small library with books on science in both Japanese and English. The museum theater has various screenings throughout the day. Entrance to the museum is free and 700 yen for the theater.
Nearby Marine Center House (kaihinkan) is a restored, wooden 1920's building which houses a seafood restaurant and an entrance hall that introduces the Japanese team's participation in the America's Cup race in the yacht "Nippon."
Gamagori Fantasy House has displays made up of 55 million shells from over 100 countries. Various scenes from Japanese fairy tales, a dragon and a castle are recreated completely from sea shells. There are also cabinet displays of precious stones and rare shells along with a sound and light show orchestrated by the two in-house characters Michelle and Gamago.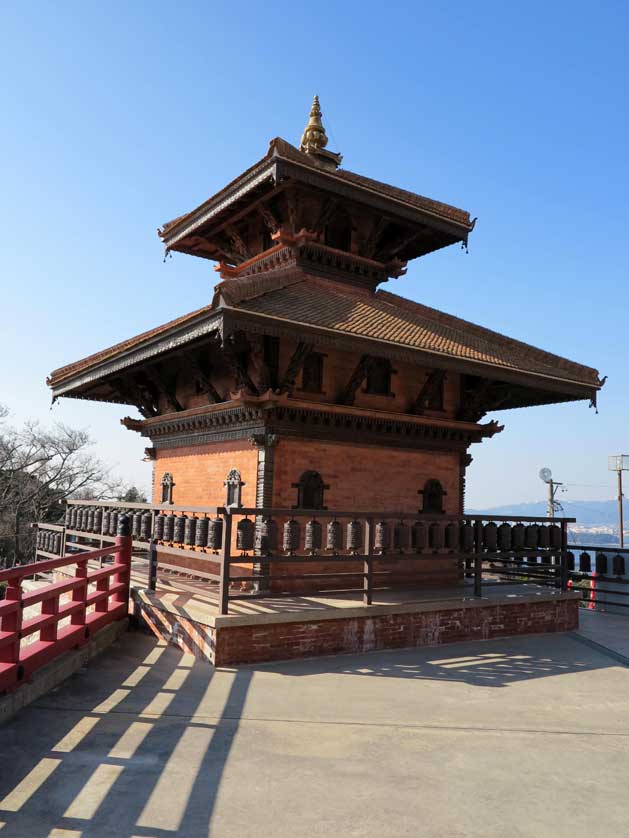 Nepalese Temple, Kongoji Temple, Gamagori, Aichi.
Kongoji Temple and its giant statue of Kobo Daishi are located on top of a steep hill a little east of Gamagori Station. Kongoji Temple has a Nepalese temple on its grounds complete with a huge prayer wheel. Just a little further up the hill is a huge 30m-tall statue of Kobo Daishi (Kukai) with superb views out over Gamagori town and the ocean. The statue was completed in 1939 and shows Kobo Daishi holding an infant, which relates to a story of the priest helping a woman to give birth in Shikoku. Thus the statue is a pilgrimage site for women seeking conception or a healthy birth. Lover's Hill (ラバーズヒル), is a look out nearby where couples have pledged their undying love with pink plastic hearts with written messages padlocked to a fence around a balcony with lovely views of the sea.
Gamagori is famous for its mikan oranges and at Orange Park visitors can pick various fruits throughout the year including strawberries, melons and grapes.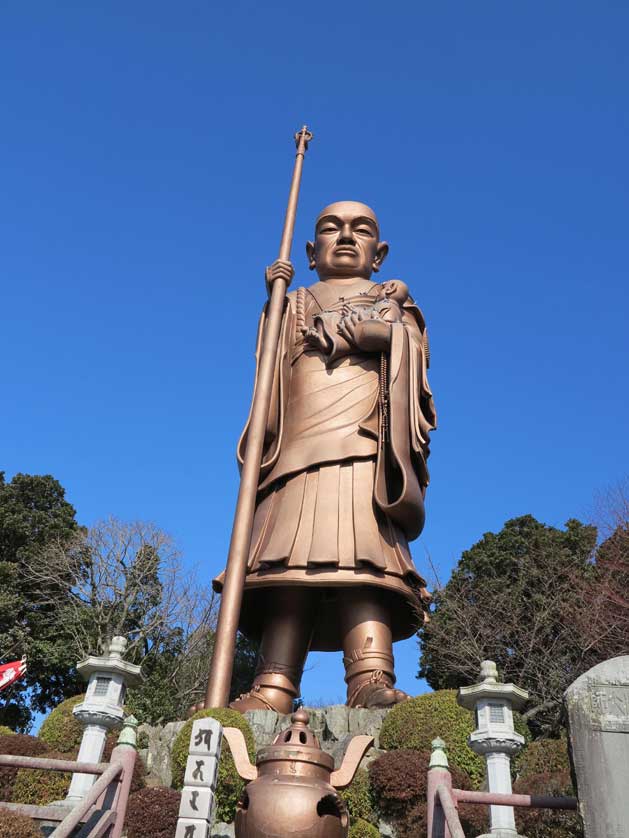 Statue of Kobo Daishi, Kongoji Temple, Gamagori, Aichi.
Gamagori Festivals
Gamagori's festivals and annual events include the Gamagori Festival and fireworks display on the last week of July. The Miya Festival on the 3rd or 4th weekend in October involves costumed participants pushing large, wheeled floats from Yatsurugi Shrine to Wakamiya Shrine. On the following day, the shrine is pushed into the ocean.
The Erika Cup Yacht Race - Japan's biggest yacht race - is named after a hand-made yacht that was sailed around the world by a couple from Nagoya (Hiroaki and Jennifer Nagae and their daughter Erika). Their boat left Tokoname in 1981 and returned to Gamagori in 1986. The Erika Cup takes place on the last weekend in May.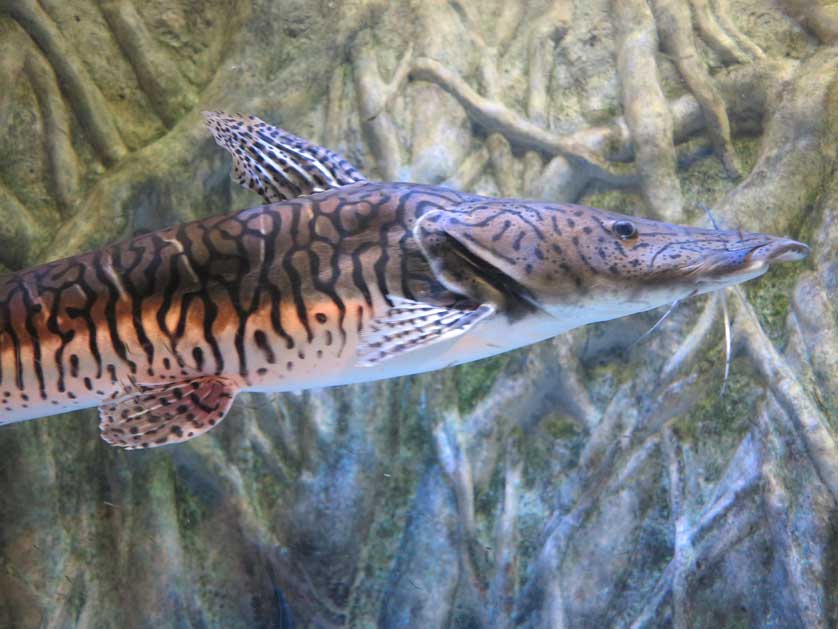 Takeshima Aquarium, Gamagori, Aichi Prefecture.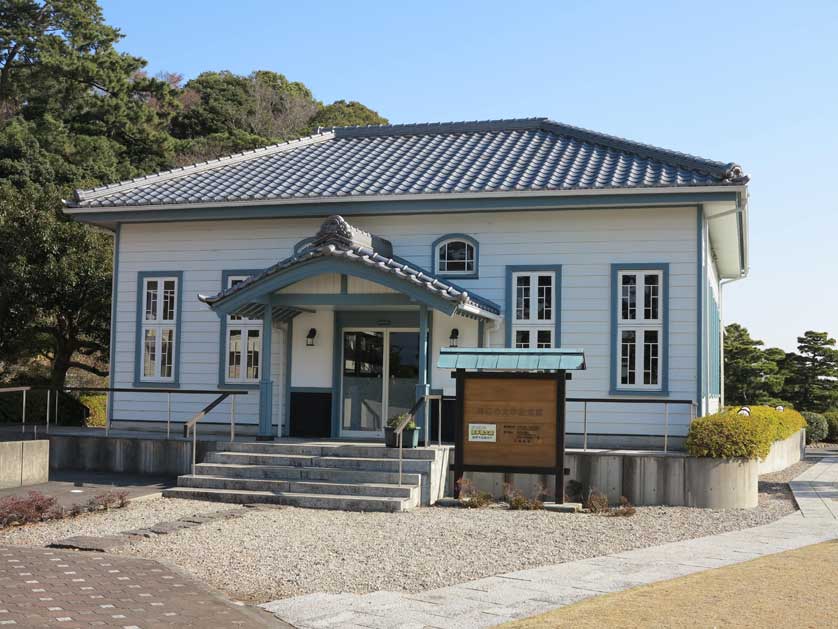 Memorial Building of Culture by the Sea, Gamagori, Aichi.
Gamagori Hotels
Gamagori has many hotels and onsen ryokan located right on the coast with excellent sea views. Upmarket places to stay include the Gamagori Classic Hotel on the hill overlooking Takeshima Island. The Hotel Laguna Hill at Laguna Ten Bosch is also highly recommended. Other hotels in Gamagori include the large but somewhat faded Shofuen in Miya Onsen, the nearby Kaiyokaku, the landmark Higaki Hotel with outdoor swimming pool, the 3-star Hiranoya and the budget Orange Pension.
Gamagori Access
Gamagori can be reached in 42 minutes by express on the JR Tokaido Line from Nagoya Station and 10 minutes from both Okazaki and Toyohashi (the nearest station on the Tokaido Shinkansen).
The Meitetsu Gamagori Line connects Gamagori with Katahara, Nishiura and Kira-Yoshida to the east.
By car from Nagoya the journey is about 1 hour on Route 23.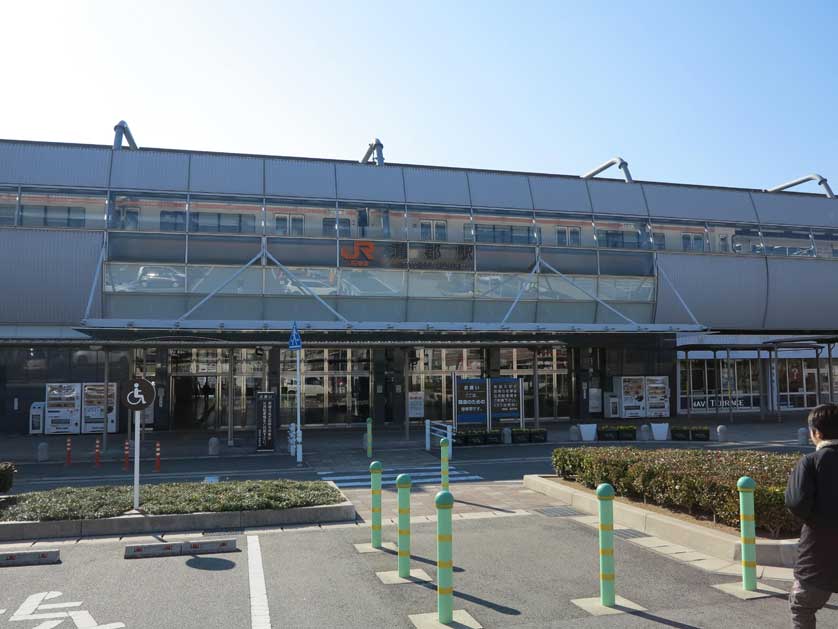 Gamagori Station, Aichi Prefecture.
Book Hotel Accommodation in Aichi Prefecture Japan
Gamagori: read a guide to Gamagori, the largest onsen resort in Aichi Prefecture, located east of Nagoya on the Pacific Ocean.
All the themes of the city