Himakajima Island Guide
Himakajima, Aichi Prefecture 日間賀島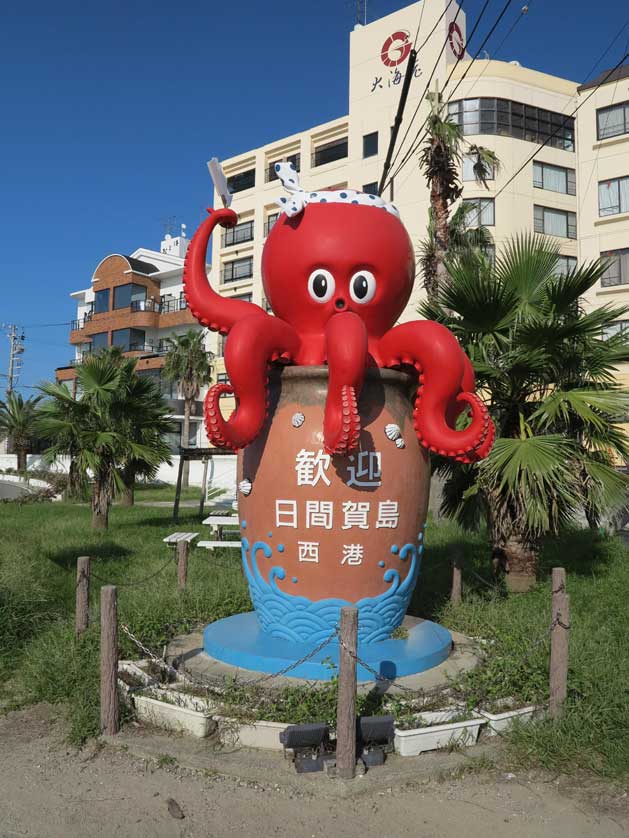 Sunset Beach, Himakajima, Nagoya
Sunset Beach, Himakajima
Himakajima, population just over 2,000, is located on the east side of the Chita Peninsula south of Nagoya. Himakajima is growing in popularity as a weekend getaway for stressed Chubu urbanites. Himakajima is one of the three small islands in Mikawa Bay, the other two being Shinojima and Sakushima.
As well as anglers, cyclists and windsurfers, Himakajima is attracting young people who come for the remote feel and excellent seafood, especially the island's specialities of octopus and fugu (blowfish). A number of new ryokan have been built in recent years to cater for the growing number of visitors.
There are also boat tours to see wild dolphins and the possibility to play and touch dolphins from May until the end of September in the sea at Sunset Beach near the West Port. It is also possible to experience a hands-on fishing trip with professionals and learn how to cast nets and catch octopus as well as snorkeling and sea-kayaking for kids.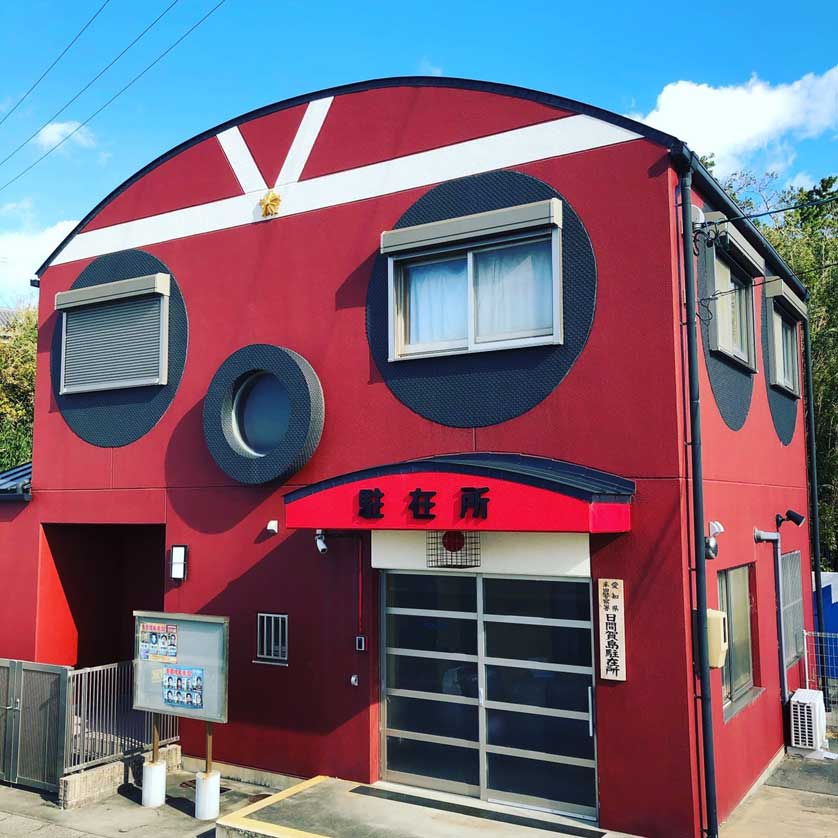 This 駐在所 chuzaisho (residential police box) is in the shape of an octopus on Himakajima, Aichi Prefecture, an island famous for its octopus
Himakajima Facilities
Boats arrive from both Kowa and Morozaki ports at both West Port and East Port on Himakajima. These are the two main settlements on the island.
It is a short walk from West Port to Sunset Beach where houses are built up into the cliffs and there are some attractively painted weatherboard houses, a shrine and a small temple. Bicycles can be hired from the small souvenir shop that also sells boat tickets.
Close to East Port is Sunrise Beach with more ryokan and the small Anrakuji and Taiko-in temples.
The free Himakajima Museum in the north of the island has exhibits of shark and octopus fishing.
Himakajima is a pleasant place to both walk and cycle.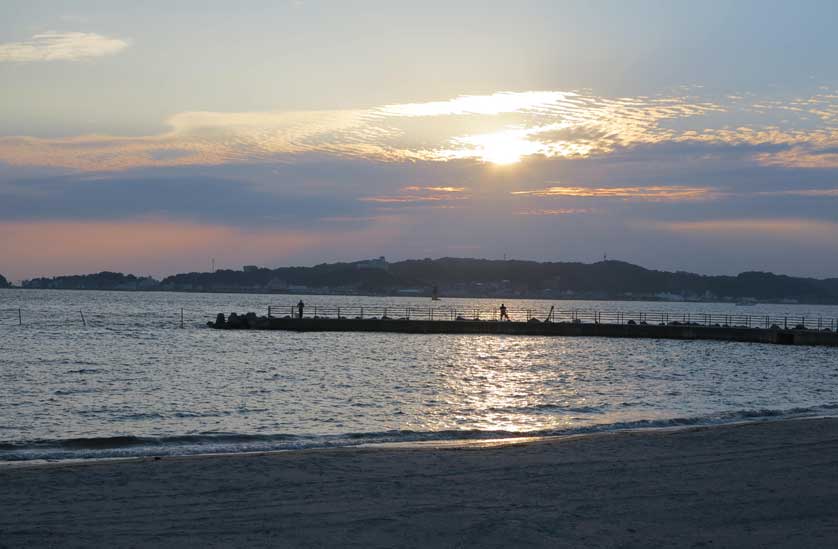 Sunset on Sunset Beach, Himakajima, Nagoya

View of Shinojima from Himakajima, Nagoya
Himakajima Transport - Getting to Himakajima
There are Meitetsu ferry connections to Himakajima from Kowa (20 mins), Irago, Shinojima and Morozaki (10 mins). There are free shuttle buses to Kowa Port from Kowa Station but the crossing is cheaper if you take a Meitetsu bus (20 mins) to Morozaki.
From Nagoya Meitetsu Station, Kanayama Station or Jingu-mae Station take a Meitetsu train to Kowa (47 mins). From Toyohashi take a Meitetsu bus to Irago (90 mins) then a ferry to the island (30 mins).
Return fares on the express ferry to Himakajima & Shinojima from Kowa are now 2,690 yen (2015). From Irago on the other side of the Chita and Mikawa bays, the fare is the same. From Morozaki the ferry crossing to Himakajima or Shinojima is 700 yen on the express ferry or 600 yen on the car ferry. The boat fare from Himakajima to Shinojima is 400 yen.
Himakajima Tourist InformationTel: 0569 68 2388
There are a number of ryokan, minshuku and hotels on Himakajima including Asaki (Tel: 0569 68 2054), Fusha Ryokan (Tel: 0569 68 2149), the Himaka Kanko Hotel (Tel: 0569 68 2211), Island Hotel Ureshima (Tel: 0569 68 2955), Isuzukan (Tel: 0569 68 2768), Otowa (Tel: 0569 68 2155), Sun Hotel Taiyou Resort (Tel: 0569 68 2206) and Takumi Kanko Hotel (Tel: 0569 68 2221).
Many of the upmarket ryokan on Himakajima offer ocean views, full course Japanese sea food cuisine and hot spring baths (onsen).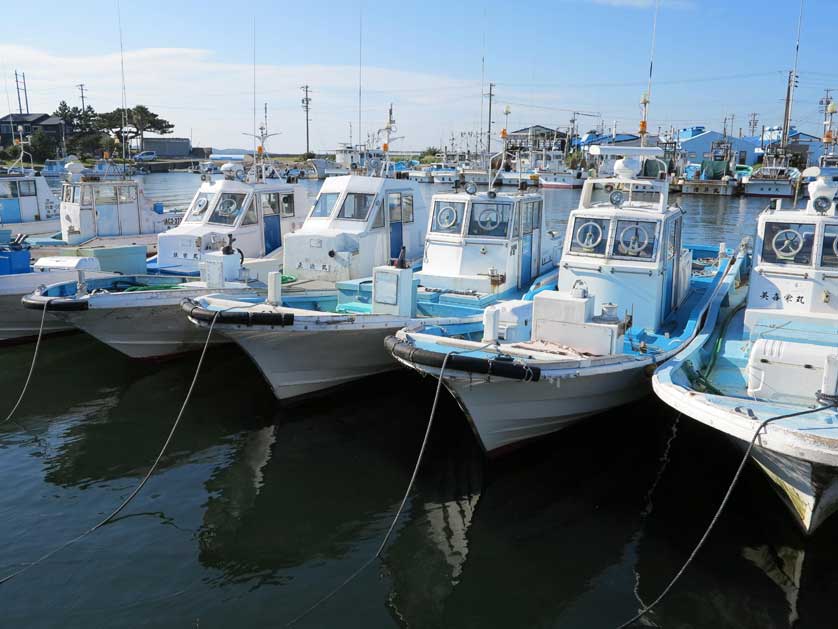 Fishing boats at West Port, Himakajima, Aichi
View a map of Nagoya & Central Japan
Related Nagoya Resources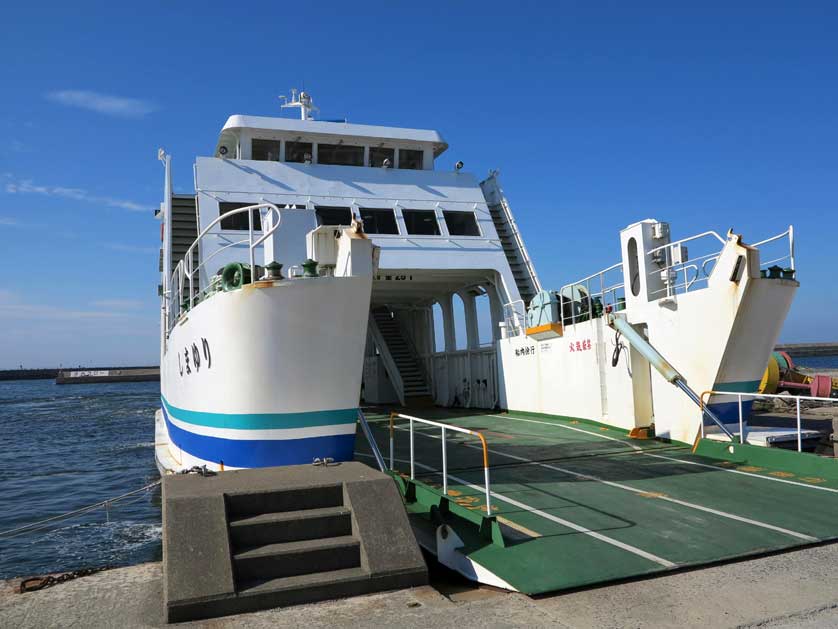 Car Ferry from Morozaki to Himakajima, Aichi Prefecture

Book Hotel Accommodation in Nagoya
All the themes of the city