Inuyama Guide
Inuyama 犬山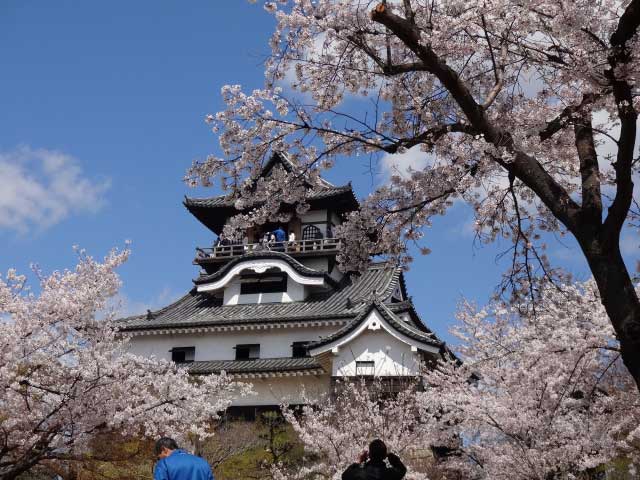 Inuyama Castle, Inuyama, Aichi Prefecture
Inuyama (literally "dog mountain") is a calm, riverside town only 30 minutes by train from Nagoya. Facing the Kiso River (the "Rhine of Japan"), Inuyama is best known for its old castle, the oldest fortress in Japan, dating from 1440. The present keep was built in 1537 and is a fine example of Momoyama Period military architecture.
Another major attraction is the nearby Meiji Mura reconstructed historical village.
Like nearby Gifu City, Inuyama also has a still living tradition of cormorant fishing, or ukai. Inuyama is an easy day-trip from Nagoya and very walkable or cyclable.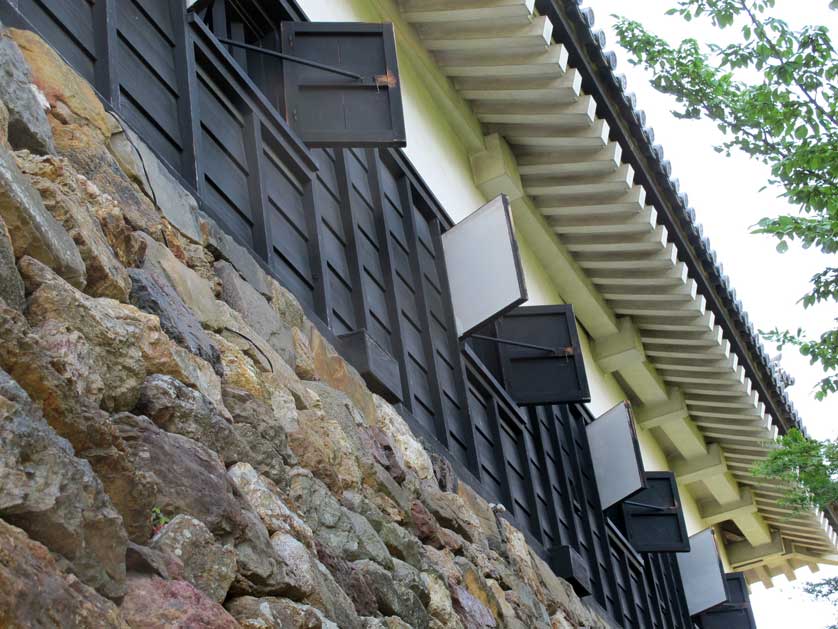 The black painted, wooden walls of Inuyama Castle building
Inuyama Attractions
Inuyama Castle (Tel: 0568 61 1711), is a short walk from Inuyama Station on a hill overlooking the Kiso River. The castle was completed by Oda Nobuyasu, the uncle of local strongman Oda Nobunaga, in 1537. There are four floors above ground and two basement floors.
Inuyama Castle's wooden donjon displays suits of samurai armor, swords, folding screens (byobu) and various documents from its long historical past. Inuyama Castle was privately owned by the Naruse family until 2004 when ownership was transferred to a civic foundation in Inuyama.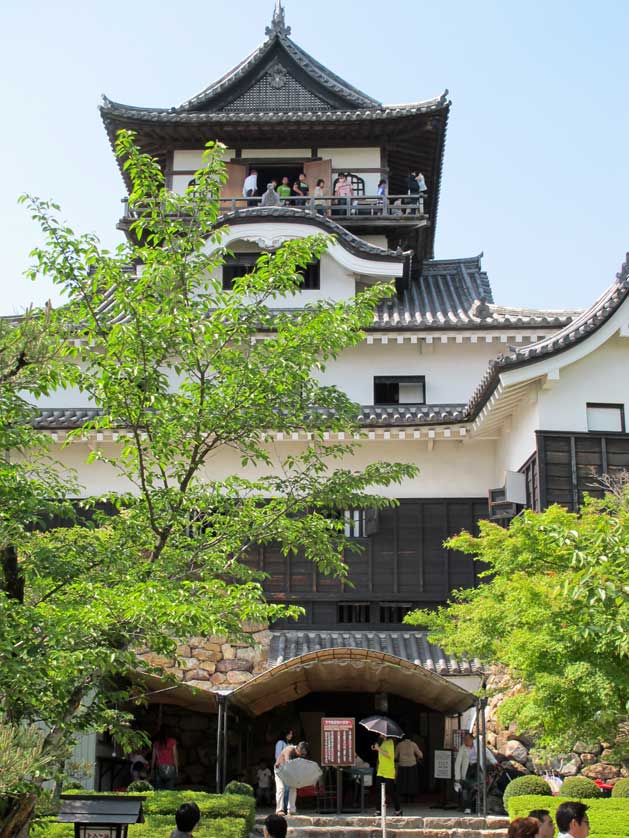 Inuyama Castle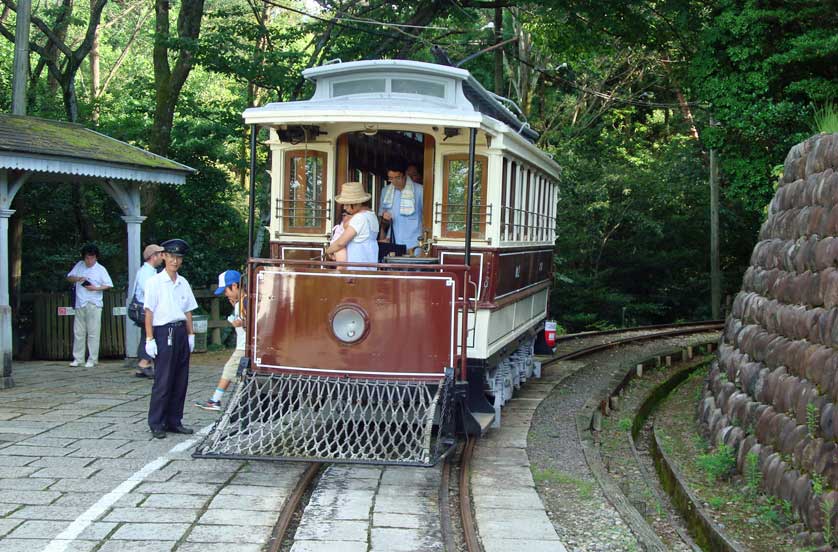 Meiji Period streetcar from Kyoto at Meiji Mura near Inuyama, Aichi Prefecture
Inuyama Temples & Museums
On the road leading to Inuyama Castle is the fascinating Karakuri Exhibition Room (Tel: 0568 62 4802). The small museum displays the intricate, mechanical dolls (karakuri) that ride on top of the dashi floats, pulled through the town's streets during the Inuyama Festival, which takes place on the first Saturday and Sunday of April. The Inuyama Artifacts Museum (Donden-kan) (Tel: 0568 65 1728) just before it details the history of Inuyama's festival and contains one of the richly decorated floats.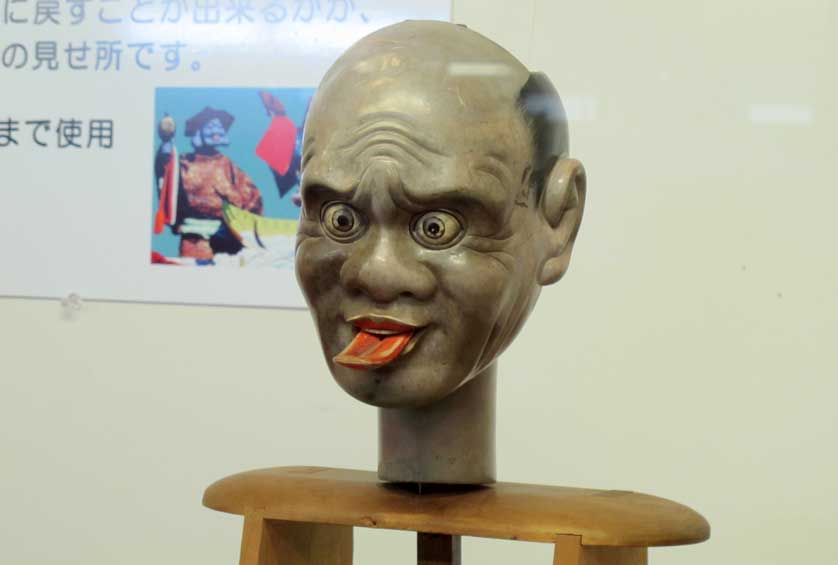 Karakuri Exhibition Room
A short walk south from the station towards Inuyama Castle is the Jinai-cho Temple Town area, a delightful district of narrow streets, old houses and temples: Honryuji, Sairenji, Enmyoji and Joseiji, all Jodoshin-shu sect temples and built from late Muromachi to early Edo period.
Inuyama's Narita-san Temple (Tel: 0568 61 2583) is a branch temple of the Shingon sect's Narita-san Temple in Narita, Chiba Prefecture, near Tokyo's main international airport.
Narita-san Temple, near Inuyama-Yuen Station, opened in 1953 and is located on a steep hill with more good views of the Kiso River and Inuyama Castle. Shingon Buddhism is associated with Kobo Daishi, and the mountain temples he founded on Koyasan in Wakayama Prefecture.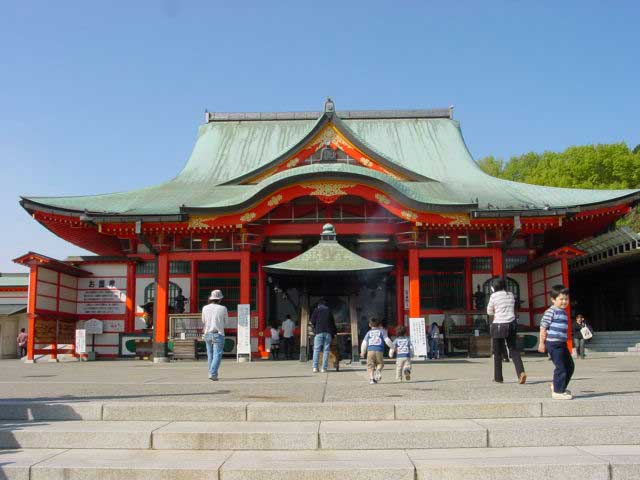 Narita-san Temple, Inuyama, Aichi Prefecture
On the walk to Narita-san Temple from Inuyama Castle, you will pass the Urakuen Garden (Tel: 0568 61 6408) and the Jyoan (Jo-an) Tea Ceremony Room which are in the grounds of the Meitetsu Inuyama Hotel. The Jo-an teahouse was built in Kyoto in 1618 by a brother of Nobunaga and moved here in 1972 to sit in the Urakuen strolling garden.
Besides Inuyama Castle, the town's other main tourist attraction is the summer cormorant fishing (ukai) on the Kiso River near Inuyama-Yuen Station. Both after dark and also during the day from May 11 - October 15, excursion boats can be booked at the booking office (Tel: 0568 61 0057) to watch the traditional practice of catching Japanese sweetfish (ayu) using around eight or ten cormorants tethered with strings around their necks.
The caught fish are usually grilled over charcoal and eaten with Japanese beer and sake.
Urakuen Garden, Inuyama, Aichi Prefecture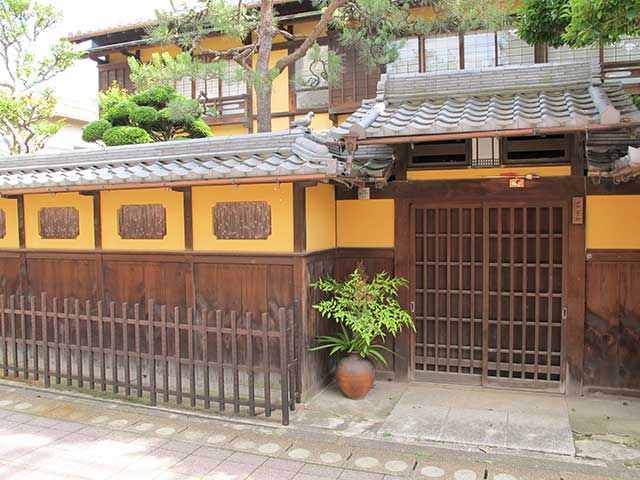 Traditional house, Inuyama, Aichi Prefecture
Ukai cormorant fishing from river boats also takes place in Arashiyama in Kyoto, nearby Gifu on the Nagara River and other river towns around Japan.
The best view for spectators is from the Twin Bridge Inuyama-bashi. Inuyama Castle is clearly visible on the hill above. Prices for viewing the cormorant fishing are slightly less in June than July or August.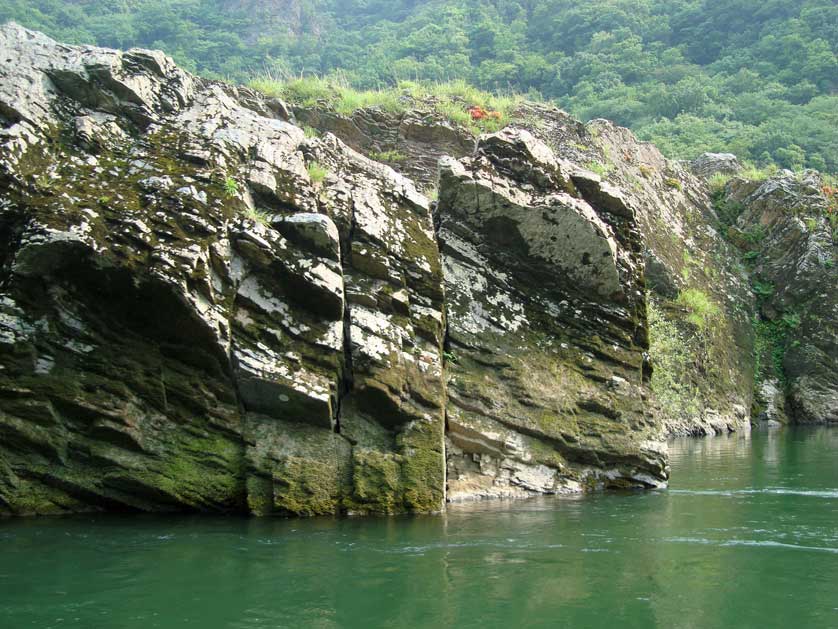 The Kiso River, Inuyama, Aichi Prefecture
From March to November Inuyama also offers the chance to shoot the rapids on a 13 km section of the Kiso River in flat-bottomed wooden boats. The journey lasts just over an hour (Tel: 0574 28 2727) and presently costs 3,400 yen. Bookings for both the ukai and shooting the rapids can be made at the green-roofed office near Inuyama-yuen Station.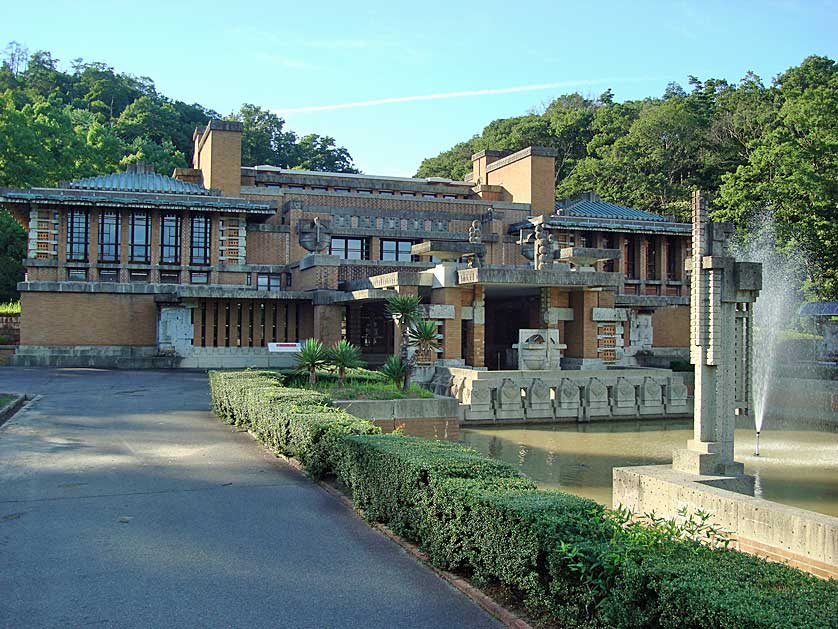 The lobby of Frank Lloyd Wright's Imperial Hotel, Inuyama, Aichi Prefecture
Meiji Mura
Inuyama's other more modern attractions include Meiji Mura (Tel: 0568 67 0314) to the south of the city, accessible by a regular bus from the station.
Opened in 1965 Meiji Mura is an open-air museum that preserves buildings in their original state from the Meiji Era of Japanese history (1868-1912).
The pleasant grounds include 67 period buildings, among them the lobby of Frank Lloyd Wright's Imperial Hotel (built in Tokyo in 1923 and demolished in 1965), a summer house of Lafcadio Hearn and the amazing, all-wooden Maebashi Prison.
Riding the monorail from Inuyama-Yuen Station to Dobutsuen Station is the Japan Monkey Center (Tel: 0568 61 2327) which includes a primate zoo, a research center run by Kyoto University and an amusement park.
Little World Museum of Man
Little World Museum of Man (Tel: 0568 62 5611) due east of Inuyama is an open-air anthropological museum containing over 30 homes and other buildings from 22 countries from around the world. There is a variety of ethnic musical performances and lots of food and drink from around the globe to enjoy.
Admission 1,700 yen for adults.
9.30 am-5 pm daily. Summer evening openings.
Inuyama Temples & Shrines
There is a number of pleasant temples behind Inuyama-yuen Station including the impressive Zuisenji Temple. Heading north along the Kiso River is the quirky Momotaro Shrine about 1 km on from Jakko-in Temple, which is famous for its maple leaves in autumn.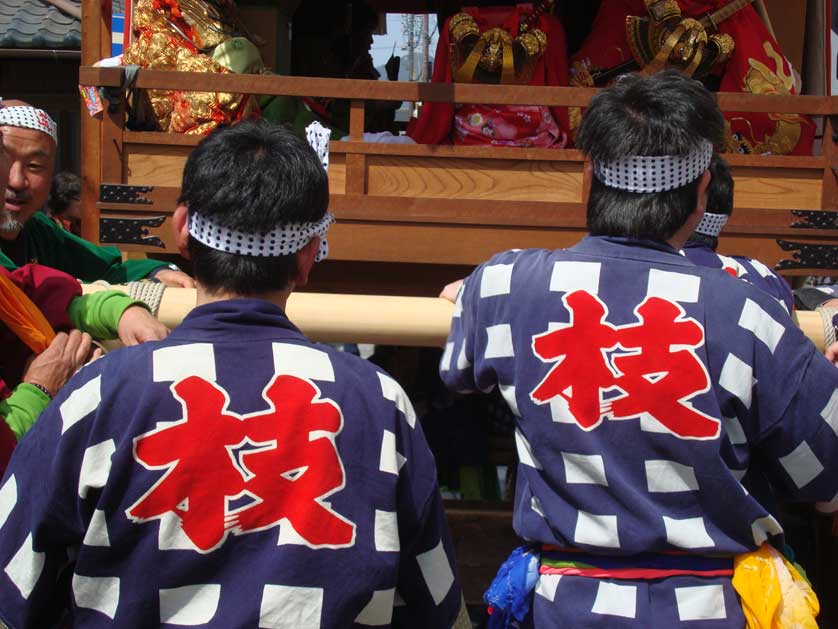 Participants in happi coats, Inuyama Festival, Inuyama, Aichi Prefecture
Inuyama Festivals
Not to be missed if you are in the area in March is the bizarre Tagata Honen Sai Festival when a huge, 3m-long, wooden phallus is paraded through the streets of a small village outside Inuyama. Watch a video of the Tagata Honen Sai Festival.
Inuyama Festival (see the video below) takes place on the first weekend in April.
Inuyama's other major festivals include the Nihon Rhine Summer Festival which is a huge fireworks display near the Twin Bridge on August 10 every year and a Momotaro Festival held at the quirky Momotaro Shrine (Tel: 0568 61 1586) on May 5.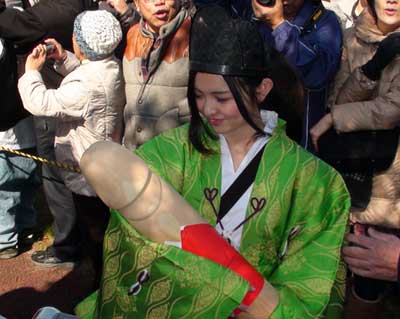 Tagata Honen Sai Festival near Inuyama, Aichi Prefecture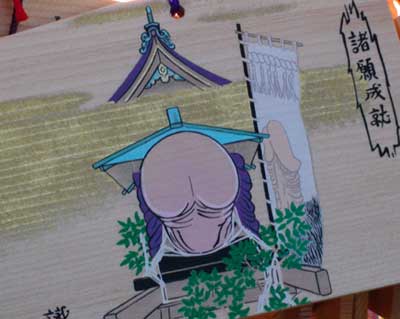 Tagata Honen Sai Festival near Inuyama, Aichi Prefecture
Getting to Inuyama
Rail
Inuyama is 25km north from Nagoya. By Tokaido Shinkansen, Nagoya is 52 minutes from Osaka and 1 hour 40 minutes from Tokyo.
From Nagoya Station, Inuyama is around 30 minutes by Meitetsu Inuyama Line and about the same time from Gifu Meitetsu Station.
Alternatively take the Meitetsu Komaki Line from Kami Iida in Nagoya. From Gifu JR Station there are trains to nearby Unuma Station, a short walk across the Kiso River to Inuyama. It is also possible to ride the Tsurumai Subway Line in Nagoya to the last stop at Kami Otai and change to a Meitetsu Inuyama Line train there.
Bus
There are long distance bus services from outside Inuyama Station to Tokyo (Shinjuku Station), Kyoto, Osaka, Nagoya (every 30 minutes), Gujo Hachiman (1 hour) and Kobe. Driving from Nagoya take National Highway 41 off the Komaki Interchange of the Tomei Expressway.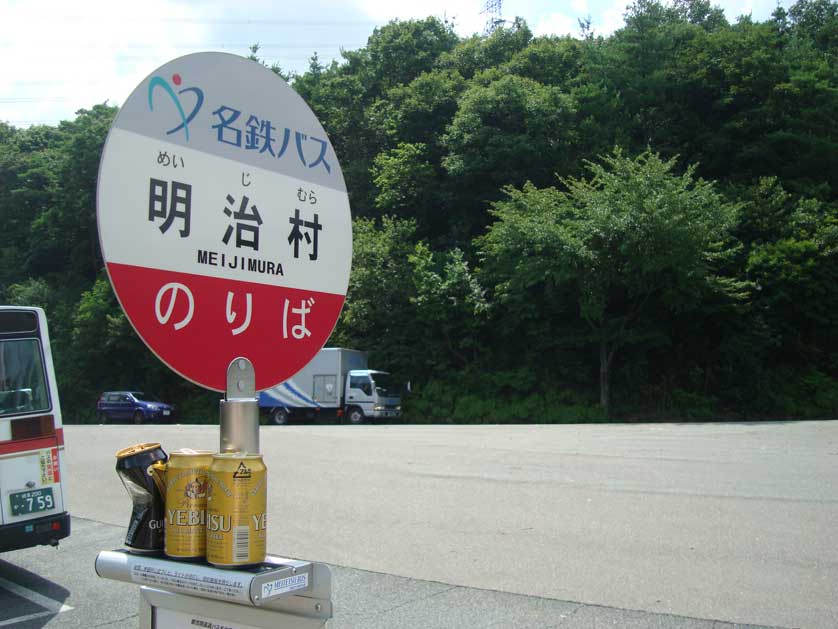 Meitetsu bus stop, Meiji Mura near Inuyama, Aichi Prefecture
Getting Around Inuyama
Most of Inuyama's sites are within easy walking distance of the station or reached by shuttle buses from Inuyama Station. A taxi from Inuyama Station to Inuyama-yuen is 720 yen.
Inuyama Festival
Book Hotel Accommodation in Nagoya Japan
Inuyama guide: read a guide to Inuyama including information on Inuyama Castle, Inuyama temples, gardens, festivals and hotels.
All the themes of the city