Iwasaki Castle Nisshin
Iwasaki Castle in Nisshin, just east of Nagoya, is a ferroconcrete reconstruction of a medieval castle with a bloody history.
Iwasaki Castle 岩崎城
Iwasaki Castle, is located in Nisshin-shi on a small hill just outside of Nagoya. Nisshin is now a semi-rural suburb to the north east of Nagoya.
Iwasaki-jo is a reconstructed castle and somewhat difficult to get to by public transport.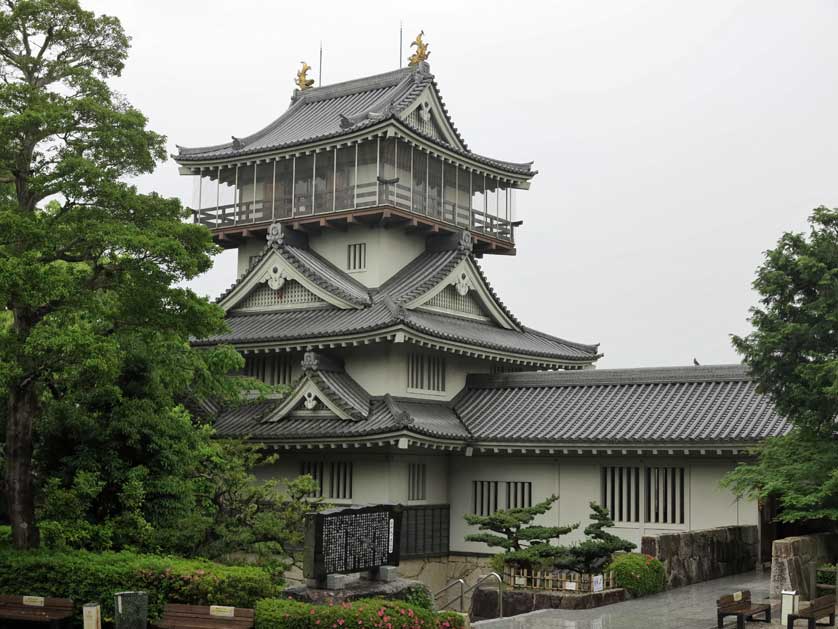 Iwasaki Castle just outside Nagoya city is a replica castle erected in 1987.
Iwasaki Castle History
The origins of Iwasaki Castle are not completely known. It was built sometime in the early 16th century during the "Warring States" Period by Oda Nobuhide, the father of warlord Oda Nobunaga in Owari domain.
Iwasaki Castle was then taken over by the Matsudaira clan in 1529 passing to the control of Niwa Ujikiyo, a Matsudaira retainer.
The castle was attacked and taken amid much loss of life in 1584 by the forces of Toyotomi Hideyoshi during the wider and inconclusive Battles of Komaki and Nagakute between Hideyoshi's forces and those of the Oda clan and Ieyasu Tokugawa.
After Ieyasu's victory at the Battle of Sekigahara in 1600, Iwasaki Castle was abandoned and the Niwa clan were rewarded for their support with lands in Toyota city.
A three-storey, ferro-concrete reconstruction of Iwasaki Castle's keep was completed in 1987 and holds a small museum with suits of armor, photographs and information on the history of the castle and the events surrounding it. Nearby is another free local history museum with ceramics, more samurai armor and documents on display.
The grounds of Iwasaki Castle contain parts of the original stone walls, a well and remains of a turret (yagura).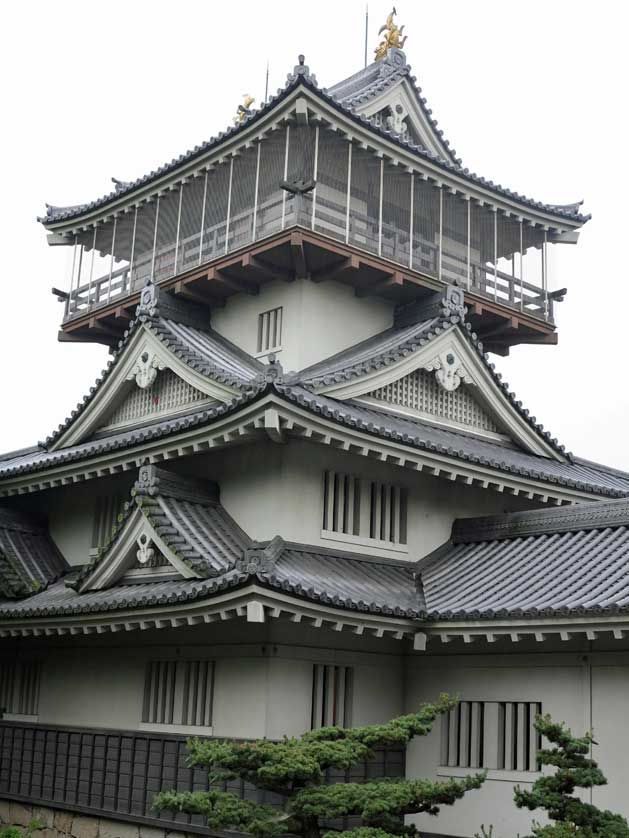 Iwasaki Castle has a three-tier donjon with a small museum inside.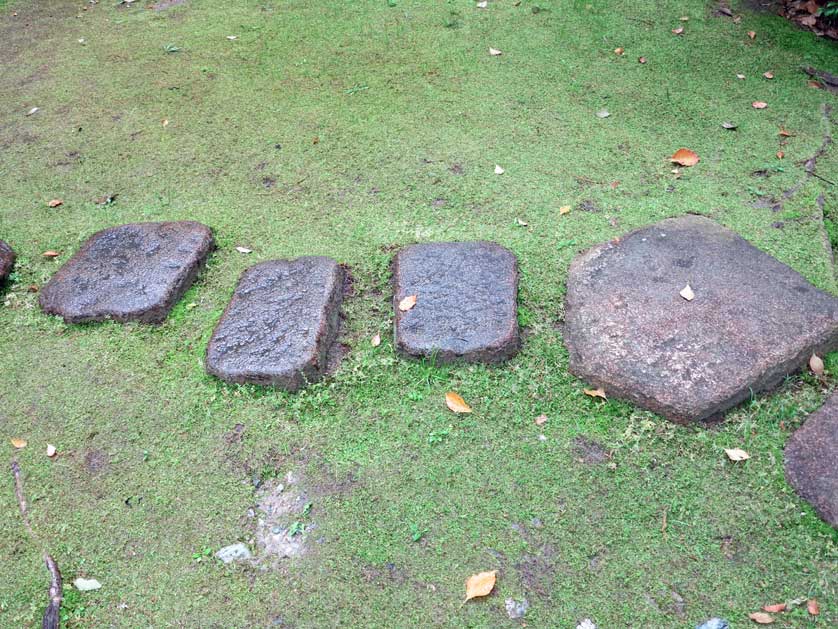 Stone steps at Iwasaki Castle just outside Nagoya city in Nisshin.
Views from Iwasaki Castle keep
There are good views back from the top of the castle over the local area.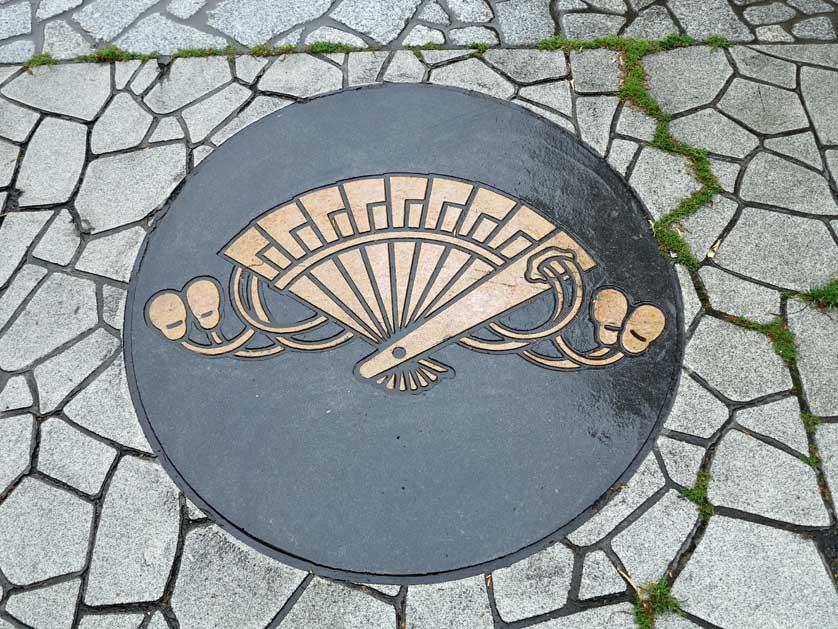 Pavement ornament at Iwasaki Castle in Nisshin-shi.
Iwasaki Castle67 Iwasaki-cho Ichiba, Nisshin-shiAichiTel: 052 409 7330
Admission: FreeHours: 9 am-5 pm; closed Monday or the next day if Monday is a public holiday.
Google map
Access To Iwasaki - how to get to Iwasaki Castle
From Nagoya Station take the Higashiyama Line subway and change at Fushimi Station for the Tsurumai Line to Akaike Station. From here there are infrequent local loop buses to Iwasaki Ontake-guchi intersection where you can see the castle on the hill. There are also buses from the next stop after Akaike, Nisshin. Alternatively, there are more frequent buses, about 3 an hour, from either Hoshigaoka or Fujigaoka stations on the Higashiyama Line of Nagoya subway to the Iwasaki Ontake-guchi bus stop.
If you are driving from Akaike Station cross National Highway 153 and turn left at Nisshin City Hall and continue on that road.
Other castles in the Chubu area around Nagoya include Gifu Castle, Kiyosu Castle, Nagoya Castle, Okazaki Castle, Komaki Castle and Inuyama Castle.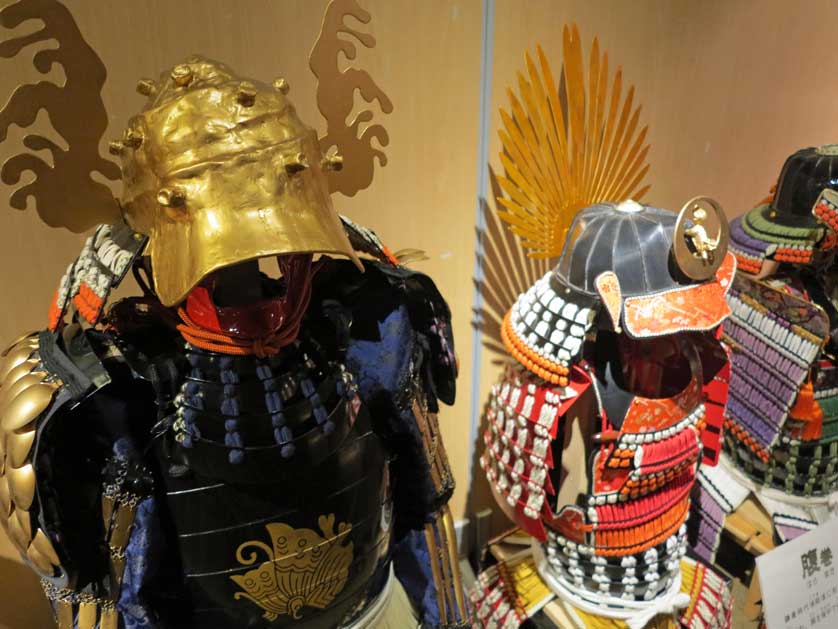 Replica suits of armor at Iwasaki Castle, Nisshin, Aichi.

Book Hotel Accommodation in Japan Near Iwasaki Castle
All the themes of the city