Kaisho Forest Seto
Kaisho Forest (kaisho no mori): read a guide to the vast park of Kaisho Forest a preserved area of semi-wilderness in Seto, north east of Nagoya in central Japan.
Kaisho no Mori 海上の森
Kaisho Forest is a very large expanse of semi-wilderness north east of Nagoya in Seto city.
The area has been preserved from development, especially during the construction of the nearby Aichi Expo site, after consultation with local people and fears about the survival of the endangered northern goshawk (Accipiter gentilis), which nests in the forest.
Kaisho Forest ranges in elevation from 100-400 meters and includes Mount Sanage near Toyota city to the east. The geology of the area is a mix of sandy gravel and granite, which allows trees to grow up to 25m. Kaisho Forest has been a protected nature reserve for future generations since 2006.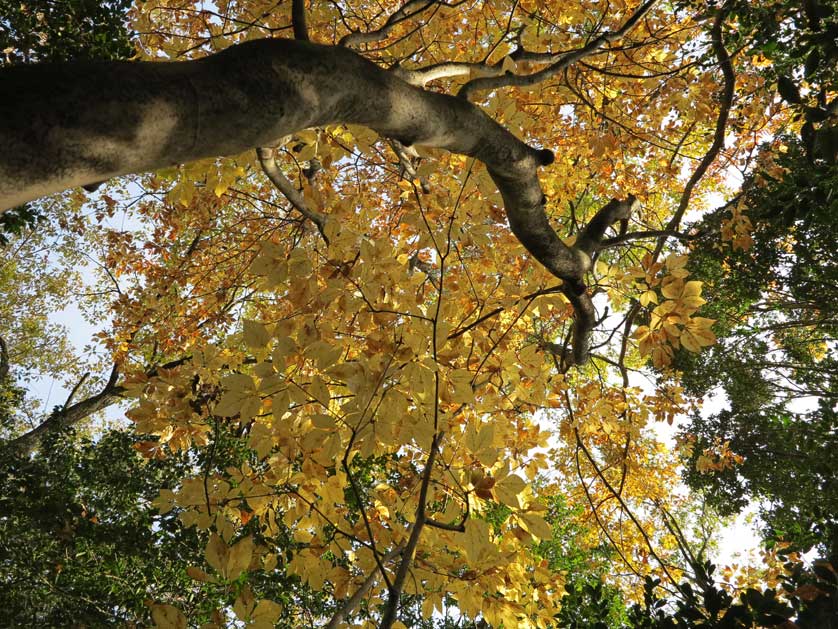 Fall colors at Kaisho Forest, Seto, Aichi Prefecture
History of the Kaisho Forest
Since the Heian Period (794-1185), trees in the Kaisho Forest have been felled for timber, firewood and firing the many kilns in the Seto area - one of the ancient six pottery areas of Japan which include Bizen, Echizen, Tokoname, Shigaraki and Tanba.
By the Meiji Period much of the forest in the area had been devastated, so in 1900 the area was replanted with Japanese black pines (Pinus thunbergi) and other trees including birch, cedar, cypress and oak. By the 1970's the area had been almost completely reforested.
Kaisho Forest is known as an area of Satoyama (里山), a hinterland between the mountains and more arable land. The area contained dwellings, rice fields, ponds, reservoirs and forests, which are now being gradually reclaimed and restored.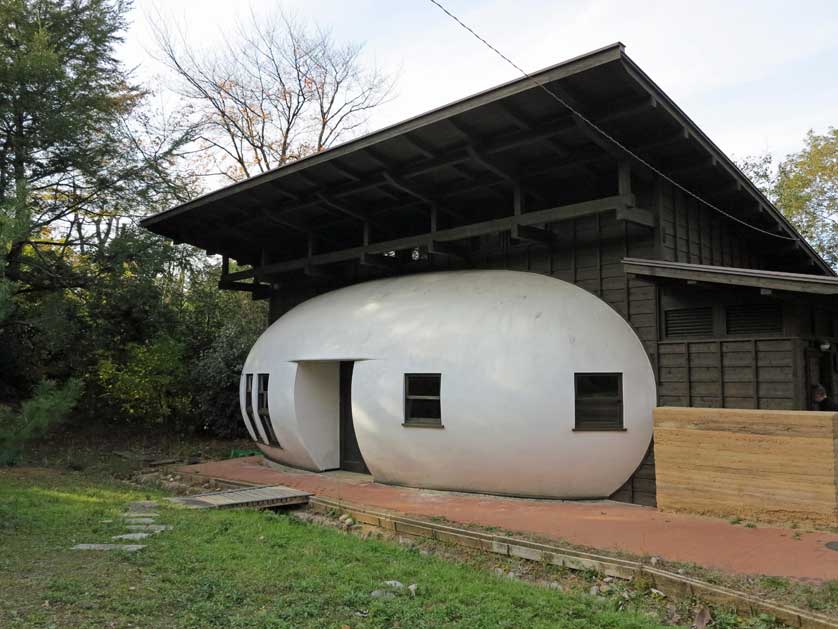 Cocoon Square, Kaisho Forest, Seto, Aichi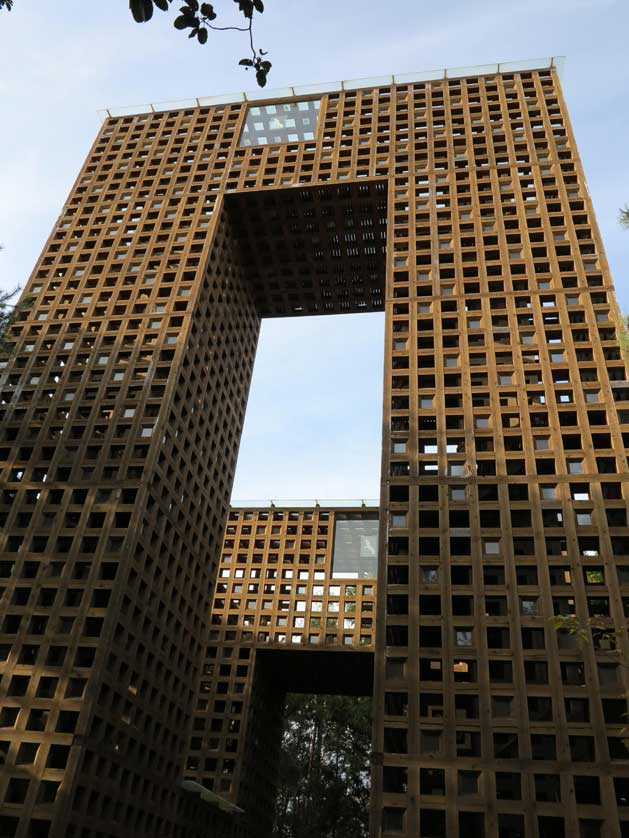 Bird Observatory, Kaisho-no-Mori, Seto, Aichi
Biodiversity, Environment & Preservation
Kaisho Forest has a mixed warm temperate climate with an average temperature of 15° C and over 1,500m of rainfall a year as well as areas of high land where cool temperate plants can thrive.
The ecosystem of Kaisho Forest consists of eight rivers that cross the area, small wetlands formed by underground springs, reservoirs and fields.
Around 3,400 specials of plants and animals inhabit Kaisho Forest including mammals, birds, amphibians, reptiles, fish and insects.
In particularly animals inhabiting Kaisho Forest include the relatively rare Japanese giant flying squirrel (Petaurista leucogenys), the Japanese squirrel (Sciurus lis), the Red Fox (Vulpes vulpes), the Japanese marten (Martes nelampus), the Japanese weasel (Mustela itatsi), the Japanese hare (Lepus brachyurus), the small Japanese field mouse (Apodemus argenteus), the common raccoon (Procyon rotor), the raccoon dog (Nyctereutes procyonides), wild boars (Sus scrofa), the Gifu Butterfly (Luehdorfia japonica), the Black-spotted pond frog (Rana nigromaculata), various species of dragonflies, the Common Kingfisher (Alcedo atthis), the Japanese Eight-barbel Loach (Lefua echigonia), the Japanese firefly (Lefeu cruciata) and black bears.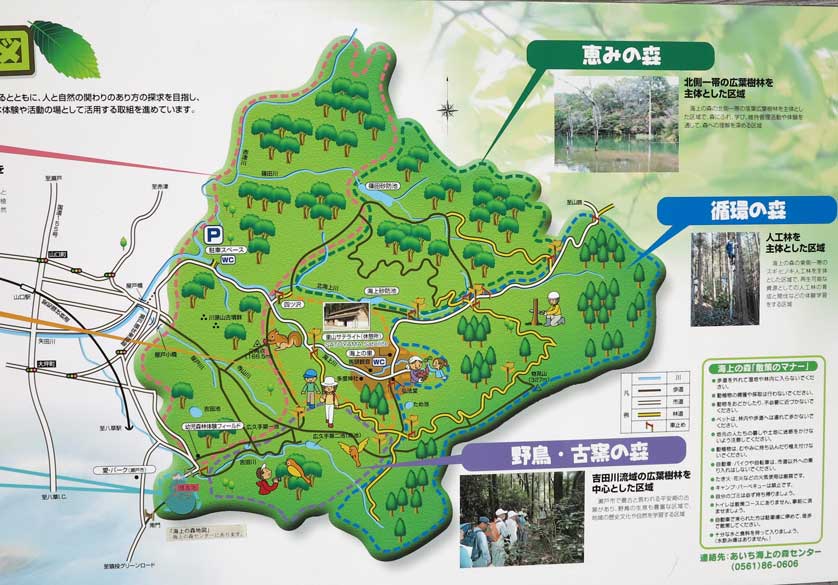 Map of Kaisho-no-Mori, Seto, Aichi Prefecture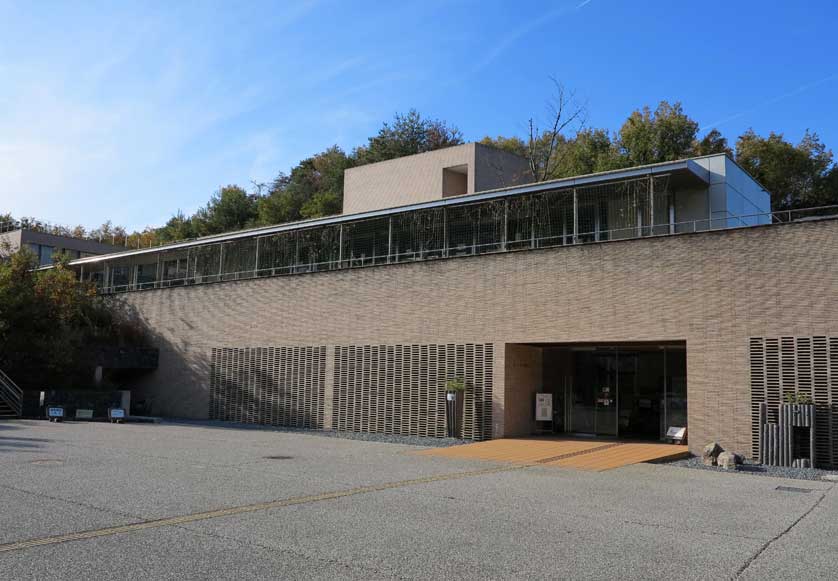 Aichi Kaisho Forest Center
Preservation projects in the area are carried out by the NPO Civic Society for the Conservation of Kaisho Forest and consist of tree thinning to allow sunlight to reach the forest floor to allow shrubs, birds and their predators to flourish, maintaining paddy fields and restoring reservoirs.
Walking in Kaisho Forest
Pick up an English pamphlet at the Aichi Kaisho Forest Center which details a number of walks. Just near the center itself is a short 30 minute stroll suitable for small children which takes in a number of interesting buildings housing learning centers such as Cocoon Square, the Kiln Historical Museum and a bird observation tower.
Of the four other walks listed, the Short Course takes 1 hour 40 minutes, the Immediate Course 2 hours and the two Long Courses 2 hour 40 minutes.
The walks include different ecosystems such as forests, wetlands, and restored fields and make for a pleasant day out in any season, particularly in summer when temperatures are cooler than in urban Nagoya and in the autumn for the beautiful fall colors.
Access - how to get to Kaisho Forest
Aichi Kaisho Forest Center (www.pref.aichi.jp/kaisho)304-1 Yoshino-cho, Seto CityAichi Prefecture
489-0857Tel: 0561 86 0606Hours: 9 am-5 pm; the center is closed on Monday or Tuesday if Monday is a National HolidayAdmission: Free.
From Nagoya Station take the Higashiyama Line of the Nagoya subway to Fujigaoka Station, transfer to the Linimo and travel to the last stop at Yakusa Station from where it is a 20-30 minute walk past Aichi Institute of Technology (AIT) and Seto Banpaku Kinen Koen to Aichi Kaisho Forest Center.
Alternatively take the Aichi Loop Line to Yamaguchi Station from where it is a 25 minute walk. Both routes are sign-posted.
By car take National Highway 155.
There is parking available at Aichi Kaisho Forest Center and Kaisho Forest Parking Lot.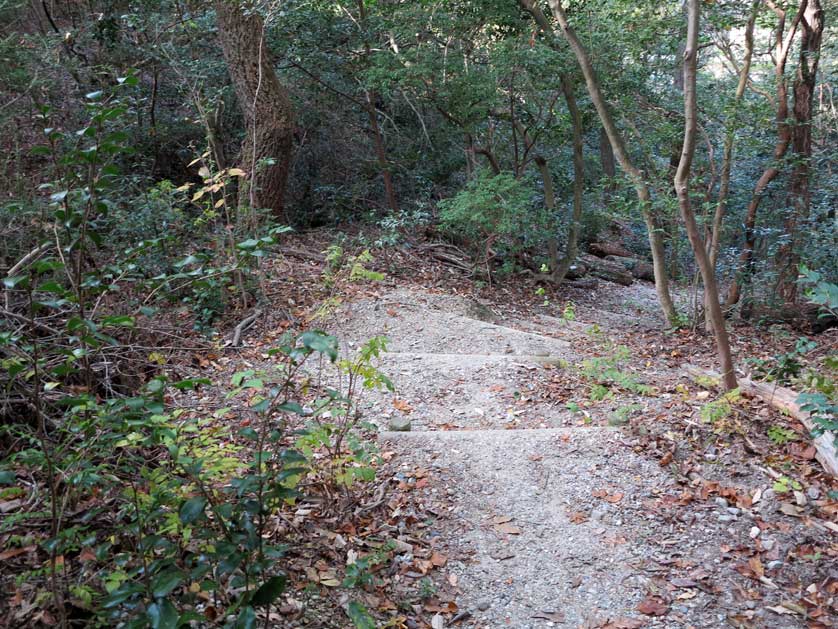 Aichi Kaisho Forest path with autumn leaves
Book Hotel Accommodation in Nagoya Japan
All the themes of the city