Komaki Castle
Komaki Castle: read a guide to Komaki Castle, a reconstructed castle, originally built by Oda Nobunaga in 1563, located just north of Nagoya city.
Komaki Castle 小牧城
Komaki Castle, is located in Komaki in Aichi Prefecture on a prominent hill, the 86m high Komakiyama, a little way north of Nagoya and south of Inuyama. Komaki is now very much a suburb of Nagoya, where Komaki Airport (the former international airport) is located.
Komaki-jo is a reconstructed castle which was first built in 1968 and renovated in 2006. Komaki Castle is home to the excellent Komaki City Historical Museum.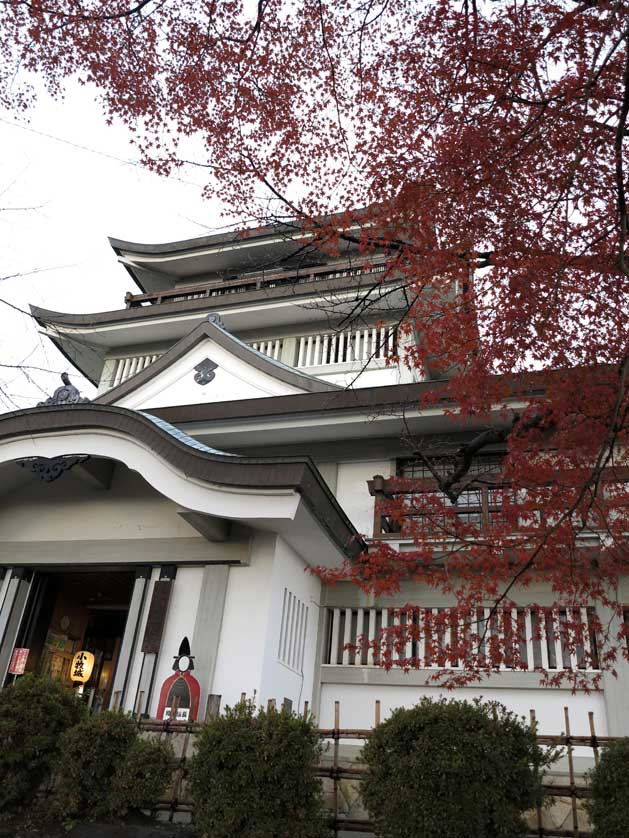 Komaki Castle just outside Nagoya city is a replica castle constructed in 1968.

Komaki Castle History
The original Komaki Castle was built in 1563 by local warlord Oda Nobunaga and located on top of Komakiyama (Mt Komaki), where it commands tremendous views of the Nobi Plain, north as far as Mt. Ontake and south to the skyscrapers of the Meieki (Nagoya Station area).
Komaki Castle became the base of Oda Nobunaga after Kiyosu Castle and before he moved north again to Gifu Castle.
Komaki Castle was taken by Ieyasu Tokugawa in the 1580's and later attacked by the forces of Toyotomi Hideyoshi during the largely inconclusive Battles of Komaki and Nagakute in 1584 between Hideyoshi's forces and those of the Oda clan allied with Ieyasu. Iwasaki Castle to the east in Nisshin was also a flash point of this conflict.
After Ieyasu's victory at the Battle of Sekigahara in 1600, Komaki Castle was largely abandoned and only the moats (now empty) and stone walls survived. In 1930, the land on which the castle stood was donated to the local government by the Tokugawa family.
Thanks to the generosity of local Nagoya businessman, Shigeru Hiramitsu, a three-storey, ferro-concrete reconstruction of Komaki Castle's original keep was completed in 1968.
The structure is actually modeled on the Hiunkaku Pavilion of Nishi Honganji Temple in Kyoto.
Inside the keep, the Komaki City Historical Museum has a pleasant wooden interior with some interesting exhibits. These include suits of samurai armor, Edo Period swords and firearms, roof tiles, folding screens (byobu) and other artifacts such as metal work and ceramics uncovered during ongoing excavations in the castle grounds.
The museum also has information on Komaki's history and festivals, the life of its benefactor, Shigeru Hiramatsu, a statue of the Buddha enshrined in Shogenji Temple, a replica of the castle's well (yuioke), a Nobunaga Library and some well-done audio-visual displays on the various battles of the Komaki and Nagakute campaigns. The home of a traditional merchant from the late Edo and early Meiji periods has also been reproduced complete with wooden, tansu chests and tatami floor.
The grounds of Komaki Castle contain parts of the original stone walls, a shrine, a martial arts dojo and are known for their cherry trees and autumn leaves in season.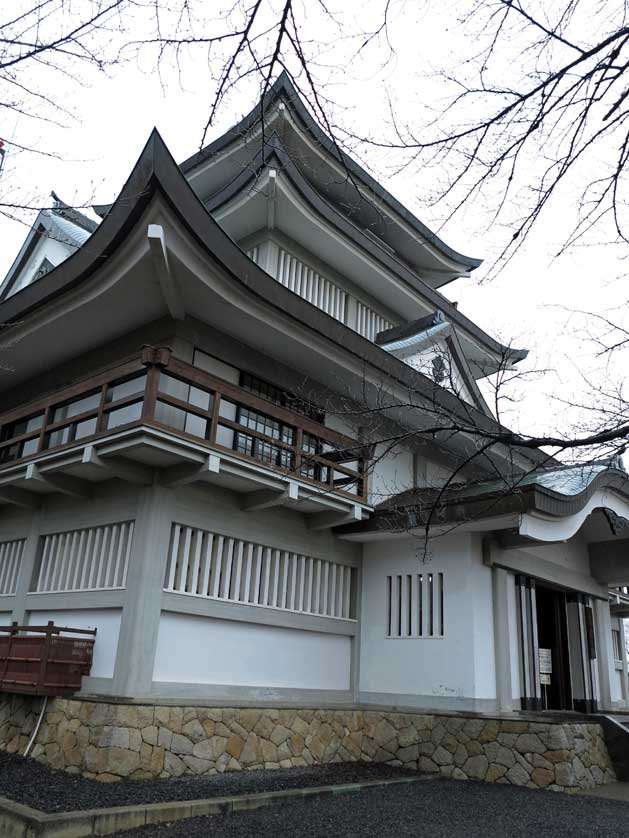 Komaki Castle has a three-tier donjon with a worthwhile museum inside.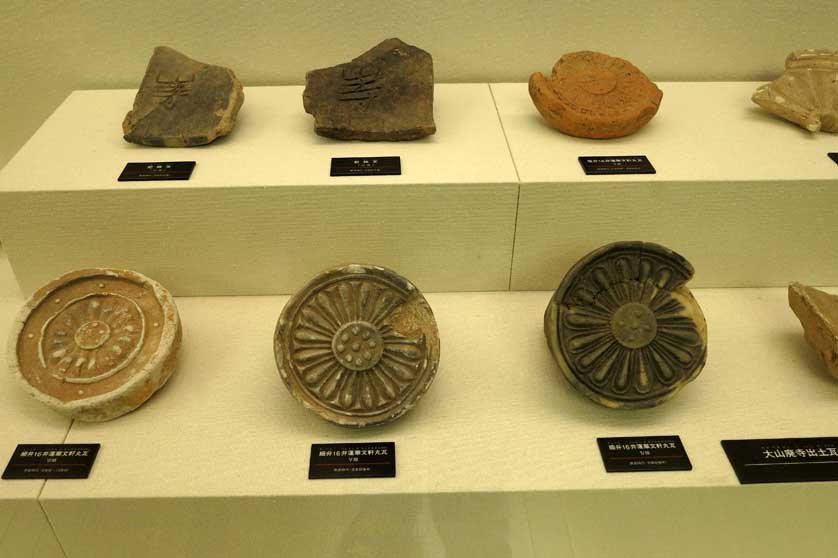 Roof tiles at Komaki Castle just outside Nagoya city in Komaki-shi.

Views from Komaki Castle keep
There are great, 360 degree views from the top of the castle over the Nobi Plain below. On a clear day Mt. Ontake is visible to the north as well as the Suzuka mountains to the west.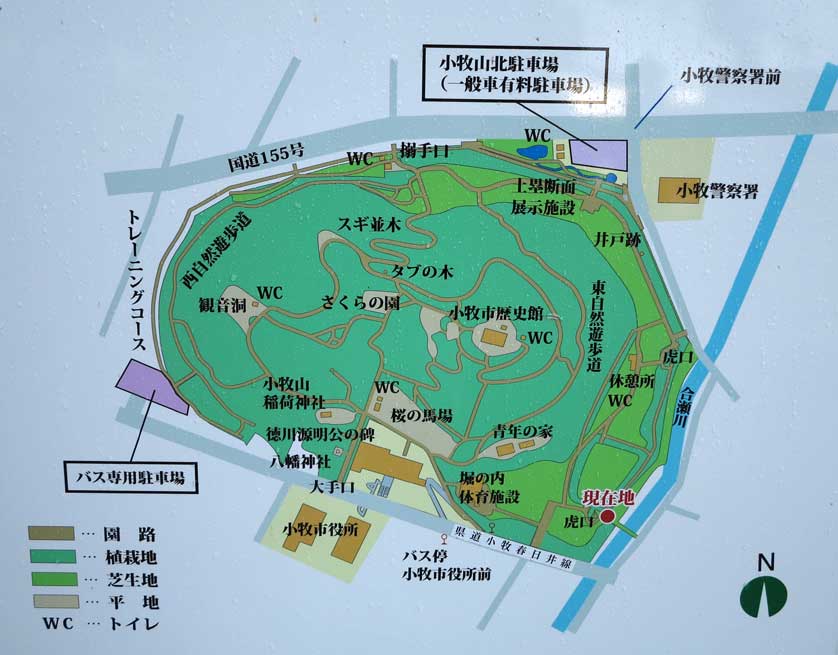 Komaki Castle map.
Komaki CastleHori-no-uchi 1-1, Komaki-shiAichi, 458-8650Tel: 0568 72 0712Admission: 100 yen for adults; 30 yen for school aged children but free for the latter on weekends and public holidaysHours: 9 am-5 pm; closed Monday or the next day if Monday is a public holiday.
Access To Komaki - how to get to Komaki Castle
From Meitetsu Station Bus Center, adjacent to Nagoya Station, there are Meitetsu buses via Sakae Oasis 21 Bus Terminal (stop 8) to Komaki. The journey takes about 30 minutes from Sakae depending on traffic. Get off at the Komaki Shiminbyoin Kita stop.
Alternatively take a Meitetsu Komaki Line train from Kamiida or Heian Dori stations on the Nagoya subway and get off at Komaki Station. The Komaki Castle Park is a 20 minute walk or a short bus ride by Meitetsu or Community Bus from Komaki Station. A visit to the nearby Menard Art Museum can easily be combined with seeing Komaki Castle.
Other castles in the Chubu area around Nagoya include Gifu Castle, Kiyosu Castle, Nagoya Castle, Okazaki Castle and Inuyama Castle.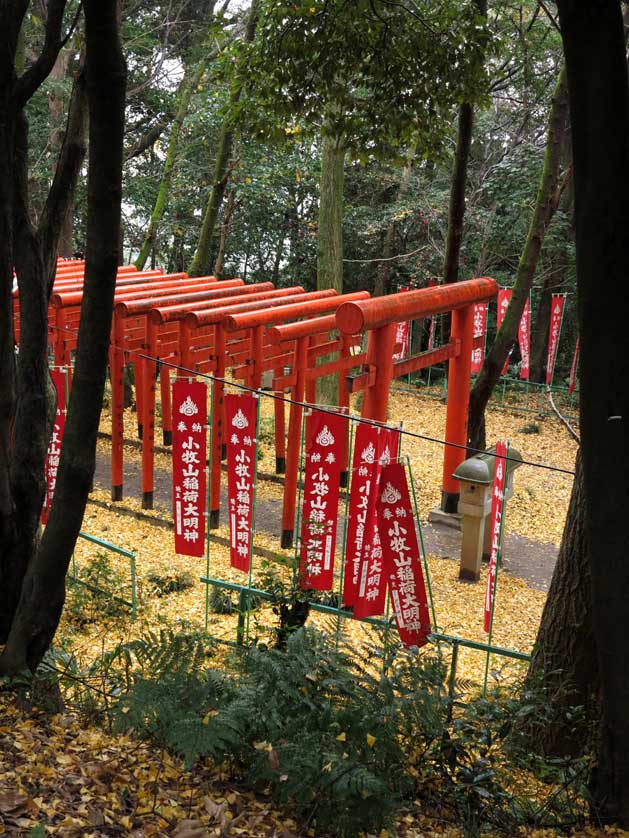 Shrine with ginkgo leaves, Komaki Castle, Komaki, Aichi Prefecture.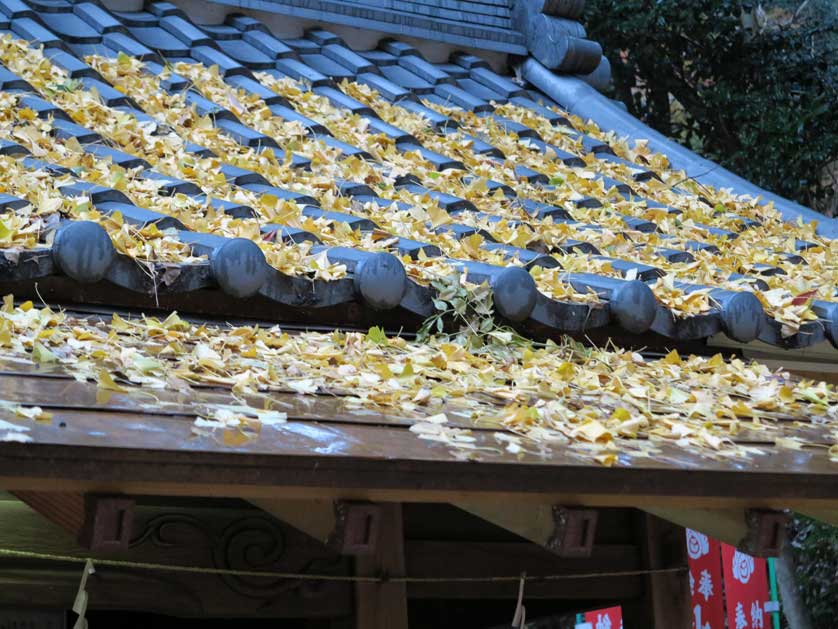 Shrine roof with ginkgo leaves, Komaki Castle, Komaki, Aichi Prefecture.
Book Hotel Accommodation in Japan Near Komaki Castle
All the themes of the city