Meiji Mura
Meiji Mura: Meiji Mura near Inuyama is a fascinating collection of 67 Meiji Period buildings in a parkland setting.
Meiji Mura 明治村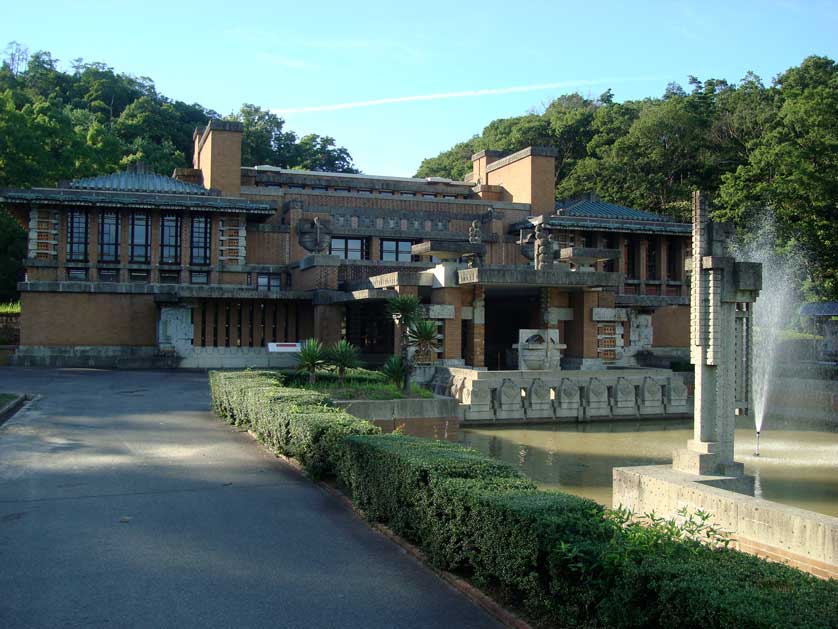 The Lobby of the Imperial Hotel by US architect Frank Lloyd Wright, Meiji Mura
Meiji Mura, which opened in 1965 just outside Inuyama in Aichi Prefecture, is the brainchild of Yoshiro Taniguchi and Motoo Tsuchikawa.
Meiji Mura features buildings preserved in their original state from the Meiji Period of Japanese history (1868-1912) when the country fully opened up to the West and began to modernize and industrialize. Many Western architects were employed to design modern buildings at this time in Japan's history and Japanese architects looked to the west for inspiration to create a modern look.
You can stroll through the pleasant parklands (approximately 1,000,000 square meters) or ride the steam train or Kyoto street car, taking in the various architectural delights, including the lobby of Frank Lloyd Wright's Imperial Hotel (built in 1923 and demolished in 1965), Lafcadio Hearn's summer house and the smooth, shiny all-wood Maebashi Prison.
Altogether 67 structures have been carefully and tastefully renovated and preserved. Each building has an explanation in both English and Japanese of the history behind the structure and its original use.
There are also performances on site by a kabuki troupe in the Kurehaza Theater and sake tastings in Kyoto's former Nakai brewery.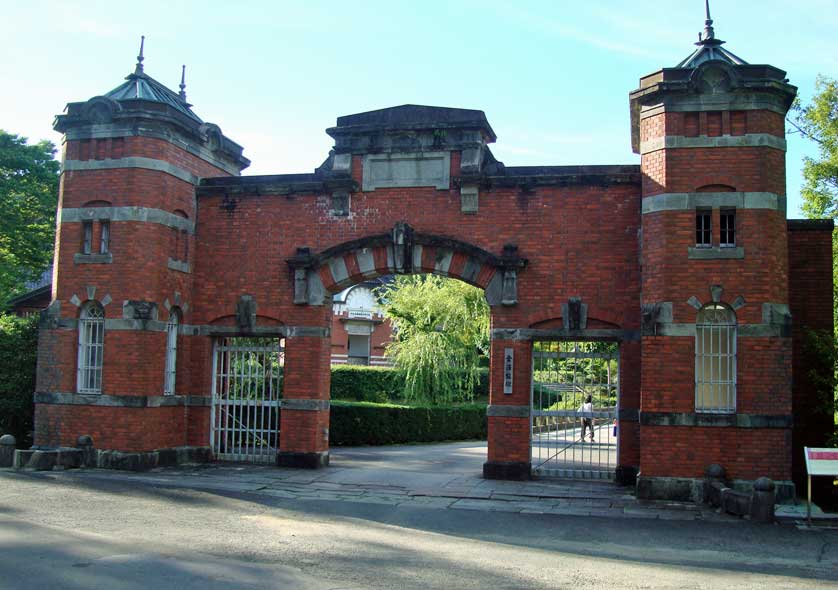 The Main Gate of Kanazawa Prison, Meiji Mura, Aichi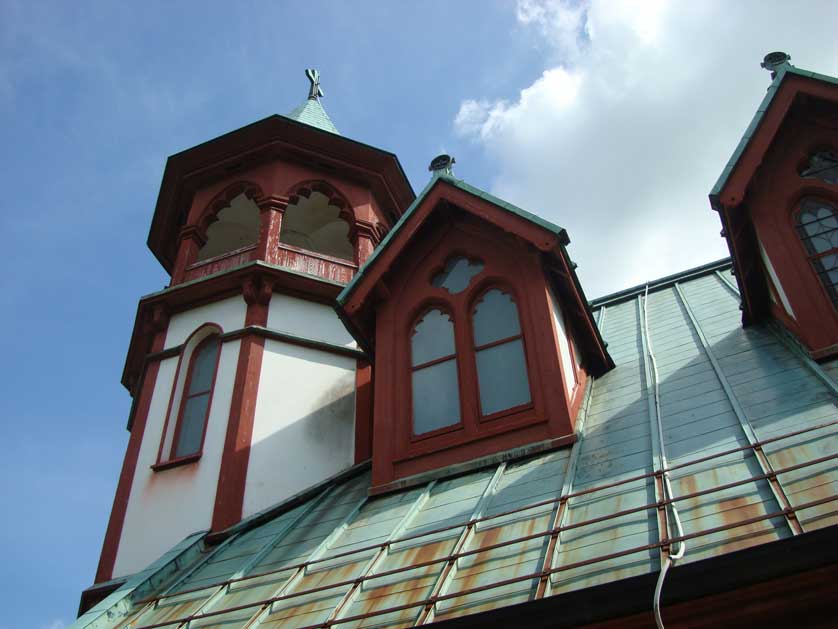 Historic building at Meiji Mura

Meiji Mura Sights
Meiji Mura is divided into 5 areas on the west side of the serene Iruka Lake.
Area 1 includes a Meiji Period High School, butcher's shop, the entrance Porch to the Tokyo School of the Blind, a lamp from the Imperial Palace at Nijubashi, an annex for the Imperial Guard, St. John's Church and the house of Ogai Mori and Natsume Soseki.
Area 2 displays the Nakai Sake Brewery, the auditorium of Chihaya-Akasaka Primary School, Mie Prefectural Office, the Aizu Branch of Yasuda Bank and the historic Sapporo Telephone Exchange.
Area 3 has the Shinagawa Lighthouse, a foreigner's house from Kobe's International Settlement, the Ekirakuan Teahouse, the Zagyoso - the former aristocratic residence of Kimmochi Saionji and the Kitasato Medical Institute.
Area 4 walking to the north has the Museido Gymnasium for Martial Arts, the administration office of the Nagoya Garrison Hospital, a Japanese army barracks, Rokugogawa Iron Bridge, the Kurehaza Theater, an Evangelical Church, Kinotoko Barber Shop, Uji-yamada Post Office, where you can send mail with an original Meiji-era postmark, the summer house of Lafcadio Hearn and the Handa Azumayu Bathhouse.
Area 5 displays the St Francis Xavier Cathedral from Kyoto, the main gate of Kanazawa Prison, St. Paul's Church, Tendo Arch Bridge, the Main Entrance Hall and lobby of the Imperial Hotel designed by Frank Lloyd Wright, a police box from Tokyo Station, the Takada Oguma Photo Studio, the Kikunoyo Library and the Miyazu District Court building.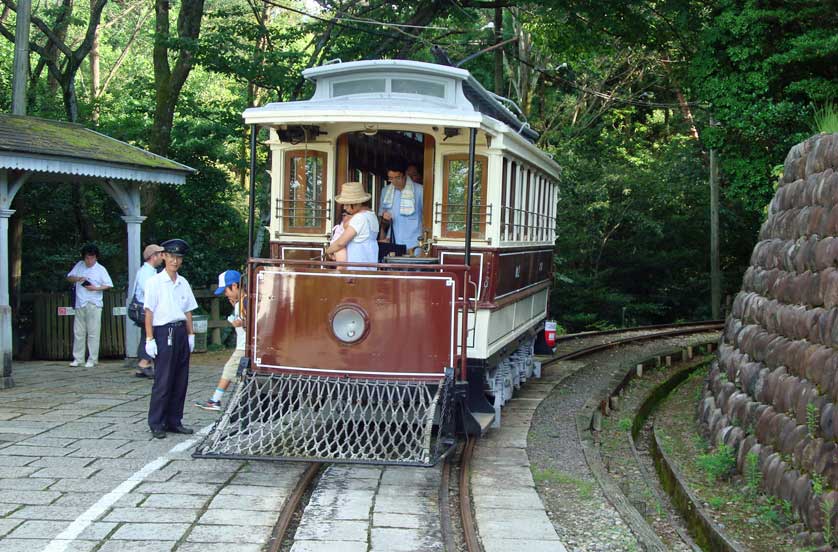 A Meiji Period streetcar from Kyoto provides rides around the theme park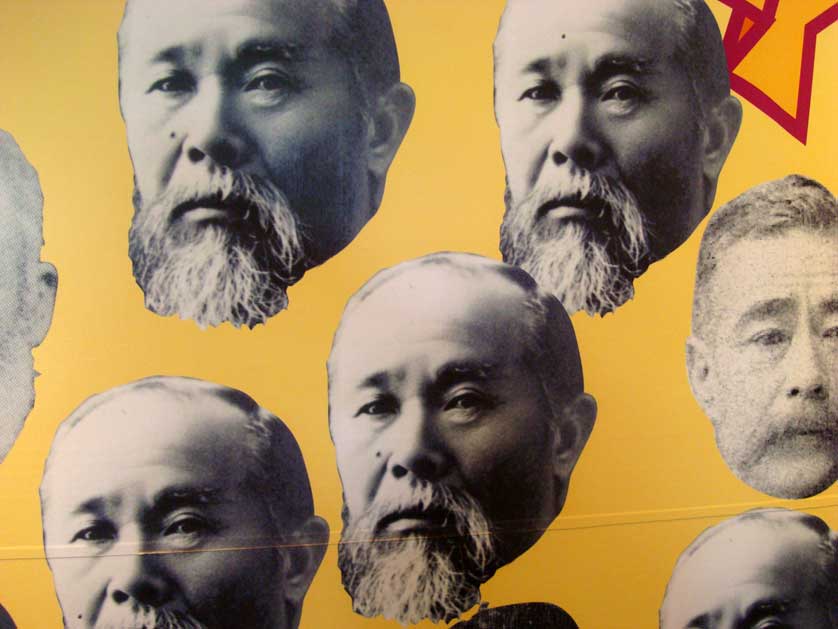 Historical figures from the Meiji Period at Meiji Mura

Getting Around Meiji Mura
Meiji Mura covers a large area and it is not possible to see all the sights in less than a full day's sightseeing. To get around a little more quickly take a ride on the steam locative (300 yen), Kyoto streetcar (300 yen) or village bus (500 yen for a one day pass). Refreshments are on offer at various places including the Meiji Mura Shokudo in Area 2 behind the Higashiyamanashi Country Office or sample Meiji-era beef stew (gyunabe) in the Oi Butcher Shop in Area 1.
Meiji Mura
Meiji Mura (www.meijimura.com)1 UchiyamaInuyamaAichi484-0000 Tel: 0568 67 0314
Admission: 1,700 yen for adults; Seniors (65 years and over) and university students 1,300 yen; Senior High School students 1,000 yen;
Primary and Junior High School students 600 yen.
Hours: 9.30 am - 5 pm (March-July 22, September, October), 10 am - 5 pm (July 23-Aug. 31); 9.30 am - 4 pm (November); 10 am - 4 pm (December-February).
Take a bus from outside Inuyama Meitetsu Station direct to Meiji Mura.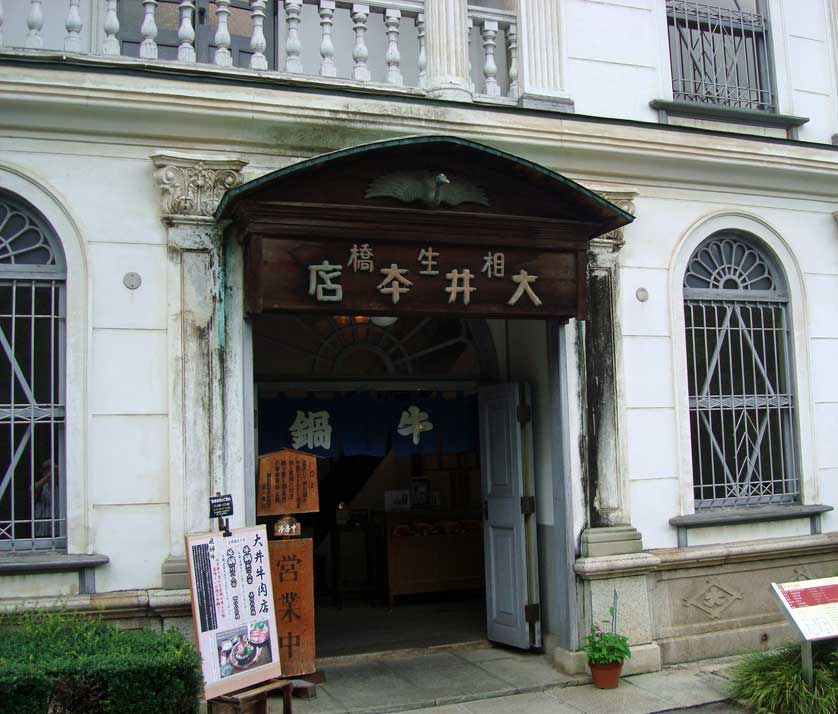 Oi Butcher Shop, Meiji Mura, Inuyama, Aichi Prefecture

Meiji Mura Access
Rail
Inuyama is 25 km north from Nagoya. By Tokaido Shinkansen, Nagoya is 52 minutes from Osaka and 1 hour 40 minutes from Tokyo.
From Nagoya Station, Inuyama is around 30 minutes by Meitetsu Inuyama Line and about the same time from Gifu Meitetsu Station.Alternatively take the Meitetsu Komaki Line from Kami Iida in Nagoya. From Gifu JR Station there are trains to nearby Unuma Station, a short walk across the Kiso River to Inuyama. It is also possible to ride the Tsurumai Subway Line in Nagoya to the last stop at Kami Otai and change to a Meitetsu Inuyama Line train there.
Bus
There are long distance bus services from outside Inuyama Station to Tokyo (Shinjuku Station), Kyoto, Osaka, Nagoya (every 30 minutes), Gujo Hachiman (1 hour) and Kobe. Driving from Nagoya take National Highway 41 off the Komaki Interchange of the Tomei Expressway. There is car parking available for up to 900 cars and 100 tour buses.
Getting Around
Most of Inuyama's sites are within easy walking distance of the station or reached by shuttle buses from Inuyama Station.
Meiji Mura Video Guide
Book Hotel Accommodation in Nagoya
All the themes of the city