Nagoya Sightseeing & Nagoya Attractions
Things To Do In Nagoya & Its Surroundings 名古屋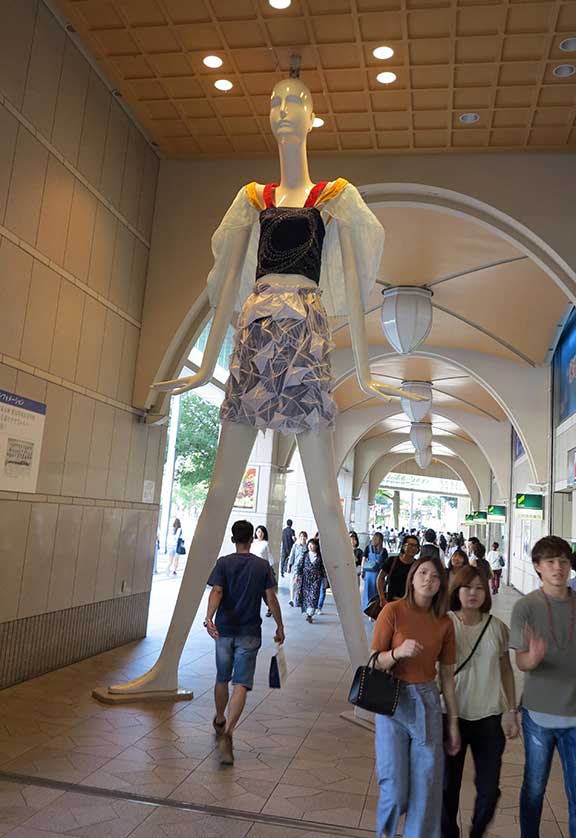 Nanachan - a popular meeting spot outside the main entrance to Meitetsu Nagoya Station
Nagoya unfairly gets a bad rap from most guidebooks and usually only enters the traveller's consciousness as a brief stop on the shinkansen (bullet train) journey from Tokyo to Kyoto.
Once a beautiful wooden town in historical times, Nagoya is one of the few modern Japanese cities to have been carefully planned and zoned after the destruction of World War II.
In fact, the city is a spacious, well-planned, urban center that oozes prosperity due to the location of Japan's largest company - Toyota - in the town as well as a substantial number of blue-chip precision-engineering companies driven by Toyota's success.
In 2005, Nagoya's new off-shore Centrair Airport opened and Nagoya City & Aichi Prefecture played host to Aichi Expo 2005.
Nagoya is easily accessible from Tokyo by shinkansen and takes under an hour to get to from Kyoto and Osaka - or a more leisurely 2 hours by Kintetsu railway's Urban Liner from Osaka's Tsuruhashi and Namba stations - and has a lot to offer the first time visitor.
Nagoya, located in central Japan, is ideal as a base for exploring the historic towns and onsens of nearby Gifu, Mie, Shizuoka and Nagano Prefectures.
Nearby places of interest within a radius of around two hours by train include Gifu City, Inuyama, Ise-Toba, Gujo Hachiman, Takayama, Toyohashi, Gero Onsen and Magome and Tsumago.
Nagoya Map
Nagoya Castle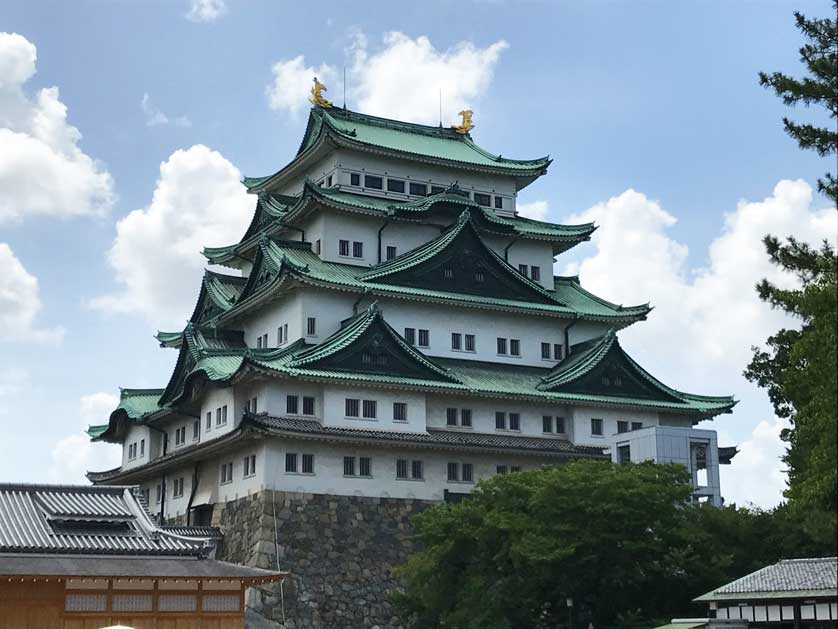 Nagoya Castle
Nagoya Castle (first completed in 1612) was built on the orders of the Shogun Tokugawa Ieyasu and houses a worthwhile museum displaying Edo period armor, fusama-e (paintings on sliding doors) and other art treasures that escaped bombing in World War II. The adjacent Hommaru Palace is presently being restored to its original glory and the first stage is now open to the public.
Meijo Koen, the park surrounding Nagoya Castle, is famous for its cherry blossoms. Ninomaru Garden just to the east of the castle is an original Japanese-style garden.
Less than five minutes walk from Meijo Park and Shiyakusho-mae subway station, the luxurious Five Star Westin Nagoya Hotel makes for an excellent central base for any business or pleasure trip to Nagoya.
Other accommodation nearby to Nagoya Castle includes the much recommended Kyoya Ryokan with an excellent spa, Japanese food and garden. This is a must if you want to experience a truly, traditional Japanese inn.
Nagoya Castle Admission 500 yen.
Access: Shiyakusho subway station on the Meijo Line or Sengen-cho on the Tsurumai Line.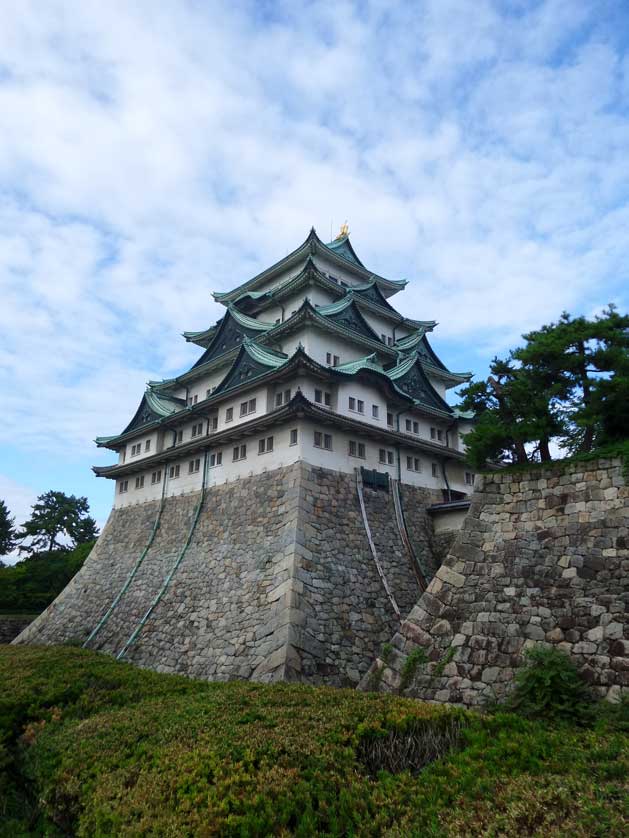 Nagoya Castle with its distinctive, fan-shaped, sloping walls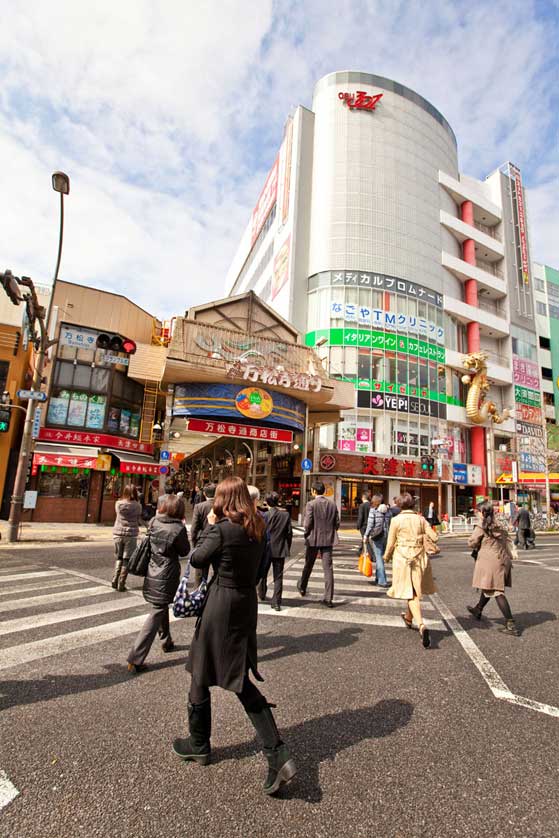 The hip area of Osu Kannon in Nagoya known for its flea markets and electronics stores
Tokugawa Art Museum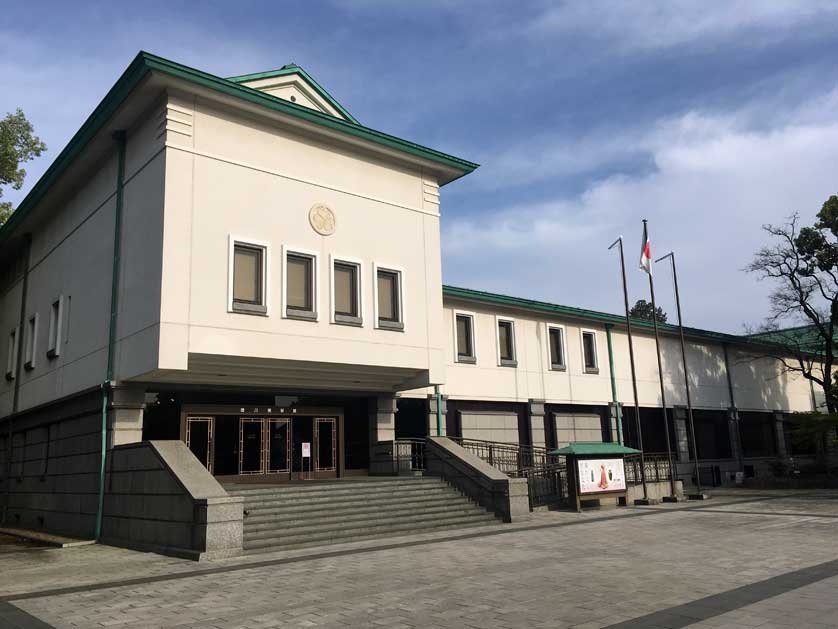 Tokugawa Art Museum, Nagoya
The nearby Tokugawa Art Museum is the city's must-see attraction, housing the old ruling Owari family's legacy of art and heirlooms, which include maki-e (gold lacquer work), fearsome samurai armor, swords and helmets, a Noh stage and theater costumes and the original twelfth-century painted scroll of The Tale of Genji by Takayoshi Fujiwara. The original is kept locked away most of the time but is represented by video and panel displays. Photography is not allowed inside the exhibition. The museum, which dates from 1935, is set in the beautiful Tokugawaen (Tokugawa garden), which can be visited separately.
Admission 200 yen. 10 am-5 pm, closed Monday.
Access: Ozone subway station.
Read more about Tokugawa Art Museum
Tokugawaen Garden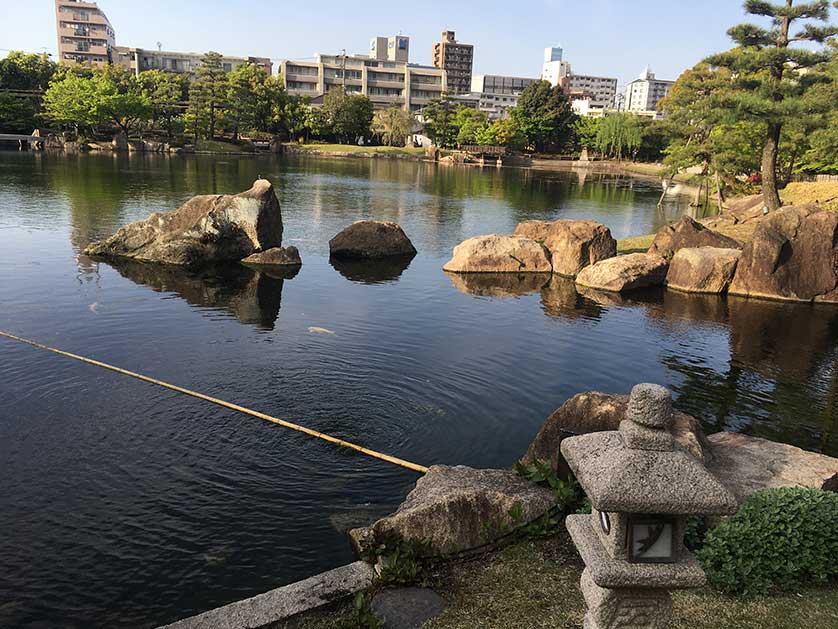 Tokugawa Garden
Adjacent to the Tokugawa Art Museum is the beautiful Tokugawaen (Tokugawa Garden), which can be visited separately from the museum. The garden was built in 1695 as a retirement villa for Mitsutomo, Lord of the Owari Tokugawa, but was destroyed in World War II and only opened as a Japanese garden again in 2004. A large lake forms the strolling garden's centerpiece which is also noted for its waterfalls, wooden bridges, a samurai teahouse, restaurant and its peonies and irises. Visitors can enter through the wooden Kuro-mon (Black Gate) which survived the bombing and dates from 1900.
Admission 500 yen. 10 am-5.30 pm, closed Monday. Tel: (052) 935 8988
Access: Ozone subway station.
Read more about Tokugawa Garden
Nagoya Noh Theatre
Noh drama is a prominent feature of Nagoya and the Nagoya Nohgakudo is the venue for regular monthly performances. There is also an exhibit room of precious Noh artifacts (free).
Admission from 500 yen. Daily 9 am-5 pm.
Access: Shiyakusho subway station.
Aichi Prefectural Gymnasium
Interested in sumo? The annual Nagoya basho (tournament) is held in July at Aichi Prefectural Gymnasium. Day tickets (from ,200) are available there 9 am-5 pm, or you can phone 052 962 9300 for advance sales.
Access: Shiyakusho subway station.
Osu Kannon - TVs and Temples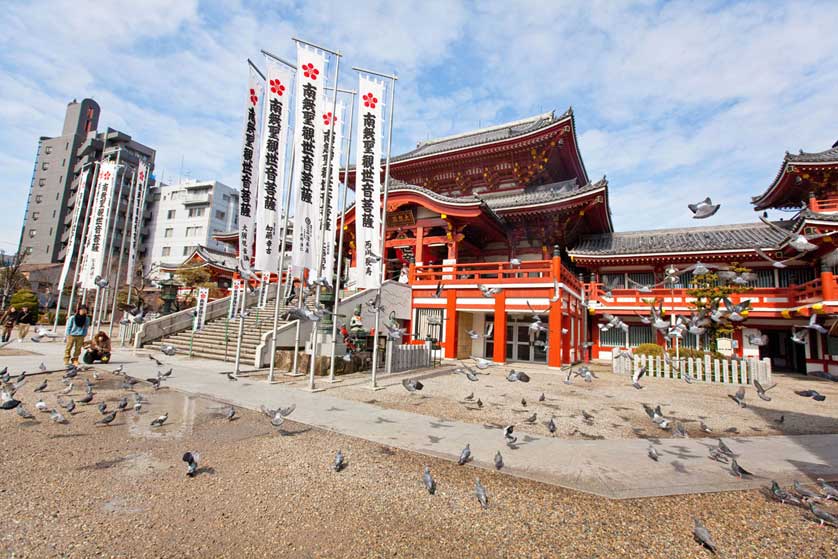 Osu Kannon
Located just south of Sakae and Fushimi, Nagoya's main shopping centers, is Osu Kannon Temple - a great place to stroll and take in the mix of old and new. Osu Kannon Temple is Nagoya's oldest and the surrounding area of Osu Kannon or just "Osu" is home to a vibrant fusion of old-style arcades selling everything from discount electronics to second-hand kimono, antique markets on the 18th and 28th of each month, and a number of intriguing Brazilian shops and cafes. Brother Computer Solutions is a foreigner-friendly new and used store in Ameyoko Biru #1.
Access: Osukannon subway station.
Bars & Restaurants in Osu
Atsuta Jinja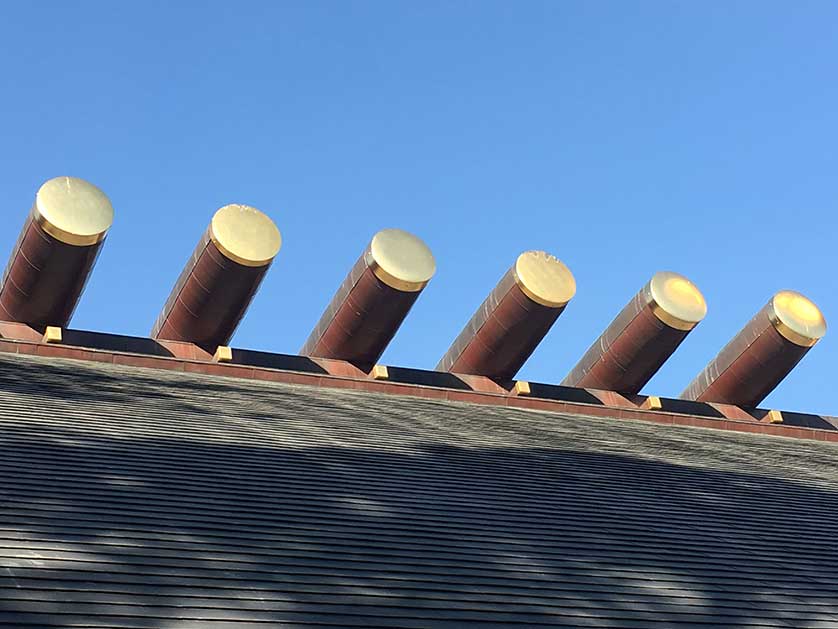 Atsuta Jinja
Atsuta Jinja ('jinja' meaning Shinto shrine) is one of the most important shrines in Japan. Lined with attractive cypress trees, it dates back to the third century and is supposed to house the sacred imperial sword, one of the three regalia of the imperial family, the others being a sacred mirror at Ise and sacred jewels in the Imperial Palace in Tokyo. The shrine is Nagoya's number one must-visit shrine at New Year and is also a popular venue for shichi-go-san festivals. Shichi-go-san, literally 'seven-five-three', is a celebration held on November 15 for when a girl turns 3 or 7 and when a boy turns 5. Atsuta Jingu is said to visited by over 8 million people per year. The shrine was bombed in World War II and subsequently rebuilt. Atsuta Jingu is seen as a protector of the area's agriculture and the shrine's festivals include an opulent planting ceremony.
The precincts include a 1,300 year old giant camphor tree said to be planted by the renowned Buddhist priest Koubou Daishi, a Noh theater, and the 'Bunka-den' treasure storehouse museum full of important cultural assets, especially swords. (9 am-4.30 pm, closed last Wed and Thu of every month. Closed Dec 25-31. No admission after 4.10 pm).
Access: Jingu Nishi Meijo Subway Line, 8 minutes walk from JR Atsuta (Tokaido Honsen line) or 5 minutes from Meitetsu Jingumae station.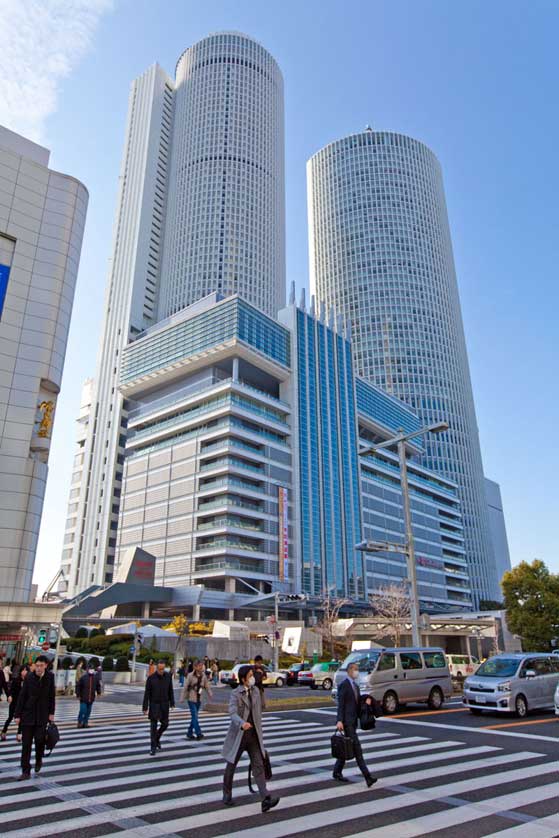 The soaring Twin Towers of Nagoya Station - the world's largest station building by area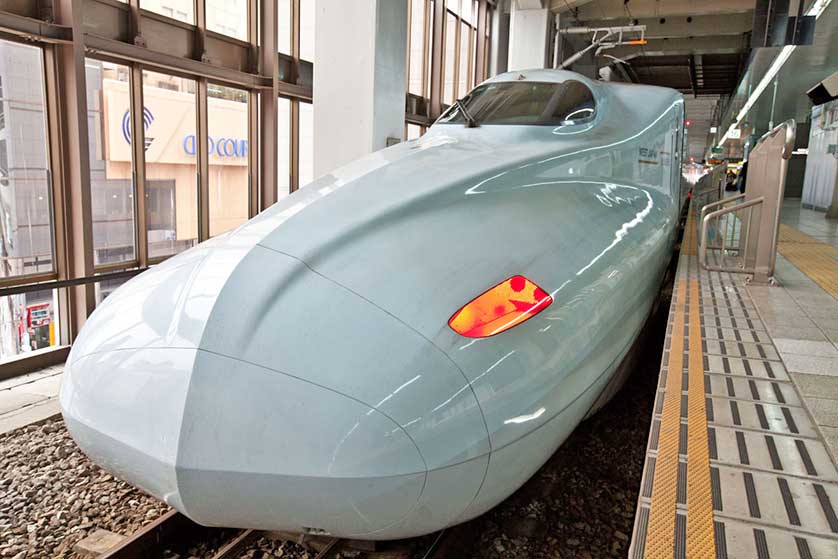 Shinkansen bullet train at Nagoya Station
Koshoji Temple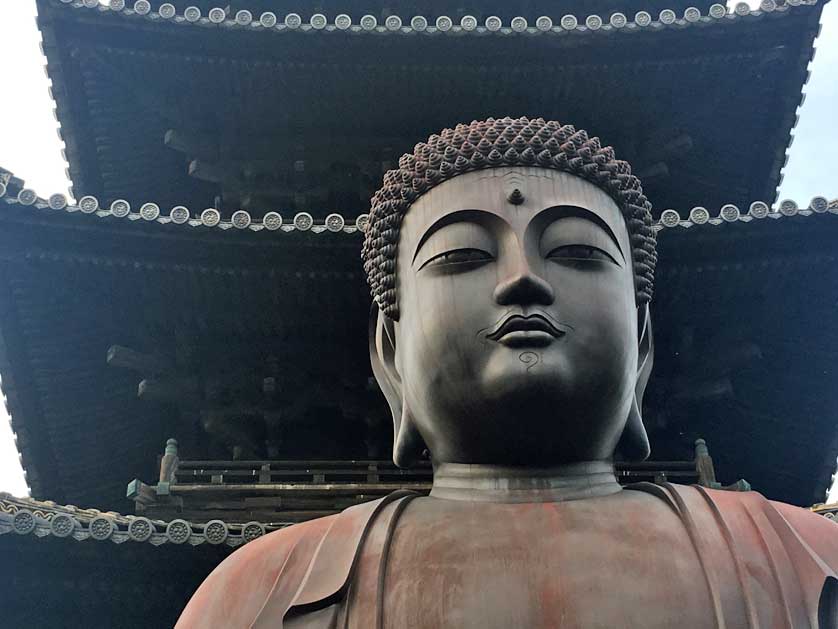 Koshoji Temple Pagoda, Yagoto
Koshoji Temple, which was established by the Tokugawa family, dates from the 17th century and consists of a number of fine buildings including an impressive five-storey wooden pagoda completed in 1808. The temple and grounds of its attached graveyard are situated in pleasant woodland on Yagoto Hill just a few minutes walk towards Imaike from Yagoto on the Iida-kaido. Koshoji temple hosts an annual "1,000-Lantern Festival" at the harvest moon on the third Saturday of October and is a pleasant place to walk or just relax. There are small flea-markets on 5th and 13th of every month. Nearby Yagoto has some good restaurants, bars and shops catering to the many university students in the area. Nagoya University, Chukyo University, Nanzan University and Meijo University are all within easy reach of Yagoto.
Tel: 052 832 2801
Access: Yagoto subway station (5 minutes walk)
Shiroyama Hakusan Shrine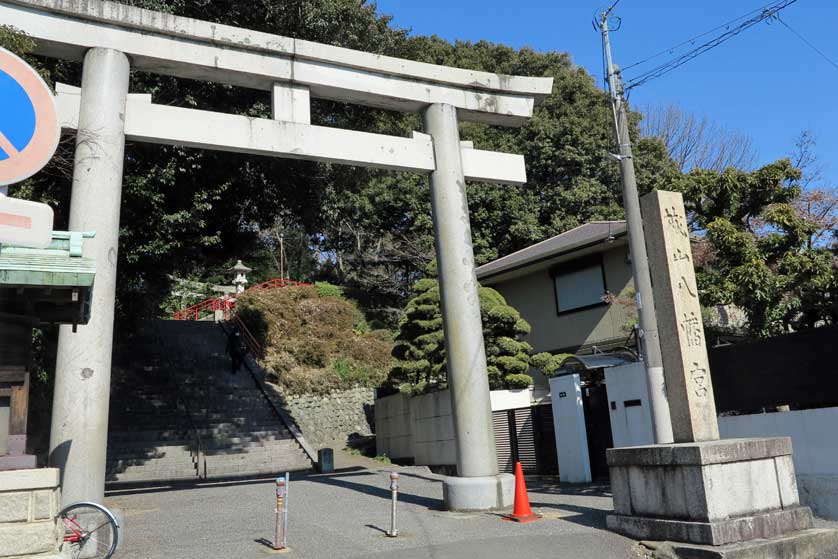 Shiroyama Hakusan Shrine
Shiroyama Hakusan Shrine, formerly Suemori Castle, is located to the north west of Motoyama station on the Higashiyama subway line. The original Suemori castle dates from the sixteenth century and the present-day shrine now hosts colorful night-time festivals (matsuri) in both July and October featuring traditional Japanese music and dance performances.
Access: Motoyama subway station (5 minutes walk uphill to the north).
Toganji Temple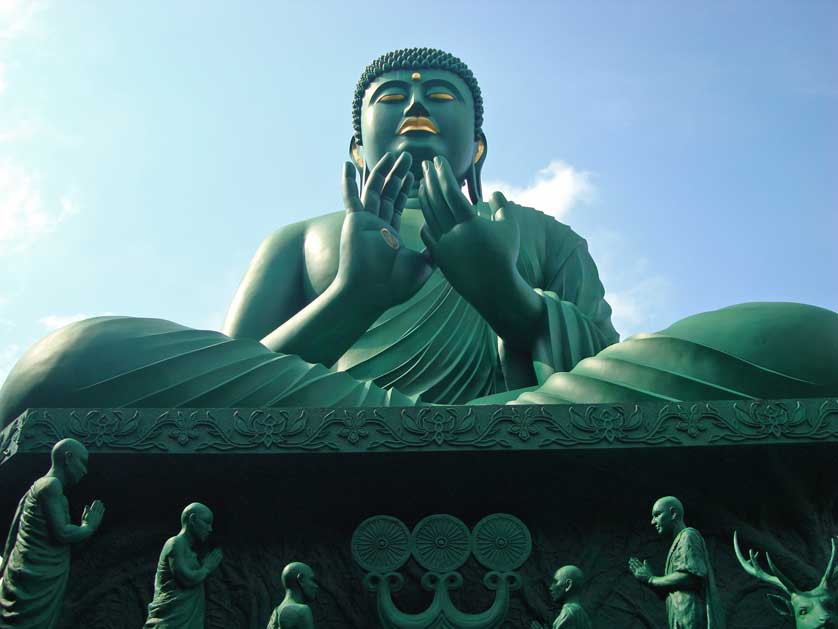 Toganji
Toganji Temple in the Motoyama area also dates from the sixteenth century and includes an impressive 15m high statue of the seated Buddha. Toganji has many links to India as one of the high priests completed his studies there. The temple grounds contain a Shiva-Lingam and a shrine dedicated to the Goddess Saraswati, who is honored in a Benzaiten Festival every May 7-8. Toganji also contains a huge wood block said to purge past sins if touched with one hand.
Access: Motoyama subway station.
Toyota Commemorative Museum of Industry and Technology
Toyota, now world famous for its cars, started life as a textile firm and the fascinating Toyota Commemorative Museum of Industry and Technology, housed in an old red-brick textile factory, displays textile looms and a history of automobile design in its two pavilions. Check out their hi-hi-hi-tech car-making robots.
Admission 500 yen. 9.30 am-5 pm; closed Monday.
Access: Sako Station on the Meitetsu line or Kamejima subway station.
Toyota Automobile Museum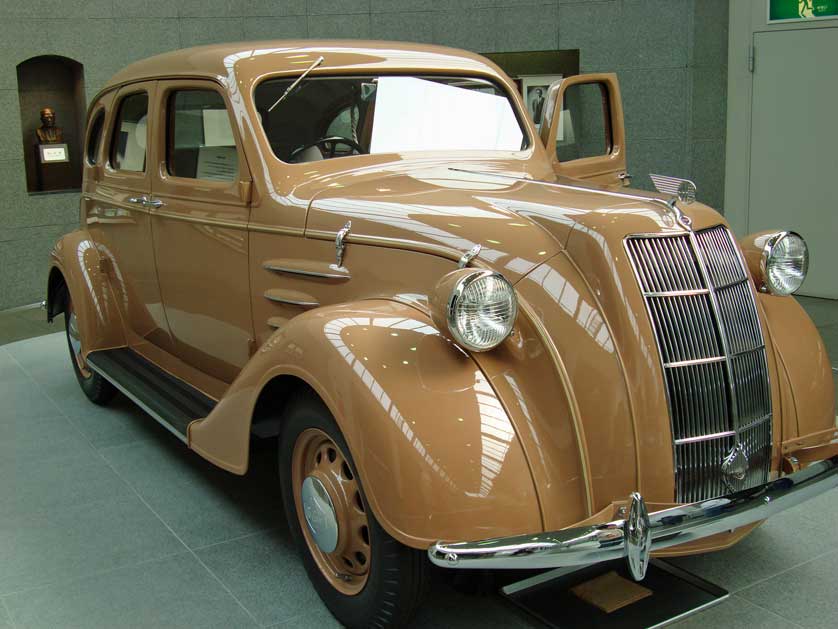 Toyota Automobile Museum, Nagoya
If you need even more of a car fix, head out east of the city to the amazing Toyota Automobile Museum, which has separate floors dedicated to European/American motors and Japanese cars. Never seen a 1926 Bugatti Type 35B or a 1912 Rolls Royce Silver Ghost in mint condition? You can here. 500+ different miniature cars, and other assorted souvenirs available in the museum shop.
Admission 1000 yen; 9:30 am-5:00 pm; Closed Monday.
Access: Fujigaoka subway station, then Meitetsu bus.
Nagoya/Boston Museum of Fine Arts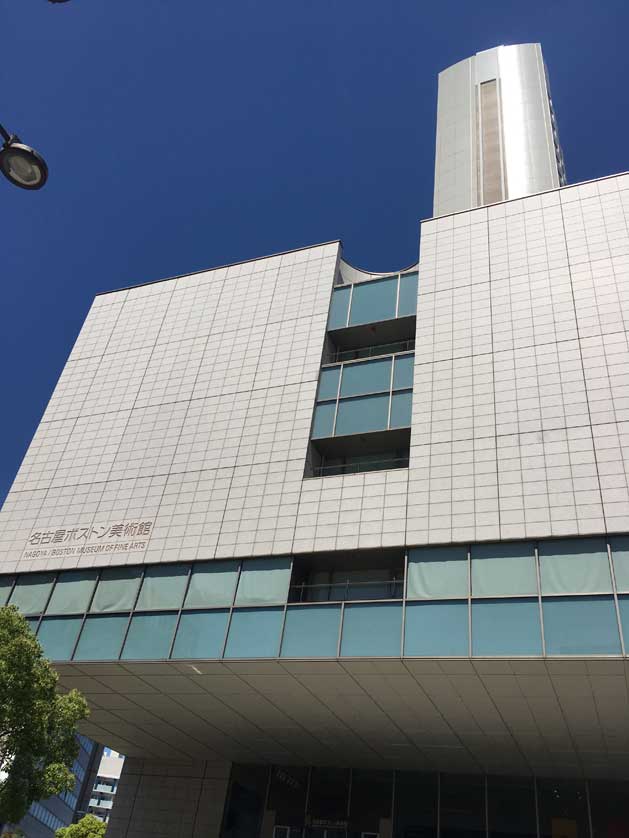 The former Nagoya - Boston Museum of Fine Arts, Kanayama
Rumors abound that the Nagoya/Boston Museum of Fine Arts - the sister museum of the Museum of Fine Arts, Boston - may be closing, so see it while you can (Update: the museum did close in 2018). Displays of both Japanese and Western art from the Boston museum's peerless collection. This is the first example of an American museum having a "sister" institution in Asia. The museum opened in 1999. Admission 200 yen; 10 am-5 pm (to 9 pm Friday); closed Monday.
Access: Kanayama subway station.
Nagoya City Museum
This museum in the city center houses some interesting permanent collections, including some striking samurai armor and weaponry, and hosts international class exhibitions, a notable example being that of Gandhara sculpture in 2003.
Admission 500 yen; 9.30 am - 5 pm; closed Monday.
Access: Sakurayama subway station.
Nagoya City Science Museum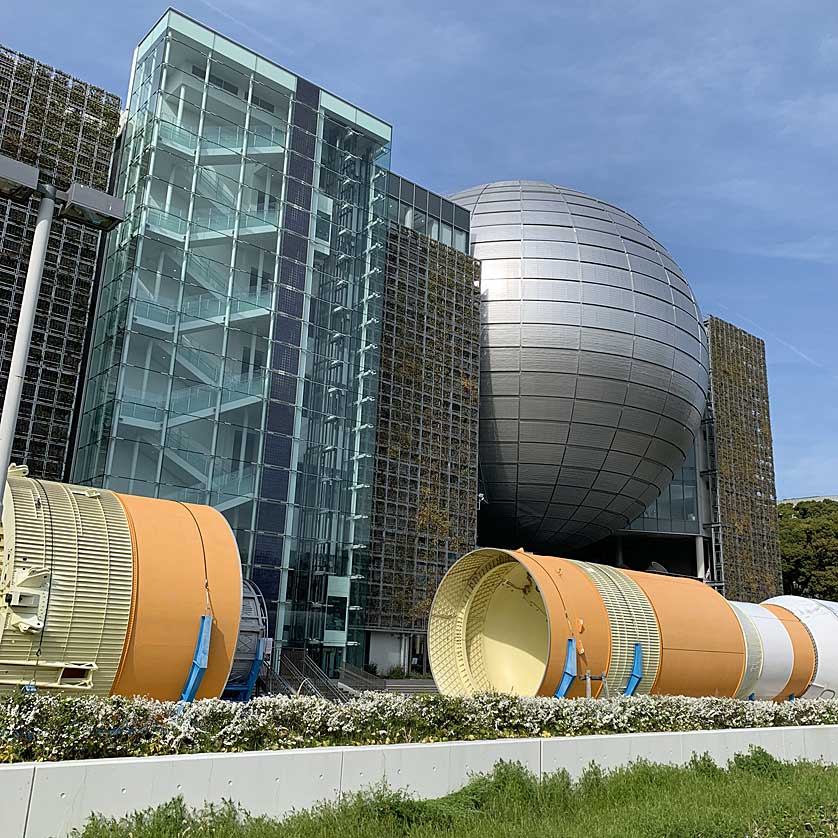 Nagoya City Science Museum
Nagoya City Science Museum houses one of Japan's largest planetariums and has interesting sections on modern technology, life sciences and general science with a variety of hands-on exhibits which will appeal to children, especially the extremely well-done model railways on the third floor in the transport section and the kids' play area on the ninth floor. The museum also has features on the local Chubu area's links to science and industry. English materials and a floor-plan are available at the entrance. Recommended for visitors and residents with children alike.
Admission fee; 9.30 am-5 pm; closed Monday/3rd Friday of the month.
Access: Fushimi subway station (Exit 5).
Aichi Prefectural Ceramic Museum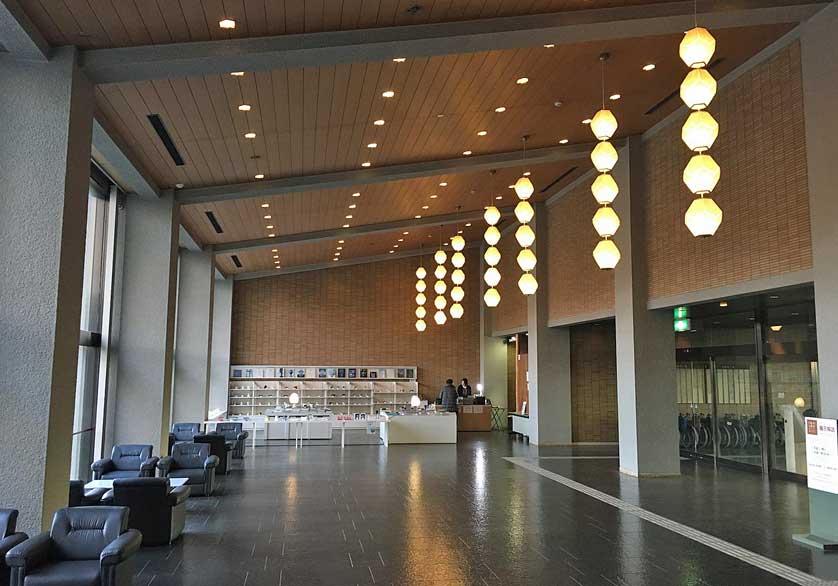 Aichi Prefectural Ceramic Museum
The Aichi Prefectural Ceramic Museum exhibits a vast collection of pottery ranging from the Jomon period (circa 10,000 BC - circa 300 BC) to contemporary ceramics produced by some of Japan's most famous potters. Some historians claim that the world's first pottery was produced in Japan and the country has a rich tradition of ceramic art. The museum is located in Seto City, which has been producing fine ceramics (setoyaki) for well over a 1,000 years. The museum also contains a restaurant, a traditional tea-ceremony room where visitors can drink from tea bowls made by famous artists and a studio for guests to try their hand at making and decorating their own pottery.
Open 9.30 am-4.30 pm; Closed Mondays. Tel: (0561) 84 7474.
Access: From Fujigaoka station on the Higashiyama subway line, take a Meitetsu bus to Toji Shiryokan (Ceramic Museum) stop.
IdcN International Design Centre
Tracing the history of design from Art Deco to the present day, the museum is housed on the 4th floor of the Nadya Park Building, which also contains an impressive library dedicated to design.
Admission free. 11 am-8 pm; closed Tuesday.
Access: Yabacho subway station.
Higashiyama Zoo and Botanical Gardens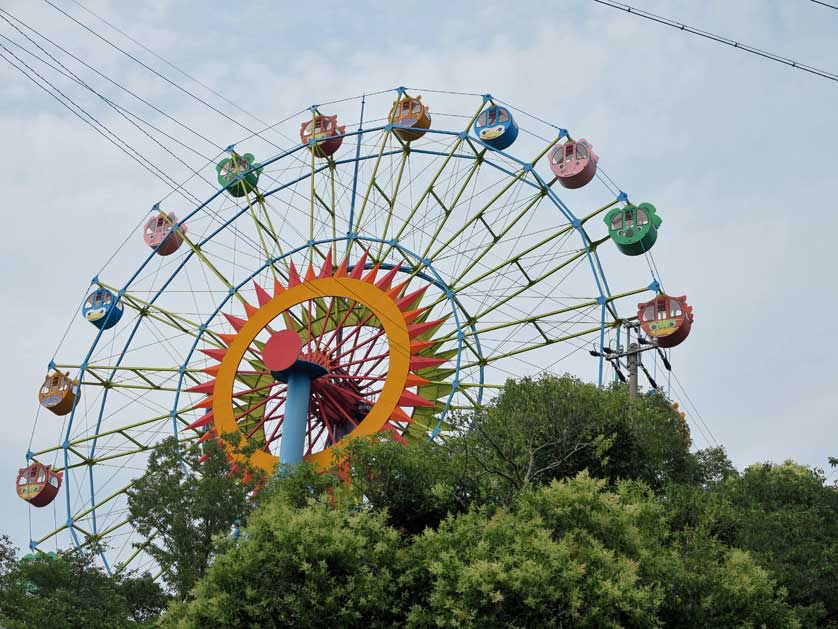 Nagoya Zoo
Nagoya's zoo - first established in 1937 and set in Higashiyama Koen (Park) - is one of the largest zoological gardens in Asia with around 125 species of mammals, over 70 species of reptiles and more than 86 species of birds. This spacious, well-planned zoo is adjacent to the city's Botanical Gardens (complete with an extensive greenhouse and Insect Hall), an amusement park and the recently opened Higashiyama Sky Tower, which has spectacular views of the city from its observation decks and restaurant 100 meters above ground. (Extra admission charge necessary).
The park also contains a 10 meter high statue of Kannon (the Buddhist Goddess of Mercy) which was transferred from Nittaiji Temple. The zoo and botanical gardens offer a good day out for all the family, with good eating and drinking in the upmarket Motoyama area nearby.
Admission 500 yen. 9.30 am-4.30 pm daily. Tel: (052) 782 2111
Access: Higashiyamakoen subway station or Hoshigaoka subway station on the Higashiyama Line.
Port of Nagoya Aquarium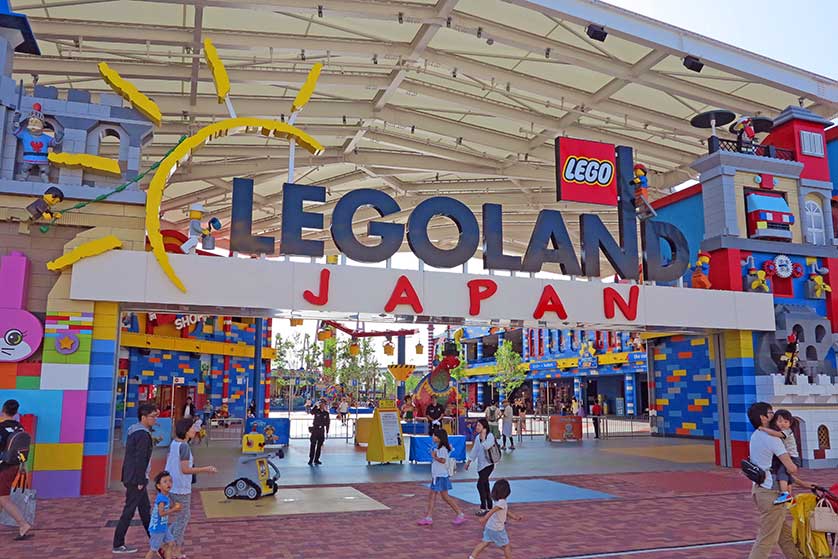 Legoland in the port area of the city
The modern Nagoya Aquarium is one of several attractions at the still-developing Garden Pier area of Nagoya port in the south of the city, which includes Legoland, a maritime museum and Port Tower. The aquarium is divided into five different ecosystems all found in the Pacific Ocean. Don't miss the popular penguin tank. The aquarium is well known for its involvement in marine research and conservation.
Admission fee (reductions for children); 9.30 am-5 pm (to 8 pm July 21-August 31).
Access: Nagoyako subway station.
Little Italy - Villaggio Italia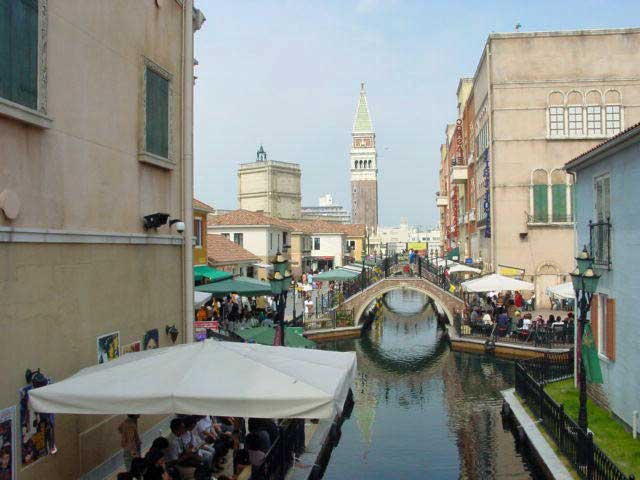 Little Italy
Opened in the spring of 2005, Little Italy (Villaggio Italia) was a shopping/restaurant complex situated at Nagoya Port across from the aquarium, which closed in May 2008. There were facades of classical Italian buildings, gondola rides on a mini Venetian canal, Italian dining al fresco and lots and lots and lots of shopping: both for Italian designer goods and more prosaic pasta, olive oil and Parmesan cheese in the supermarket. There were also occasional live performances by a traditional Italian band.
Admission charge; 10 am-9 pm (for shopping); 10 am-11 pm (for dining).
Tel: 052 659 1422
Access: Nagoyako subway station.
Pachinko Museum
Urban legend has it that Nagoya is home to the modern gambling pursuit of pachinko, and there used to be a small museum on the 3rd floor of the Masamura Building dedicated both to the game itself and to Takeichi Masamura, the godfather of the post-war pachinko boom.
Admission free. Weekdays 11 am-4 pm.
Access: Joshin subway station. (The building were the museum was housed was demolished in 2014 and rebuilt).
Koma (Spinning Tops) Museum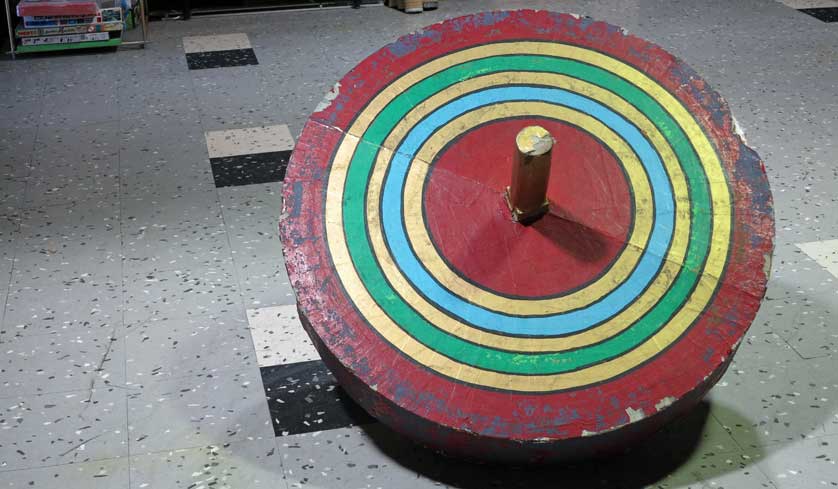 Koma Museum
The "Japan Koma (Spinning Tops) Museum" is a must-see for enthusiasts of koma (spinning tops) and modern-day gyroscope toys and gyroscopes. The pastime of 'spinning toys' originated in Ancient Egypt and spread worldwide, especially throughout Europe and Asia and has gained particular enthusiasm in Japan. This family-run shop-cum-shrine to spinning tops exhibits spinning tops from numerous countries from throughout the ages as well as being a meeting-place and purchasing center for collectors and traders.
Admission free.
Tel: (052) 661 3671
Access: A 10-12 minute walk from Tsukijiguchi subway station on the Meiko Line (change at Kanayama subway station on the Meijo line) or closer from Inaei station on the Aonami Line.
Japan Spinning Top Museum (in Japanese)
Nittaiji Temple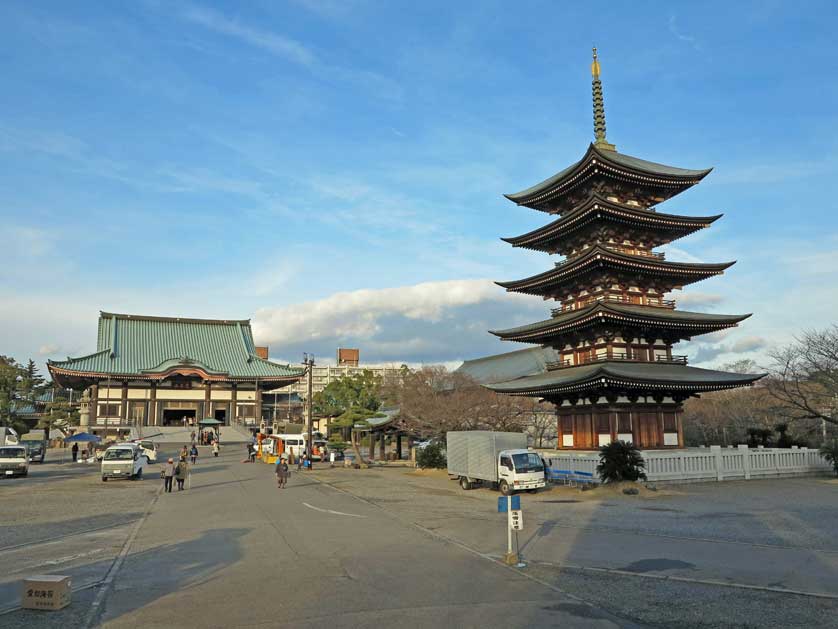 Nittaiji Temple
The Nittaiji Temple (lit. Japan-Thailand Temple) in Kakuozan in the north east of the city was established in 1904 and rebuilt in 1984 as a repository for a Thai-style golden image of Buddha and Buddhist relics present by the King Chulalongkorn of Siam in 1900. The Temple is maintained by various sects of Buddhism as an international, non-sectarian temple. The 21st of each month sees the approaches to the temple play host to a large flea-market.
Admission free.
Access: Kakuozan subway station (Higashiyama Line).
Nunoike Cathedral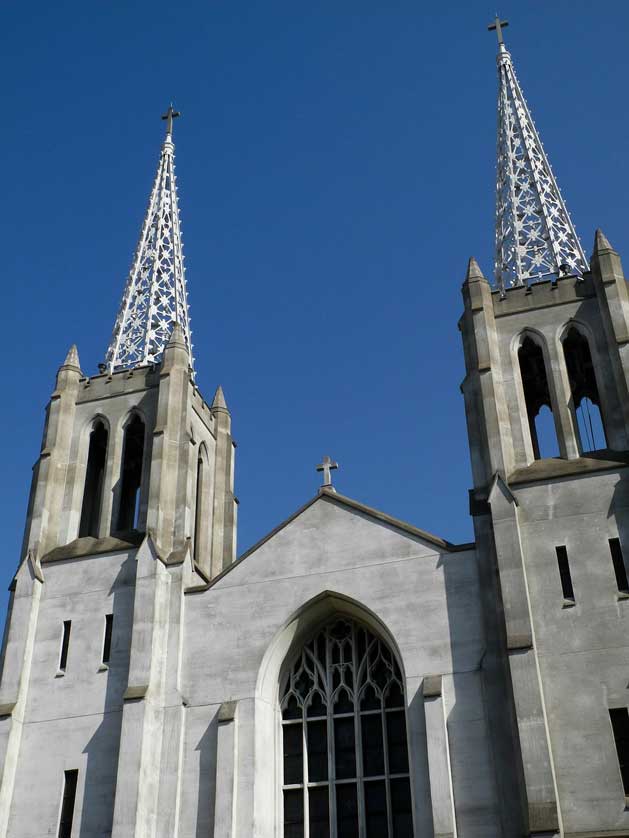 Nunoike Cathedral
The Nunoike Cathedral is Nagoya's Catholic Cathedral and the large Gothic-style building with two impressive spires was completed in 1962.
The church holds masses everyday with multiple services on Sundays. There are also monthly masses celebrated in both English and Tagalog. Next door is St. Mary College - an English language college. The diocese of Nagoya includes churches in Aichi, Gifu, Fukui, Ishikawa and Toyama Prefectures.
12-23 Aoi 1chome, Higashi-ku, Nagoya, 461-0001
Tel: 052 935 6305
Access: Shinsakae-machi subway station (Higashiyama Line) or Kuramamichi subway station (Sakuradori Line).
Toyota Municipal Museum of Art
Toyota Municipal Museum of Art features works by Gustav Klimt, Egon Schiele, Edvard Munch, and others. Not only strictly for art lovers, it is worth the trip just to see the building. The architect, Yoshio Taniguchi, better known for his recent work on the Museum of Modern Art (MoMA)'s renovations in Manhattan has created a building that appears to float on water. Spectacular.
Adults 300 yen, high school/university Students 200 yen for the permanent collection (reductions for groups over 20). Elementary/junior high school students free.
10 am-5.30 pm (entrance until 5 pm), closed Monday.
Access: From Nagoya Station, take the Higashiyama line to Fushimi station. Then take the Tsurumai line bound for Toyota city and get off at the last stop. Approximately 12 minutes walk.
Tel: 0565 34 6610
Nagoya City Tram & Subway Museum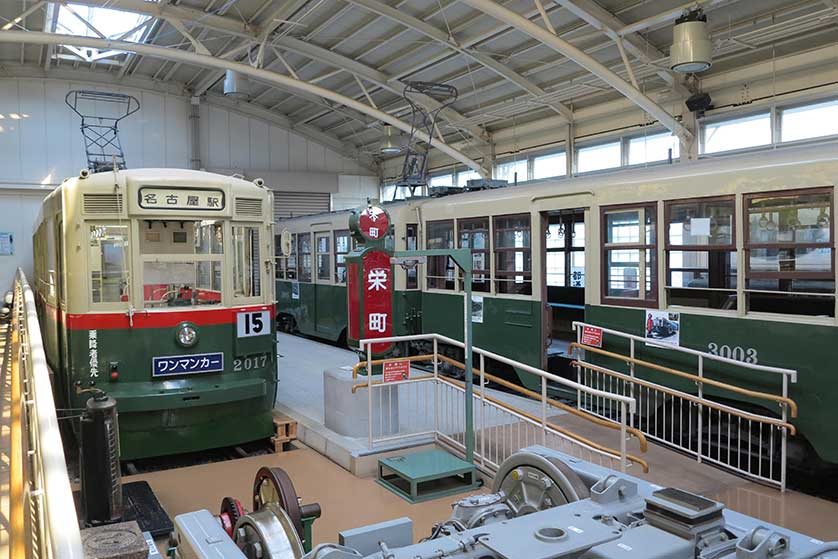 Nagoya City Tram & Subway Museum
Nagoya City Tram & Subway Museum, a few minutes walk from Akaike subway station, houses a collection of the city's old subway trains and streetcars. The museum is popular with children (and their fathers!), who can practice driving Nagoya's present-day subway trains and older models of streetcars using Playstation-style computer simulators, watch model train displays as well as run around inside the carriages and try on railway staff uniforms and hats. Outside the museum is a giant drill used to dig Nagoya's subway lines.
Admission free.
Access: 5 minutes walk from Akaike Station on the Tsurumai line. Open 10 am-4 pm; closed Wednesday.
Tel: 052 807 7587
Nagoya Agricultural Center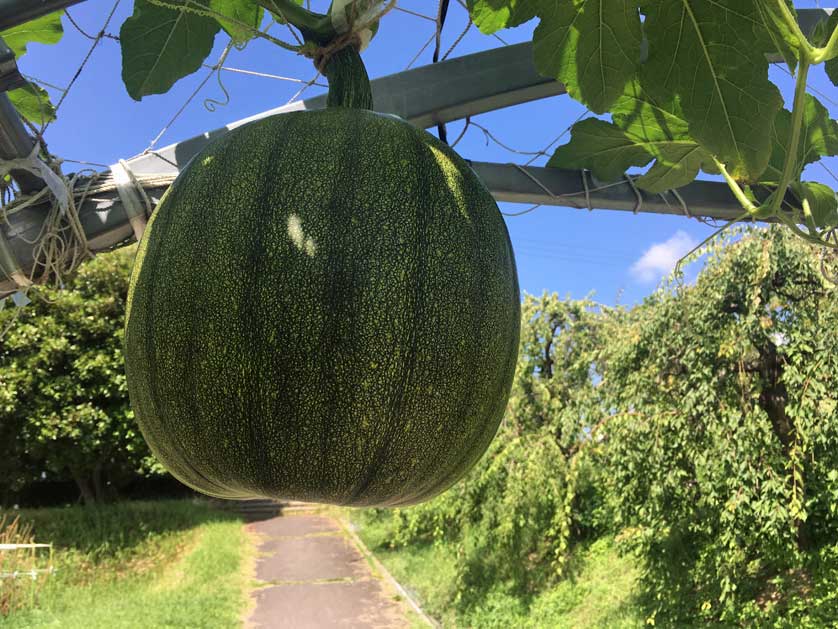 Nagoya Agricultural Center
Nagoya Agricultural Center is free to get in, there's a cafe, a shop selling often organic vegetables as well as plants and health foods, temperate glass houses, streams and even a model farm with battery chickens, pigs, sheep, goats and cows. The grounds are a popular picnic center for families and couples and everything gets very busy at plum and cherry blossom time.
Admission free.
Access: 15 minutes walk east from Hirabari Station on the Tsurumai line. Open 10 am-4 pm.
Tel: 052 801 5221
Inuyama
Inuyama is located just outside the city on a beautiful river often referred to as Japan's Rhine. The toy-like castle on the hill is Japan's oldest dating from 1537. Nearby Tagata shrine plays host to an annual fertility festival on March 15th when through the shrine grounds freshly carved 3m-long wooden phalluses are drunkenly paraded, which women trying to have children come in hope to touch.
Access: Meitetsu train from Nagoya station.
Little World Museum of Man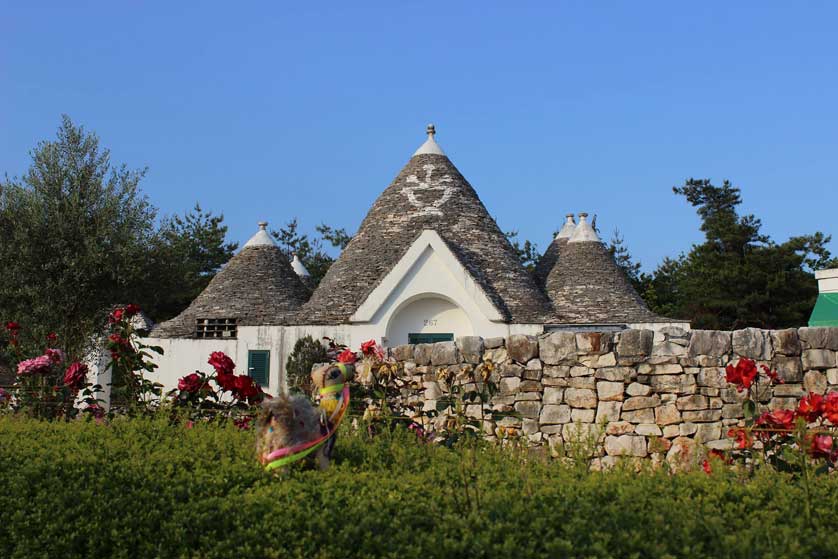 Little World
This large (approximately 1,230,000 square meters) open-air anthropological museum contains 33 homes from 22 countries in South East Asia, Europe, Africa and other parts of the world transported all the way to Inuyama. You can sample not only food, but beer and wine, from the different countries as well as catch a variety of ethnic shows and musical performances as you stroll through the pleasant grounds set in the countryside. More fun for the whole family.
Admission 1,700 yen (1,500 yen for foreign visitors). 9.30 am-5 pm daily. Summer evening openings.
Access: Bus from Inuyama Meitetsu Station or Nagoya Station.
Meiji Mura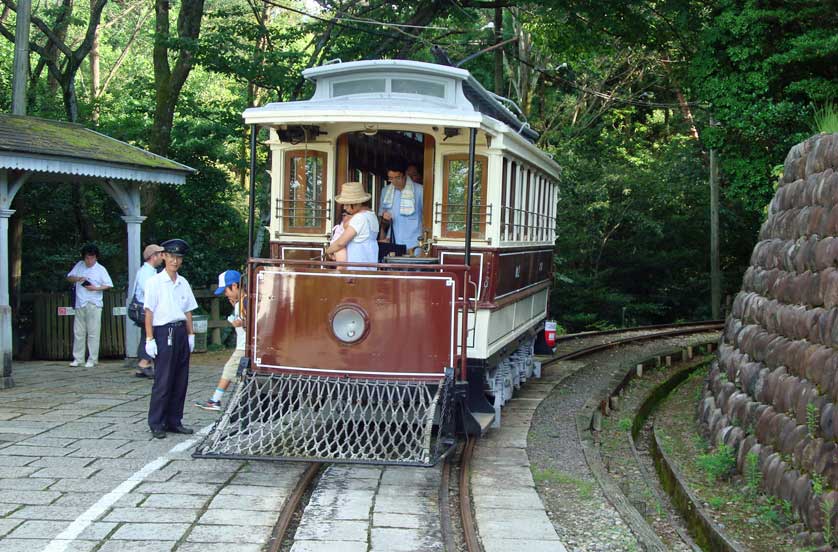 Meiji Mura
Also near Inuyama, Meiji Mura, opened in 1965 the brainchild of Yoshiro Taniguchi and Motoo Tsuchikawa, is another fascinating open-air attraction. It features buildings preserved in their original state from the Meiji Period of Japanese history (1868-1912) when the country fully opened up to the West. You can stroll through the pleasant parklands (approximately 1,000,000 square meters) or ride the steam train or Kyoto street car, taking in the various architectural delights, including the lobby of Frank Lloyd Wright's Imperial Hotel (built in 1923 and demolished in 1965), Lafcadio Hearn's summer house and the smooth, shiny all-wood Maebashi Prison. Altogether 67 structures have been carefully and tastefully renovated and preserved. Each building has an explanation in both English and Japanese of the history behind the structure. There are also performances on site by a kabuki troupe in the Kurehaza Theater and sake tastings in Kyoto's former Nakai brewery.
Admission 600 yen. 9.30 am-5 pm (Mar-Oct) 9.30 am-4 pm (Nov-Feb).
Access: 20 minutes by bus from Inuyama Station.
Tel: 0568 670 314
Kasadera Kannon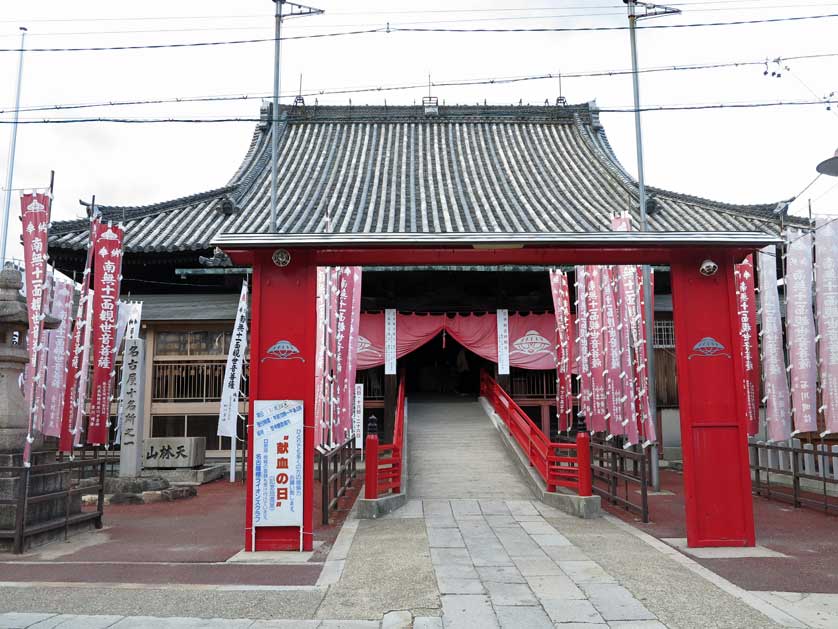 Kasadera Kannon
Kasadera Kannon or Ryufukuji was founded by the priest Zenko and belongs to the Shingon sect of Japanese Buddhism. The temple has a fine Niomon entrance gate, a number of small subsidiary temples and a two storey pagoda. Kasadera Kannon stages a colorful Setsubun Festival on February 3 each year and a temple flea market on the 18th of every month.
Listen to a Buddhist prayer at Kasadera
Access: A five minute walk from Moto Kasadera Meitetsu Station.
Arimatsu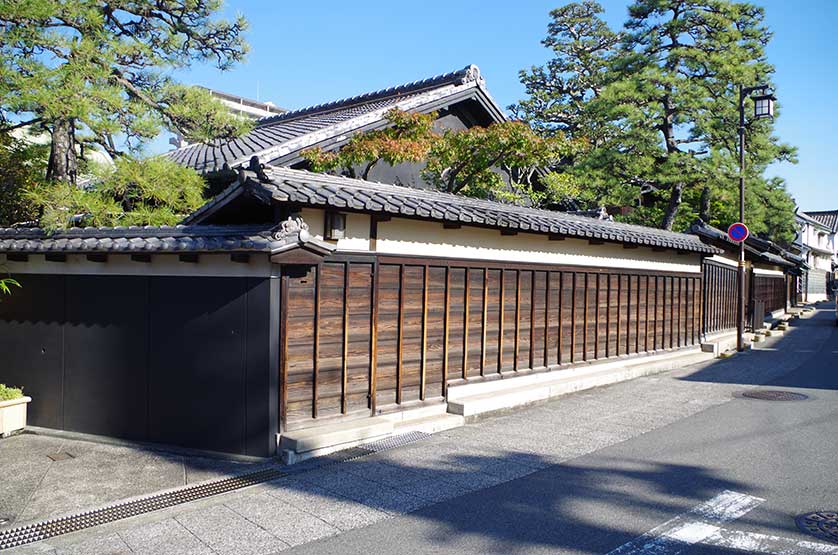 Arimatsu is famous for its shibori textiles
Arimatsu, just outside central Nagoya in Midori-ku, was an old Edo-period (1603-1867) post station town on the Tokaido highway between Kyoto and Tokyo. Arimatsu's claim to fame are its intricate Arimatsu shibori (tie-dyed fabrics). The technique is used to produce colorful designs for cotton kimonos and yukata. As the industry is still carried on to this day, many of the original merchant houses have been preserved. There are a number of shops and shibori museums where visitors can purchase both traditional and more contemporary tie-dyed products as well as try their hand at producing them. Arimatsu Narumi Shibori Kaikan is a good place to start. The technique found its way to the Nagoya area when craftsmen from Oita in Kyushu skilled in shibori were ordered to help in the construction of Nagoya castle by the Shogun Tokugawa Ieyasu and later settled in the area. Arimatsu's festival is held on the first Sunday of October and consists of a street parade with floats and participants in traditional costume.
Access: Arimatsu station on the Meitetsu Honsen Line from Nagoya station.
Gifu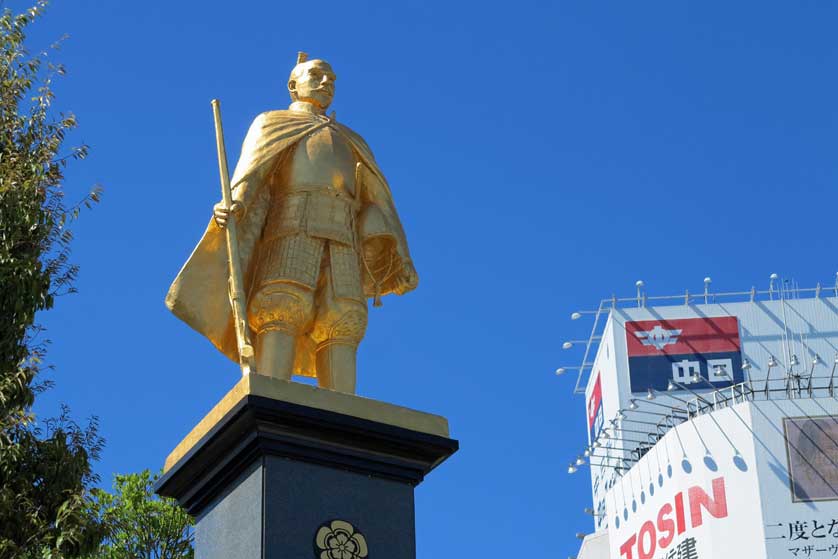 Oda Nobunaga statue at JR Gifu Station
Gifu, around 30 km north of Nagoya city, and accessible by either the Meitetsu or JR Line from Nagoya station is worth visiting for its twin attractions of cormorant fishing (ukai) on the Nagara River and Gifu castle (Gifujo), perched on top of Kinka-zan, which affords great views of the surrounding area even as far as the Hida mountains and Mt. Hakusan. The cormorant fishing takes place at night from May 11 to October 15 and visitors can book a place on the long, canopied boats hung with paper lanterns to watch the birds in action as they catch, but can't swallow, the local ayu sweet fish. Gifu is famous for its production of paper umbrellas and lanterns and it is possible to visit the workshops and purchase directly.
Other attractions include Shohoji Temple which contains an impressive 13 meter Buddha made of lacquered paper and Zuiryuji Temple near the cable car station in Gifu Park at the foot of Kinka-zan. Gifu Park also contains Nawa Insect Museum with over 300,000 specimens on display making it one of the largest such museums in the country. Gifu tourist office is located on the 2nd floor the JR station (Tel: 0582 62 4415).
Street cars may no longer run in the city streets, but the town retains an unhurried and relaxed air. Last July, however, the Mayor of Gifu, Shigemitsu Horie, announced the city could not continue to operate the streetcar system, which is deep in the red. Meitetsu, the operator of the 36.6- kilometer-long system, said service would discontinue at the end of March 2005. With the city unwilling to pump taxpayer yen into the system, municipalities along tram routes floated a plan where they would purchase the Meitetsu assets and entrust operation of the system to Okayama Denki Kido. But negotiations broke down over the transfer price. A provisional estimate put the cost of infrastructure development and operation at 8.4 billion yen over 10 years. Though street cars are making a comeback around Japan, they may be a thing of the past in Gifu very soon.
Access: Meitetsu or JR Lines from Nagoya station.
Bars & Restaurants in Gifu
Read a detailed guide to Gifu city
Book Hotels in Nagoya
Accommodation in Nagoya
Nagoya has a nice range of accommodation including hotels and ryokan. Most of Nagoya's hostels cluster near Nagoya Station in the Meieki district of the city. Other groupings of hotels are in Fushimi and Sakae, the financial and entertainment areas of the city, respectively.
Some recommendations near Nagoya Station include the luxury Nagoya Marriott Associa in the JR Central Towers, the 3-star Hotel Resol Nagoya, the Meitetsu Grand Hotel, the Castle Plaza Hotel, the Chisun Inn, the budget Toyoko Inn Nagoya-eki Shinkansen-guchi, the Meitetsu Inn Nagoya Eki-mae, the large Daiwa Roynet Hotel Nagoya Eki Mae, the basic and cheap Eco Hotel Nagoya and the Royal Park Hotel.
In Fushimi try the Hilton Nagoya, the Nagoya Kanko Hotel, a deluxe five-star hotel, the landmark Hamilton Hotel Black, Nagoya Rich Hotel Nishiki (formerly Green Hotel), Fushimi Montblanc Hotel and the 3-star Nagoya Grace Inn with complimentary breakfast.
Some of Sakae's best hotels include the b Nagoya, the Hotel Creston, the stylish Hotel Trusty business hotel, the no-frills but affordable Hotel Econo Nagoya Sakae, the four star Nishitetsu Hotel Croom Nagoya near Hisaya Odori Station and the reliable Tokyu Inn.
Food and Drink
Don't leave town without slurping down some kishmen: the flat noodles that are a city specialty available in any noodle restaurant.
Recommended Bars, Restaurants, Cafes and Clubs in Nagoya
Sakae
Anadolu Turkish kebabs - authentic Turkish restaurant and kebab takeaway.
Casablanca - Nagoya's one and only Moroccan restaurant.
The 59's - American style bar and diner.
My Bar - elegant cocktail bar.
STEPS - cool club and bar.
Red Rock - Aussie bar & grill.
Fushimi
The Elephant's Nest - a spacious British style pub.
Shooters - American style sports bar and grill.
Osu, Kamimaezu & Tsurumai
Jerry's Uno - Mexican tacos and world beers.
Yagoto, Irinaka, Shiogamaguchi, Hara
Torikomachi - delicious beer and yakitori in Hara.
The 12th and 13th floors of the Twin Towers at Nagoya station also have a good choice of Japanese and international cuisine coupled with stunning views. For further information on where to eat and drink in Nagoya visit our entertainment page or inquire at the tourist information center at Nagoya Station.
Related Nagoya Features
Nagoya Hotels
Sightseeing in Nagoya: read a Nagoya city guide with information on temples, shrines, theme parks, museums, day-trips to Inuyama and Gifu, hotels and attractions.
All the themes of the city