Nagoya Baths
Nagoya Baths & Bathing in Nagoya: enjoy modern Japanese bathing at Funoyu at Chubu International Airport and Raku Spa Garden in Chikusa-ku.
Bathing in Nagoya 名古屋
Greg Goodmacher
Bustling Nagoya blazes with a vibrant night scene, a booming economy, an efficient subway system, and historical and contemporary attractions.
Nagoya Castle, Atsuta Shrine, and Osu Kannon Temple, all significant locations in Japanese history, have beautiful grounds and intriguing surroundings.
The Tokugawa and Nagoya City Art Museums boast valuable collections of historic and modern Japanese culture. The World Cosplay Summit attracts thousands of energetic, costumed role-players to Nagoya each summer. Nagoya, combining tradition with contemporary technologies, is also home to two baths in Japan that also combine elements of Japan's past with its globalized present.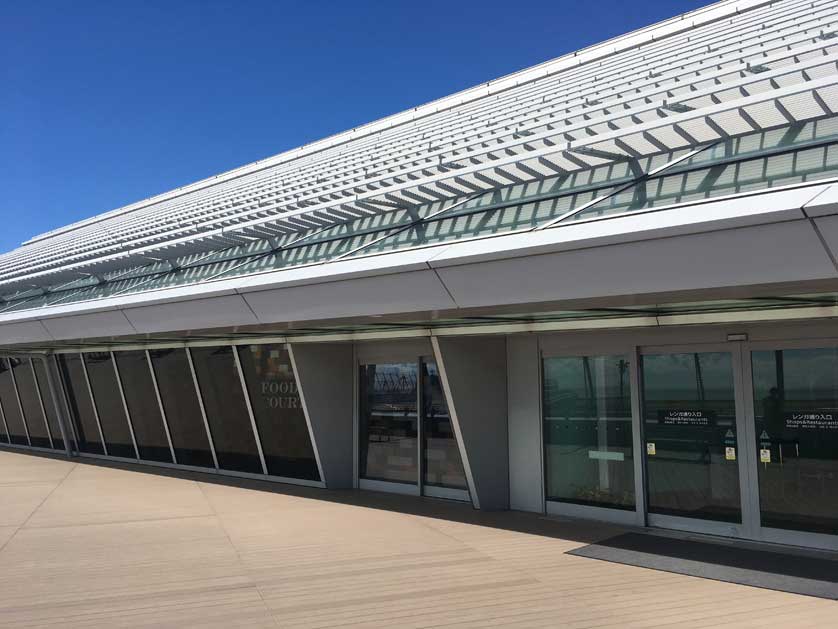 Sky Deck, Chubu International Airport (Centrair), Aichi Prefecture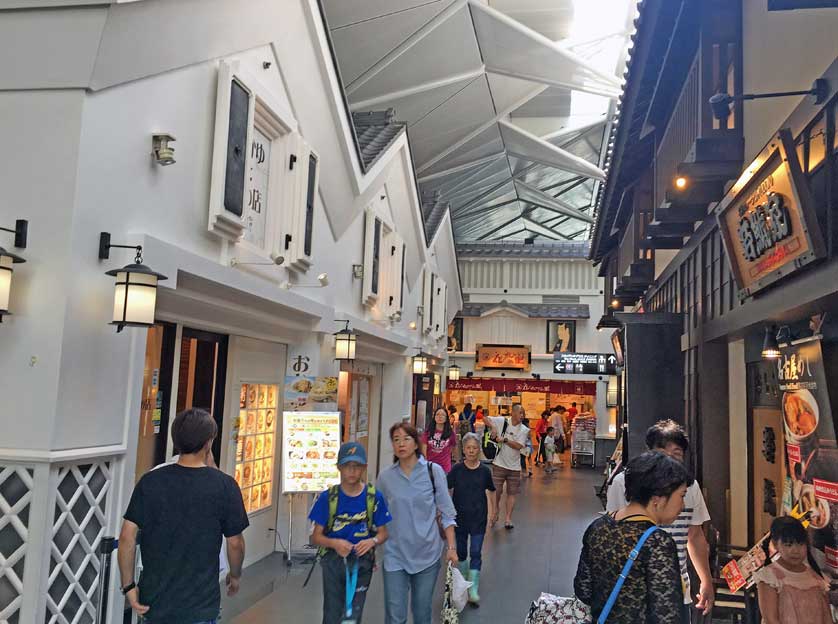 Retro Edo Period-style shopping & dining area including the Funoyu bath, Chubu International Airport (Centrair), Aichi Prefecture

Funoyu Chubu International Airport
If you arrive in Nagoya by plane, slip your travel-weary body into the world's first airport bathhouse at Nagoya's Chubu International Airport.
Funoyu, or Bath of the Wind (風(フー)の湯), will revive you so you're ready to continue your next journey. Funoyu is on the airport's fourth floor. You can rest, ensconced in rejuvenating water, with a view of planes taking off and landing.
Although the baths are just a stone's throw from a runway, no one outside can see your naked body. Enjoy the bath with underwater jets, the sweat-inducing sauna, the bubbly bath, the icy cold bath, and a very hot bath while leisurely contemplating your travels.
The bathhouse is separated into a male and a female section, but men and women can enjoy drinks and food together in a comfortable relaxing space after bathing and dressing. The bathhouse is so good that people often travel from downtown Nagoya to the airport just to bathe.
Bathers can also shop in the airport and enjoy various musical and cultural performances that take place close to Funoyu.
Funoyu opens its doors from 8.00 am until 10.00 pm, but last admission is at 9.00 pm. Soft fluffy towels are included with the admission fee: children under six, 210 yen; elementary school age, 610 yen; junior high school students and older, 1,020 yen.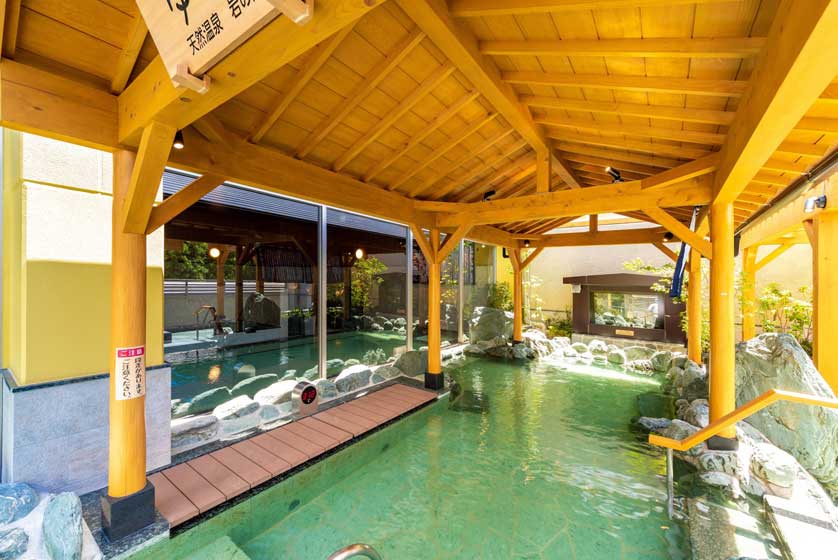 Raku Spa Garden, Nagoya © Raku Spa Garden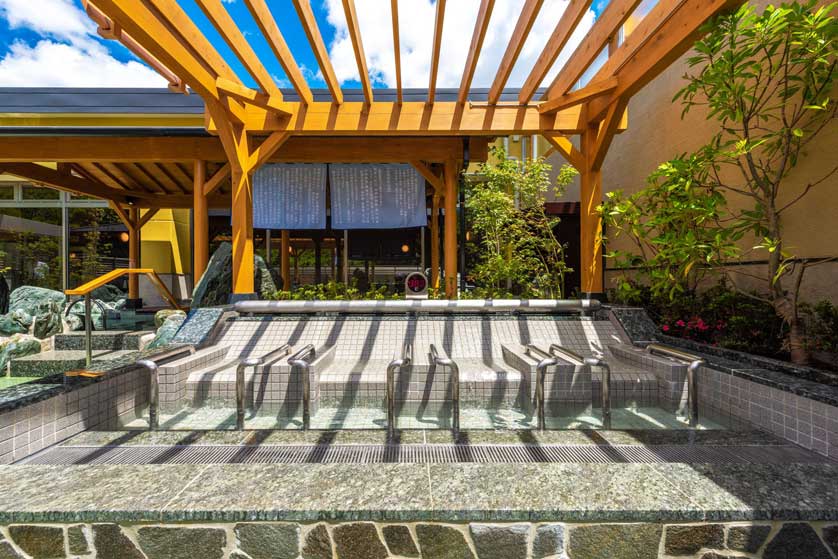 Raku Spa Garden, Nagoya © Raku Spa Garden
Raku Spa Garden
Inside Nagoya city, Raku Spa Garden, is a magnum opus to bathing in the twenty-first century. The designers blended traditional bathing with modern facilities. More than a bathhouse, it is an amazing complex of baths and saunas, heated rooms, cooling rooms, karaoke rooms, restaurants serving Japanese and international food and drinks, tents, and thousands of magazines, comic books, and novels all located in one vast building in Chikusa ward.
Visitors can spend an entire day experiencing baths that most people in the world have never experienced, let alone imagined.
With twelve different baths and saunas, Rakunoyu is the perfect location for tasting a smorgasbord of baths: ones with carbonated water, others charged with electrical impulses, jet baths, super-jet baths, outdoor baths lined with stones, outdoor baths made with naturally aromatic cypress wood, indoor baths facing the outdoor baths, a bath with a television, round ceramic baths, shallow reclining baths, and heated floors and rock beds. They are called ganbanyoku in Japanese. That sounds uncomfortable, but they are soothing!
You can spend an entire day inside without being bored or going hungry. Just stroll into one of the on site restaurants and enjoy Japanese dishes and sweets, pizza and other foreign meals.
Visitors can drink unlimited cups of organic coffee and herbal teas for free. One of Nagoya's most extensive collections of foreign beers will please beer lovers. But bathe safely. Save the drinking until after bathing.
Stroll through the airy building and discover plenty of snug cubbyholes for reading or resting either alone or with friends and family. Visitors soak in the baths in their birthday suits but stroll through the facilities wearing loose robes. Choose the color you like at the entrance.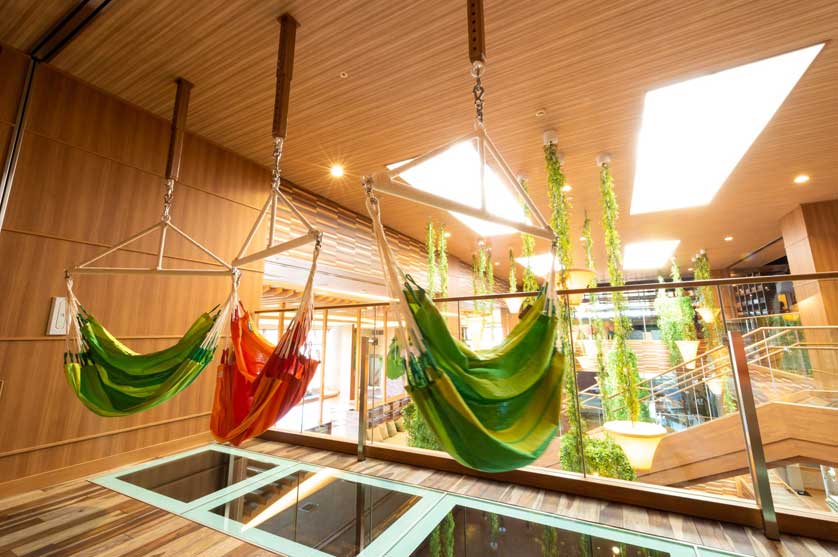 Raku Spa Garden, Nagoya © Raku Spa Garden
Unwind in tents, rooms with massage chairs, rooms with chairs with built-in televisions, and libraries. Gently swing in hammocks under hanging plants. The hammocks, descending from the third-floor ceiling, have glass floors underneath. It's a bit scary for some, but exciting for others. Kids will love the game corners and play areas. Trained masseuses provide massages for reasonable fees.
If inclement weather disturbs your travel plans, this is a wonderful place to stay warm and comfortable.
Access
To reach this palace of relaxation, board free shuttle buses that depart from across Yamada Denki (a large electronics shop) near the Hoshigaoka Subway Station's exit number 3. Hoshigaoka is on the east - west Higashiyama Line from Nagoya Station.
Buses depart at intervals of 25 to 30 minutes from 10.00 am till 21.25 pm. Buses also depart from close to 10A exit of the Sakae Subway Station in the Sakae entertainment and shopping district. The first bus leaves at 9.55 a.m., and the last departure is 2.00 a.m.
Admission Fees
Admission fees vary. On Saturdays, Sundays and holidays, adults pay 1,680 yen and children pay 700 yen. On weekdays, adults pay 1,480 yen and children pay 600 yen. Last admission is 1 am in the morning.
Raku Spa Garden offers a morning bath special from 6.00 am to 9.00 am on weekends and holidays. The entrance fee is 600 yen for adults and 400 for children. Pre-elementary-age children are exempt from admission charges.
Hours of Relaxation at Raku Spa Garden
Weekdays: 10.00 am to 2.00 am. The last entrance is 1.00 am. Weekends and Holidays: (Morning Bath Special) 6.00 am to 9.00 am with last entrance at 8.30 pm. Regular Weekend and Holiday Hours: 10.00 am to 2.00 am with last entrance at 1.00 am.
Raku Spa GardenTel: 052 769 1126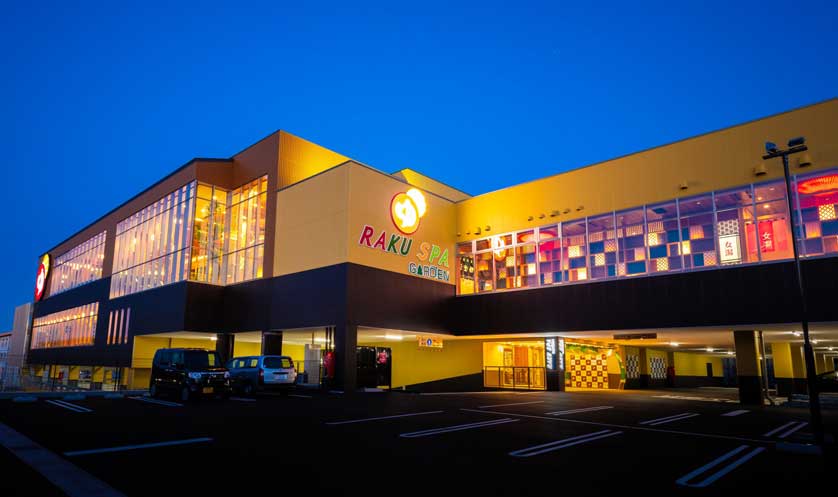 Exterior of Raku Spa Garden, Nagoya © Raku Spa Garden
Nagoya Information
Find out more about Nagoya and the Chubu area of central Japan.
All the themes of the city