Osu Kannon Guide
Osu Kannon, Nagoya 大須漢音,名古屋
Osu Kannon, to the east of Nagoya Station, is a fashionable area in downtown Nagoya mixing electronics, hi-fi and clothing stores with international dining.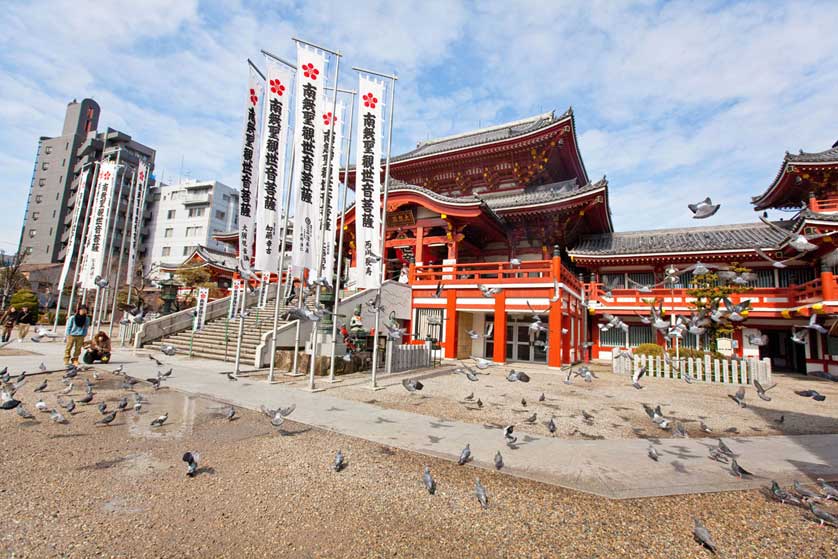 Osu Kannon Temple, Nagoya
On one level, Osu (as it is commonly referred to) is Nagoya's smaller version of Tokyo's Akihabara and Osaka's DenDen Town in Nipponbashi - an electronics mecca attracting gaming geeks to its computer stores and maid cafes.
On another level, the range of restaurants from upmarket Italian eateries to casual Turkish kebab stands to authentic Brazilian canteens, draws in a diverse crowd of diners, mostly the young and trendy.
Osu is also a fashion hub and it is here, rather than in the brand outlets of Sakae and Meieki, that you are more likely to find the clothes favored by Japan's sub-cultures: Decora, Goth, Visual Kei et al. The number of alternative, US-inspired, new and second hand clothing stores, makes Osu something similar in atmosphere to Harajuku in Tokyo.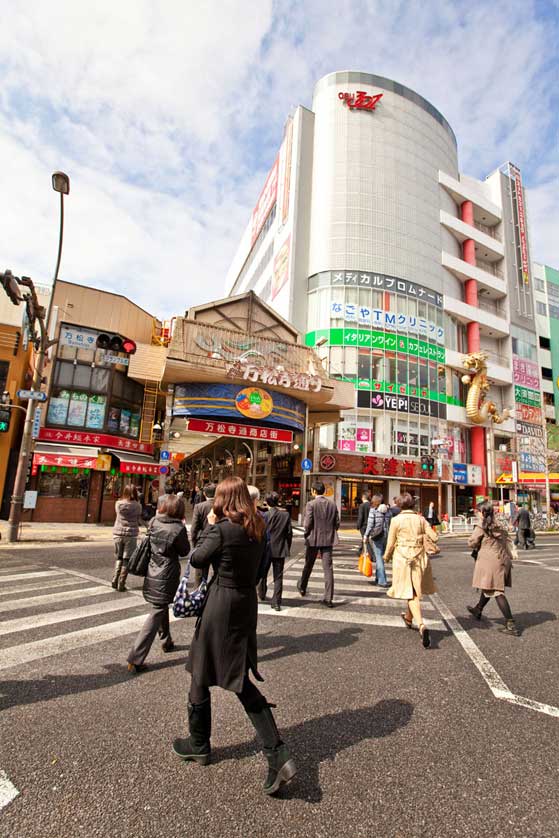 The hip area of Osu Kannon in Nagoya known for its flea markets and electronics stores
Banshoji Temple lanterns and giant prayer beads - juzu
Osu Kannon Attractions
Osu Kannon Temple, a Shingon sect temple, that dates back to 1612 is why it is all here in the first place. Shops sprang up around the temple to cater to pilgrims and worshippers who came here during the Edo Period.
Osu Kannon Temple's flea markets on the 18th & 28th of each month initially drew the crowds to the area. After World War II, Osu was also the site of a black market, like Ameyoko in Tokyo, which kick-started its growth in later years with the building of the shotengai arcades, which mark the area today.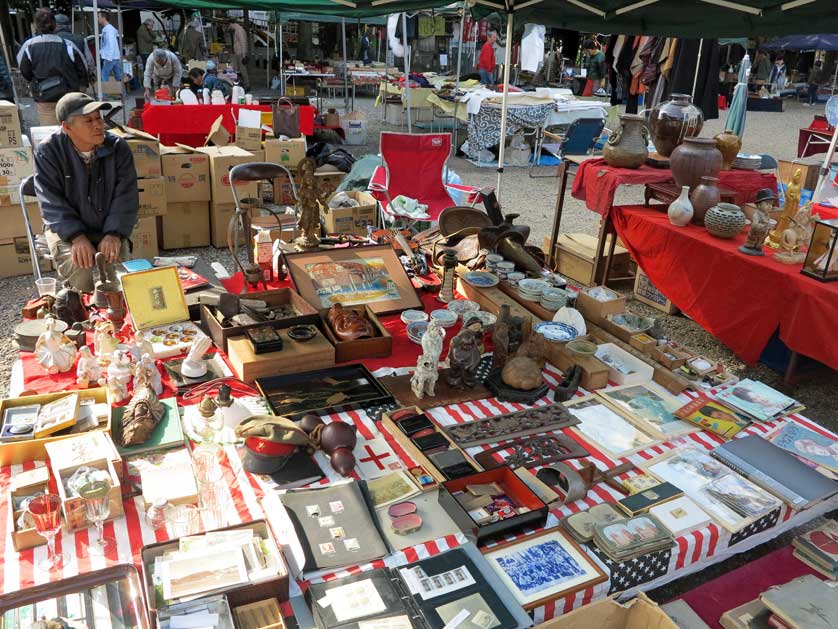 Osu Kannon Flea Market takes place on the 18th of every month in Nagoya with a smaller version on the 28th
A short walk away is Banshoji Temple, probably best-known for its elaborate karakuri (mechanical puppet) display complete with music and smoke showing events from the life of Oda Nobunaga. The show takes place daily at 10am, 12pm, 2pm, 4pm and 6pm. Stalls selling arts and crafts, key rings and other trinkets dot the grounds of this urban temple.
Other small temples and shrines dotted in Osu include Miwa Jinja, Kasuga Shrine, Youshuin, Kitano Jinja, Nanatsu-dera, Daikoin, Seishuji, Soukenji and Fujisengen Shrine. Many of these temples and shrines were moved from the Kiyosu Castle area, when Nagoya Castle superceded it as the base of the Owari clan from 1610 onwards.
One hang-over from early Showa times is the Osu Engeijo (Variety Hall) where various music hall and vaudeville acts perform on weekends.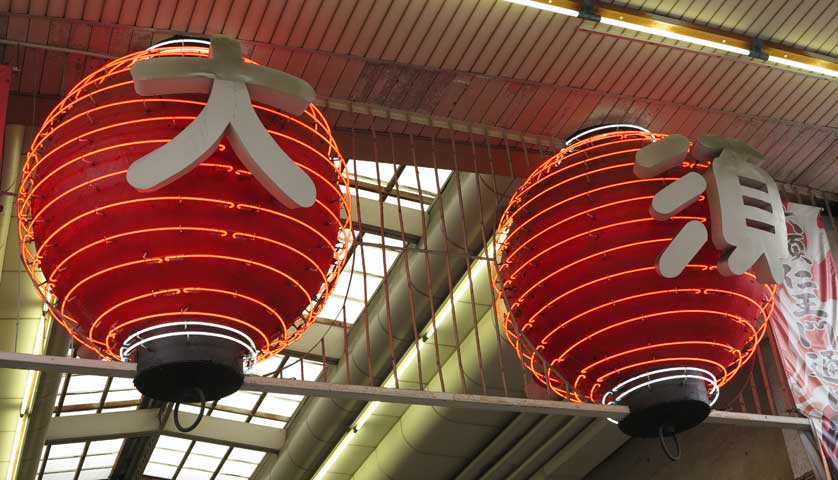 Osu Kannon electronics district, Nagoya
The two main shopping arcades in Osu Kannon are Banshoji Dori and Niomon Dori. These are the streets to wander to find exotic tobacco, Gundam model kits, jewellery beads, American baseball and football caps, cosplay outfits, traditional Japanese souvenirs such as maneki neko and much more.
Second hand stores are a big draw in Osu. Komehyo's three stores in Osu Kannon attract an increasing number of tourists from China, Taiwan, South Korea, Thailand and Indonesia who can all enjoy the store's tax-free service. Komehyo's main building has 7 floors of second-hand goods with floors dedicated to jewelry, watches, women's designer bags and accessories, men's clothing, women's clothing and fur plus a sell by weight bazaar on the top floor.
Further down Banshoji Dori towards Osu Kannon Temple are Komehyo's two other stores, one dedicated to used kimono and the other to cameras and musical instruments with a large selection of second-hand acoustic and electric guitars and a staggering array of top-quality, second-hand cameras and lenses. These branch of Komehyo has a new Tourist Information Office with brochures in various languages, store information for Osu and details of the free Wifi in the area.
Jupiter is another quality used store specializing in women's designer bags and quality second-hand watches and electronics.
At the crossroads of Niomon Dori and Shintenchi Dori is a large white maneki neko beckoning cat that is a popular meeting place and event space.
Electronics, hi-fi and computer stores are gathered in the Ameyoko Buildings 1 & 2 and along Monzenmachi Dori, Osu Dori and Otsu Dori near Kamimaezu subway station.
Osu301 has seven floors packed with fashion stores, a maid cafe, a pachinko parlor, hair salon and various restaurants and bars.
Some places to eat in Osu include Jerry's Uno for Mexican-style Tacos, the long-running Ossu Brasil for meat Brazilian style, an award-winning Italian restaurant at Solo Pizza, as well as Thai, Indian, Turkish (there are half a dozen kebab houses and Turkish ice-cream stores), Chinese, Korean and more home-grown Japanese restaurants. Wine Watanabe (Tel: 052 251 0225) is a newish French + Hokkaido style eatery with outside tables.
Restaurants in Osu Kannon worth a visit include Italian food at Nude R (Tel: 052 221 6758) and Cesari, Thai curry from 500 yen at ホームマリ (Tel: 052 201 3755), Japanese seafood at Marukei (Tel: 052 251 8542), lots and lots of stuffed penguins, gourmet sandwiches and coffee at PG Cafe (Tel: 052 251 5533) and yakiniku (BBQ meat) at Shironikuya (Tel: 052 223 1919).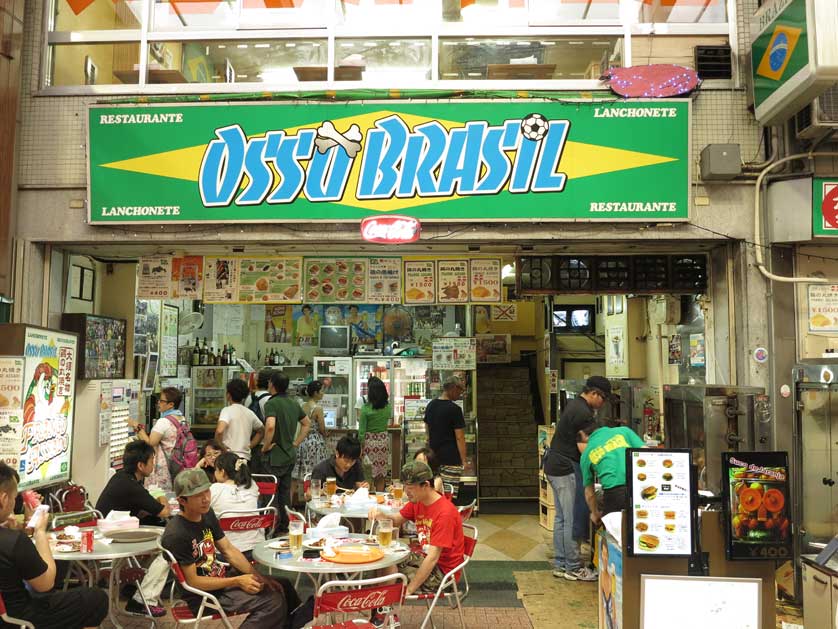 Ossu Brasil, Osu Kannon, Nagoya
Osu Kannon Transport - Getting to Osu Kannon
Osu Kannon is easily reached from either Kamimaezu Station on the Tsurumai and Meijo subway lines of the Nagoya subway system or Osu Kannon Station on the Tsurumai Line. Osu Kannon Station is the closest station to Osu Kannon Temple.
From Nagoya Station take the Higashiyama Line to Fushimi and change to the Tsurumai Line.
The Meguru Loop bus stops at Hirokoji-Fushimi, a little way north of Osu Kannon Station. The Meguru Loop bus fare is 500 yen for a one-day pass or 210 yen for a single fare.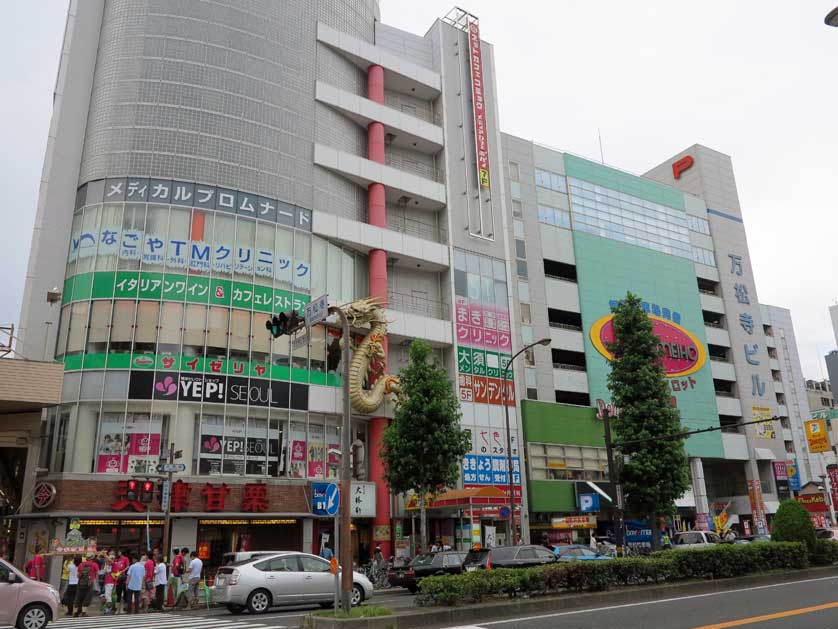 Osu Kannon, Nagoya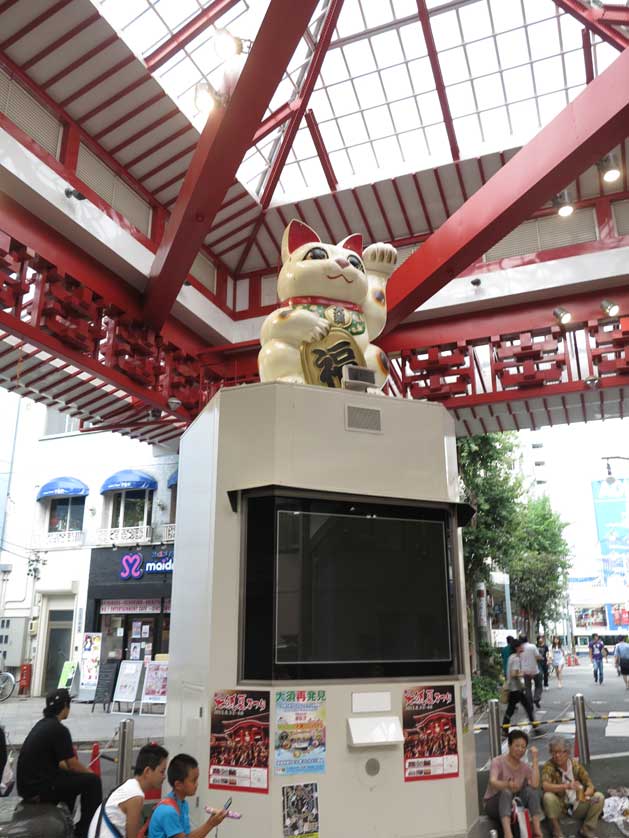 Osu Kannon Maneki Neko Meeting Point, Nagoya
Osu Kannon's Hotels
The Osu Kannon area of Nagoya is not blessed with accommodation options and it is better to stay in nearby Sakae or Fushimi. Hotels close to Osu Kannon do include the 3-star Route Inn Nagoya Higashi Betsuin and Hotel Abest Osu Kannon Ekimae.
In Fushimi the foreigner-friendly Hilton Nagoya, is one of the city's premier hotels. The Nagoya Kanko Hotel is a deluxe five-star hotel and the most historic accommodation in Nagoya, dating from 1936.
Osu Kannon Nagoya Map
Related Nagoya Resources
Osu Kannon: read a guide to the Osu Kannon area of Nagoya famous for its electronic shops, international restaurants, fashion arcades and the historic Osu Kannon temple.
All the themes of the city