Toyohashi Guide
Toyohashi 豊橋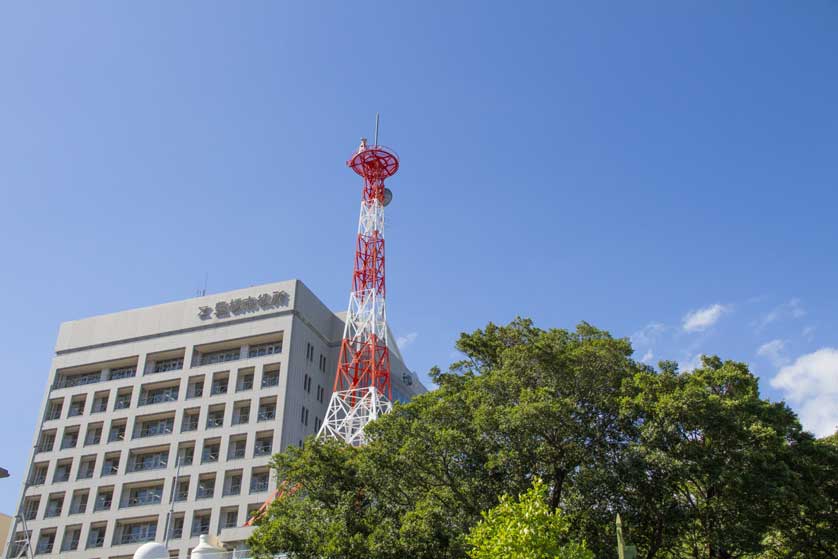 Shiyakushomae (City Hall)
Toyohashi is a pleasant, peaceful riverside town in Aichi Prefecture, 70 km south east of Nagoya. Toyohashi is within easy reach of some good swimming and surfing beaches on the Pacific Coast.
Toyohashi is Japan's largest port for the export/import of motor vehicles from nearby Toyota. A considerable number of the city's 380,000 residents are nikkei (i.e., of Japanese descent) from Brazil and Peru, and mainly work at the port or in the city's factories. Toyohashi's major industries are cotton-spinning, foodstuffs and automobile parts assembly. Volkswagen Group Japan has its headquarters here.
Historically, Toyohashi was located on the old Tokaido road between Kyoto and Edo (Tokyo) - the route largely followed by the Tokaido shinkansen, which stops at Toyohashi Station. Formerly called Yoshida, Toyohashi was the castle town of the Matsudaira clan.
Things to see and do in Toyohashi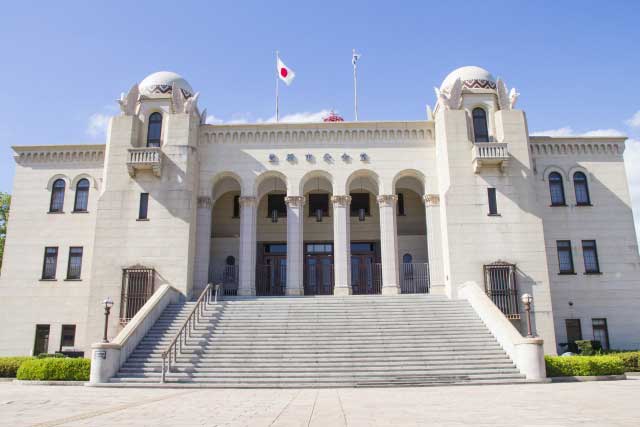 Toyohashi Public Hall, Toyohashi
Many of Toyohashi's places of interest are located near to to Shiyakushomae (City Hall) - a short streetcar ride from Toyohashi Station.
The striking 1930's Romanesque-style Public Hall has become a symbol of the city and is unusual for a civic building in Japan.
The nearby Haristos Orthodox Church (built in 1913) also deserves a look in for the impressive icons inside the building. There is also both a Catholic and an Anglican church located close to the City Hall.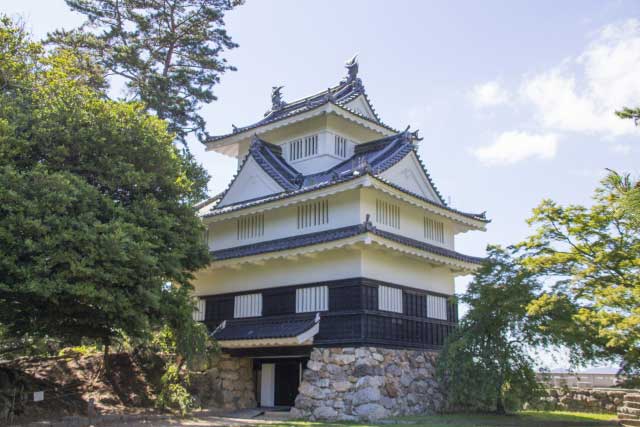 Yoshida Castle, Toyohashi Park
From there it is a short walk to the pleasant Toyohashi Park and Yoshida Castle on the banks of the Toyokawa River.
Yoshida Castle was first built in 1505 by Makino Kohaku, but all that remains is a corner keep that was restored in 1954. The castle was taken over by the feudal lord Ikeda Terumasu in 1590, who began a grandiose rebuilding scheme, but which was never completed.
The keep is free to enter and there are good views out over the Toyokawa River. The grounds of the park were used as an Imperial Army barracks during the Meiji period and a Meiji-era sentry box and gate are evidence of that period. Toyohashi Park is also a favored cherry blossom viewing spot in season.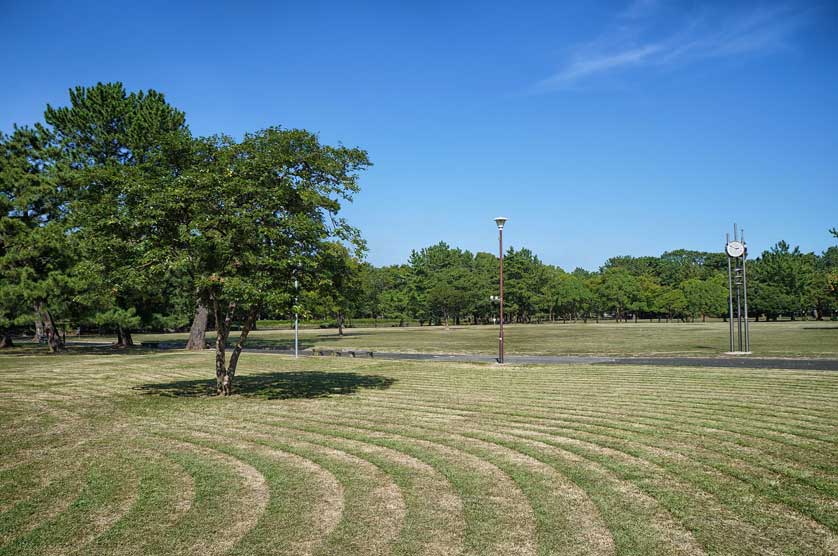 Toyohashi Park, Toyohashi
Also in the park are the Sannomaru Kaikan - a tea room for performing the tea ceremony and the Toyohashi City Art Museum, which has exhibits of local history and more modern temporary art exhibitions.
It's possible to walk on the southern banks of the Toyokawa River even as far as the Toyokawa Bridge about 4 km in all and then across the bridge to the Maeshiba Tomyodai (Tomeidai) - one of Japan's oldest wooden lighthouses.
On the way is Minatomachi Koen, with the pleasant nearby shrine Minatoshinmeisha Shrine.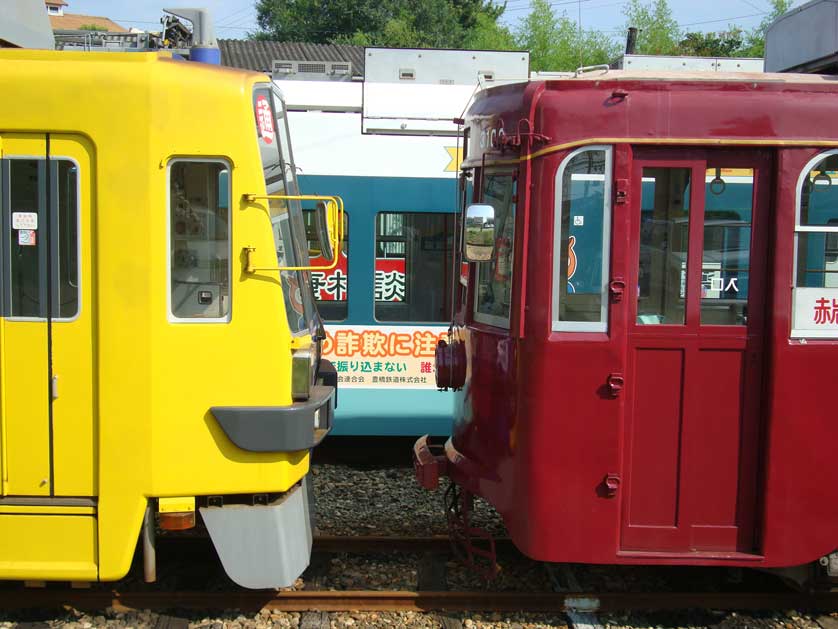 Toyohashi Trams, Toyohashi City, Aichi Prefecture
Another historical building in Toyohashi well worth seeing is the Edo Period Futagawa-juku. This large inn or honjin on the Tokaiko highway was built for lords and high-ranking officials traveling along the route between Kyoto and Edo (modern-day Tokyo). The building has been restored and its possible to visit the garden and rooms where the rich and powerful of the day would stay. There is an adjacent museum with exhibits on the history of the Tokaido.
Tel: 0532 41 8580
The nearest station is Futagawa on the JR Tokaido Main Line.
Across the Toyokawa River are the much older Urigo Ruins where there is a reconstruction of a Yayoi Period (300 BCE - 300 CE) "dug-out" style dwelling.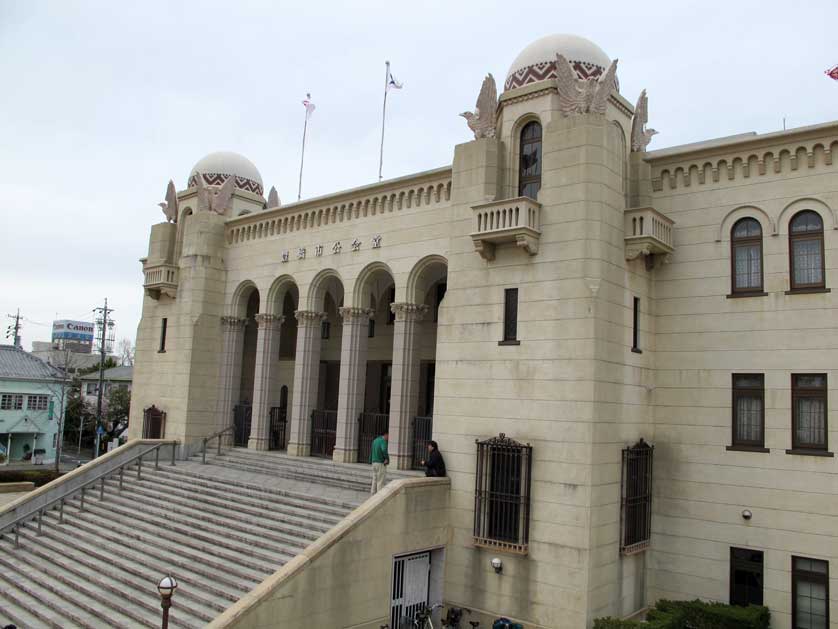 Toyohashi Public Hall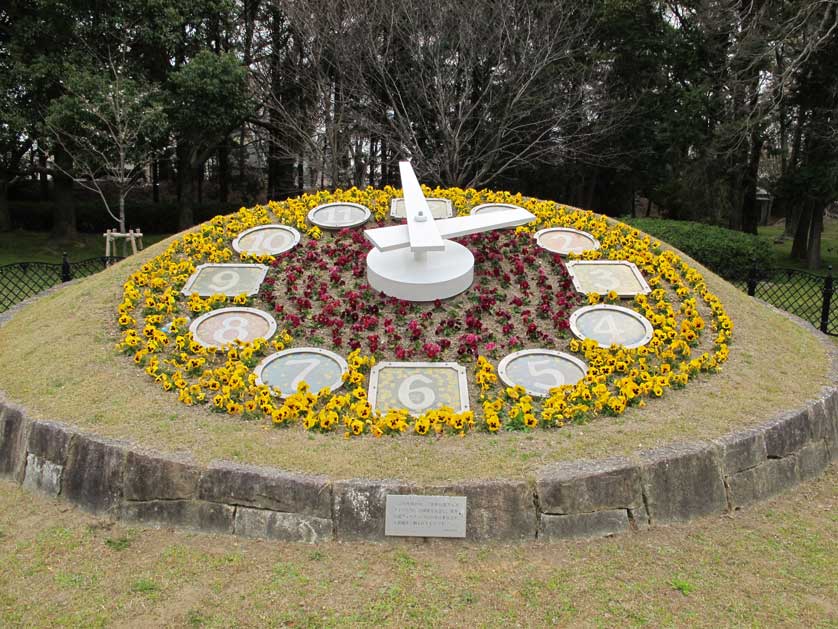 Flower Clock, Toyohashi
Nearby is Toyohashi Zoo and Botanical Gardens. As well as the well-laid out zoo, the site includes a Monet Garden with water lilies brought from France, a Natural History Museum with dinosaur skeletons on display and an Amusement Park with Ferris wheel and roller coaster.
Tel: 0532 41 4747
The nearest station is Futagawa on the JR Tokaido Main Line.
Other attractions include the Imo Bog in the north east of the city - an area of natural beauty formed by waters from the Yumihara mountain range, the Iwaya Kannon Statue, built in 1950 but commemorating a much older statue which was revered by travelers on the Tokaido.
Despite its tranquil feel, Toyohashi's Mikawa Port can lay claim to being Japan's largest port for the import and export of motor vehicles. Japanese cars from nearby Toyota and the company's factories in the surrounding area are shipped around the world from Mikawa Port.
Toyohashi also has significant populations of Brazilian and Peruvian nisei - second or third generation Japanese immigrants who have returned to the area to work in Toyota's car factories and other associated industries.
The main entertainment areas in Toyohashi are situated near the main station. Matsuba Street is the town's show pub and strip club area. Toyohashi Station has a department store and there are a number of restaurants in and around the station including a branch of the OXO British-style pub chain.
Toyohashi Accommodation
The following is a selection of the hotels and other accommodation facilities available in Toyohashi City.
Comfort Hotel Toyohashi is a very good budget hotel near Toyohashi Station that opened at the end of 2016. This clean, modern facility offers a delicious free breakfast, including some very healthy options, and in-room facilities even include a safe for valuables and a kettle. Free Wi-Fi and free parking.
Hotel Associa Toyohashi is a very popular hotel located inside the Toyohashi Station building. This calm, quiet, elegantly decorated hotel features spacious, comfortable soundproofed rooms and free wired internet. There are renowned restaurants on site, and the location is ideal, with every urban convenience just a minute or two away.
The Hotel Arc Riche Toyohashi is a beautifully modern hotel very near Toyama Station that provides guests with a restful stay in clean, well-designed comfort, with great views of the city, and excellent food served. Free Wi-Fi, very elegant interiors throughout - an establishment that you'll enjoy as much as the attractions of Toyohashi itself.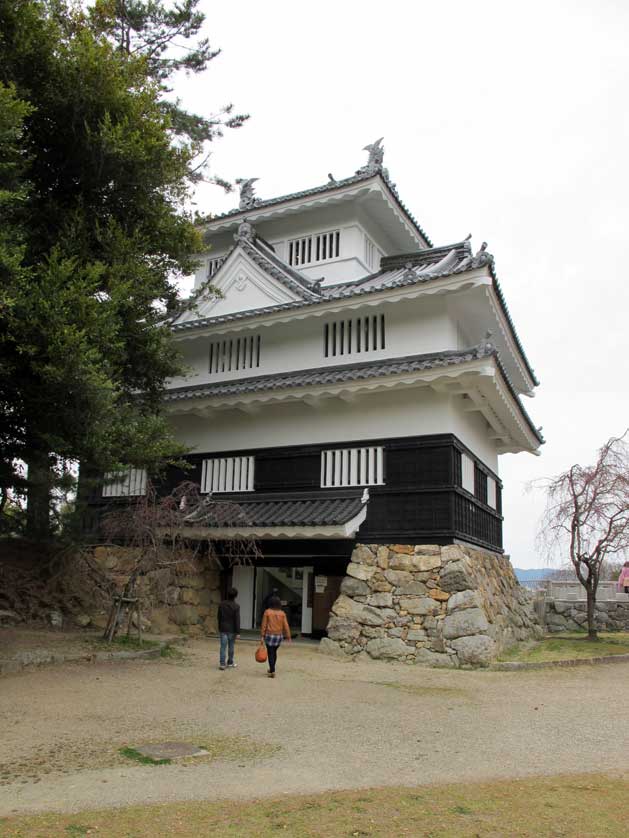 Yoshida Castle, Toyohashi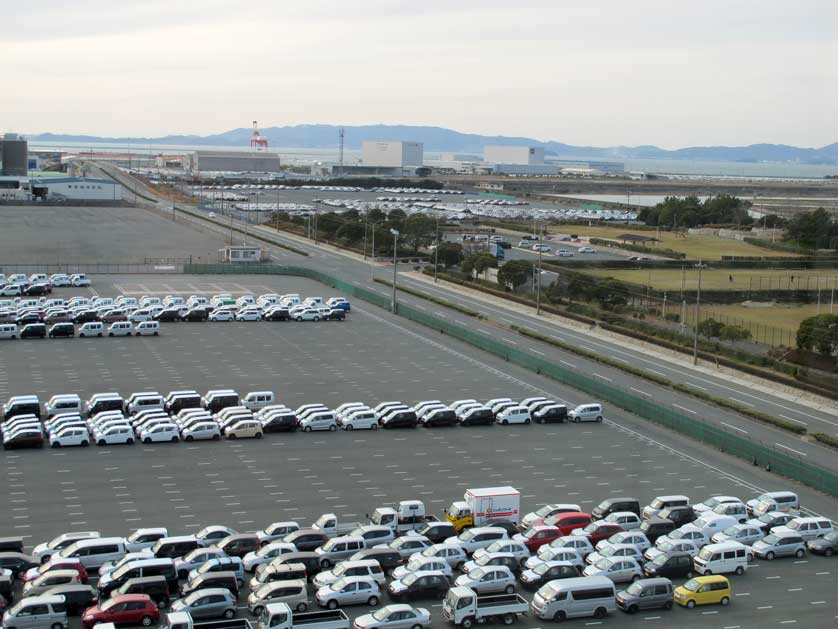 Toyohashi Port
Toyohashi Access
Air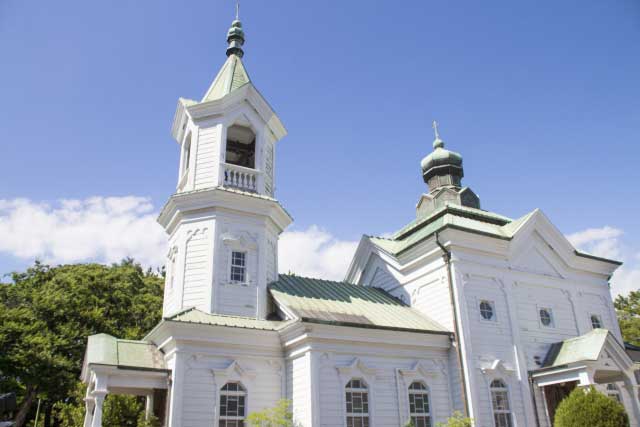 Toyohashi Haristos Orthodox Church
The new Chubu International Airport - Centrair - (which opened in February 2005) is located on a man-made island about 40km south of Nagoya in Ise Bay. The new airport has taken over all international flights serving Nagoya and the surrounding region with Komaki Airport operating a number of domestic routes.
Access is by Meitetsu express train service on the Tokoname Line to Tokoname Station at the new Chubu Airport direct from Nagoya Station, with connections on to Toyohashi via Kanayama or Nagoya Station. The new service takes 28 minutes from Nagoya Station.
JR Bus and Meitetsu operate bus services between the airport and Nagoya Station. The bus journey takes about one hour. There are further bus services to other locations in the surrounding area including Toyohashi.
Rail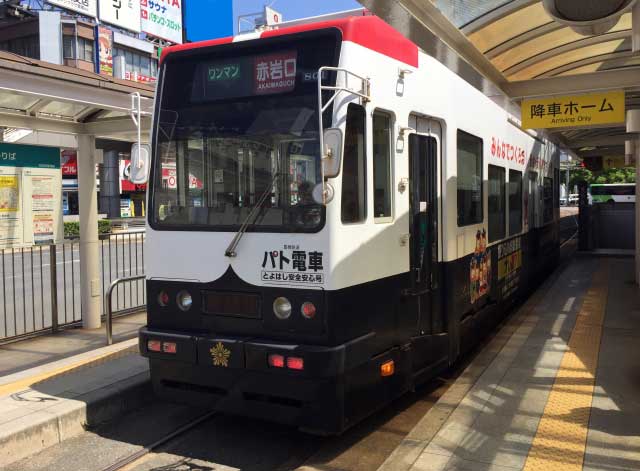 Toyohashi is an approximately 50 minute train journey from Nagoya Station by either Meitetsu's Panorama Super Express Train on the Meitetsu Nagoya Line via Kanayama and Jingu Mae stations or by JR Tokaido Main Line via Kanayama.
Toyohashi is also a stop on the Tokaido Shinkansen: travel times are one hour, 25 minutes to Tokyo; one hour, 35 minutes to Osaka and 15 minutes to Nagoya.
Shin-Toyohashi Station is adjacent and connected to Toyoshashi Station and is the terminus of the 18km long Atsumi Line to Mikawa Tahara approximately halfway along the Atsumi Peninsula.
The JR Iida Line also runs 129 km from Toyohashi Station to Iida in Nagano Prefecture and then continues another 65 km to Tatsuno, where it joins the Chuo Line.
Places of interest along the Iida Line include Toyokawa Inari Shrine in Toyokawa, the ruins of Nagashino Castle close to Nagashinojo Station, the picturesque Tenryukyo Gorge at Tenryukyo Station, and the pleasant city of Iida.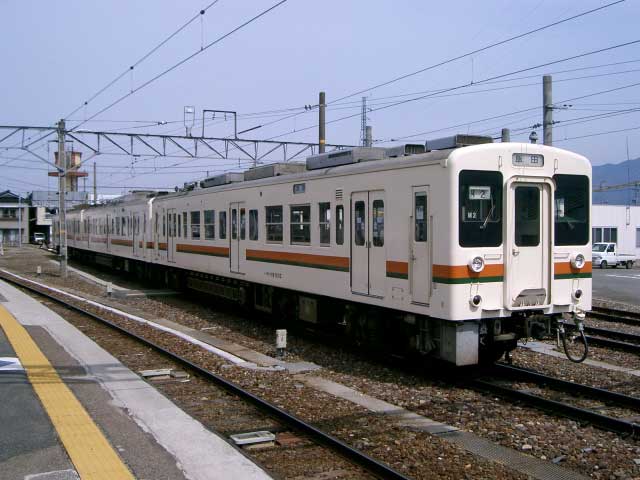 Iida Line train
Bus
There are bus services to Toyohashi from Nagoya Station.
Street Car
Toyohashi's street car line runs from Toyohashi Station to the Akaiwaguchi and Undokoenmae stops to the east. Street cars have been in operation in the city since 1925. Fares are a flat 150 yen for adults or passes can be purchased.
Toyohashi Street Car
Toyohashi Map
Read a guide to Toyohashi in Aichi Prefecture: Toyohashi hotel accommodation guide, temples, shrines, and Toyohashi Castle.
All the themes of the city