Honen Matsuri
豊年祭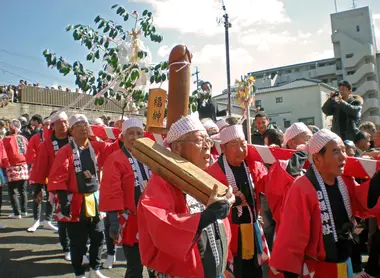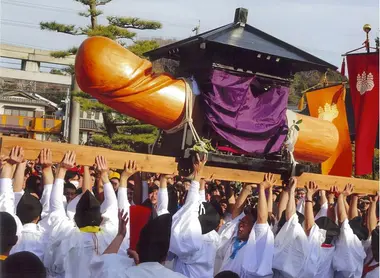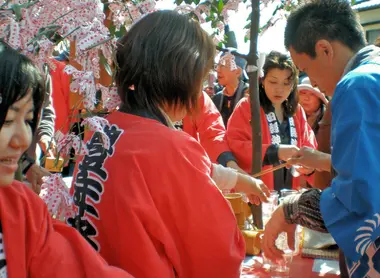 A festival unlike any other
The Komaki Festival in Aichi prefecture, is one of those Japanese traditions that would be almost unimaginable elsewhere in Japan. This celebration, which is different to say the least, celebrates fertility. If the meaning is of great importance for the Japanese, its original form is sometimes a little surprising for visitors...
For almost 1,500 years (the event was dated by the discovery of ancient pottery in 1935) the Japanese have been celebrating "Honen-sai", in praise of fertility and good harvests. It is in a suburb of Komaki, north of Nagoya, that a crowd of curious visitors and regulars go every year to attend the ceremony. A ceremony which is affectionately nicknamed "the Penis Festival". For a long time, Komaki was only a small farming town. Today, it is a real attraction. Its temple, Tagata, contains many handmade statues of phalluses. You would think that with all these representations, the festival is dedicated to them, and yet it isn't. Lollies, cakes, statuettes and other objects are offerings to wish great fertility to loved ones. These statues allow couples to pray for a child, the unmarried pray to them for a husband or wife, while farmers hope for bountiful harvests. 
Festival proceedings
The festival starts every year, on March 15th at 9am, at Tagata shrine. Of course, the religious ceremony is taken very seriously. The parade of giant wooden statues in the streets, which is repeated every year for the occasion, cannot begin until the priests have salted the road to purify the path taken by the bearers. The bearers then parade down the street carrying a wooden phallus weighing almost 400kg. Originally, the statue was much smaller and attached to a representation of a samurai. The Japanese are very open about the subject, and this festival, representing good health and luck for love and fertility, always has a a great atmosphere. Men, women and children alike enjoy the many attractions present. While sake is distributed free of charge during the parade, no fighting or trouble has ever been reported! When the new statue replaces the old one, the latter is recovered by private buyers or companies.
---
Address, timetable & access
All the themes of the city
Comments
Mr. The ichigo daifuku with the strawberry in the middle looks very delicious.