Ogose Plum Blossom Festival
Ogose Plum Blossom Festival takes place in Ogose, Chichibu, Saitama, during the plum blossom period of early to mid-March. Known as ume no hana the closest big plum blossom festival is in Ogose.
Ogose Plum Blossom Festival, Ogose Town, Chichibu Region, Saitama Prefecture 越生梅まつり 越生町 埼玉県
by Johannes Schonherr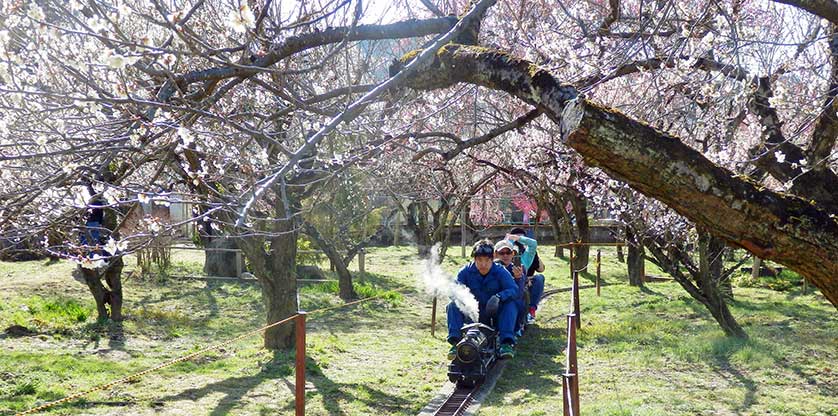 Miniature train at the Ogose Plum Blossom Festival, Ogose, Saitama Prefecture
Ogose street on the way to Bairin Park. Traffic can be heavy on festival weekends
Before sakura, the famous cherry blossom season in about mid-spring, Japan celebrates the ume no hana season, starting in about mid-February and lasting until late March.
Ume no hana are the blossoms of the ume, the Japanese Plum (Prunus mume), a tree that is actually more closely related to apricot than to western style plums. The ume blossom season is considered a symbol of spring and many people celebrate the blossoms by visiting ume tree parks which offer, besides their scenery, special festivities.
The ume no hana festival closest to Tokyo is the Ume Matsuri in Ogose Town in the mountainous Chichibu Region of western Saitama Prefecture. It is easy to reach from Ikebukuro Station in Tokyo: take the Tobu Tojo Line to Sakado, change there to the Tobu Ogose Line, get off at Ogose Station.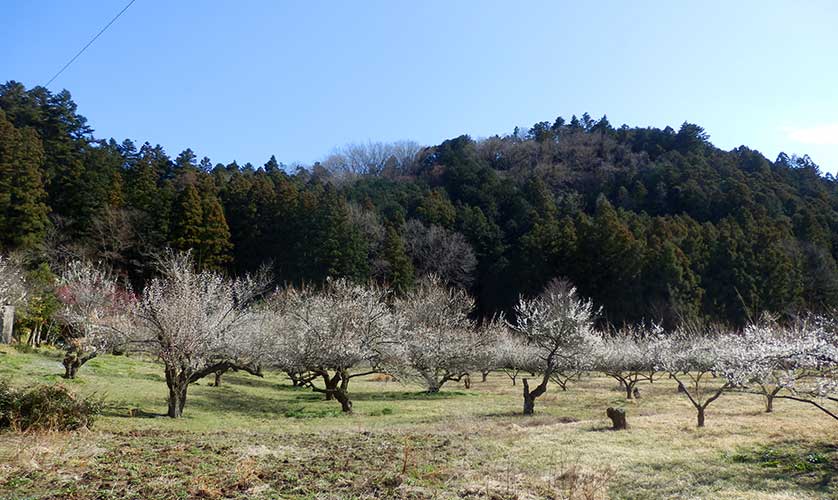 Roadside ume plum trees, Ogose, Saitama Prefecture

Ogose Ume
It is often said that the Kanto region in eastern Japan, the region around Tokyo, has three truly famous ume parks: Kairakuen Park in Mito (Ibaraki Prefecture), Baien Park in Atami (Shizuoka Prefecture) and Bairin Park in Ogose, Saitama Prefecture.
Ogose, a rural town of about 11,000 inhabitants, is dominated by ume trees. The numbers given by local sources differ, but the general estimate is that about 20,000 to 25,000 ume trees grow within the town limits.
When walking or driving through the town in late winter, early spring you see blooming ume orchards wherever you look.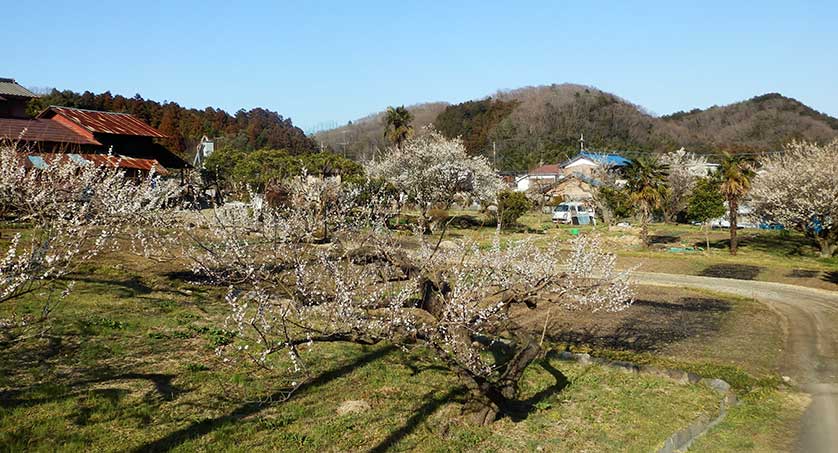 Typical ume plum tree orchard in Ogose, Saitama Prefecture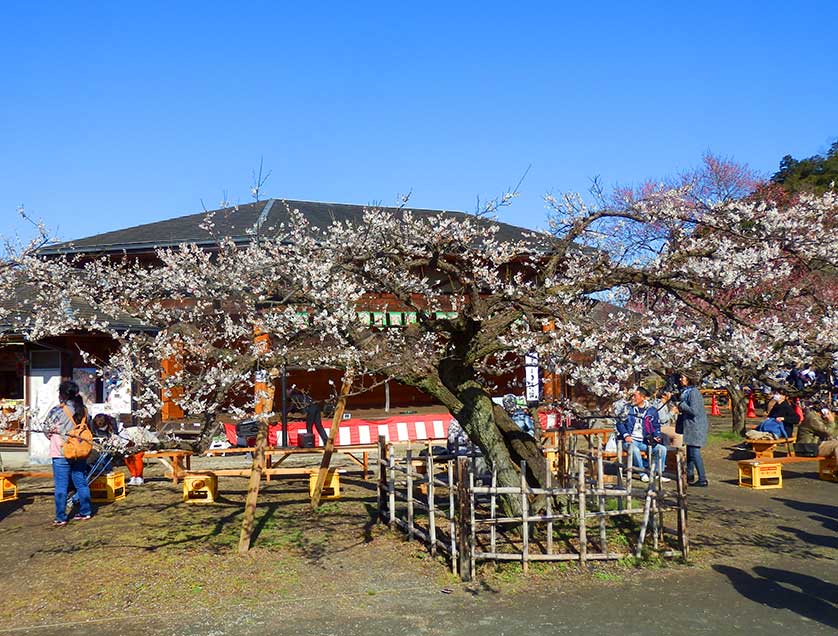 Ancient ume plum tree in front of the festival stage, Bairin Park, Ogose Town, Saitama Prefecture

Umeboshi
The trees were, of course, not originally planted to provide a pleasant seasonal sight for tourists but to provide for a living.
The fruits of the trees are pickled and sold as umeboshi, sour pickles that add flavor to the rice in bento boxes and onigiri rice balls. Umeboshi can also be eaten as sour snacks going well with a glass of sake or shochu.
Umeshu is a sort of shochu (a rather strong alcoholic drink) thoroughly flavored by the unripe ume fruits steeped in it. Unlike other ume products, umeshu tends to be sweet (though somewhat on the sour side).
Umeboshi are also frequently used in traditional medicine. Many Japanese make it a habit to eat at least one umeboshi per day - they are rich in all kinds of vitamins and thus considered putting a good shot of healthiness into one's diet.
The Shinpen Musashi Fudokiko, an Edo Era government issued book on the economy of Musashino Province (which covered today's Saitama Prefecture as well as western Tokyo), recorded a strong presence of umeboshi from Ogose on the markets of Edo, today's Tokyo, as early as the year 1747.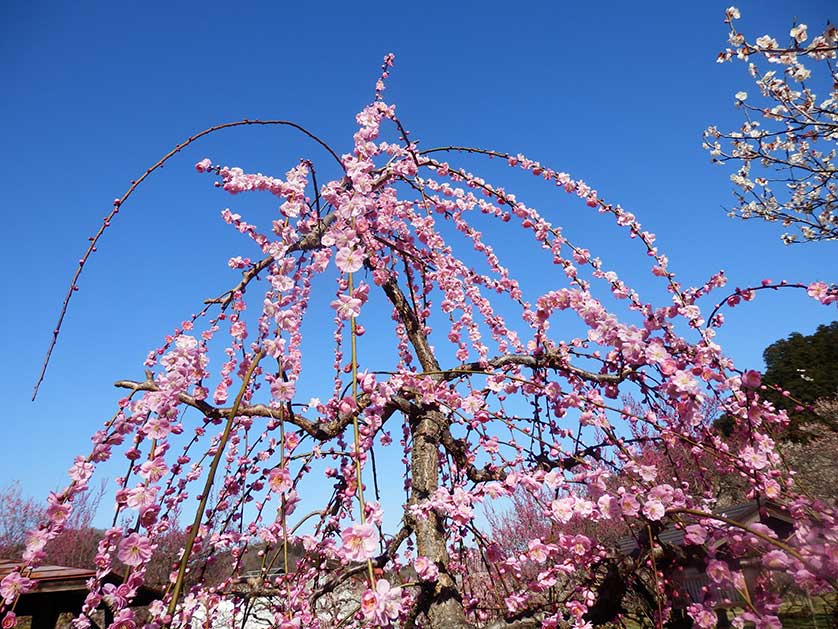 Ume plum blossoms at Bairin Park, Ogose, Saitama Prefecture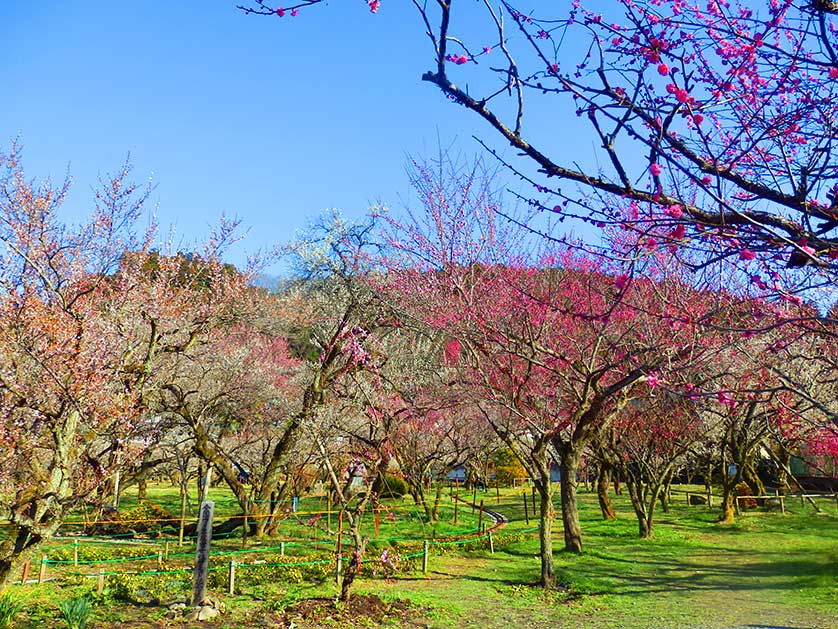 Blooming ume plum trees, Bairin Park, Ogose
Ume Legends
Local lore however claims a connection of the ume all the way back to Sugawara no Michizane (845-903), a famous Heian Period scholar, poet and politician who was banished from Kyoto and sent to live at Tenmangu Shrine in Dazaifu near Fukuoka, in Kyushu.
Sugawara had a great love for ume trees and wrote a famous poem about one of them, a tree that according to legend flew from Kyoto to Dazaifu to comfort Sugawara in his exile.
Umezono Shrine in Ogose, founded in the 1400's, is considered a branch of Dazaifu Tenmangu Shrine. When the founders of the Umezono Shrine arrived from Kyushu, they brought seedlings of Sugawara's legendary ume tree with them and thus introduced Japanese plums to the area.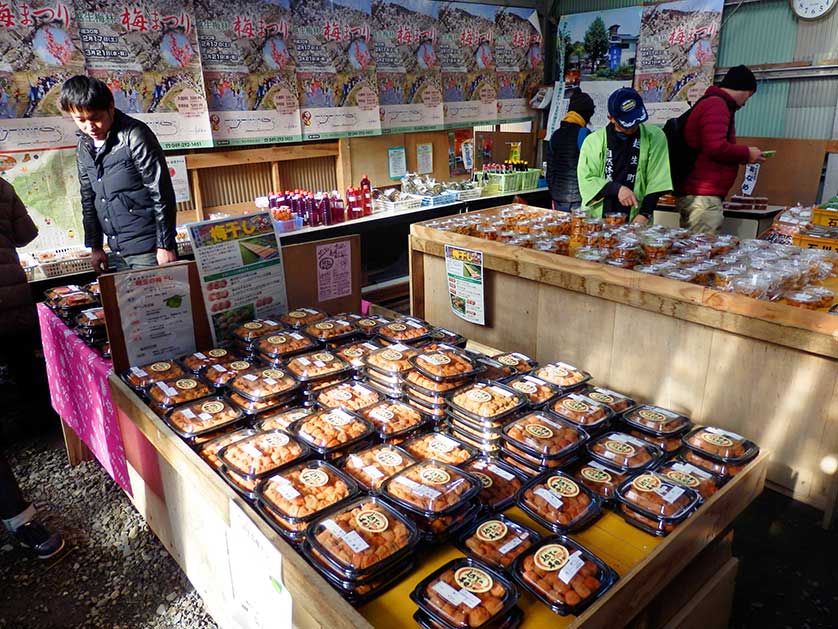 Umeboshi, pickled ume fruits, on sale at Bairin Park, Ogose, Saitama Prefecture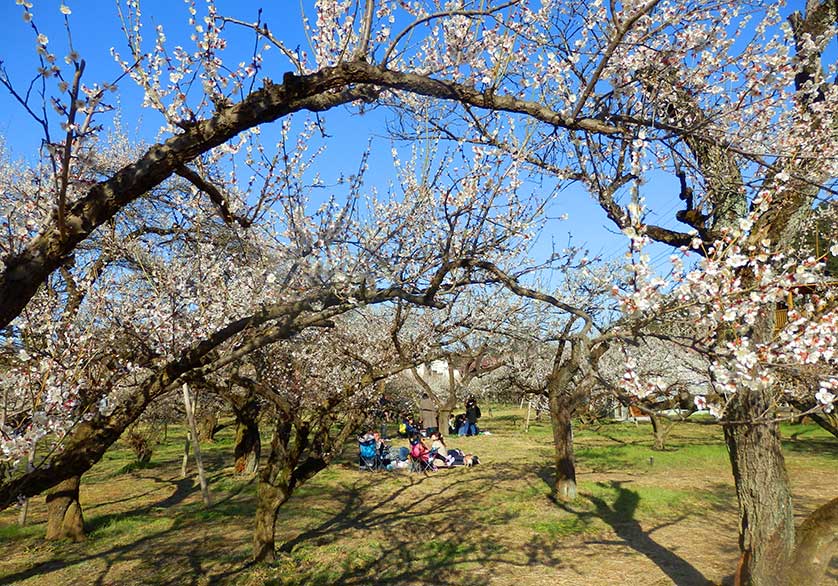 People relaxing under the blooming ume plum trees, Bairin Park, Ogose, Saitama Prefecture

Ogose Bairin Park (越生梅林)
Ogose Bairin Park (Ogose Ume Tree Park), located on the northern bank of the Oppe River close to Umezono Shrine, is a two hectare area in the center of the traditional Ogose ume tree area. It encompasses about 1,000 plum trees. About 100 of the trees are at least 200 years old, the oldest dates back about 600 years.
All the trees are commercially used for umeboshi production.
Ume Matsuri
In late winter / early spring however, Bairin Park becomes the location for the Ume Plum Blossom Festival, a busy blossom viewing tourist spot, especially on weekends.
Ume trees come in many variations. There are very different shapes of trees, different shapes of the blossoms, as well as different colors of the flowers ranging from white to pink to deep purple. Ogose Bairin Park offers a staggering range of these varieties.
Just take a stroll. Even on busy days, it's easy to get away from the crowds and to enjoy the blossoms undisturbed.
A miniature train called the Mini SL, pulled by an engine designed to look like a model steam locomotive, runs on tiny railroad tracks through a section of the park. It's very popular with children and their parents, as well as a family photo opportunity.
There is a stage with occasional performances, there are merchant stalls of all kinds, selling everything from local shitake mushrooms to traditional festival food like fried meat on a stick to chocolate-covered bananas.
A special little market sells products manufactured in Japanese prisons. Largely practical goods, kitchen cutting boards and the like.
A temporary market hall offers umeboshi and other local products. A leaflet at the market informs visitors that the umeboshi on sale are of the traditional kind - they are salty and sour. No compromise has been made to conform to the more recent fashion of sweeter umeboshi. An ancient plum tree grows right inside the market hall, its blooming branches reaching towards the cash register. Holes in the ceiling let it stretch out its upper branches towards the open sky.
Umeshu liquor is not sold at the market hall. You can buy it at a nearby drinking outlet though. It's sold in small jars with a real ume fruit inside, providing the perfect taste to enjoy under the blossoming trees.
Feel free to spread a blanket somewhere below the blooming trees nearby and enjoy the umeshu with your friends or family. Many locals enjoy the festival exactly like that - with a picnic and a few drinks right under the trees.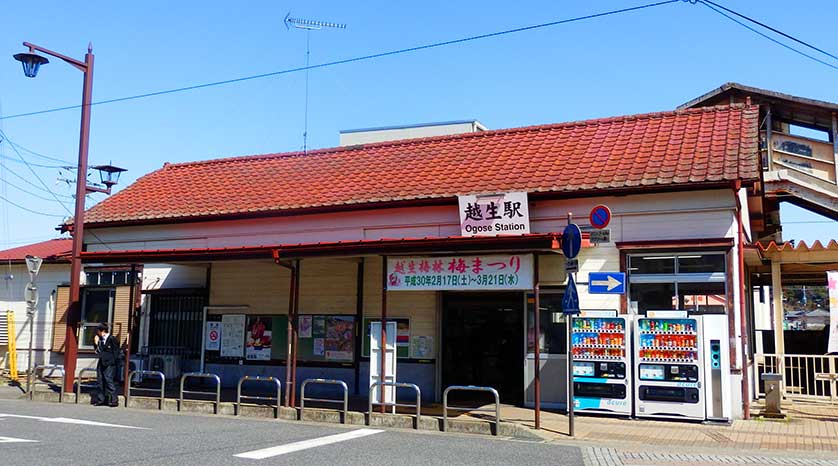 Ogose Station, Ogose, Saitama Prefecture
Access
To get to Ogose, take the Tobu Tojo Line from Ikebukuro Station to Sakado Station and change there to the Tobu Ogose Line. The line terminates at Ogose Station.
If you are in western Tokyo, the JR Hachiko Line (running from Hachioji, Tokyo to Takasaki, Gunma Prefecture) might prove convenient. It also stops at Ogose Station.
At Ogose Station, flyers with a map indicating a scenic walk to Bairin Park are available (in Japanese). The walk is about 3.8 km, a bit less than an hour.
Bus: Take a bus heading for Kuroyama from Ogose Station, get off at the Bairin bus stop. During the festival and especially on weekends, special buses bound for Bairin Park are in operation. On weekdays, they run once per hour, on weekends and public holidays, twice per hour.
Hours and Admission
The Ogose Plum Blossom Festival (ume matsuri) takes place from mid-February to late March.
The exact festival dates vary from year to year. Find detailed information in English (machine translated) at www.town.ogose.saitama.jp/kankonavi
Open daily from 8.30 am to 4 pm.
Admission: 300 yen for persons older than junior high school age.
The Mini SL train (the miniature train) operates on Saturdays, Sundays and public holidays from 10 am to 3 pm. A ticket for one round is 200 yen. Children age 2 or younger can ride it for free.
Tel: 049 292 6783
Address: Ogose Bairin, 113 DoyamaOgose-machi, Iruma-gunSaitama Prefecture
Related Articles
Three Waterfalls of Kuroyama Ogose Town
Book Hotel Accommodation in Saitama Japan
All the themes of the city