Kita-in Temple Kawagoe
Kita-in Temple: Kita-in Temple in Kawagoe, Saitama Prefecture is famous for its 540 stone statues of rakan showing various facets of the human experience.
500 Rakan at Kita-in Temple, Kawagoe Saitama Prefecture 喜多院, 川越
Johannes Schonherr
There are many reasons to visit Kawagoe, about an hour by train from Shinjuku.
The streets lined with old merchant houses are just marvelous, the eel restaurants are famous and the locally brewed beer (Coedo) and sake (Kagamiyama) are both excellent.
One of the strangest and funniest sites to be seen in Kawagoe, however, are the 500 Rakan at Kita-in Temple.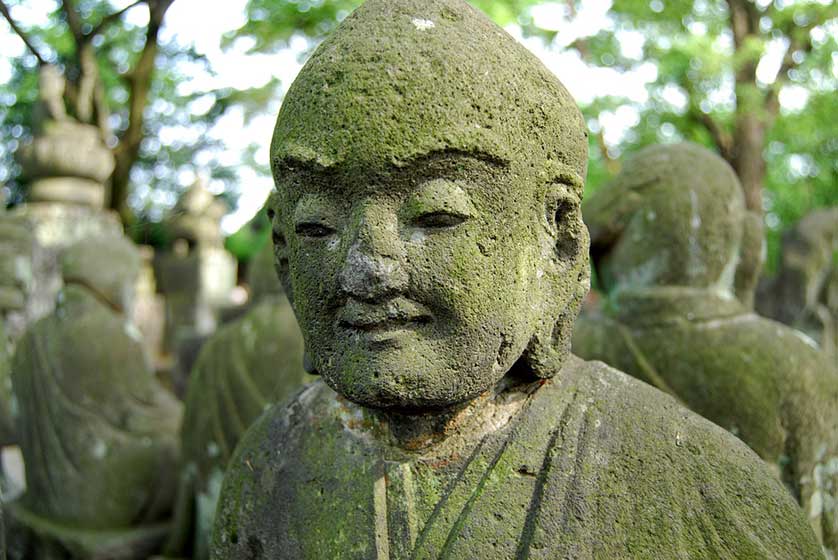 Statue of a rakan, Kita-in Temple, Kawagoe, Saitama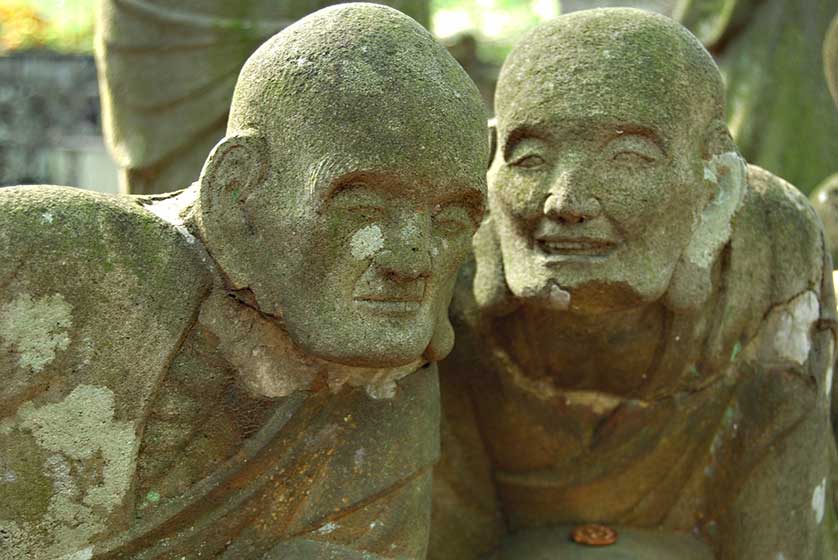 Rakan statues, Kita-in Temple, Kawagoe, Saitama
History of Kita-in
The origins of Kita-in itself go back to ages about which few written records survive. Kita-in is thought to have been founded in about 850 AD but it really came into prominence when it received the support of Shogun Ieyasu Tokugawa in the early 1600's.
Ieyasu was the shogun who closed Japan to the outside world. It would stay that way for almost 250 years.
Later in the 1600's and after a fire that almost completely destroyed the temple, the third shogun Iemitsu went so far in his support for Kita-in that he removed parts of Edo Castle (the current Imperial Palace in Tokyo) and donated them to the temple.
They are one of the main attractions of the temple today - and the only surviving buildings of Edo Castle from those times.
In any case, you need to buy a ticket to see the 500 Rakan and that same ticket covers the museum part of Kita-in Temple featuring the historic Tokugawa rooms. Check out the temple rooms first. They are impressive and there is a beautiful Japanese garden to be seen at the back of the Tokugawa buildings.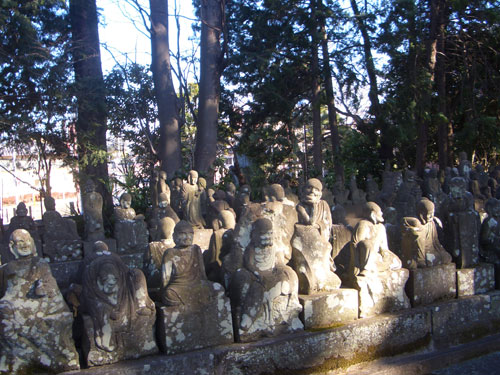 Kita-in Temple, Kawagoe, Saitama Prefecture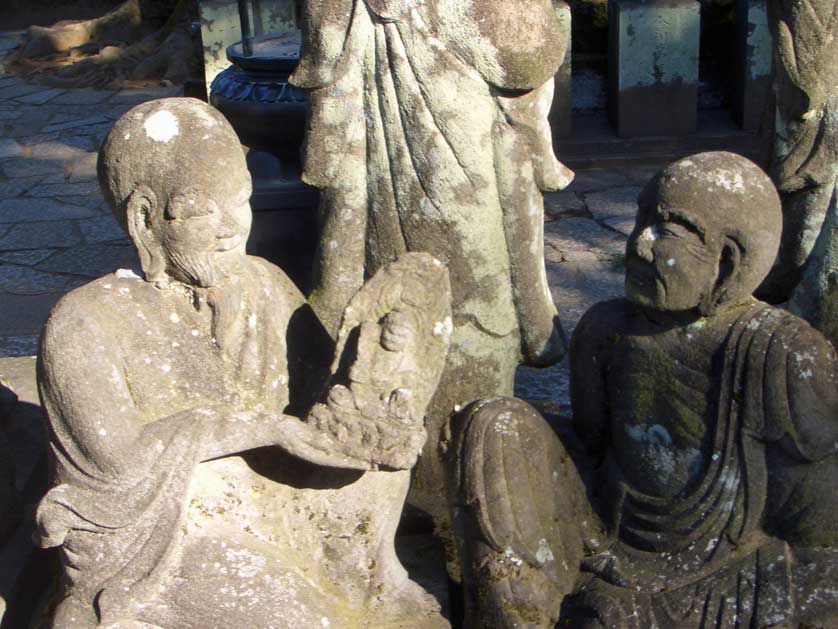 Gift Giving Rakan, Kita-in, Kawagoe
500 Rakan
The 500 Rakan on the same temple grounds also date from the Tokugawa period. As closed-up as Japan may have been to the outside world at the time, within the country the arts blossomed and even at a major shogun-sponsored Buddhist temple like this, artists could play with quite light and funny interpretations of the often very somber Buddhist themes.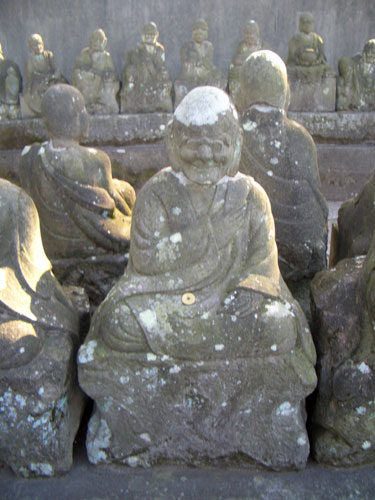 Rakan with glasses, Kita-in Temple, Kawagoe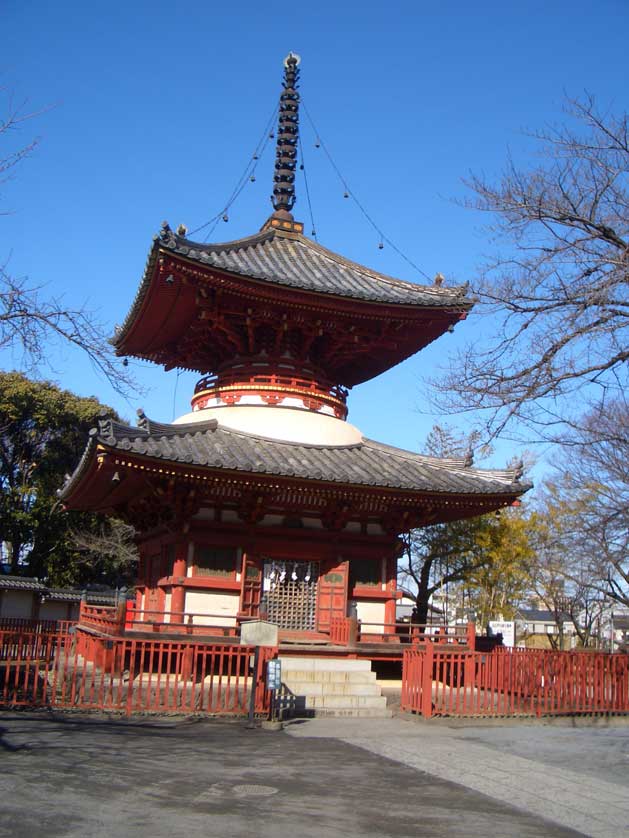 Temple pagoda, Kita-in, Kawagoe
Rakan, also known as arhat, were early disciples to Buddha who attained perfect enlightenment, had left the mundane world behind them and lived in a state of nirvana.
Different Buddhist schools give different numbers of how many rakan are believed to have existed. In Japan, the monk-artist Shoun Genkei popularized the notion of 500 rakan when he created 500 rakan sculptures in the late 1600's for a temple appropriately named "500 Rakan Temple" (Gohyaku Rakanji), located in today's Tokyo Meguro Ward.
Other temples followed Genkei's example and added 500 Rakan sculpture parks to their inventory. Kawagoe's Kita-in was one of them.
What sets the Kawagoe rakan apart from the ones displayed elsewhere is that the rakan here are not stern-faced spiritualists but timeless folk who clearly express the joys of life.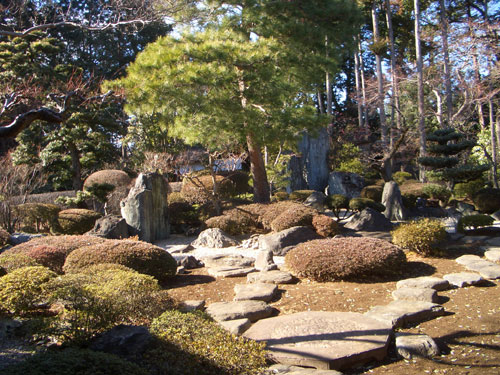 Temple garden at Kita-in, Kawagoe, Saitama
A depressed-looking Rakan at Kita-in, Kawagoe, Saitama
Cut in stone between 1782 and 1825, every single one of the rakan here has its very own distinct personality. There are actually 540 of them. The creators must have enjoyed their work so much that they went way beyond the assigned 500.
There are sake-drinking rakan, there are reading rakan, there are rakan receiving a massage, rakan talking to each other, hunchback rakan, rakan with animals. It's said that if you find the rakan holding the symbolic animal of the year of your birth according to the Chinese calendar, you will be very lucky.
Take your time checking them out. There are the smiling ones, the thinking ones, the laughing ones, the creepy ones, the just plain funny ones. One rakan sticks a finger up his nose, another one is wearing glasses. The variety is endless and closely inspecting all of them would take hours. Most visitors opt for chance encounters, looking here and there but they always randomly discover a few rakan sculptures they can relate to.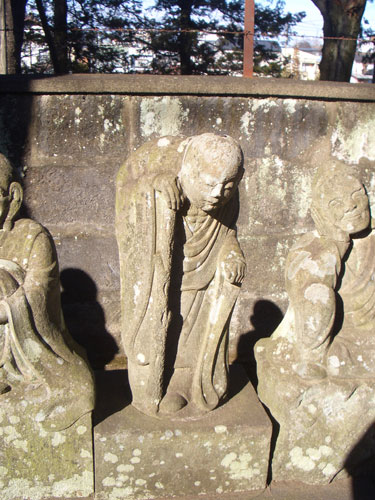 A hunch-back Rakan at Kita-in Temple, Kawagoe, Saitama
Rakan Myth
Actually, there is a popular myth that for every visitor, there is a rakan that closely resembles himself. To find the right one, the visitor has to come in the dark of night and touch the sculptures. One of them will be warm. That's the one. Mark it and look it up the next day when the sun is out. You might have never recognized him by just looking at him - but the gods know the truth.  
Unfortunately, today's reality with strict and early closing times of the rakan park make it impossible to put the myth to the test.
What you will always find, though, are rakan resembling some of your friends. That happy guy pouring the sake to the other rakan, doesn't he very much look like - exactly. He does. Good luck with the Kawagoe rakan spotting!
Kita-in Temple is in walking distance from both Kawagoe Station (JR Kawagoe Line and Tobu Toju Line) and Hon Kawagoe Station (final stop of the Seibu Shinjuku Line).
Location maps are easily available at both stations.
Opening times: Winter: 8:50 am - 4:00 pm
Summer: 8:50 am - 4:30 pm
Kita-in museum phone: 049 222 0859
Kita-in Temple celebrates a daruma festival on the 3rd of January each year, where visitors can purchase one of these good luck dolls and make a wish for a dream come true.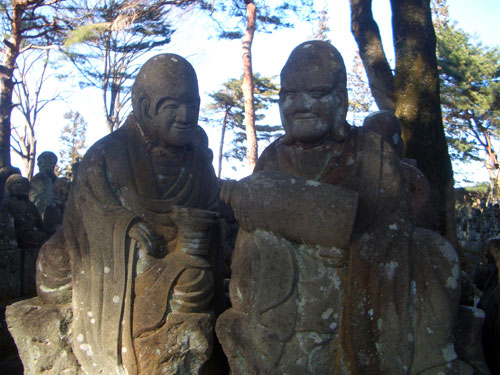 Drinking Rakan at Kita-in Temple, Kawagoe, Saitama
Kawagoe Video Guide
Join with David of JapanFilms as he shows you through historical Kawagoe, its sights and sounds, in this YouTube video guide. Find out where to go, and what to see and do, in Kawagoe.
Kawagoe Access
Train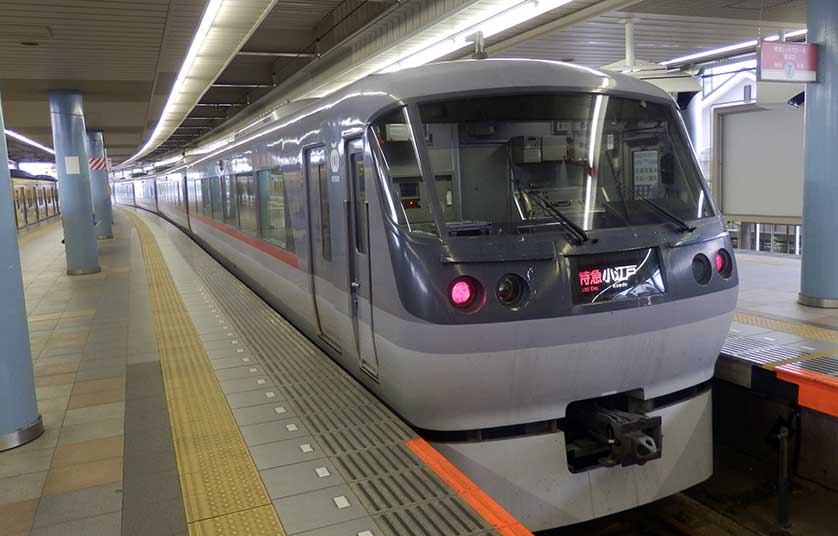 Koedo Limited Express at Hon Kawagoe Station, Kawagoe, Saitama Prefecture
Access to Kawagoe from Tokyo by the Tobu Line from Ikebukuro Station to Kawagoe Station or Kawagoe-shi Station, or the slower JR Saikyo Line.
Alternatively take the Seibu Shinjuku Line Koedo Limited Express train from Shinjuku to Hon-Kawagoe, which is the nearest station to the historic area.
Bus
There are buses to the kurazukuri zone from both Hon-Kawagoe and Kawagoe stations.
In addition there are two loop buses passing the most famous sights in Kawagoe: the retro-style Koedo Loop Bus (one-day pass 500 yen) and the Koedo Famous Spots Loop Bus (one-day pass 300 yen).
Bicycles can also be hired, inquire at the Tourist Information Office (Tel: 049 222 5556; 9am-4.30pm) at Kawagoe Station.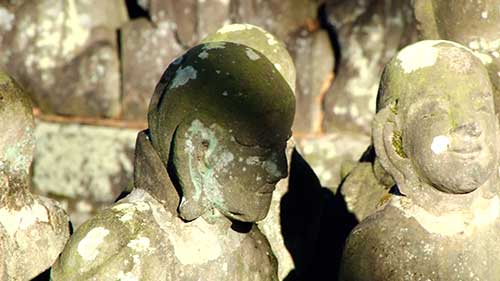 500 rakan at Kita-in Temple, Kawagoe
Book Hotel Accommodation in Tokyo/Saitama Here
All the themes of the city