Toi Guide Shizuoka
Toi, Izu Peninsula 土肥
Jennifer May
Toi is a small resort town on the west side of the Izu Peninsula in Shizuoka Prefecture, overlooking Suruga Bay. Toi is known for its hot springs, beaches, its historical gold and silver mine, and the world's largest flower clock.
The east side of the Izu Peninsula is more traveled than the west, but a visit to Toi, on the peninsula's western side, is recommended for its natural beauty and historical legacy.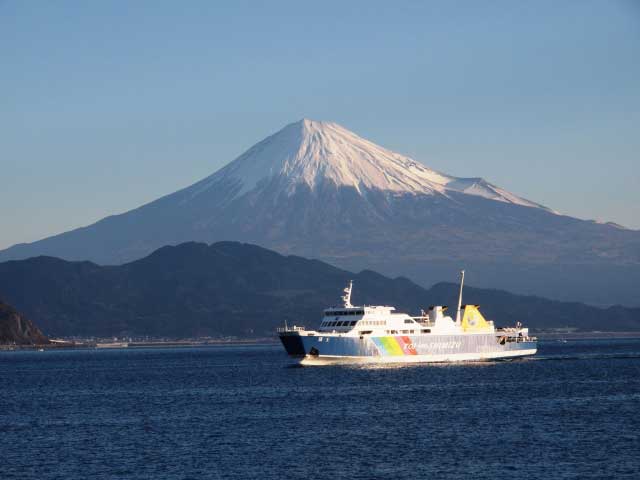 Toi to Shimizu Ferry with Mount Fuji
There is a direct Nishi-Izu Ferry connection to Toi from Shimizu City. Mt. Fuji is clearly visible from the ferry on clear day crossings. Korean ships dock at Shimizu port, too, with cruises to Korea from Shimizu Port.
Onsen in Toi
Like most towns on the Izu Peninsula, Toi is full of onsen hotels and beaches. Toi has about forty ryokan and about eighty minshuku (family-run guesthouses). Many of the onsen in particular have spectacular views of Suruga Bay, unusual rock formations, and Mt. Fuji.Onsen hotels allow visitors to use their hot spring baths for a price without staying in their hotels, so it is possible to have a soak and take in the views even if you are not planning to spend the night.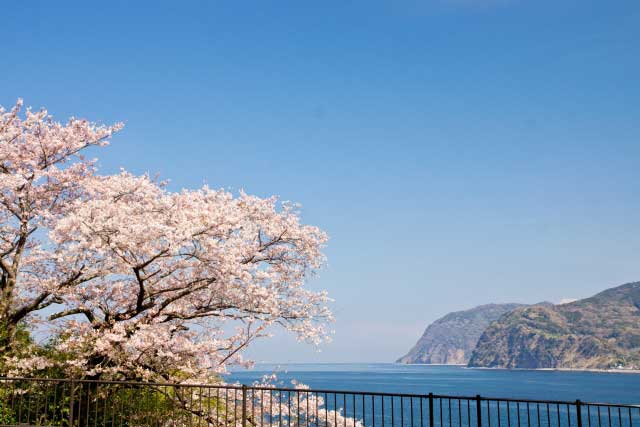 Cherry trees and ocean view, Toi, Shizuoka
Toi Flower Clock
Toi has what it claims is the world's largest flower clock. There is a path of varying textures that circles the clock which people are meant to walk on barefoot for relaxation and therapy (but some of the textures look more torturous than relaxing).
Toi Kinzan Former Goldmine
Toi has an old gold and silver mine Toi Kinzan (Tel: 0558 98 0800) in the mountain behind it. Toi Kinzan was one of the largest gold mines in Japan, second in size only to the gold mine on Sado Island, and was under the direct control of the Tokugawa Shogunate. The mine produced gold and silver for so-called "Keicho" coins. Toi grew as a port with the frequent visits of Tokugawa ships to transport the gold and silver, and geisha houses sprang up to service visiting officials.
The mine's most productive years were between 1596-1615. Over the 388 years of total production, 78 metric tons of gold and 2,330 metric tons of silver were mined. Mining ceased in 1965.
The mine's tunnels have been made into a museum with dioramas depicting mining and the history of Toi town life in the feudal period. Visitors can touch the world's largest gold ingot (200 kg) as recorded in the Guinness Book of World Records. You can also try your hand at mining for gold dust for an additional fee.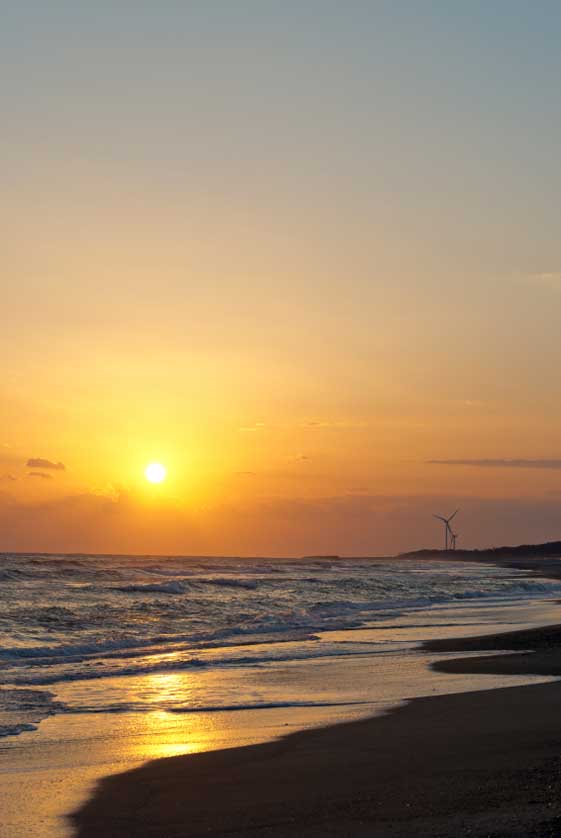 Pacific Ocean sunset, Shizuoka Prefecture
Toi Summer Festival
The Toi Summer Festival is held August 18-21. This grand party includes lots of food and beer stalls, a stage to accompany non-stop performances from the local talent, such as the local taiko group, and, at the end of the day, a magnificent show of fireworks on the beach under the starry skies over Suruga Bay.
Accommodation in Toi
The following are three recommended properties in Toi: budget, mid-range, and luxury:
Izumi is a semi-Japanese-style, budget hotel just a couple of kilometers south of the port at Toi. All the basics are covered here, with private facilities for each room with its own bath and toilet, plus a kettle, a shared hot pool bath and communal lounge if you're so inclined, and free parking.
Ooya ("oh-ya") is a mid-range Japanese guest house near Toi port with all the facilities - and the serene atmosphere - to make your stay a pleasant one. Has an open air bath with a view, good food, spacious, comfortable tatami mat rooms, and free parking for guests.
Musouan Biwa is a traditional Japanese ryokan modeled on a big, wooden farmhouse, with exposed rafters and tatami mat rooms. Musouan Biwa is just a couple of minutes' walk from the port, offers you a stay in the lap of Japanese luxury and hospitality, with everything geared to make you and your stay very special. Meals you'll remember, and amazing views over Suraga Bay from your own private, spacious balcony. Free Wi-Fi throughout.
Access - Getting to Toi
From Tokyo to the east, take the Tokaido Shinkansen or JR Tokaido Line train to Atami or Mishima.
From Nagoya or Shizuoka to the west, take the JR Tokaido or Shinkansen line to Mishima or Atami.
From Atami, take the JR Ito Line to Ito. At Ito, take the Tokai bus toward Dogashima and get off the bus at the Toi Stop.
From Mishima, you can get on the Tokai Bus toward Ito/Dogashima.
For the ferry experience, take the JR train from Shizuoka Station to Shimizu (3rd stop). From there, it is a 10-minute bus ride to Shimizu Port or a short taxi ride from the East Exit of the station. At Shimizu Port, take the Nishi-Izu Ferry to Toi Port (70 minutes). Be sure to check the Dream Ferry schedule.
There are four round trip sailings from Shimizu Port to Toi on weekdays, weekends and public holidays. The fare is currently 2,260 yen. See the operator's website above.
The ferries running from Toi via Heda (25 minutes) to Numazu on the JR Tokaido Line ceased operating in 2014.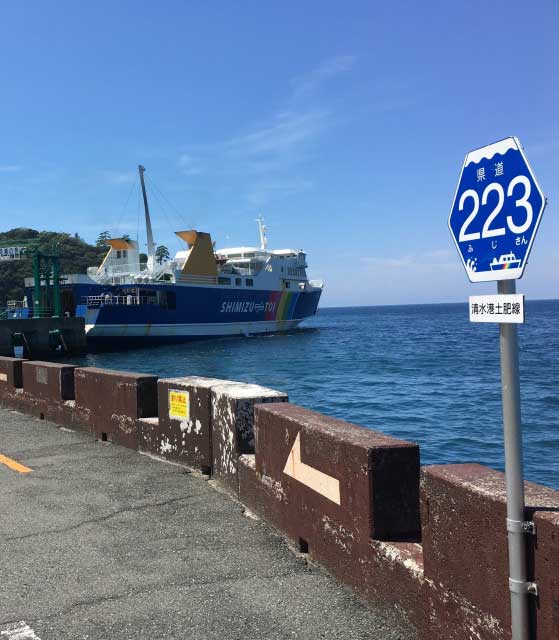 Shimizu-Toi Ferry
Japan Articles by Jennifer May
Underwear Theft
Having Surgery in Japan
Iwakuni Castle
Tanabata Star Festival in Shimizu
Kamikochi Hiking Guide
Japanese Weddings
Oze Marsh
Match-making
Anjin Festival
Toi Travel Guide: read a tourist guide to Toi on the Izu Peninsula in Shizuoka Prefecture including Toi hotels, onsens and places to visit.
All the themes of the city