Omote Goten Garden Tokushima
Omote Goten Garden: read a guide to the Omote Goten Garden at Tokushima Castle in Tokushima, Shikoku, Japan.
Omote Goten Garden 旧徳島城表御殿庭園
Jake Davies
Omote Goten Garden is located in the grounds of the former Tokushima Castle in Tokushima, Shikoku.
Almost nothing remains of the castle that was originally built in 1385 by Yosokawa Horiyuki.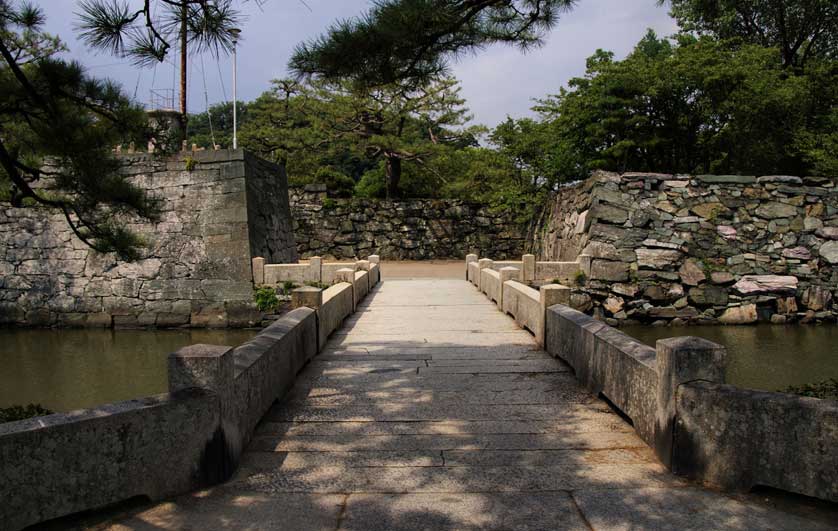 Entrance to Tokushima Castle, Tokushima, Shikoku, Japan

History of Omote Goten Garden
Following the take over of Shikoku by Toyotomi Hideyoshi, he installed Hachisuka Iemasa as Lord of the fief. In 1585 Iemasa moved to the old castle and improved and enlarged it though it never became a large fortress.
Tokushima Castle was almost completely dismantled in 1875 at the beginning of the Meiji Period and the final remaining gate was destroyed in an air raid during World War II. The gardens however remain, and a museum modeled on the old goten, main hall or palace, was built in 1989 along with a reconstruction of the Washinomo, the Eagle Gate.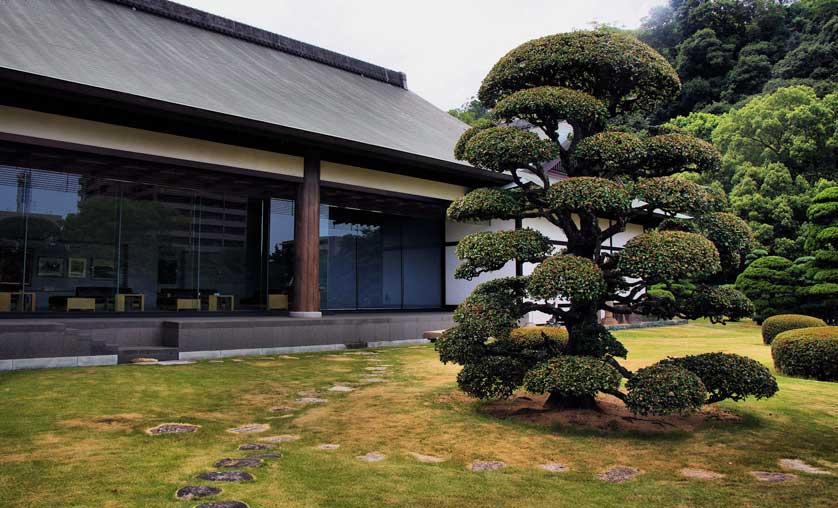 Omote Goten Garden, Tokushima, Shikoku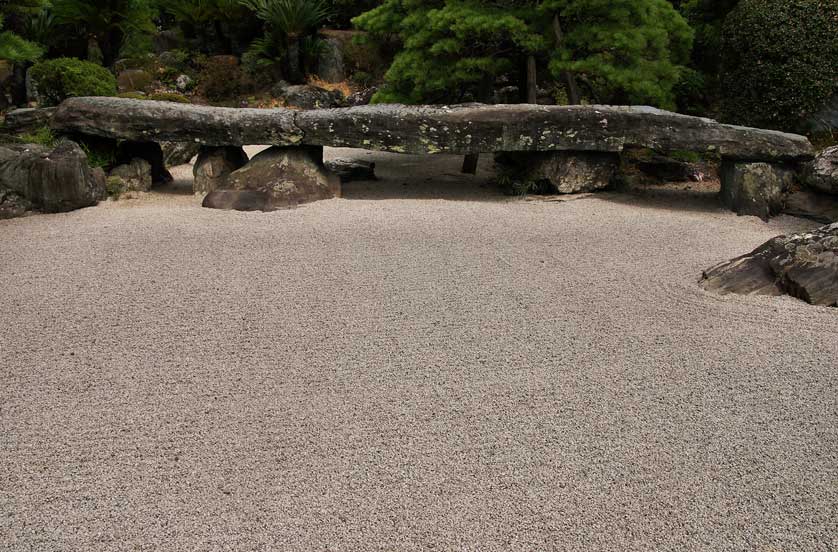 10m-long bridge made from a single rock at Omote Goten Garden, Tokushima, Shikoku
There are actually two gardens, a karesansui, dry garden, and a pond garden. 
The gardens are a designated National Scenic Site. Both are built in the Momoyama style and were constructed around 1600. Both gardens can be enjoyed as either a "viewing" garden, seen from a single viewpoint, or as a "stroll" garden, enjoyed by walking around.
Both gardens feature a lot of rock, of various shades and hues, especially the local Awa No Aoi Ishi, a local green-blue rock - Tokushima chlorite schist.
The Omote Goten Garden designs are attributed to Ueda Soko (1563-1650), a famous samurai who later became a monk.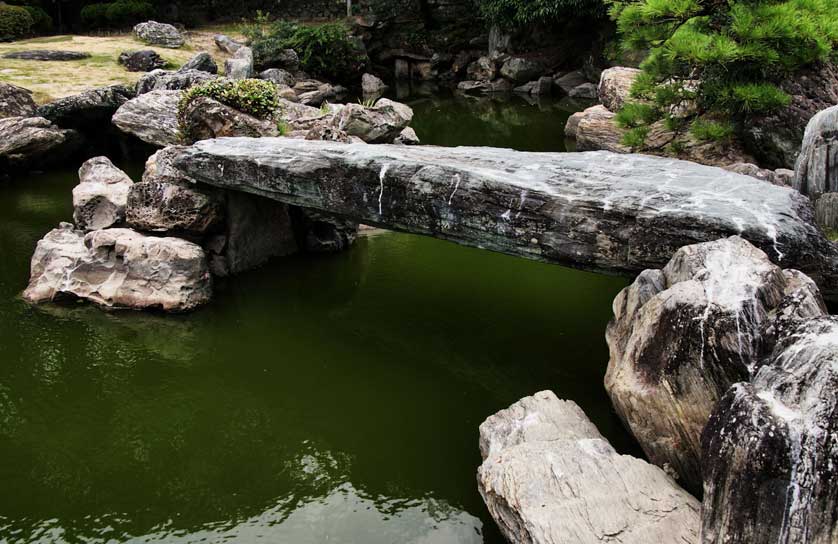 5m-long bridge at Omote Goten Garden, Tokushima, Shikoku
Ueda Soko is credited with creating a distinctive style of Tea Ceremony which is named after him. The dry garden was attached to the guest quarters of the palace. Its most distinctive feature is the bridge made of a single unhewn rock over ten meters long, the longest such rock in Japan.
The bridge is cracked and split into two pieces, according to the legend by Yoshishige Hachisuka, the first Lord, who stamped on it.
The pond garden also features a bridge of a single, cut rock, though only 5 meters in length. It is believed to be one of the earliest examples of its kind. The water in the pond rises and falls with the tide as it is fed by the tidal inner moat of the castle. The pond garden was attached to the Lord's private quarters.
Dry stone garden at Omote Goten Garden, Tokushima, Shikoku
Omote Goten Garden Access
The Castle Park and Ruins are open 24 hours a day, 7 days a week, and entrance is free. Omote Goten Garden is a popular spot in Tokushima for cherry blossom viewing.
The Castle Museum, which is small but features changing exhibitions, and garden are open from 9 am to 5 pm. Closed on Mondays, or the following day if a Monday is a national holiday.
Entrance to the Tokushima Castle Museum and garden is 300 yen, though visiting only the garden is a mere 50 yen, making it possibly the best value garden to visit in Japan.
Omote Goten Garden1-8 Tokushimacho JonaiTokushima cityTokushima 770-0851Tel: 088 656 2525
Omote Goten Garden is located about a 10 minute walk from Tokushima Station.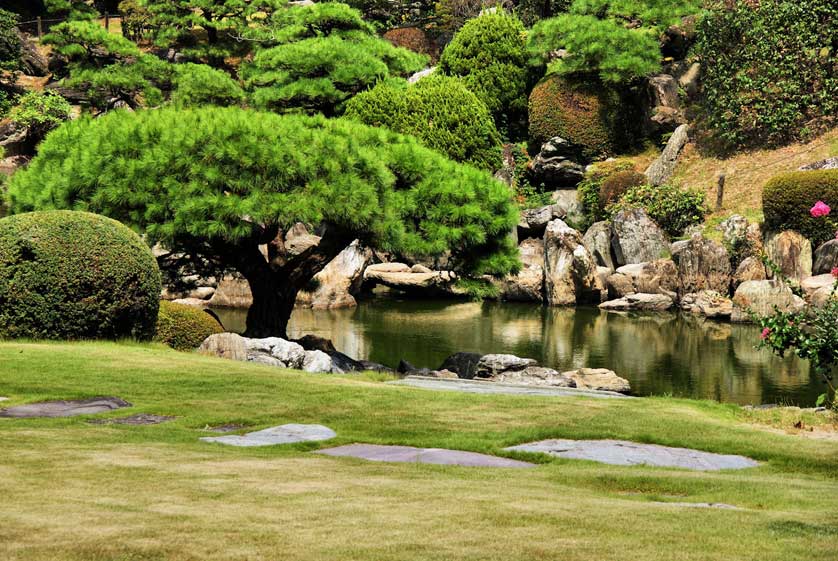 Omote Goten Garden, Tokushima, Shikoku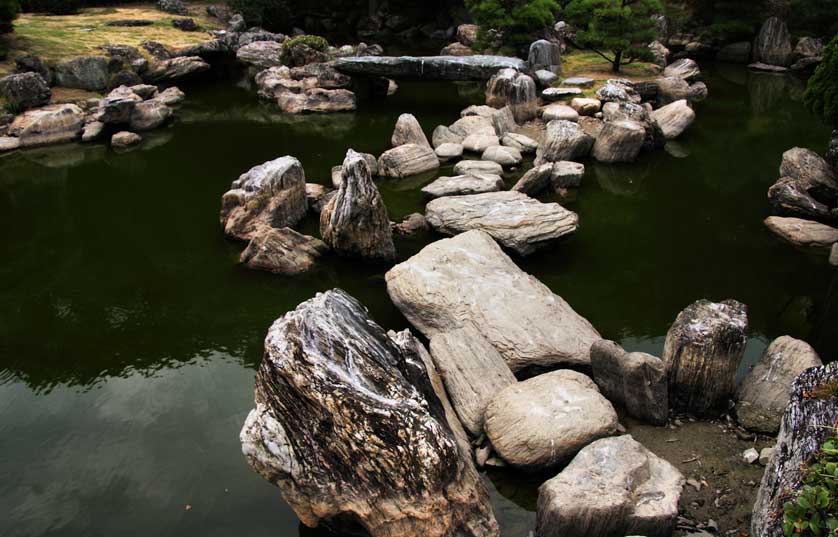 Omote Goten Garden, Tokushima, Shikoku

Book Hotel Accommodation in Shikoku
All the themes of the city