Shosanji Temple
Shosanji Temple is the twelfth temple of the Shikoku Ohenro Pilgrimage and is located a tough climb up a mountain 800 meters above sea level.
Japan Temples & Shrines: Shosanji Temple, Kamiyama, Tokushima 焼山寺
About 50 kilometres from the start of the pilgrimage, and a tough 12 kilometres from the previous temple, Fujiidera, number 11, Shosanji, the twelfth temple of the Shikoku Ohenro Pilgrimage sits on a mountaintop 800 meters above sea level.
This is the first nansho of the pilgrimage, which translates as "difficult place", and usually means a mountain-top temple. The path up the mountains is classed as a "henro-korogashi" - a place where pilgrims fall down - which means the path can be difficult especially in wet or cold weather.
Getting to Shosanji is where some pilgrims give up and realize they have bitten off more than they can chew.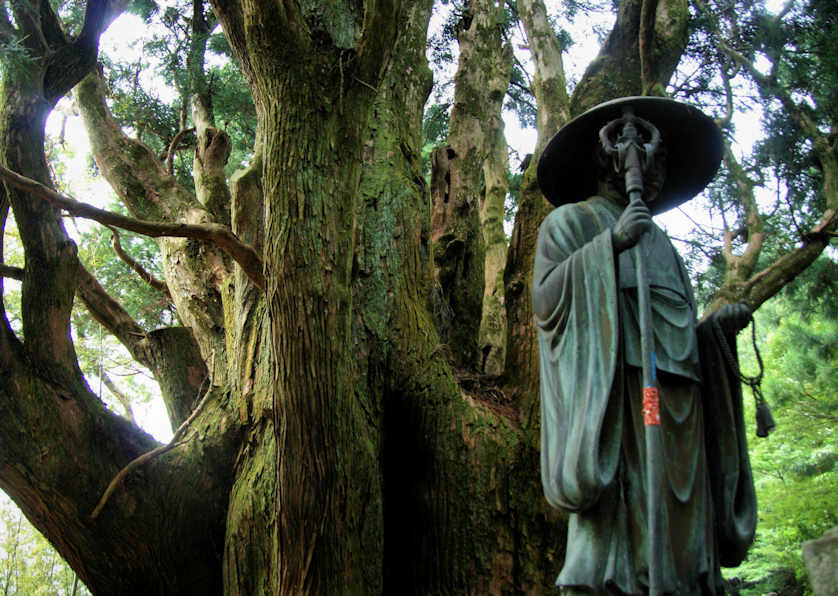 Statue of Kobo Daishi in front of a tree with the name of Ippon Sugi, getting close to the top of the mountain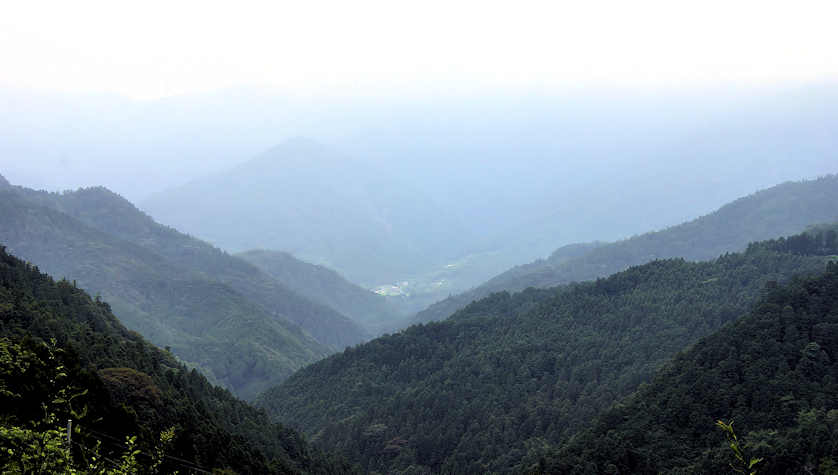 Fantastic views from near Shosanji Temple
Shosanji History
Shosanji means "Burning Mountain Temple" and refers to an ancient legend about a fiery dragon that lived on the mountain and terrorized local people by setting fire to the whole mountain. The legendary ascetic En no Gyoja, who possessed magic powers and is credited with being the founder of Shugendo, the syncretic religion of the yamabushi, visited the mountain and suppressed the dragon and then founded the temple.
A century later when Kobo Daishi visited, the mountain was once again in flames caused by the dragon and Kobo Daishi successfully imprisoned the dragon in a cave. On the trail from the temple to the summit you can see the cave and also a statue of En no Gyoja.
The temple is surrounded by massive Japanese cedars that many times of the year reach up into the clouds. The grounds of the temple also has some huge trees, and it's always much cooler up here than down below.
The honzon, main deity, is a Kokuzo Bosatsu, the "wish granting Buddha" that assisted Kobo Daishi in subduing the dragon. The temple has lodgings, though only available during the peak pilgrimage seasons of late spring and autumn. A few kilometres below the temple is a small settlement where the bus stops and here there are a few eateries and a couple of minshuku.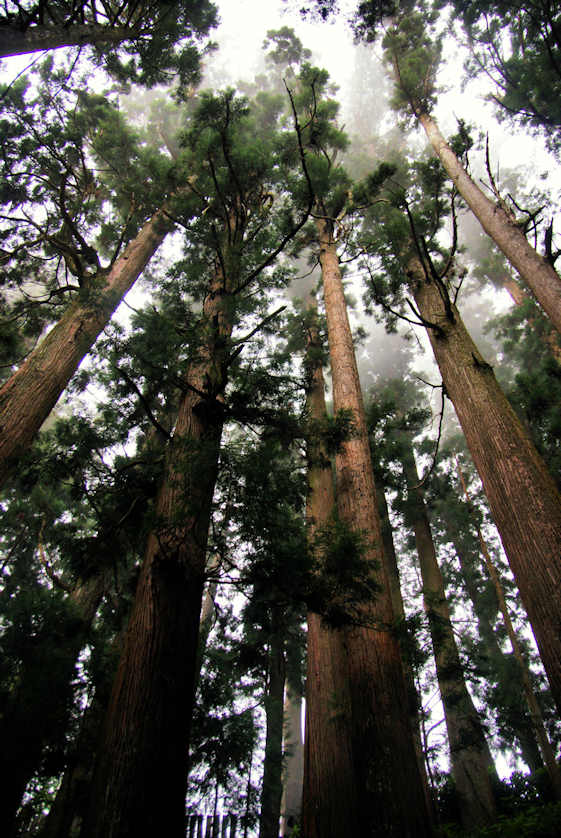 Giant Cedars pierce the clouds around Shosanji Temple, Shikoku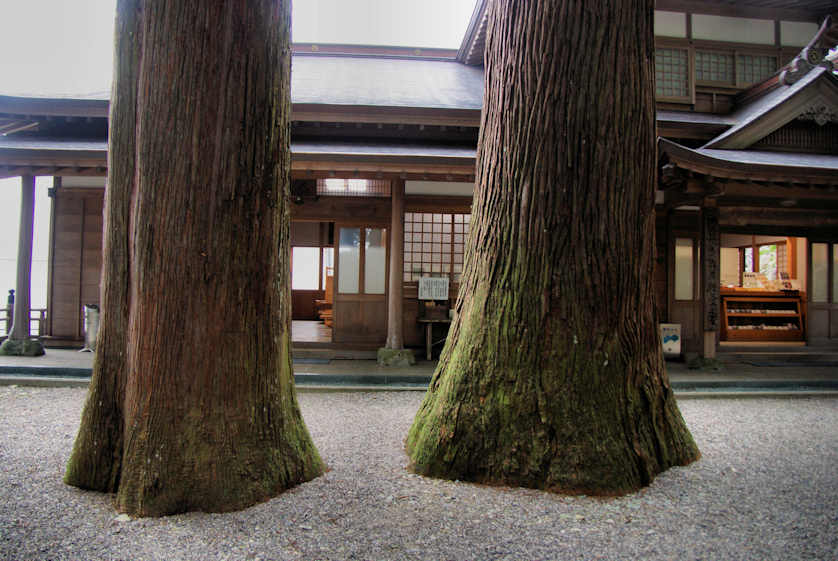 A pair of ancient trees flank the entrance to the temple office at Shosanji Temple

Shosanji Temple Access
318 ShimobunKamiyama-choMyozai-gunTokushima 771-3421Tel: 0886 77 0112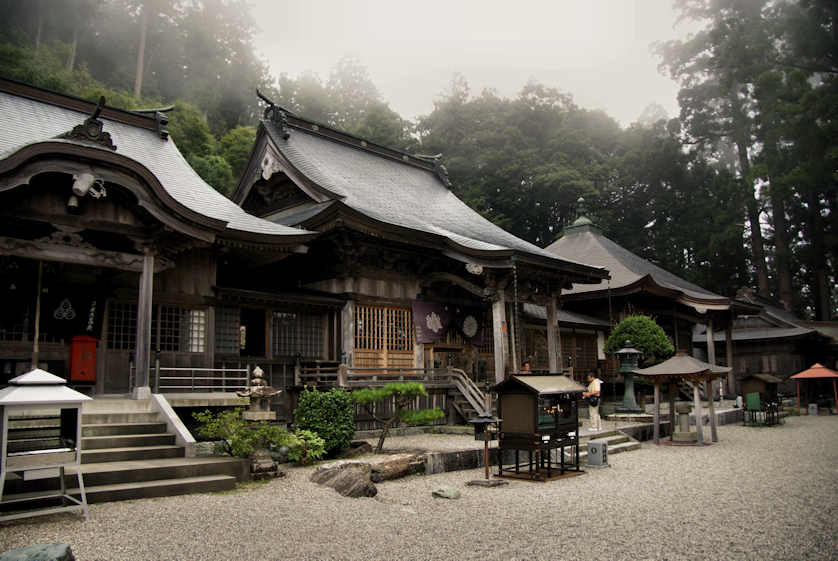 Main Hall and Daishi Hall at Shosanji Temple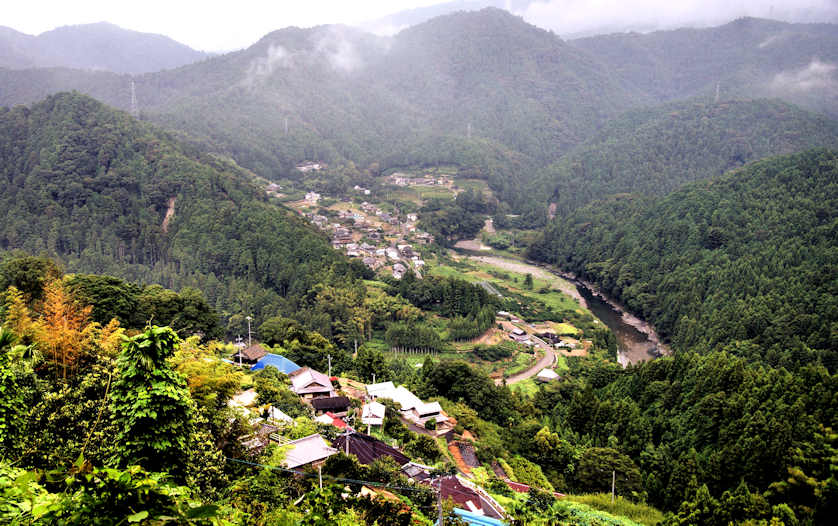 On the way down the other side of the mountain from Shosanji Temple
By bus from Tokushima Station to Yoriinaka, then change buses for Shosanji. From the bus stop it is about an hour to hike up to the temple.
Book Hotel Accommodation in Shikoku
All the themes of the city