Celebrate Halloween in Tokyo with children
東京でハロウィンを祝う-子供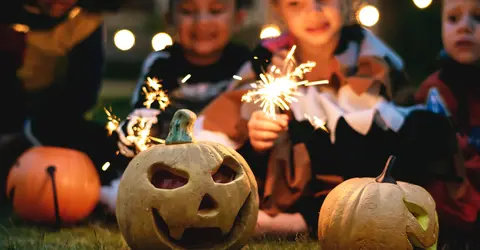 Trick or Treat
Halloween is a real event in Japan! Between the specially decorated stores and the many theme nights organized for the over 18s, it's now almost impossible to miss! The capital especially lives and breathes Halloween until the end of October. It's a time for fun, so here are some ideas for family activities in Tokyo during the spooky season...
TokyoDisneyland
Tokyo Disneyland is renowned for its Halloween celebrations. And with good reason; it was at the famous amusement park that  the tradition of Halloween was first made popular in Japan!
Wanting to attract new visitors in the fall, Tokyo Disneyland launched its "horror season" in the 2000s, a two week period during which visitors could wear the costume of their favorite Disney character and enjoy the park with seasonal decorations for the first time. The campaign was a huge success, and the American holiday began to be celebrated outside the park as well, to become the country-wide celebration we know today.
Read : Tokyo Disneyland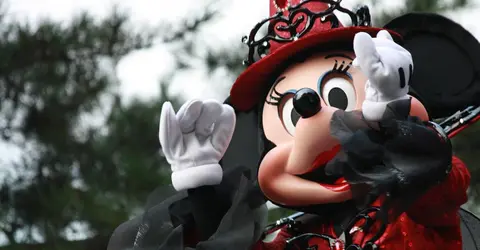 The world of Disney isn't necessarily just for children, so Tokyo Disneyland remains a place to have fun with the whole family for Halloween!
Park information
Address : 1-1 Maihama, Urayasu, Chiba Prefecture 279-0031, Japan
Opening hours : Halloween decorations from October 10 to 31, 8am to 10pm
Price : adults 6,900 yen ($61), 12-17 years 6,000 yen ($53), 4-11 years: 4,500 yen ($40)
Access : Maihama station (JR Joban, Keiyo and Musashino lines)
Halloween Parades
Although in Japan Halloween parades are mainly reserved for adults, this doesn't prevent youngsters from having their own parades too. Many neighborhoods and major retailers organize events every year in October where young children can also participate.
Where?
Tamagawa Halloween Festival : On October 27, the Takagiyama Tamagawa Takashiyama shopping center organizes a parade where parents and children are invited to participate. Festival-goers are able to take pictures with the mascots of the day, and a stamp rally is organized throughout the building to try to win prizes sweeter than the others! May the best win!
Event Information
Address : 3Chome-17-1 Tamagawa, Setagaya, Tokyo 158-8701
Date and Time : October 27, registration for the hunt is between 10:15 and 10:45, start of the hunt at 11am
Price : the festival is free, but it's 500 yen ($4.50) to participate in the stamp hunt.
Access : Futako-Tamagawa station (Tokyu-Den-Entoshi, Tokyu-Oimachi lines)
Roppongi Hills Happy Halloween : Roppongi Hills also offers kids and their parents the chance to celebrate Halloween on October 27th. This year's theme is film characters, and everyone is invited to parade through the streets of the neighborhood wearing the costume of their favorite movie hero.
Event Information
Address :6Chome-11-1 Roppongi, Minato, Tokyo 106-6108
Date and Time : October 27, from 10:30 to 13:30
Price : Free
Access : Roppongi station (Oedo, Hibiya lines)
Omotesando Halloween Pumpkin Parade : Reserved for children under 12 years old (accompanied by an adult), Omotesando's Halloween Parade attracts more than 1,000 participants every year. It's a good opportunity to dress up, and sticks to the American Halloween tradition in that there's a candy hunt, where participants storm the streets of the neighborhood to ask traders some treats.
Event Information
Address : Kuritsu Jingumae Elementary School, 6 Chome-30, Jingumae, Shibuya-ku, Tokyo 150-0001
Date and Time : October 28, from 12:30 to 15:30
Price : Free
Access : Meiji-Jingumae Harajuku station (Chiyoda, Fukutoshin) or Omotesando station (Ginza, Chiyoda and Hanzomon lines)
Kawasaki Halloween Parade : the Kawasaki parade attracts many festivalgoers every year. Children are obviously welcome and a 'best costume' contest even offers prizes like 100,000 yen ($885) or a trip for two to Italy! The theme chosen for this year's parade is the Star Wars universe, so grab your lightsabers!
Event Information
Address : in front of the DICE store in La Citta Della shopping center, 4-1 Ogawacho, Kawasaki, Kanagawa 210-0023
Date and Time : October 27, 3 candy hunt sessions: 12:00-12:30 (registration from 10:30 to 12:30), 13:30-14:00 (registration from 12:00 to 13:00), 15:00-15:30 (registration from 13:30 to 14:30)
Price : 1500 yen ($13) per adult
Access : Kawasaki Station (Keintohoku, Nambu, Tokaido lines)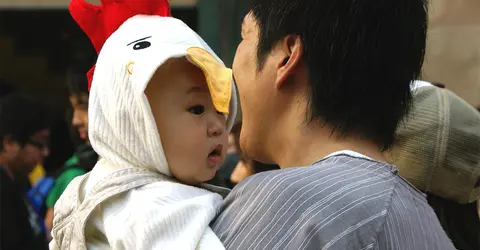 Family Activities
UFO Catcher :UFO Catchers are a real institution in Japan. Offering the chance to win stuffed toys, sweets, collectable figurines, and goodies of all kinds, these huge claw machines can be a goldmine for the most skilled players. And especially at Halloween, when new seasonal products and toys emerge in the game centers. Found throughout Japan, UFO Catchers are definitely something fun to try with family during a visit to Japan in October!
SunshineCity : From October 18th to 31st, Ikebukuro's Sunshine City lives and breathes all things Halloween. Most of the mall's restaurants offer horror-themed menus to mark the occasion, and many stores such as the Pokémon Center or J-World Tokyo sell limited edition Halloween-themed goodies. Also note that the Sunshine Aquarium remains open a little later than usual, to allow visitors to admire the beauty of marine wildlife at night.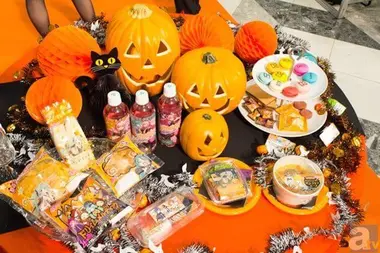 Information
Address : 3-1 Higashiikebukuro, Toshima-ku, Tokyo 170-0013
Opening hours : 10:00 - 20:00
Access : Ikebukuro station (Yamanote, Seibu-Ikebukuro, Saikyo, Marunochi lines)
Themed cafes
Playful and delicious, a lunch break at a theme cafe is always appreciated during a family outing to Japan. And especially during the Halloween period, where special dishes more colorful than the others appear on the coffee shop menus.
Related : 5 themed restaurants in Tokyo
Where?
The Kawaii Monster Café : With such a concept, the Harajuku Kawaii Monster Cafe couldn't miss out on Halloween! A great time to experiment with new recipes, the 'horror party' is particularly popular with cafe guests, as the chefs come up with spooky creations like zombie koala burgers and red fruit bat desserts...
Information
Address :150-0001Tokyo-to, Shibuya-ku, Jingumae, 4 Chome−31−10 YM Square 4F
Hours : Special menu until 31 October, open 11:30-16:30, 18:00-22:30
Access : Harajuku station (Yamanote line)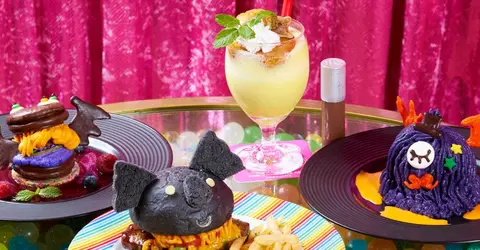 The Pokémon Cafe : Until October 31, Nihonbashi's Pokémon Cafe is offering a special Halloween-themed menu. Ghost Pokémon hamburgers, Pikachu chestnut lattes... the month of October offers diners the chance to discover new specialties, each cuter than the last! A delight for young and old alike.
Information
Address :NihonbashiTakashimaya S.C East Bldg 5F, 2-11-2 Nihonbashi, Chuo-ku
Opening hours : Special menu until October 31st, open 10:30-22:00
Access : Nihonbashi station (Ginza, Tozai,Asakusa lines)
All the themes of the city