The Suigosai fireworks in Matsue
松江水郷祭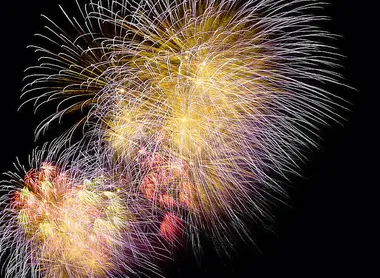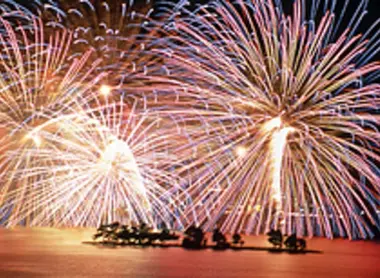 The city of water with a flamboyant spectacle
Fireworks, or hanabi, are absolutely unmissable when spending a summer in Japan. They are very popular: some Japanese are even starting to reserve places in the morning for the evening itself!
The Suigosai of Matsue , which takes place the last weekend of July or the first weekend of August, is one of those extraordinary fireworks that make the crowds move: it is also the biggest fireworks from western Japan.
Fire flowers on Lake Shinji
The matsuri , or festival, Suigosai takes place over three days, with one hanabi per day, after dark. Last year, more than 10,000 fires were set off in just one evening : get ready to be amazed! The fires are fired from the surface of the water of the imposing Lake Shinji (79 square kilometers), a particularly technical exercise. In addition, the lights are not only sent vertically but in all directions. The colors and lights are reflected in the water of the lake and are thus multiplied, for an ever more grandiose spectacle.
The show must go on
If the hanabi itself lasts between an hour and an hour and a half, it does not mean that the evening is over! It's up to you to stroll between the various Japanese street-food stands : yakitori , okonomiyaki , yakisoba are waiting for you! Likewise, you will find plenty of things to quench your thirst. You will therefore be sated and you will be able to spend the rest of the festivities in peace: concerts and traditional dances follow one another until late in the evening . In fact, if hanabi are so popular in Japan, it is because they are an opportunity to celebrate Japanese traditions. You can also admire the style of the inhabitants of Matsue dressed in their most beautiful yukata (summer kimono) and jimbei .
The city of Matsue is punctuated by events throughout the year, but the Suigosai remains the most important: book your accommodation relatively in advance to avoid disappointment.
---
Address, timetable & access
Address

Timetable

Matsue-Shinjiko-Onsen Station (Ichibata-Densha-Kita-Matsue Line)25 minutes walk from Matsue Station (San-in and Yakumo lines)

Price

Free

Access

last weekend of July or first weekend of August (from August 3 to 5 in 2018)

Website

https://www.visit-matsue.com/
All the themes of the city