Michelin Guide Japan
Michelin Japan Guide to Tokyo, Kyoto & Osaka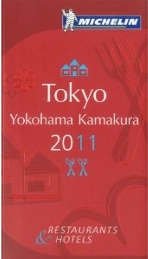 The Michelin Guide has arrived in Japan.
Michelin first covered Tokyo, or actually a narrow slice of central Tokyo, in 2007. The results stunned France, and particularly Paris, as Tokyo became the city with the greatest number of three-star restaurants in the world.
The current ranking has Tokyo at number one with a total of fourteen, Paris sulking in second place with ten, and Kyoto in third with six. New York has four three-star restaurants, and London but one.
The rankings - and the Guide itself - have of course not been without controversy.
In Tokyo, some establishments banned reviewers from eating at their restaurants. This was mainly because, in the first few years, there were no Japanese reviewers. (In the latest edition, that problem has been rectified.)
In Kyoto many wrote off the entire work as a misinformed exercise conducted by "experts" completely ignorant of the city's ancient culinary traditions.
Many op-ed pieces burned through the pages of the Kyoto Shinbun.
Still, Japanese are as susceptible to rankings and PR as the next people - and the Guides have sold well.
Below are the three-star restaurants in Tokyo, Kyoto, and Osaka.
Tokyo has a great variety - sushi, French, traditional Japanese - while Kyoto leans heavily towards kaiseki ryori, the cuisine that was born in the city.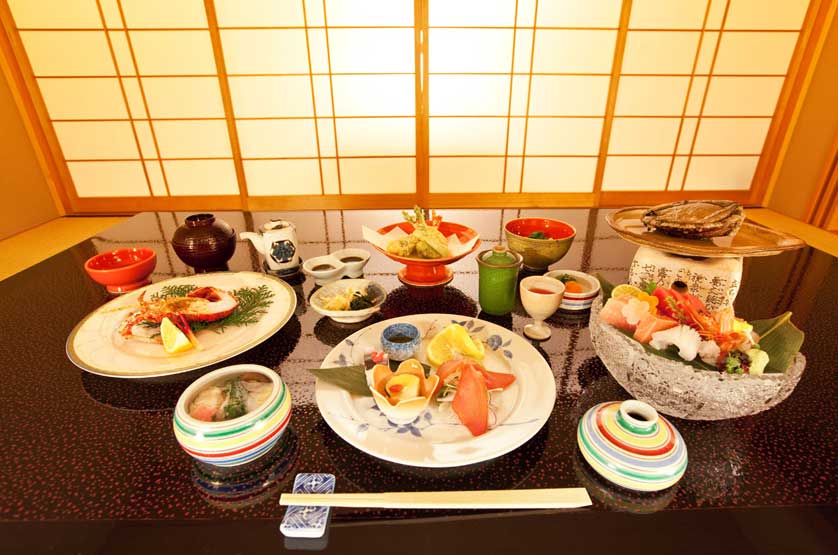 Three Star Restaurants in Tokyo
Esaki - is a nouveau Japanese cuisine restaurant in Tokyo's Gaien-mae district.
Ishikawa - Ishikawa is a small, traditional restaurant serving traditional Japanese kaiseki cuisine, located in the restaurant-rich Kagurazaka area of Tokyo.
Joel Robuchon Restaurant - Joel Robuchon Restaurant is a modern French restaurant featuring cuisine actuelle in Tokyo's Ebisu district.
Kanda - Kanda is a restaurant serving Japanese cuisine in Tokyo's Moto-Azabu district, not far from Roppongi.
Ginza Koju - Ginza Koju in Tokyo's Ginza district is a small kaiseki restaurant tucked in an alley behind the Nikko Hotel.
Restaurant Quintessence - Restaurant Quintessence is a modern French restaurant in Tokyo's Shirokanedai district.
Sukiyabashi Jiro Honten - Sukiyabashi Jiro Honten is a sushi restaurant in Ginza that also has a branch in Roppongi.
Sushi Mizutani - Sushi Mizutani is a very small, simple sushi restaurant in Tokyo's Ginza district, run by the friendly and hospitable owner-chef Hachiro Mizutani, his wife, and an assistant.
Sushi Saito - Sushi Saito is a small, clean, cheerful sushi restaurant presided over by the charming owner-chef, Saito-san, located in Tokyo's Akasaka district, in the Ark Hills South Tower.
Yukimura - Yukimura is a small establishment in Tokyo's Azabujuban district that serves Kyoto kaiseki cuisine. It is tucked away on the third floor of an unremarkable building and can be very difficult to find.
Araki - Araki was a sushi restaurant in Tokyo's Higashi-Ginza district, run by owner-chef Mitsuhiro Araki, that has relocated to London.
Usukifugu Yamadaya - Usukifugu Yamadaya is a fugu (blowfish, pufferfish) restaurant in Tokyo's Nishi-Azabu district that has been serving fugu dishes since 2007.
7-chome Kyoboshi - 7-chome Kyoboshi (pronounced "nana chomeh kyoboshi") is a tempura restaurant in Tokyo's Ginza district.
Genyadana Hamadaya - Genyadana Hamadaya is a large restaurant serving traditional Japanese cuisine from Japan's Kansai area, located in Tokyo's Nihonbashi district.
Three Star Restaurants in Kyoto
Kikunoi Honten - Japanese style restaurant located between Maruyama Park and Kodaiji Temple.
Kitcho Arashiyama Honten - Kaiseki style restaurant along the Katsura River in Arashiyama. Founded in 1948.
Chihana - Kaiseki style (itamae kappo = chef's cuisine) restaurant founded in 1946 in Gion a short walk from the Shijo Bridge.
Tsuruya - Kaiseki style restaurant in the Okazaki area of Kyoto. Founded in 1908 (though the Okazaki site dates from 1928).
Hyotei - Kaiseki style restaurant just south of Kyoto Zoo in the Okazaki area. Over 400 years old.
Mizai - Kaiseki style restaurant located in Maruyama Koen in Gion.
Three Star Restaurants in Osaka
Hajime - Former computer programmer turned chef Hajime Yoneda is the talk of Osaka as he garnered Japan's second city's lone three-star designation. On the Yotsubashi subway Line close to City Hall.
Read about the Michelin Guide's reviews of some of Japan's best restaurants. Tokyo, Kyoto, and Osaka all have three-star rated restaurants.
All the themes of the city