Sukiyabashi Jiro Honten
Read a guide to Sukiyabashi Jiro Honten. Sukibayashi Jiro Honten is a sushi restaurant in Tokyo that won three stars from the Michelin Guide.
Michelin Three Stars: Sukiyabashi Jiro Honten すきやばし 次郎
Reviewed by Lukas Kratochvil
Sukiyabashi Jiro Honten is the honten (main branch), in Ginza, of a restaurant that also has (an inferior) branch in Roppongi, run by the son of the owner of the main branch. The Roppongi branch accepts non-Japanese speakers, but the Ginza branch does not.
The owner of Sukiyabashi Jiro Honten, Jiro Ono, was born before World War Two in the Taisho Period of Japanese history, making him one of the great-grandfathers of the sushi scene in Tokyo. He has been officially dubbed a "national living treasure" for his work on behalf of Japanese cuisine.
A trademark of Ono's sushi making is his practice of cooking sushi rice during serving hours: three times in one evening - a practice that is practically unheard of in mainstream establishments. This is done in a traditional iron pot over a flame, eschewing automatic, electric alternatives.
Compared with cooked food, raw food such as sushi somewhat limits what one can say about it, besides comparing it with sushi one has eaten elsewhere; and the general consensus is that Sukiyabashi Jiro Honten is not as good as, say, Sushi Mizutani.
Sukibayashi Jiro Honten makes Japanese language ability a prerequisite to dining there. However, good service is by no means guaranteed if you are a foreigner fluent in Japanese. If you think it worth it, go with a Japanese national who looks Japanese.
There are better sushi places.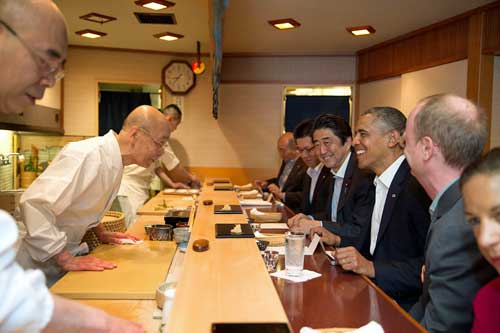 US President Barack Obama and Japanese Prime Minister Shinzo Abe dining at Sukiyabashi

Sukiyabashi Jiro Honten cost per person
Lunch: 30,000 yen +Dinner: 30,000 yen +
Sukiyabashi Jiro Honten Hours
11.30am-2pm and 5pm-8.30pm Mon-Fri11.30am-2pm Sat
Closed Sundays and public holidays
Sukibayashi Jiro Honten Access
B1F, Tsukamoto Building4-2-15 Ginza
Chuo-ku, Tokyo東京都中央区銀座4-2-15 塚本ビル B1F
Tel. 03-3535-3600
Sukibayashi Jiro Roppongi Branch Access
6-12-2 Roppongi, Roppongi Hills Keyakizaka-dori 3F, Minato-ku, TokyoTel: 03-5413-6626
1. reservations for Sukibayashi Roppongi branch are accepted only from a month before
2. they have to be done via the concierge of the hotel the guest is staying in
More Tokyo restaurant reviews by Lukas Kratochvil.
All the themes of the city