Your Name, by Makoto Shinkai
君の名は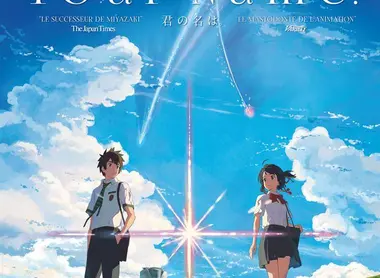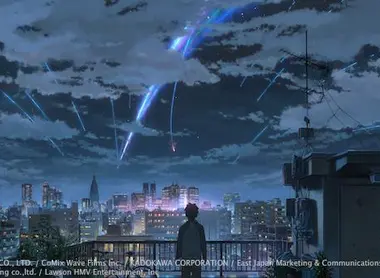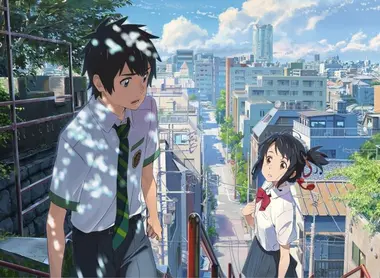 The anime film phenomenon of 2016
The biggest success of the Japanese box office in 2016, Your Name tells the story of an impossible love between two teenagers. This is the fourth feature film by Makoto Shinkai, the leader of a new generation of Japanese animators.
It didn't dethrone Spirited Away, which grossed 30.4 billion yen in Japan, but the film Your Name (君の名は 'Kimi no Na Wa' in Japanese) was nonetheless a real phenomenon. Released in August 2016 in Japan, Makoto Shinkai's animated film grossed 23 billion yen (~US$190 million) in Japan, becoming the first film not produced by Studio Ghibli to exceed 10 billion yen in revenue.
Synopsis
The two protagonists of the film are Mitsuha, a teenage girl in rural Gifu prefecture and Taki, a high school student in Tokyo. Mitsuha, from the Takayama region, dreams of a busy life away from her tradition village while Taki juggles classes, his job and his group of friends. But their destinies are linked when, after the passage of a strange comet, each teen wakes up trapped in the body of the other. To meet, Mitsuha and Taki will have to defy the laws of time and space, and try to prevent an impending disaster...
The director's passions
Makoto Shinkai, self-taught and a great admirer of Hayao Miyazaki, explores themes already explored in his previous films: exchanges between parallel universes (The Place Promised in our Early Days), love at a distance (5 Centimeters per Second), the quest for loved ones or the beauty of nature (Children Who Chase Lost Voices), an omnipresent theme in Ghibli movies too, inherited from Shintoism.
Read also: Shintoism
More than a high school romance
Passionate about adolescence, its anxieties and questions, Makoto Shinkai introduces two protagonists in contemporary Japan who young audiences can easily identify with. But the success of Your Name isn't just that of a simple romantic comedy. Faithful to manga culture, the story leads its heroes, through these recurring journeys through time, on a voyage of discovery that allows them to reveal themselves.
The shadow of Fukushima
A more serious and melancholy tone is added to the humor and lightness of certain sequences. Mitsuha and Taki live under the threat of a natural disaster - a village may be completely destroyed by a comet - which is reminiscent of the 2011 earthquake and tsunami.
A marketing success
The soundtrack of Your Name also explains the film's success with the Japanese public. The music composition was entrusted to the hit J-rock group Radwimps, and the album quickly rose to the top of the charts.
In addition, Makoto Shinkai was careful to publish, two months before the release of the film, the novel from his own scenario. An English release was licensed on May 23, 2017.
All the themes of the city