Kagoshima Airport
Kagoshima Airport (KOJ) is the second busiest airport in Kyushu after Fukuoka and has flights to Tokyo, Osaka, Nagoya as well as international flights to China and South Korea.
Kagoshima Airport Arrival & Departure Information 鹿児島空港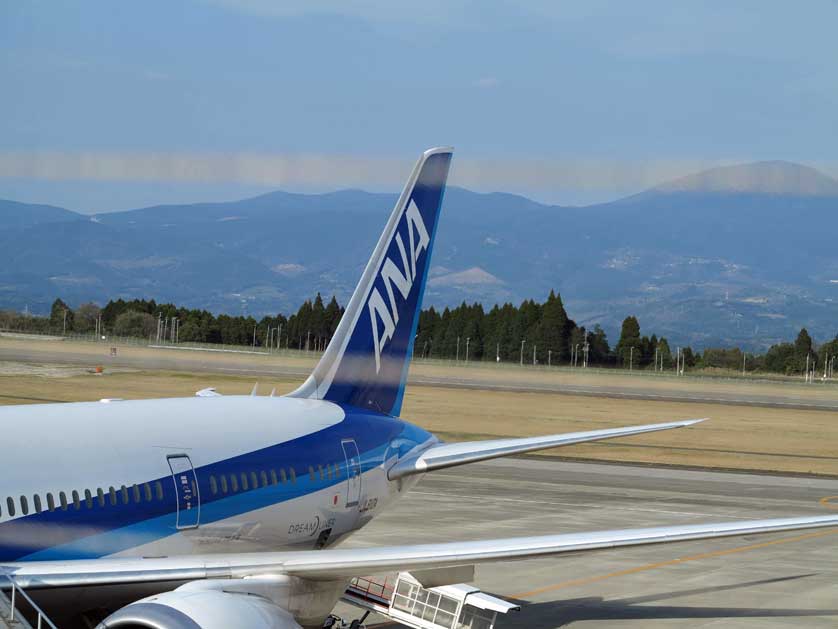 Kagoshima Airport (KOJ) is the second busiest airport in Kyushu after Fukuoka Airport in Fukuoka.
Flights
Kagoshima Airport has flights to many other domestic airports in Japan including Haneda, Narita, Itami (Osaka), KIX (Kansai International Airport), Fukuoka and Chubu International Airport (Centrair).
There are also flights to the more regional airports of Kobe, Naha (Okinawa), Shizuoka and Matsuyama. There are also connections to the island airports of Amami Oshima, Tokunoshima, Kikai, Okinoerabu, Tanegashima Airport in Tanegashima, Yakushima and Yoronjima.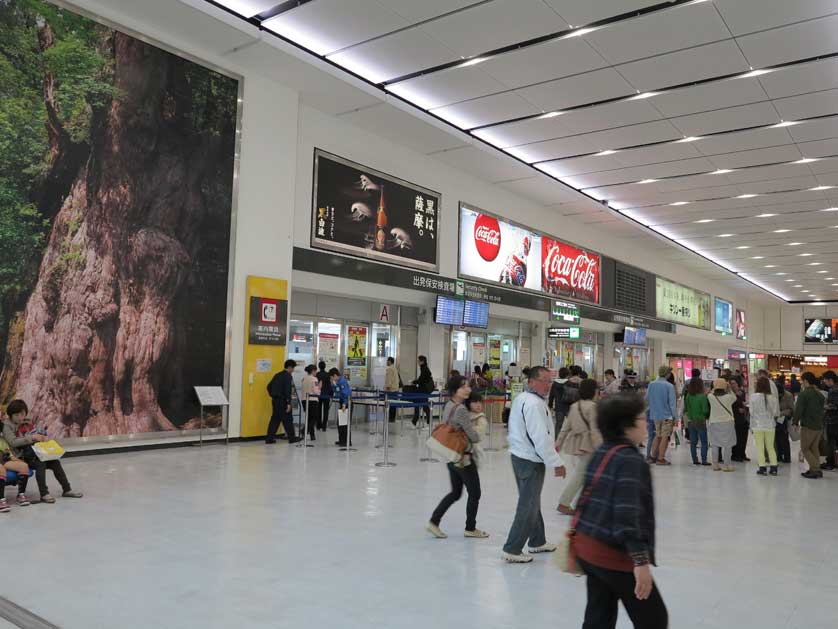 Kagoshima Airport Departures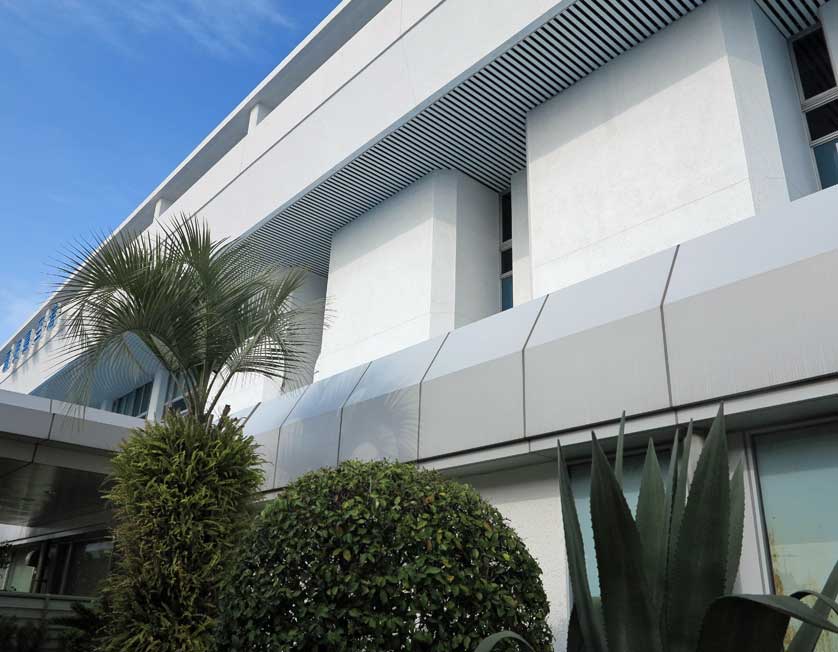 Kagoshima Airport Terminal Building
Kagoshima Airport has a number of international flights to China (Shanghai, Hong Kong), Taiwan and South Korea (Daegu, Seoul).
Access
There are local buses from Kagoshima Airport to Kagoshima-Chuo Station in central Kagoshima that take about 40 minutes and cost 1,250 yen. The airport is about 30 km outside the city near Kirishima, the mountains of which can be seen from the runway.
There are long distance buses to Akune, Ebino, Fukuoka, Ibusuki, Izumi, Kokubu, Kumamoto, Makurazaki, Minamata, Miyazaki, Shibushi, Yatsushiro and Yunomoto.
Some prices include 2,900 yen single to Fukuoka with JR Kyushu Bus, Kumamoto 6,110 yen with Kagoshima Kotsu and Miyazaki 2780 yen with Miyazaki Kotsu.
There are plentiful taxis at the airport along with car hire offices. The fare for a ride to downtown Kagoshima would be around 11,000 yen.
Facilities
Kagoshima Airport has a bank, a Tourist Information Office, a post office, coin lockers, JAL and ANA Lounges and WiFi available throughout the terminals SSID:Kagoshima-Airport_Wi-Fi.
There are also several stores including a convenience store and places to buy local Kagoshima Prefecture souvenirs (Chiran tea, Satsuma sweet potatoes, shochu, Satsuma-age fried fish cakes etc.) There is also a choice of restaurants and even a food court with izakaya serving Tonkotsu pork ramen, Kagoshima Berkshire pork etc.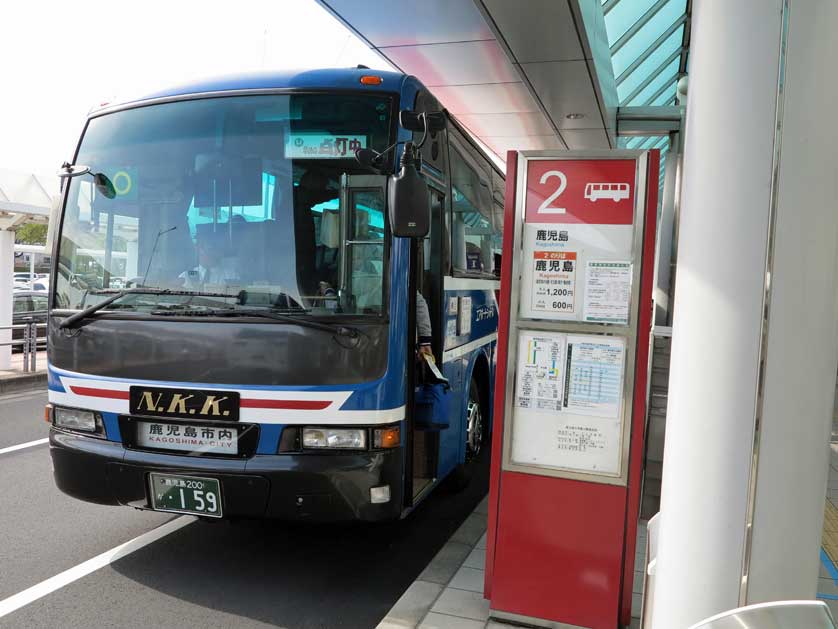 Bus to downtown Kagoshima at Kagoshima Airport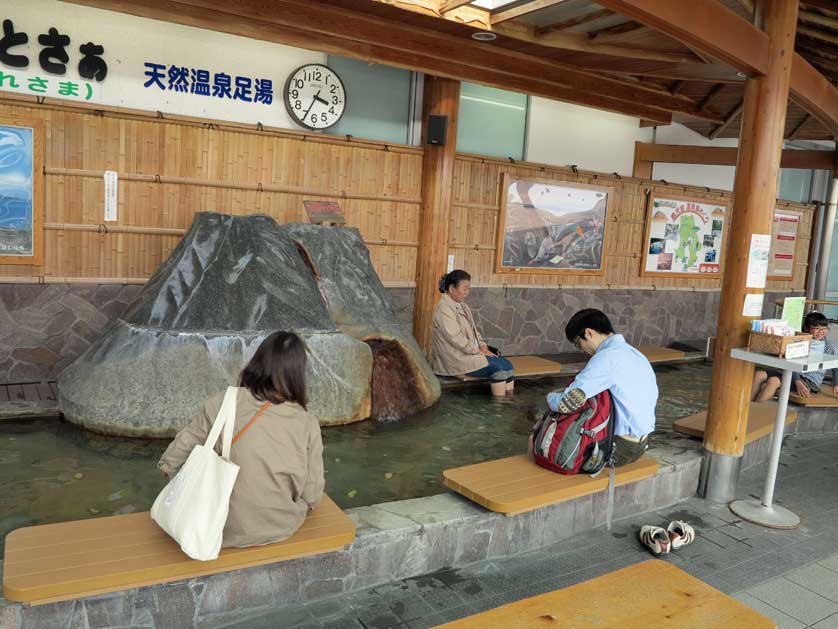 "Oyattosa" Footbath outside Kagoshima Airport
Kagoshima Airport Arrivals & Departures
Flight information is provided by FlightStats, and is subject to the FlightStats Terms of Use.
All the themes of the city