Shitenno Four Heavenly Kings
Shitenno, the Four Heavenly Kings, are deva (tenbu) and protectors of Buddha deities. They are Jikokuten, Tamonten, Zochoten and Komokuten.
Shitenno, the Four Heavenly Kings, Protectors of Temples 四天王
Jake Davies
While visiting Buddhist temples in Japan in Japan you will come across a vast and often bewildering variety of statues.
They represent what seems to be countless numbers of deities, many of which, like the Shitenno, appear quite ferocious and different than one might expect in a Buddhist setting.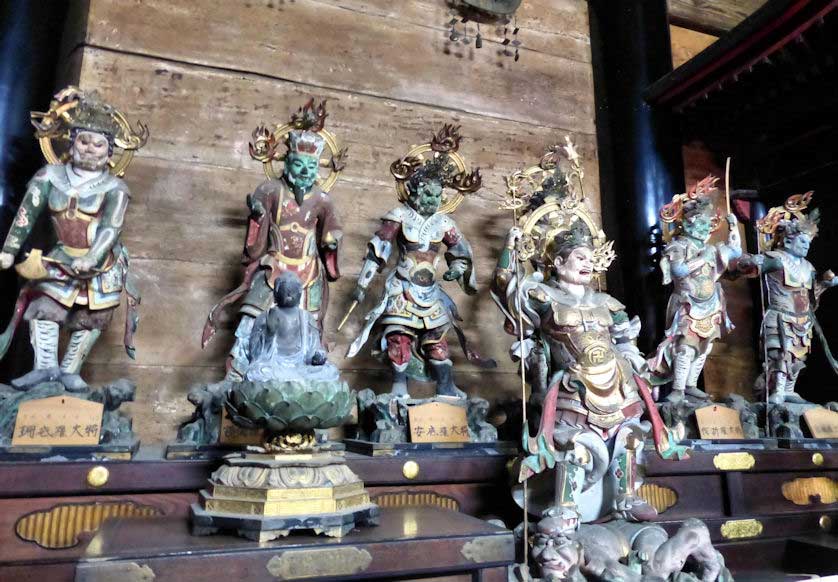 Tenbu, or Deva, are groups of celestial protectors in Buddhism including Shitenno, the Four Heavenly Kings. Pictured here are some of the Jyunishinsho, the 12 protectors of Yakushu Nyorai the Medicine Buddha. To an untrained eye they are indistinguishable from the Shitenno. Photo taken at Kinugasayama Kuwanomi Temple near Omihachiman, Shiga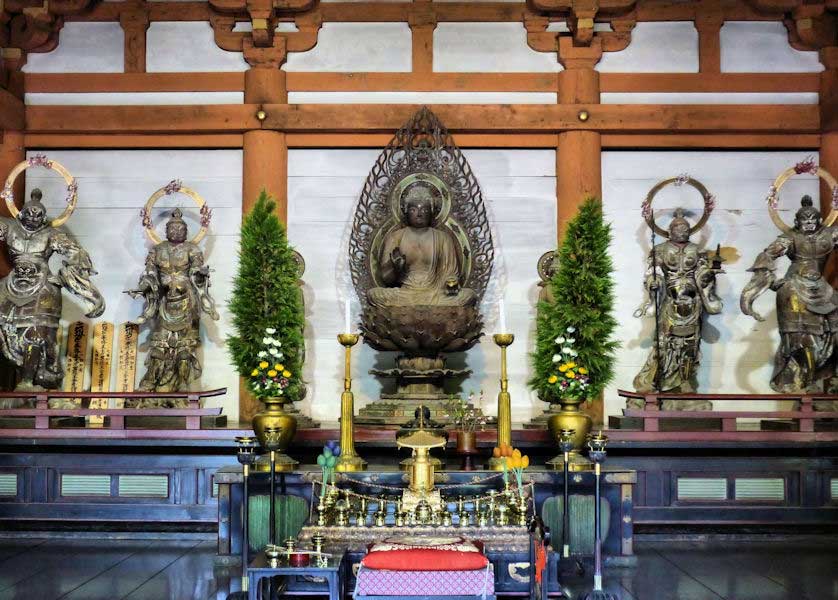 The four Shitenno flanking a Buddha statue at Daigoji Temple near Kyoto
Buddhist Hierarchy
Within the realm of Japanese Buddhism there is a hierarchy of beings, at the top of which are the Buddhas. Not just the historical Buddha, as many would expect, but a variety of Buddhas such as Amida, Yakushi, Dainichi, etc.
Next come the Bodhisattvas, Bosatsu in Japanese, among which are the many varieties of Kannon, and Jizo, both extremely popular and common in Japan.
At the third level are the Wisdom Kings, Myo-o in Japanese. A usually fierce looking group that are headed by Fudo Myo-o, a fanged being usually surrounded by flames and holding a sword and rope. Fudo statues are very, very common throughout Japan.
The fourth group includes the Shitenno, and are called Deva, Tenbu in Japanese. These along with the Shitenno include the Nio guardians as well as the Seven Lucky Gods: Hotei, Fukurokuji, Jurojin, Ebisu, Daikoku, Benzaiten and Bishamonten.
The Deva were originally Hindu deities from India and beings that have been incorporated into Buddhism. They function primarily as protectors of Buddhist Law as well as of Buddhas and temples.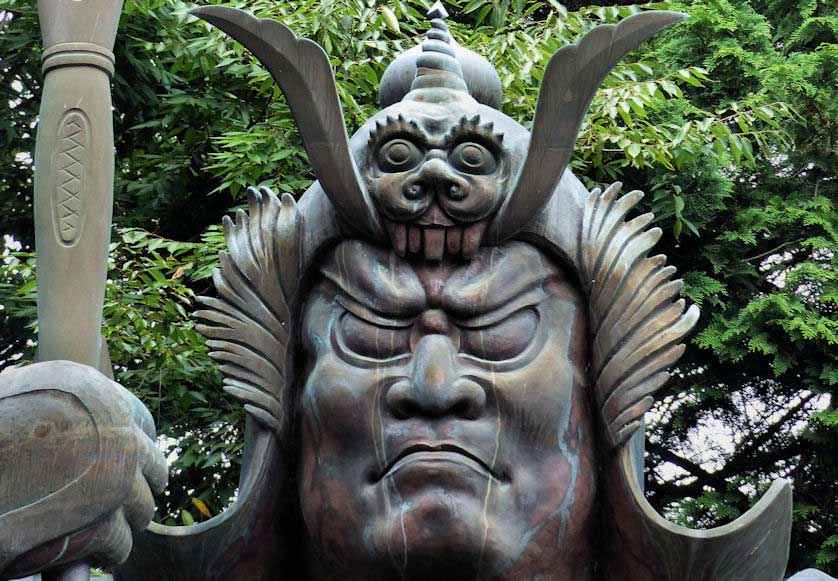 The head of Bishamonten on a large statue at Anyoji, a temple dedicated to him near Kurashiki in Okayama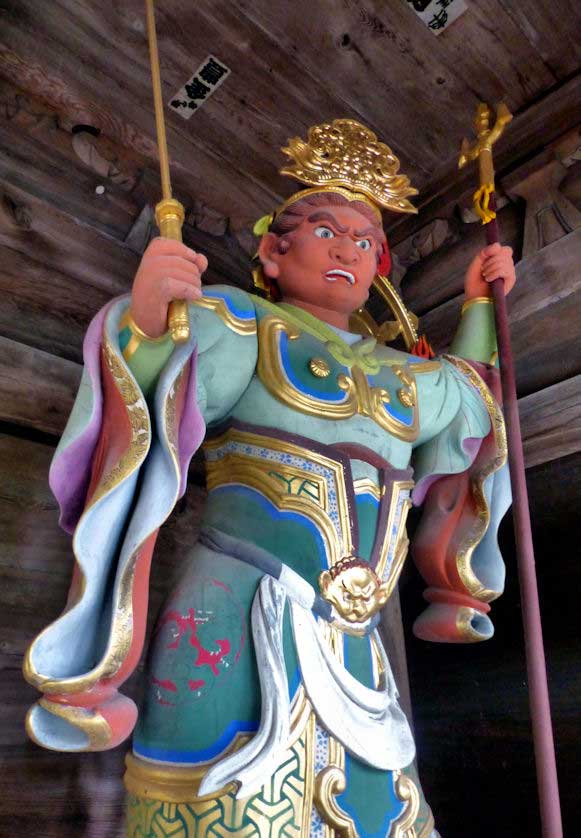 A brightly painted Shitenno, probably Jikokuten, in the gate at Kumadaniji

History
The Shitenno have been in Japanese Buddhism since the earliest days. In fact one of the oldest temples in Japan, Shitennoji in the Tennoji district of southern Osaka, founded in 593, was dedicated to and named after the Shitenno.
They are almost always depicted wearing armor and holding weapons, and are sometimes referred to as Generals. They will sometimes be found in the four corners of a temple's main altar. Lined up alongside other deities flanking the temples main statue is also quite common.
Sometimes Shitenno will be found in the main gate of a temple, two in the front bays and the other two in the inner bays. Often a temple's museum or treasure house will have historical examples, and at times just a single statue can be found.
The most famous examples of Shitenno statues, many of which are registered as National Treasures, can be found at Horyuji Temple, Taimadera Temple, and Kofukuji Temple, all in Nara, as well as at Toji Temple in Kyoto.
The most common attributes of the Shitenno in Japan are as follows, though there are variations and so are not absolute.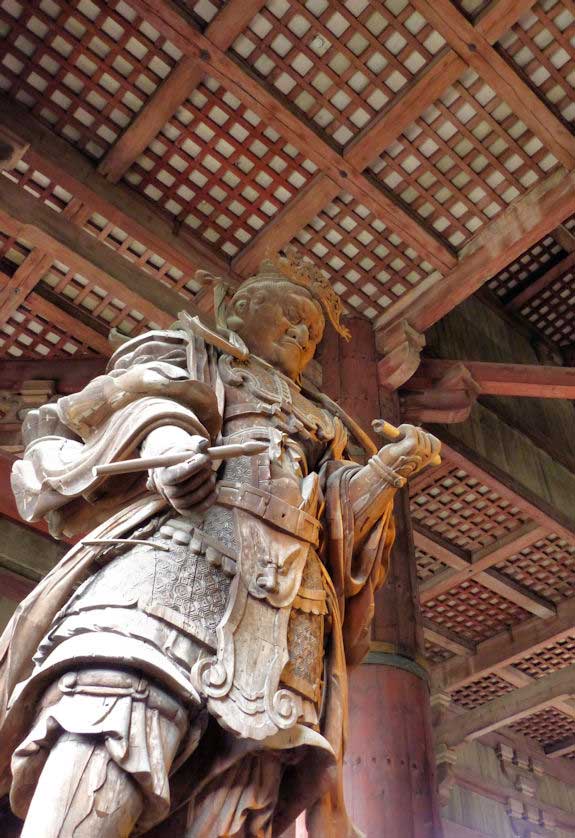 Guarding the Great Buddha at Todaiji in Nara, Komokuten is one of only two Shitenno statues completed there. The heads of the other two are also on display

Tamonten
Often known also as Bishamonten, Tamonten is probably the best known of the Shitenno and the one that you are likely to find without the other three.
Sometimes called a God of War, he was to a certain extent adopted by samurai. Guardian of the North, his associated element is Earth, and the color white.
His season is winter. All-knowing and all-hearing, Tamonten is associated with wealth, and is usually depicted with a small stupa (pagoda) in one hand.
Jikokuten
The name means Guardian of the Nation, and he usually carries a sword and a staff. He guards the east and his element is water. Associated with strength his color is either blue or green and his season is spring.
Zochoten
Guarding the south, Zochoten is associated with both prosperity and spiritual growth. His season is summer, color is red, and his element is fire. Usually depicted with one hand resting on his hip and the other holding a pole weapon.
Komokuten
Guardian of the west, he sees all and sees through evil. Komokuten is usually depicted carrying a scroll and a brush. His season is the autumn, his color white and element metal.
The Shitenno are usually depicted stepping on small demon-like creatures called Jaki or Jyaki. This represents their suppression of evil.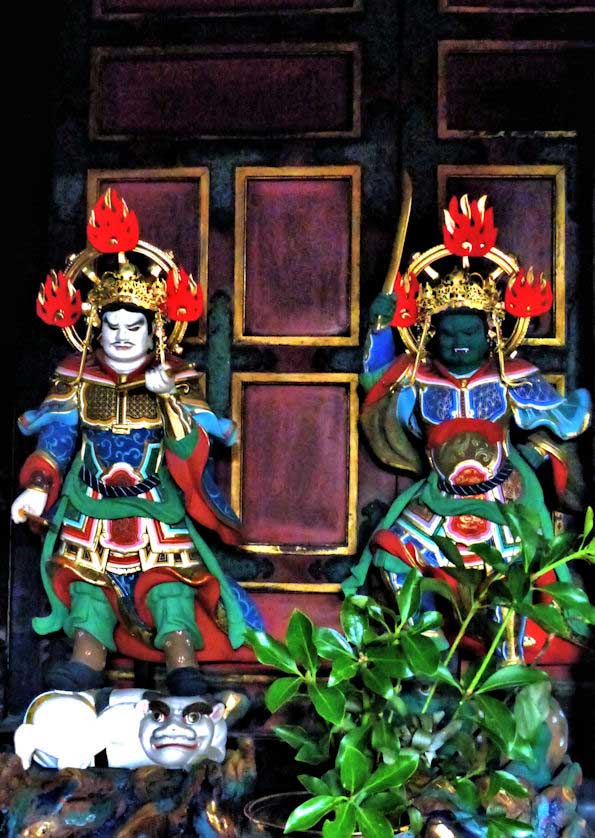 A pair of Shitenno on display at Kegonji Temple in Gifu, the final temple of the Saigoku Kannon Pilgrimage
Taishakuten
Finally, mention must be made of a fifth member of the group, Taishakuten. His direction is the center and he is the commander of the four Shitenno, though statues of him are quite rare.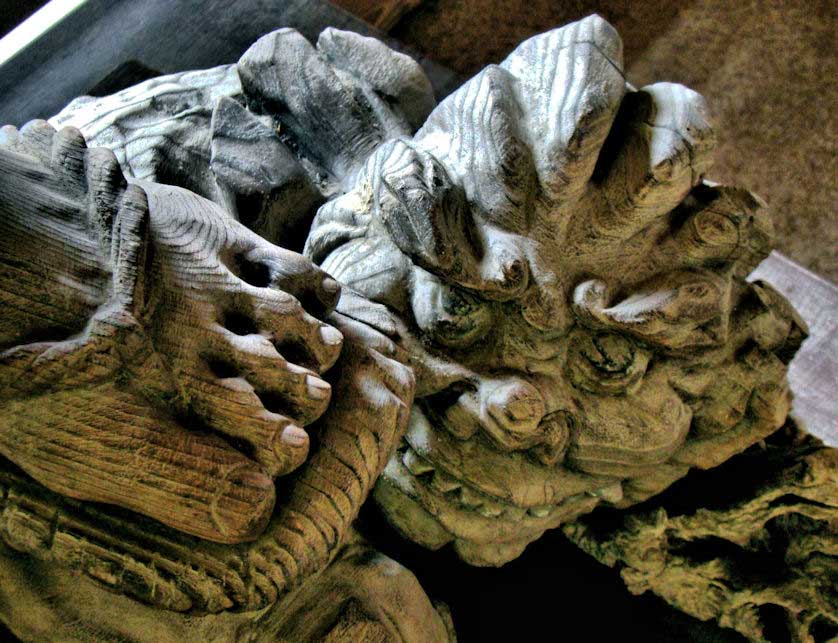 Shitenno are usually depicted standing on or stepping on small demonic creatures called Jyaki or Jaki

All the themes of the city