Sushi Dokoro Gou
鮨処 剛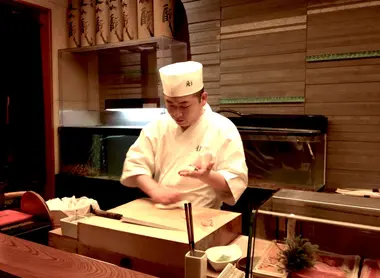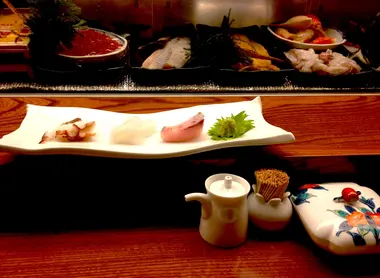 Fresh and refined
In a city that normally goes crazy for ramen noodles, Sushi Dokoro Gou offers some of the best sushi in Fukuoka in a chic and refined setting.
As is often the case with truly good sushi-ya (sushi restaurants), it's the counter that runs the show: the two head chefs of Gou snatch the wooden handles of knives adorning the walls and grab tuna, mackerel, octopus and squid, skilfully slicing them into pieces before placing them on top of lightly vinegared rice.
The evening menu (¥6,000 - ¥10,000 yen) also includes a sumptuous chawanmushi (steamed savory egg custard) topped with a shiso leaf (aromatic perilla leaves used in Japanese cooking for thousands of years), with white sesame seeds hidden in its depths. After raw fish comes the cooked fish: a head of grilled sea bream and kampachi (tropical goldfish).
Here, minimalism is a requirement. There are a dozen seats at the counter and a few private rooms in this modern, chic and sleek restaurant. Its almost entirely bare walls are decorated with scratches, and bottles of sake are on display behind the raw fish artists; nothing more. Add the kindness of the sushiya-san (sushi chefs) - with whom everybody exchanges a few friendly words with - and the quietly busy atmosphere of the early evening, and you'll get one of the best places to eat raw fish in Fukuoka.
---
Address, timetable & access
All the themes of the city