Dazaifu Guide
Dazaifu 太宰府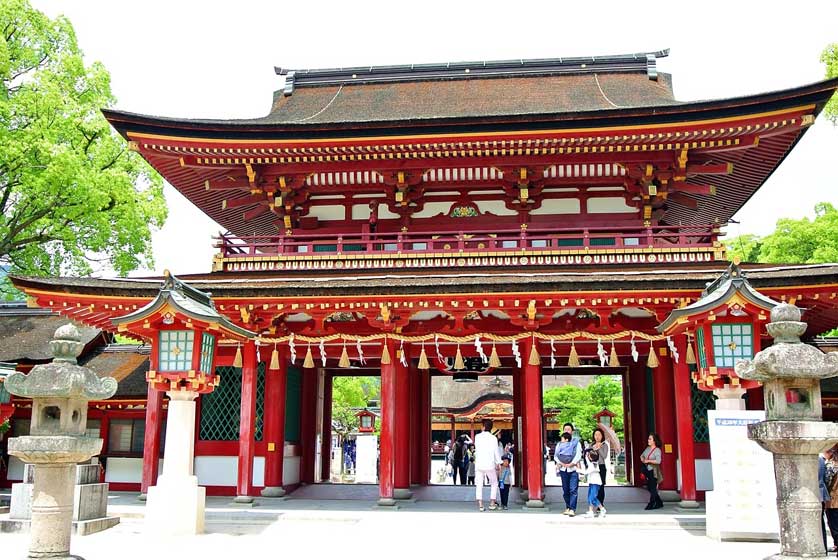 Tenmangu Shrine, Dazaifu, Fukuoka Prefecture
Peaceful temple town 15 km south east of Fukuoka.
Famed for its popular Tenmangu Shrine.
Historic "border" town as a crossroads of East Asia.
Easy day-trip from Fukuoka.
Population around 68,000.
Futsukaichi onsen nearby.
Dazaifu was once the seat of Yamato government for Kyushu back in the seventh and eighth centuries when the town was a center of defense from and trade with nearby Korea and China. Dazaifu's connections with both China and Korea were recognized by the staging of a trilateral summit between Japan, South Korea and China at the Kyushu National Museum here in 2008.
Nowadays Dazaifu is best-known for its Dazaifu Tenman-gu Shrine. Dazaifu Tenman-gu Shrine is Japan's number one shrine dedicated to Tenjin, the guardian deity of students. Tenjin, aka Sugawara-no-Michizane, was a ninth-century Heian Period scholar, calligrapher, poet and court official who was exiled from Kyoto in 901 to Dazaifu - at the very edge of the empire. He died here in misery, two years after his exile, in 903.
Things to see and do in Dazaifu
There are over 12,000 Tenmangu shrines in Japan, including Kitano Tenman-gu in Kyoto and Yushima Tenjin Shrine in Tokyo, though Dazaifu is considered the number one pilgrimage site for high school students hoping to pass university entrance exams, as the shrine is built on Michizane's grave and comes alive with cherry blossoms in spring, when the students come to pray for success and buy an ema (votive wooden board) to write their pleas for academic advancement.
There is a small museum at the north of the grounds depicting the life of Suguwara no Michizane in dolls (closed Tuesdays, except when Tuesday is a national holiday, then closed Wednesday) and the Treasure House is also open to visit.
Dazaifu Tenmangu Shrine is also known for its plum blossoms - supposedly Sugawara-no-Michizane's favorite flower, giant camphor trees and its festivals: on July 25 and September 25 the low key Sentomyo (Thousand Candle) Festival, September (Jinko Shiki) and January (Oni-sube) and the quirky Bullfinch Exchange Festival (Usokae) where wooden carvings of bullfinches are passed between the participants in the hope of receiving the golden bullfinch that the priest has introduced to the exchange. The game is also a play on the word uso - which is a shortened form of the word for bullfinch (kiuso) and also means to "tell a lie".
For information on Dazaifu Tenmangu Shrine in English visit www.dazaifutenmangu.or.jp/en.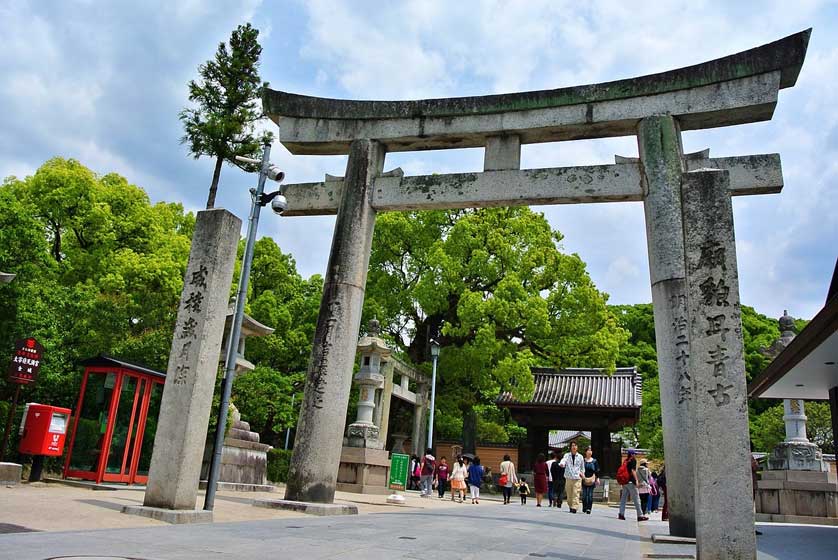 Tenmangu Shrine, Dazaifu, Fukuoka Prefecture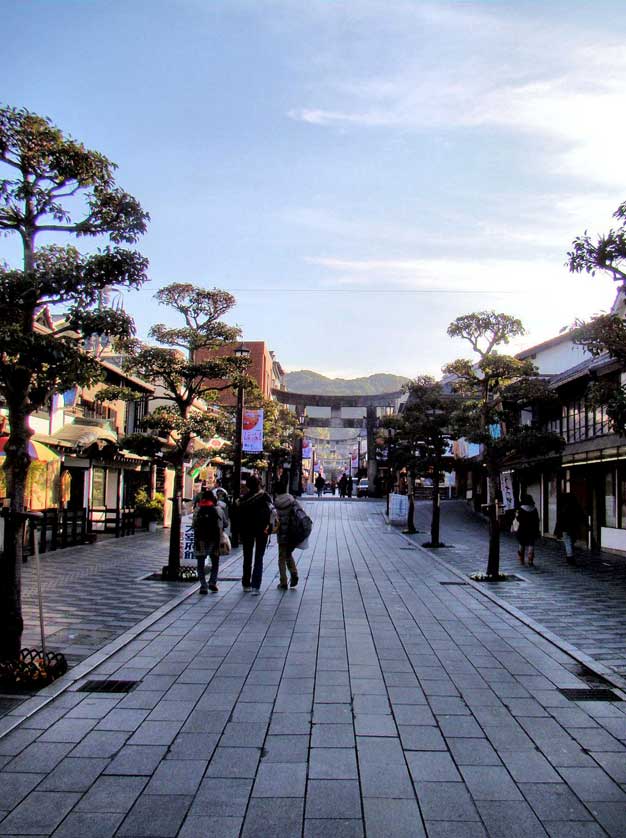 The approach to Tenmangu Shrine and torii at Dazaifu
A curved stone bridge (Taiko-bashi) leads to the shrine. The first steep incline represents the past, the flat top symbolizes the present, and a second more gentle rise represents future difficulties.
Through the main gate of Tenmangu Shrine lies the 16th century worship hall, with its splendid thatched roof.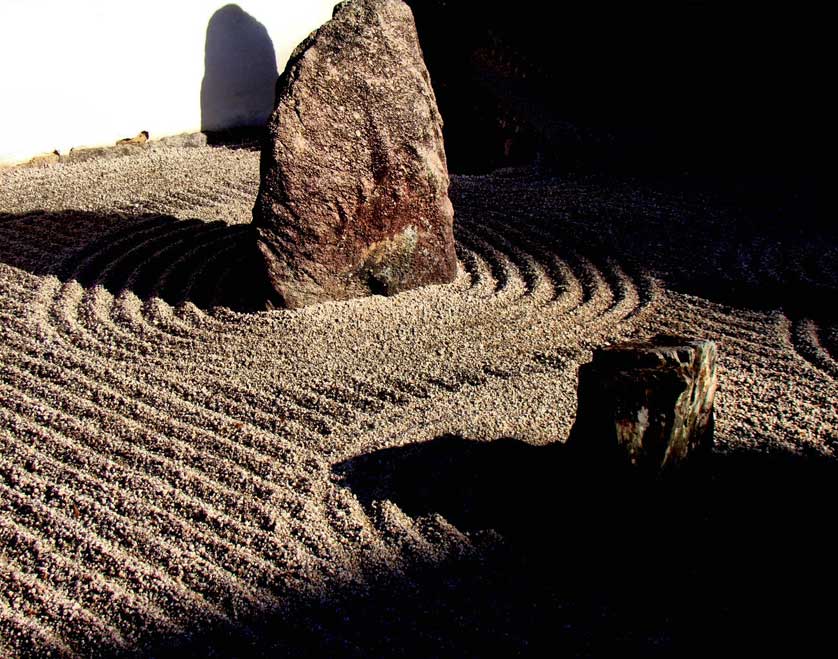 Komyozenji Temple's front garden is a dry stone Zen garden, the rocks of which spell out the character for light
Daizaifu Temples & Shrines
Dazaifu has other temples and places of interest: Komyozenji (光明禅寺) is a Rinzai Zen temple that dates from 1283 during the Kamakura Period (1192-1333) and is known for its beautiful stone gardens. Komyozenji was founded by the priest Tetsugyu Enshin, a nobleman of the Sugiwara clan who entered the priesthood in later life.
The front garden is a dry stone garden whereas the rear garden incorporates plants and moss along with the stones and gravel and Komyozenji's rear garden is noted for its autumn leaves. The stones in the front garden are arranged in the Chinese character for light (光).
The 8th century Kanzeonji, which appears in the The Tale Of Genji, was once Kyushu's largest temple. Only the bronze bell, the oldest such bell in Japan, and a number of amazing wooden statues remain from that period.
Nearby Kaidanin Hall (戒壇院) dates from the Nara Period and was one of only three ordination halls for Buddhist priests in Japan at that time, the others being the original Kaidan-in at Todaiji in Nara and Yakushiji in Tochigi. The temple holds a Heian Period statue of the Vairocana Buddha.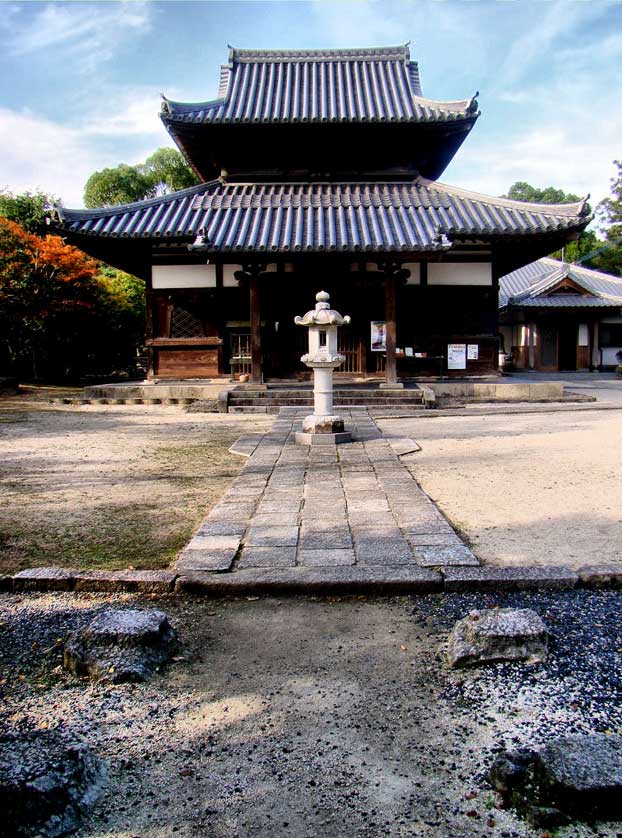 Kaidan-in Hall, Dazaifu, a Nara & Heian Period ordination hall for Buddhist priests
Dazaifu stood at Japan's frontier and gateway to Korea and China in the Nara and Heian periods and various defensive fortifications and walls remain from that time, including the sites of Ono Fortress and Mizuki Fortress for fans of archeology. The ancient center of Kyushu's government (Tofuro), located next to Kaidanin, is now in ruins, with only the huge foundation stones left standing to suggest its past glory.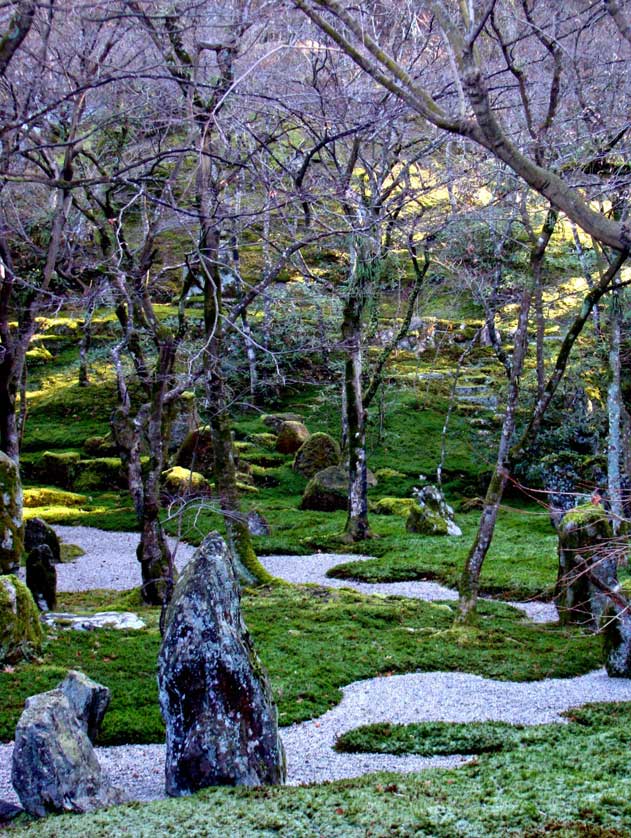 Komyozenji Temple's spectacular rear garden incorporates stones, gravel, moss and plants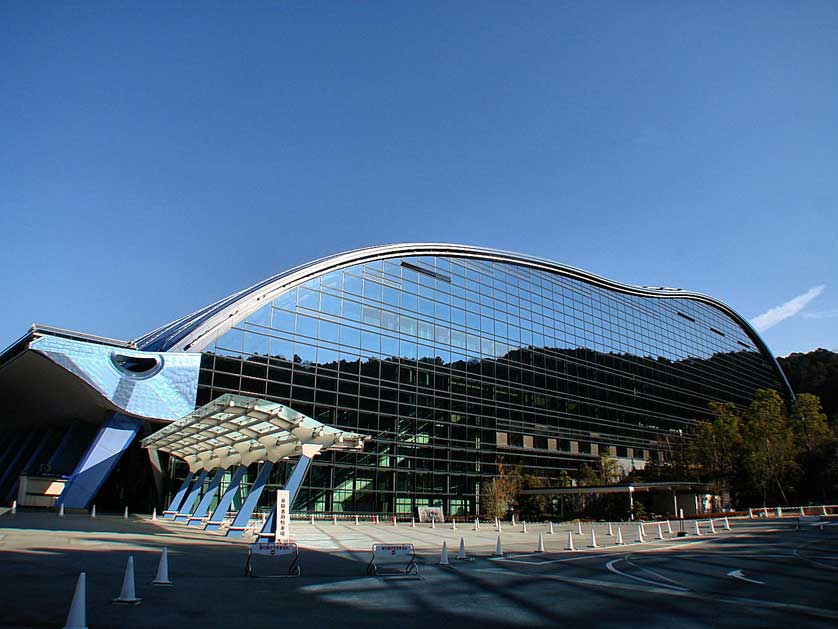 The striking modern architecture of Kyushu National Museum, Dazaifu
Dazaifu Museums
The striking wave-like, wood and glass Kyushu National Museum (Tel: 092 918 2807), designed by architect Kiyonori Kikutake (1928-2011) and opened in 2005, exhibits an excellent collection of ceramics and displays on the history of Kyushu and its role as an important Asian crossroads. One noteworthy exhibit are 75 finely drawn cards from the Edo Period depicting Chinese and Japanese customs.
The Dazaifu History Museum (Tel: 092 923 0404) has displays from excavations of the Jomon and Yayoi periods of early Japanese history from sites around Dazaifu.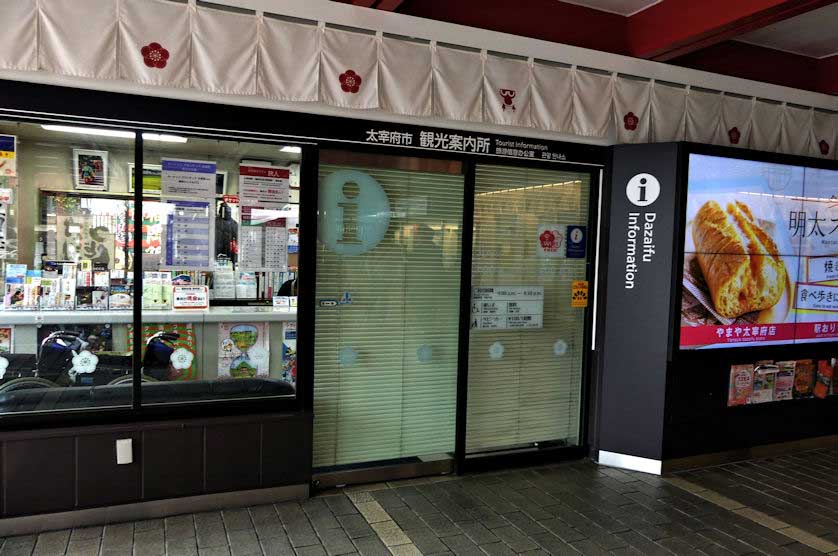 Tourist Information Office
Dazaifu Tourist Office (Tel: 092 925 1880) is located within the railway station and rents out bicycles.
Dazaifu Tenmangu, 4-7-1 Saifu, Dazaifu, Fukuoka, 818-0195
Tel: 092 922 8225
The connecting tunnel between Tenmangu Shrine and Kyushu National Museum, which was designed by acclaimed Japanese architect Kiyonori Kikutake
Dazaifu Access - Getting to Dazaifu
Air
Fukuoka International Airport, Japan's fourth busiest, is perhaps the most easily accessed airport of any of Japan's major airports. It is 10 minutes from the center of downtown via subway.
There has been talk by politicians of expanding and therefore moving it further inland or offshore, but for now you will be at your hotel in no time. Direct flights arrive from Australia, South Korea, China, Thailand, Hong Kong, and all over Japan.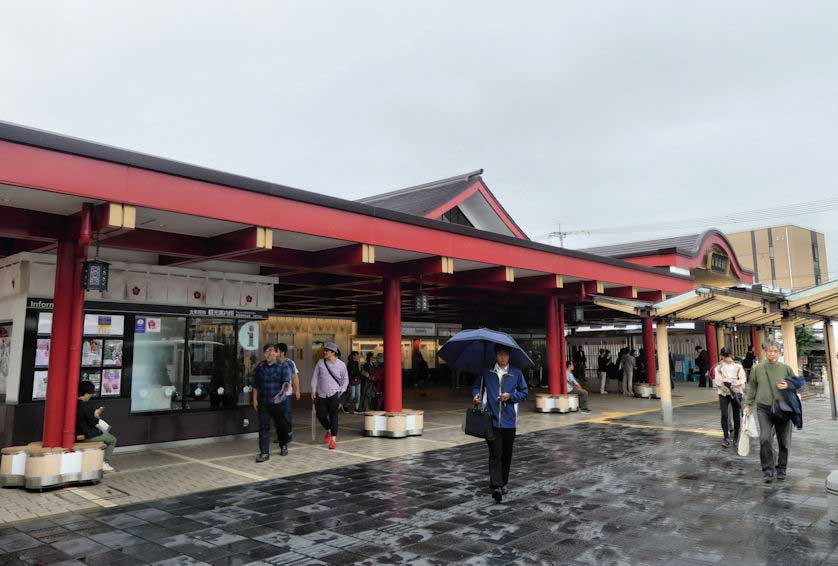 Dazaifu Station on the Tenjin Omuta Line
Train
Nishitetsu train from Nishitetsu-Fukuoka Station in Tenjin to Dazaifu Station on the Tenjin Omuta Line or JR train from Fukuoka Hakata Station to JR Futsukaichi Station on the JR Kagoshima Main Line then change to Nishitetsu at Futsukaichi Station.
By road from Fukuoka take the Kyushu Expressway and exit at Dazaifu or Chikushino Interchange if coming from Kumamoto.
Bus
There is Nishitetsu bus service to Dazaifu from Hakata Station Bus Terminal in Fukuoka. The journey time is 40 minutes.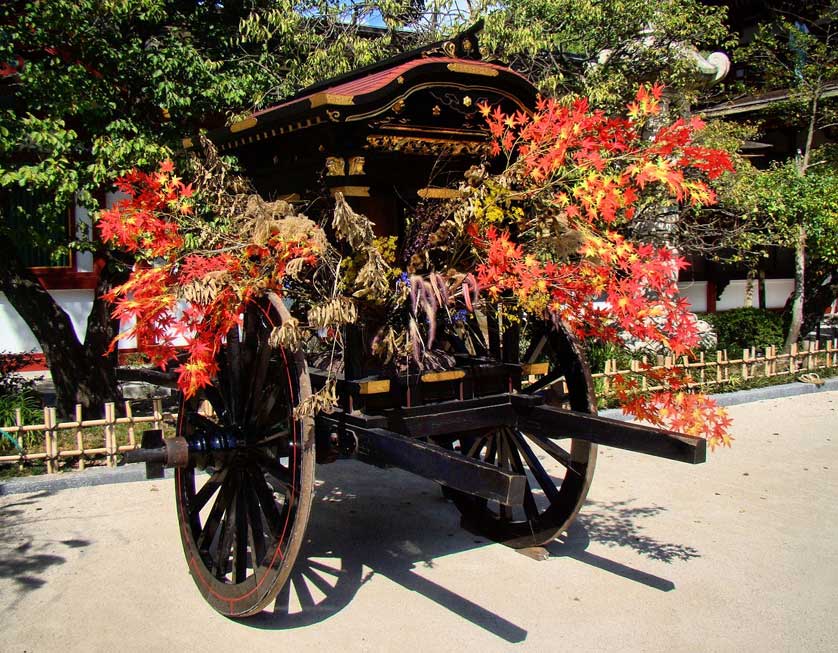 Hanaguruma ("flower cart"), Dazaifu
Dazaifu Map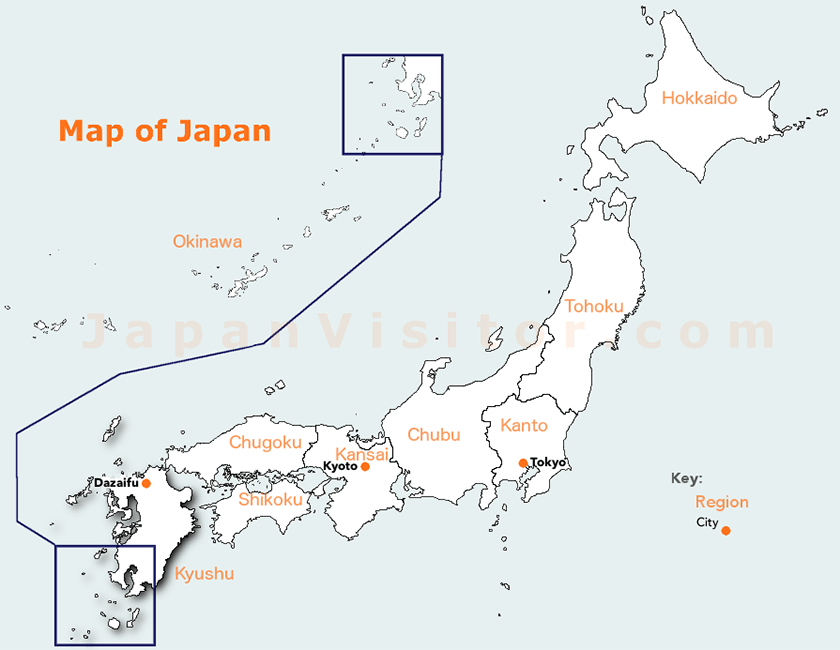 Dazaifu Map
View Fukuoka Map & Map of Kyushu in a larger map
Dazaifu guide: read a Japan travel guide to Dazaifu near Fukuoka famous for its ancient temples and shrines and the Kyushu National Museum.
All the themes of the city