Fuji Five Lakes
Fuji Five Lakes is a scenic highland area west of Tokyo at the base of Mt. Fuji including Kawaguchiko, Motosuko, Saiko, Shojiko and Yamanakako lakes.
Fuji Five Lakes 富士五湖
Fuji Five Lakes (Fuji-go-ko) is a scenic, hilly area to the north of Mount Fuji in Yamanashi Prefecture.
The Fuji Five Lakes region is a popular trip with domestic and foreign tourists from Tokyo to the east.
Visitors come to the area to utilize it as a base to climb Mount Fuji, visit the popular Fuji-Q Highland with its incredible roller-coasters and to soak in onsen hot springs with views of Fuji-san.
The five lakes that give the area its name are: Kawaguchi-ko, Motosu-ko, Sai-ko, Shoji-ko and Yamanaka-ko. (ko means lake in Japanese)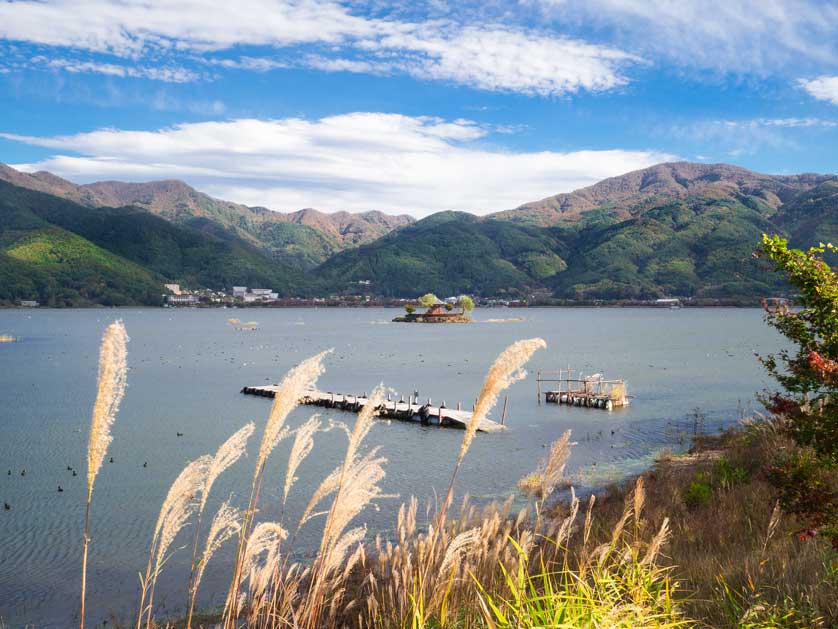 Kawaguchiko, Fuji Five Lakes, Yamanashi Prefecture © Eddie Smolyansky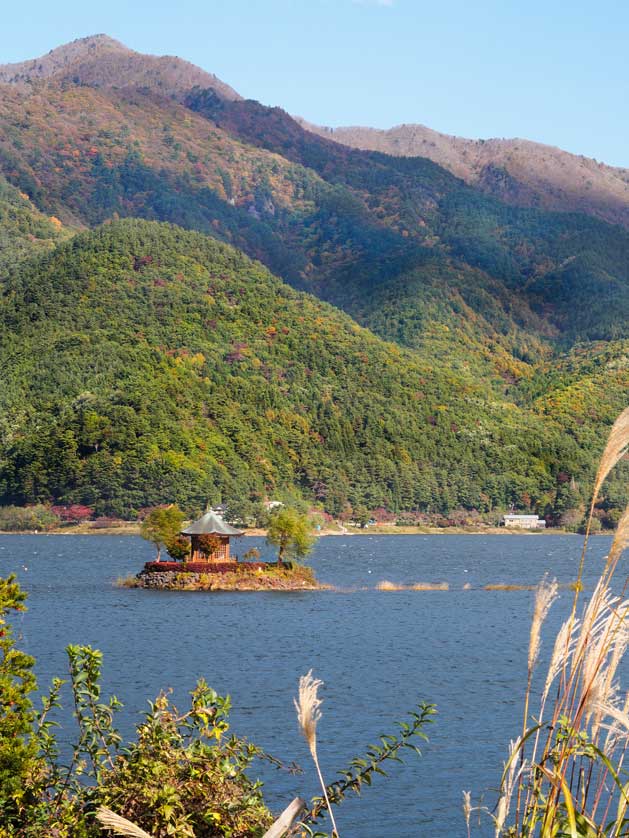 Kawaguchiko, Fuji Five Lakes, Yamanashi Prefecture © Eddie Smolyansky
Kawaguchi-ko
Kawaguchi-ko (Lake Kawaguchi; 河口湖) is the largest of the Fuji Five Lakes and the one with most things to do. Lake Kawaguchi also has the best transport links with Tokyo with easy access by either train or bus.
Many large hotels and ryokan line the shores of the lake and there are opportunities for hiking, cycling, fishing and boating. Kawaguchiko, like all tourist areas in Japan, is most popular during the annual cherry blossom and autumn leaf viewing periods, when Mount Fuji is framed with either pink cherry blossoms or red maples.
Attractions close to Kawaguchiko include the Fuji-Q Highland amusement park, a number of museums including the Kubota Itchiku Museum, Kawaguchi Music Forest, the Yamanashi Gem Museum and the Kawaguchiko Museum of Art.
Visitors can also ride the Kachi Kachi Ropeway up Mount Tenjo for views of the lake and Mt. Fuji and relax in various hot springs.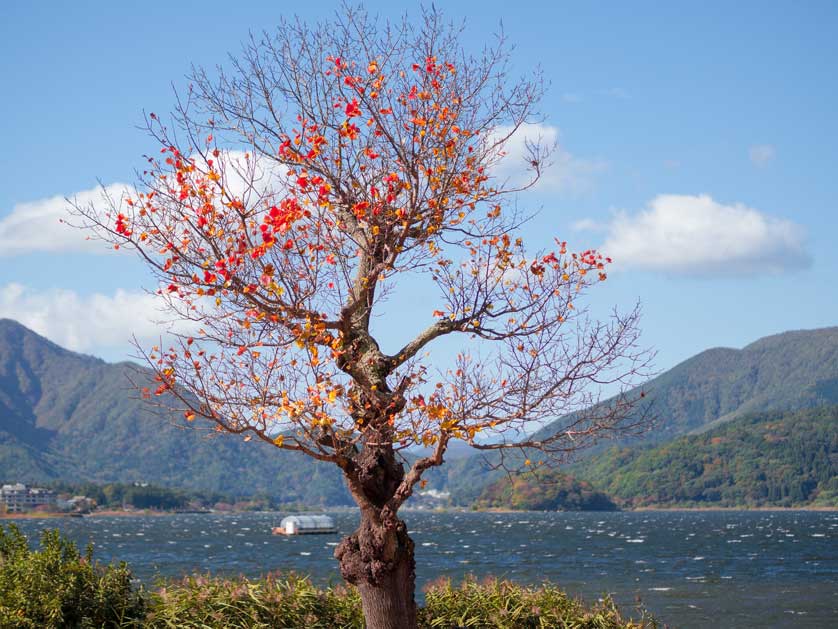 Fuji Five Lakes, Yamanashi Prefecture © Eddie Smolyansky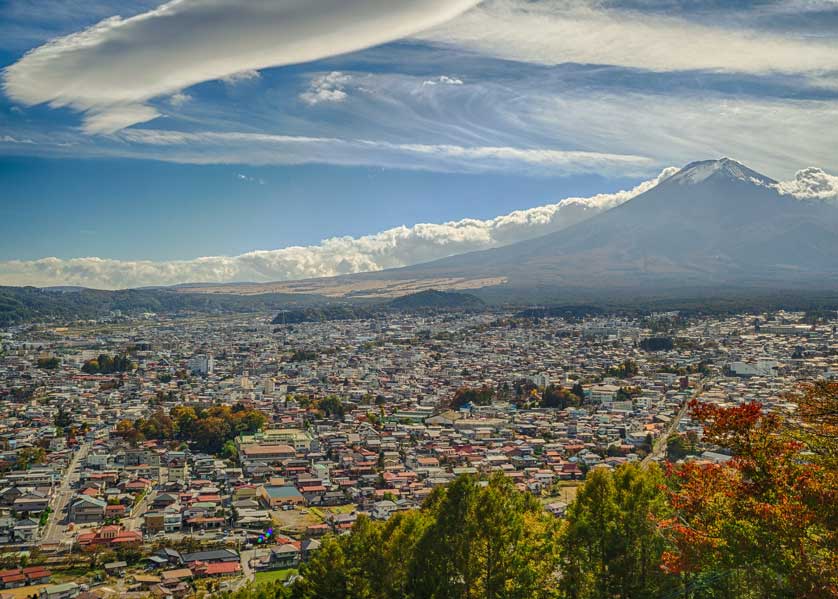 Fuji Five Lakes, Yamanashi Prefecture © Eddie Smolyansky
Saiko
Sai-ko (Lake Sai; 西湖) or "West Lake" literally translated in to English, is just west of Kawaguchi-ko and is much less developed. Here visitors can enjoy a more tranquil atmosphere and explore the wooded mountains on foot. The Aokigahara Jukai Forest near the lake is an infamous place for suicides. Three caves, formed during previous eruptions of Fuji, have been opened to tourists and can be visited: Bat Cave, Ice Cave and Wind Cave.
Motosuko
Motosu-ko (Lake Motosu; 本栖湖) is the furthest west of Fuji Five Lakes. It is also in the top ten deepest lakes in Japan, reaching a depth of 140 meters. Lake Motosu features on the back of the 1,000 yen note and is connected by underground waterways with Lake Sai and Lake Shoji, which once formed one large body of water.
Shojiko
Shoji-ko (Lake Shoji; 精進湖) is the smallest of the Fuji Five Lakes and is largely undeveloped. It has great views of Mount Fuji and is popular with water sports enthusiasts of all kinds. Visitors come here to enjoy boating, fishing, wind-surfing and jet- and water-skiing.
Yamanakako
Yamanaka-ko (Lake Yamanaka; 山中湖) is the largest and furthest east of the Fuji Five Lakes. It is also the third highest in Japan at a height of 980 meters above sea level. The most developed after Lake Kawaguchi, Yamanaka-ko is a popular place for student summer camps as university and high school sports teams descend on the lake shore to practice tennis, soccer, rugby and other sports.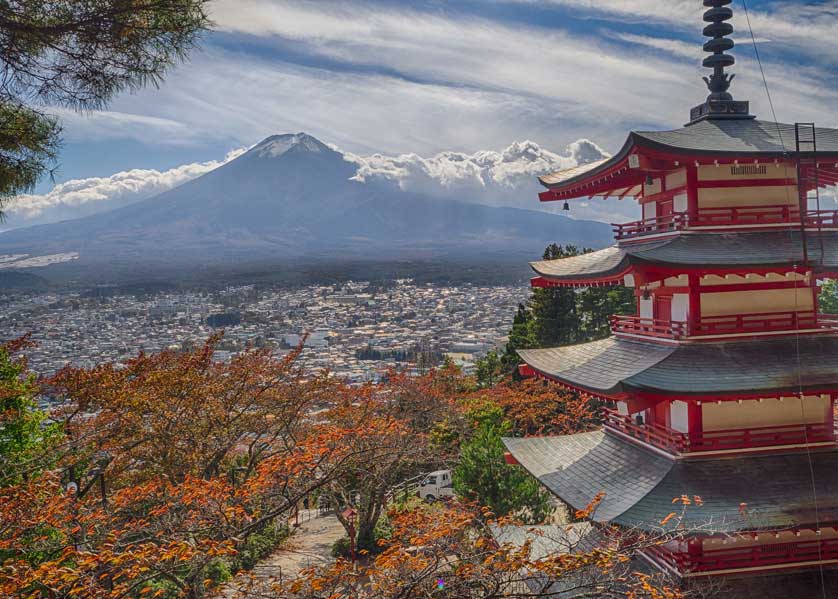 Fuji Five Lakes, Yamanashi Prefecture © Eddie Smolyansky
Access - Getting to Fuji Five Lakes
Bus
Bus from Shinjuku Station bus terminal is the quickest and most direct way to access the Fuji Five Lakes region from Tokyo.
The are frequent buses operated by Fujikyu and Keio bus companies from the west exit of Shinjuku Station. Depending on traffic the journey takes about 1 hour and 45 minutes. Buses stop at Fujisan Station (previously Fuji-Yoshida Station), Fuji-Q Highland, Kawaguchiko Station. Some buses continue on to Lake Yamanaka.
There are less frequent buses to Kawaguchiko Station from Shibuya Station (Mark City) operated by Fujikyu bus company.
One or two buses a day, operated by Fujikyu and JR Kanto, leave the Yaesu Exit of Tokyo Station for Kawaguchiko Station.
Train
Ride a JR Chuo Line train from Shinjuku Station to Otsuki. The fastest limited express takes 1 hour and 10 minutes. Change here for the Fujikyu Railway Line to Kawaguchiko Station, which is just under an hour. The Japan Rail Pass is valid for the Shinjuku Station to Otsuki leg only. The JR Tokyo Wide Pass is valid for the whole journey. The Mt. Fuji Round Trip Ticket (check East Japan Railway Company for further details) offers discounted round-trip tickets for train and bus travel between Tokyo and Mt. Fuji and is aimed at people hoping to climb Mt. Fuji and return the next day to Tokyo.
Getting Around Fuji Five Lakes
Once you are in the Fuji Five Lakes area, bicycle or car hire are both a good way of getting around. There are buses including two retro buses from Kawaguchiko Station. The Kawaguchiko Line retro bus goes along the north and east of Lake Kawaguchiko with about four buses an hour. The less frequent Saiko Line operates along the southern side of Kawaguchi-ko and around Sai-ko. The retro buses stop at the main tourist attractions including Kachikachiyama Ropeway, Lake Kawaguchi Museum, Lake Kawaguchi Sightseeing Boat, Lake Sai Iyashi-no-sato model village and the Music Box Forest.
Fujikko buses connect Fuji-Yoshida, Kawaguchiko and Oshino Hakkai and a network of other, regular buses have services to Gotemba, Motosuko, Yamanakako and with Fuji Subaru Line 5th Station - a popular final stop before climbers head up Mt. Fuji. For further information see the Fujikko bus website in English.
Various passes are available for riding the different buses. Check at the following Fujikyu stations: Gotemba, Kawaguchiko, Fujinomiya, Fujisan, Mishima and Shin-Fuji.
Accommodation at Fuji Five Lakes
There are places to stay to suit all budgets mostly centered around Kawaguchiko. Some recommended hotels and ryokan include the five-star Fuji Onsenji Yumedono, the four-star Fuji View Hotel, the three-star hot spring hotel Kasuitei Ooya and the two-star budget Minshuku Nukaya.
Choose from a list of hotels in Kawaguchiko from Agoda.com.
All images by Eddie Smolyansky

Fuji Five Lakes, Yamanashi Prefecture © Eddie Smolyansky
All the themes of the city