Hyogo Prefectural Museum of History
The Hyogo Prefectural Museum of History in Himeji has exhibits on the history and culture of Hyogo Prefecture in a modern building.
Hyogo Prefectural Museum of History, Himeji 姫路県立美術館
The Hyogo Prefectural Museum of History is located in the shadow of the World Heritage listed Himeji Castle, just across the inner moat to the north and within what was the castle grounds.
Large, spacious, and modern, most of the material displayed has English explanations.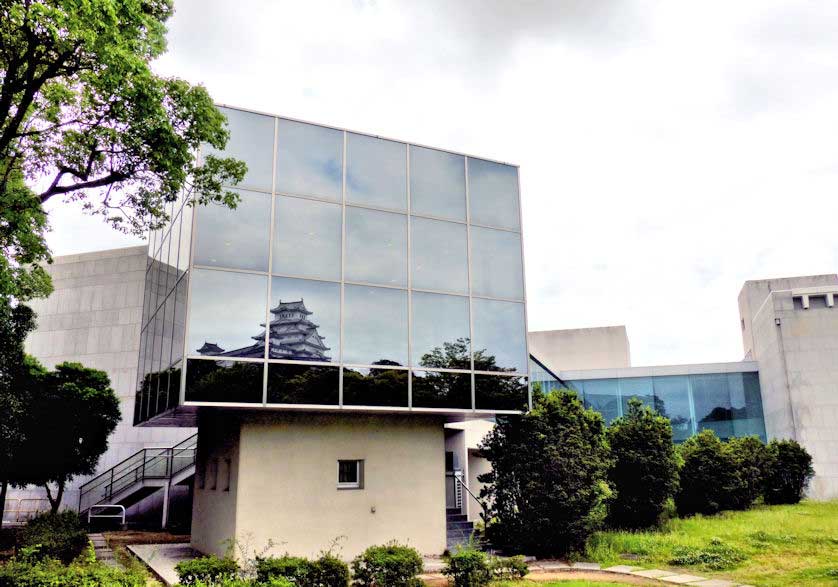 The exterior of the Museum of History reflects the gleaming white keep of Himeji castle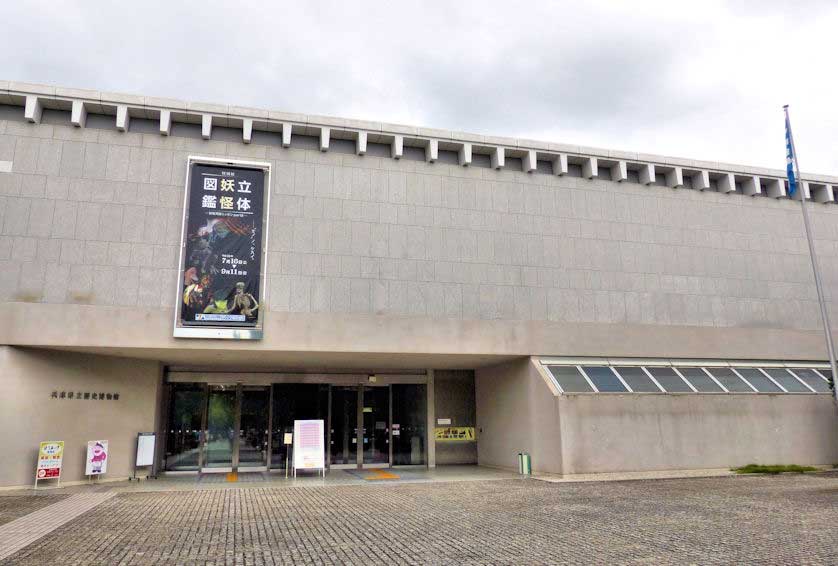 The entrance to the Hyogo Prefectural Museum of History
Exhibits
One room is devoted to the castle with scale models, dioramas, plans and models showing its history and construction and the town that grew up around it. Another room looks at the history of the Hyogo region with many exhibits relating to famous Buddhist temples and statues. This room and an adjoining "Experience" room where exhibits can be handled are free to enter.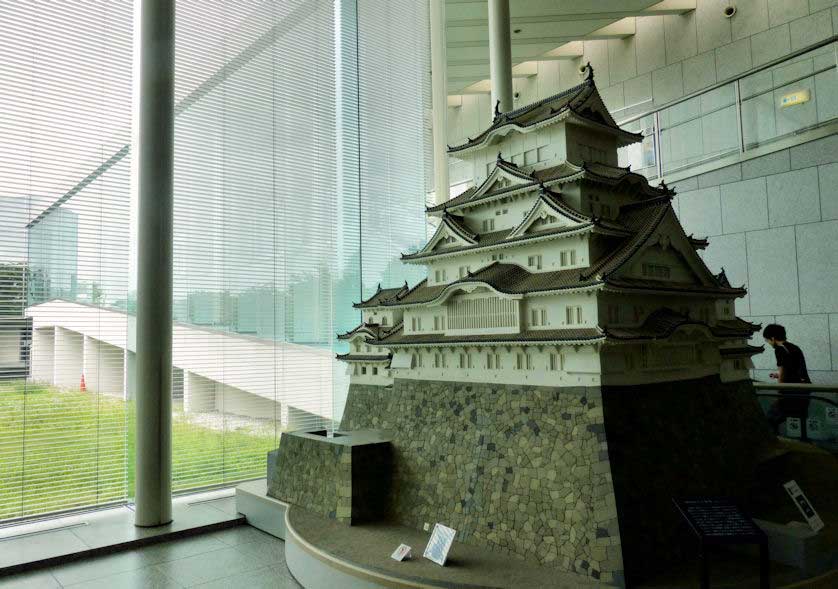 The Hyogo Museum of History has many displays on Himeji Castle


Examples of rural religious traditions from Hyogo area at the Hyogo History Museum
Festivals
The most colorful spaces are given over to exhibits about the festivals of Hyogo, including examples of the huge floats typical of town and city matsuri, as well as many examples of festivals devoted to such things as fertility found in the more rural areas.
On the first floor, which is free to enter, there is also a wide screen theater showing videos and a reconstruction of a traditional house where it is possible to dress up in costume or samurai armor.
On the second floor is a cafe which is also free to enter, and within the paid area a room devoted to children.
Throughout the year special themed exhibitions are held, and it is worth checking to see what is current as that may help decide if a visit to the museum is worth including in your schedule. When I visited there was a great exhibition on ghost stories that finally convinced me to make a visit here.
Hours
Open 10 am to 5 pm, closed on Mondays, or the next day if a Monday is a National Holiday. Closed also over the New Year, and occasionally for maintenance.
Admission
The first floor of the museum has free entry but for the other exhibits it is 200 yen for adults and 150 yen for students.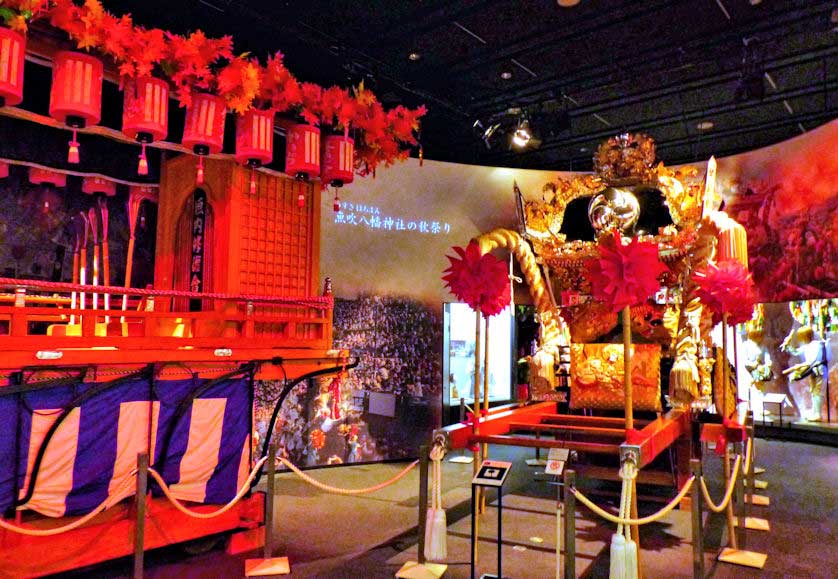 Giant floats carried during festivals on display at Hyogo Museum of History
Access
Hyogo Prefectural Museum of History68 Honmachi, Himeji-shiHyogo 670-0012
Tel: 0792 88 9011
The Hyogo Prefectural Museum of History is a short bus ride from Himeji Station on the 100 yen sightseeing Castle Loop Bus. It is also close to Himeji Castle, Himeji City Museum of Literature, Himeji City Museum of Art and Koko-en Garden. Get off at the Hakubutsukan-mae bus stop on the sightseeing Loop Bus.
Himeji is an easy day-trip from Osaka, Kobe, Kyoto or Hiroshima.
Himeji is a stop on the Tokaido/Sanyo Shinkansen Line and is 3 hours 20 minutes by bullet-train from Tokyo.Visitors can also take a shinkaisoku JR express from Kyoto (90 mins), Osaka (1 hour) or Kobe (40 mins).
Related
All the themes of the city