Dainichiji Temple Kochi
Dainichiji Temple in Kochi Prefecture is the 28th temple on the Shikoku Pilgrimage. According to legend it was founded by the priest Gyoki n the 8th century.
Japan Temples & Shrines: Dainichiji Temple, Kochi 大日寺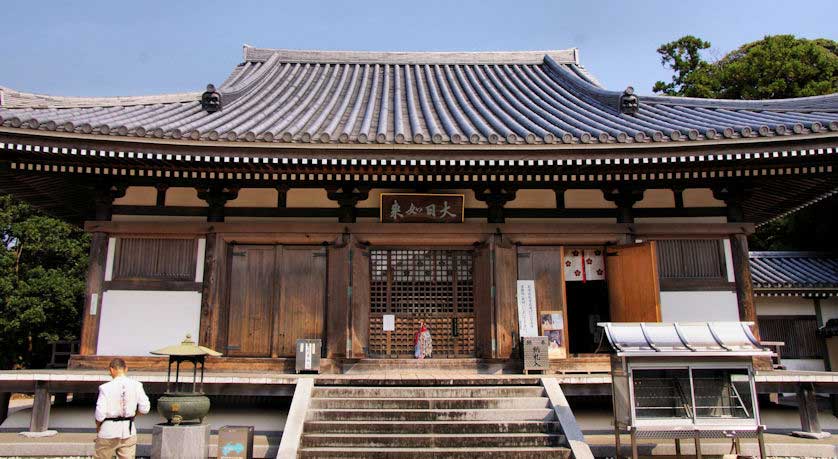 The main hall at Dainichiji Temple in Konan City, Kochi. Rebuilt in 1997 in the traditional way without using any nails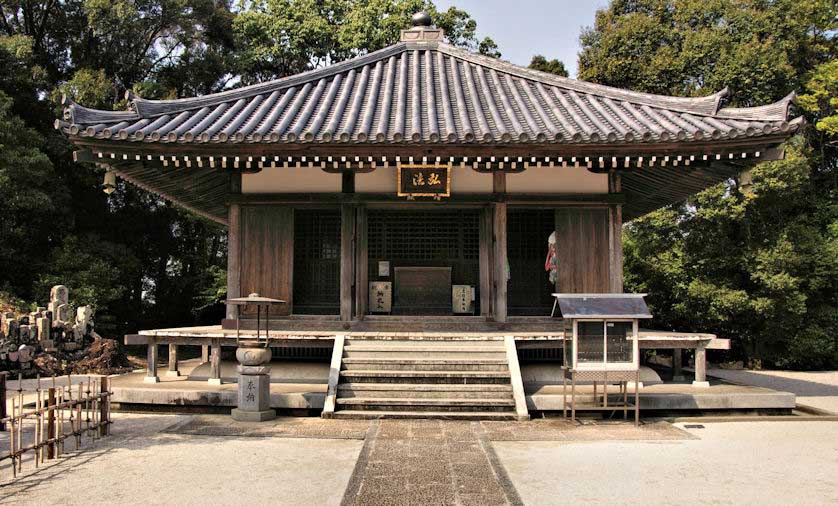 The Daishi-do or Daishi Hall that venerates Kobo Daishi. Every pilgrimage temple has one and pilgrims pray here and at the main hall
Dainichiji is the 28th temple on the Shikoku Pilgrimage commonly known as Ohenro and is about 320 kilometers from the start at Ryozenji in Tokushima. The walk from the previous temple, Konomineji is about 38 kilometers, mostly along the coast. The next group of temples are clustered around Kochi city and are relatively close together.
Dainichiji is also the name of two earlier temples on the pilgrimage, the 4th and the 13th, both in Tokushima. Dainichi Nyorai, the Great Sun Buddha, is the most important of the Buddhas in the esoteric sects of Japanese Buddhism, Tendai, and primarily Shingon.
The majority of the temples on the pilgrimage in Shikoku are Shingon, not surprising as the focus of the pilgrimage is Kobo Daishi, the founder of Shingon Buddhism.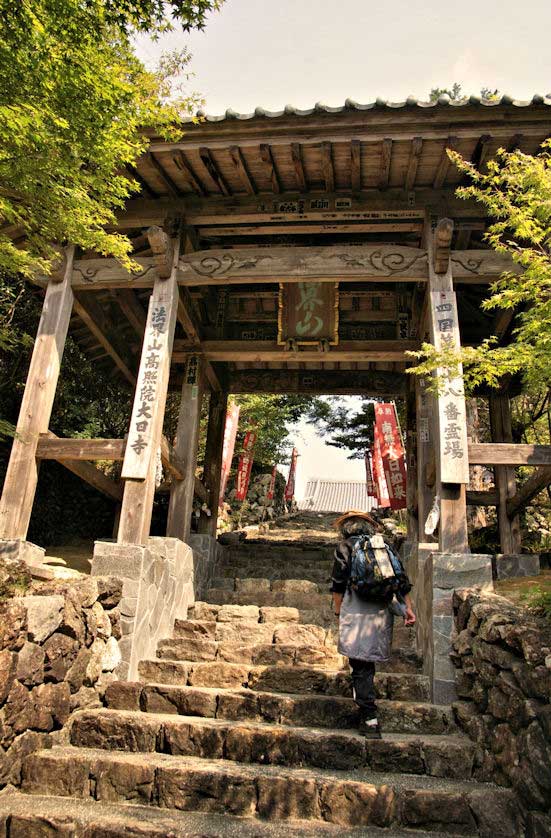 A pilgrim, known as "Ohenrosan" ascending the steps to Dainichiji Temple in Konan, Kochi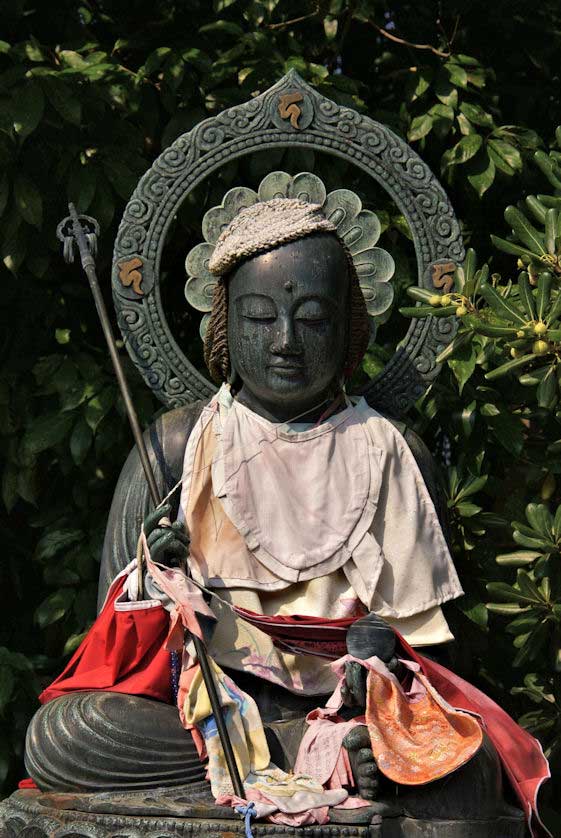 A group of walking pilgrims heads off towards the next temple from Dainichiji Temple

Dainichiji History
According to legend the priest Gyoki, who is credited with establishing quite a few of the pilgrimage temples, founded Dainichiji in the 8th century. He is credited with carving the statue of Dainchi which is a "secret Buddha" and is therefore not shown to the public.
In the early 9th century Kobo Daishi stayed nearby and carved a statue of Yakushi Nyorai, the Medicine Buddha. According to the legend he only used his fingernails to sculpt it out of a camphor tree.
This became the okunoin, or inner sanctuary of the temple. Many temples have an inner sanctuary, usually higher up the mountain and less easily accessible than the main temple, but the one here at Dainichiji has been moved to just a short walk away and so can easily be visited.
The temple has a reputation for healing head and upper body ailments and so is visited by those with such ailments.
There are no lodgings at the temple itself, but there are numerous ryokan and minshuku nearby.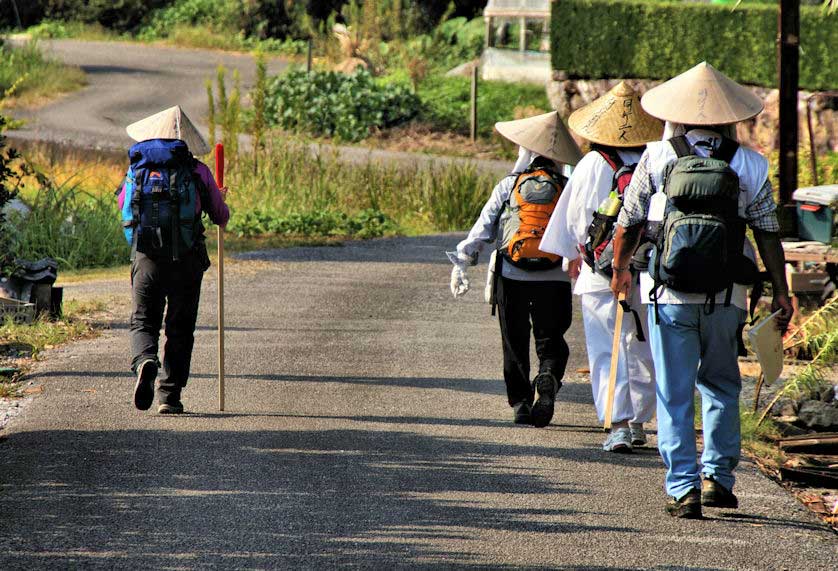 A group of walking pilgrims heads off towards the next temple from Dainichiji Temple

Dainichiji Temple Access
476 Bodaiji, Noichi-cho, Konan-shi, Kochi 781-5222Tel: 0887 56 0638
Located a 30 minute, two kilometer walk from Noichi Station on the Tosa-Kuroshio Railway Line.
Rapid trains from Kochi Station in Kochi take 30 minutes depending on the train to Aki on the Tosa-Kuroshio Gomen/Nahari Line and cost 510 yen. Slower trains with a change in Gomen take 50 minutes.
Book Hotel Accommodation in Shikoku
All the themes of the city