Hotel Villa Santorini
ヴィラ・サントリーニ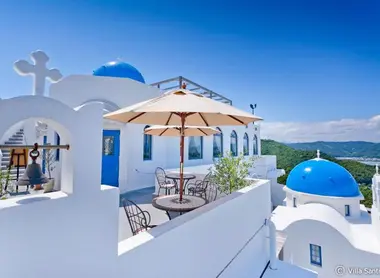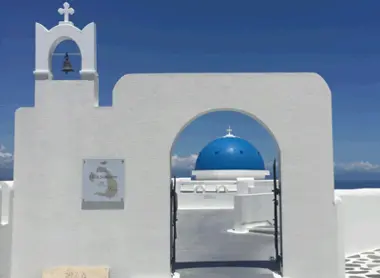 Mediterranean of Japan
Located on the eastern coast of Shikoku, in the small town of Tosa, the Villa Santorini hotel is a small piece of Santorini in the heart of Japan, all just a handful of hours from Tokyo!
A Greek village on the edge of the Pacific
Among the many (and sometimes extravagant) Japanese-themed hotels, Hotel Villa Santorini is undoubtedly one of the most stunning and original; with its white buildings and its blue dome-shaped roofs, the hotel perfectly reproduces the image of this small postcard village; the Greek islands!
Inspired by Cycladic architecture, whose main features are whitewashed houses devoid of exterior ornaments, the hotel is unmistakably reminiscent of the small villages that stand on the island of Santorini, and more particularly that of Oia, famous for its unique atmosphere and often considered the most beautiful village on the island.
Discover other themed hotels: Surprising hotels in Japan
A total immersion
Villa Santorini has 14 rooms, including four suites, for two people with a sea view and access to the hotel's terrace and swimming pool.
Much like the exterior of the building, the rooms, with their sleek decor, curved ceilings, and narrow windows, instantly transport travelers to a small Greek hotel thousands of miles from Japan.
Finally, so that the immersion of the customers in this idyllic setting with Mediterranean accents is total, the restaurant of the hotel offers different menus whose dishes are inspired by Greek and Italian specialties. The souvenir shop completes the picture by allowing travelers to buy some typical Greek gifts like the famous nazar boncuk (bluish glass talismans representing a light blue eye and supposed to protect from the evil eye) as well as olive oil produced in Crete or Greece, Greek honey and, of course, postcards and calendars featuring cats in the hotel grounds. Again, these are memories that we could quite bring back from a stay in Greece, our favorite felines roaming freely on Greek territory.
See Car rental in Kochi.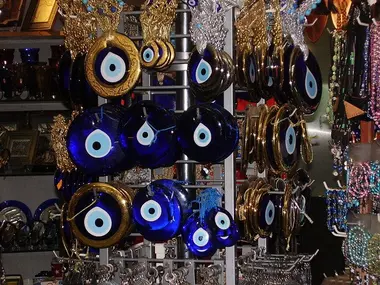 ---
Address, timetable & access
Address

Phone

+81 (0)88-856-0007

Timetable

45 min by car from JR Kochi station. 60 min by car from Kochi airport.

Price

Hotel: Minimum of $155/145€ per night and per person for the standard rooms (breakfast included). Restaurant: Lunch menus are at 3,240 ($30/25€) and 5,400 yen (47.50/42.50€). Evening menus are 10,800 ($90/85€) and 15,120 yen ($120/115€). Parking: Free

Access

Hotel: Arrival between 3 pm and 9 pm and departure until 11 am. Restaurant: Open for lunch from 11:30 am to 2:30 pm and in the evening from 6 pm to 9:30 pm.
All the themes of the city