Skiing in Karuizawa
Karuizawa Skiing
Karuizawa is a mountain resort town, and as such offers great skiing opportunities.
The snow that falls in Karuizawa is on the dry side compared with the softer, wetter snow found on the Japan Sea side of Honshu. Depending on the weather that year, ski slopes in and around Karuizawa can open as early as mid-October.
The following Karuizawa skiing information introduces the ski slopes easily accessible by automobile, bus or train from Karuizawa.
Prince Snow Resort
The biggest ski area in Karuizawa is operated by the Prince Snow Resort, with ten slopes covering Mt. Yagasaki, almost to its 1,155 meter summit, each with a chairlift.
Five of the slopes are for beginners and average about 500 meters in length; two are medium difficulty, about 900 m; and three are expert level, the longest being 800 meter. Several of the slopes continue operating after dark.
There are also Kids Park areas for junior fun on the snow, plus the Mori no Ie program for children, which provides morning (9:30 a.m. - 12:30 p.m.) and afternoon (1:30 - 4:30 pm) activities, indoor and outdoor, for children who are at least 4 years old. Great for while their parents are out skiing. Cost: 4,500 yen per session (as of December 2019). Closed Tuesday and Wednesday. Requires prior online reservation.
The Prince Snow Resort ski season is usually from about the middle of November to about the end of March. More information: www.princehotels.co.jp/karuizawa/nature (in Japanese so use online translation if you do not understand)
Skis and snowboards can be hired, and there is a ski and snowboard school.
The Prince Snow Resort is only a few minutes from the Karuizawa shinkansen station, and has parking for 1,000 cars.
Prince Snow Resort
Karuizawa, Karuizawa-machi, Kitasaku-gun, Nagano-ken 389-0102 Tel. 0267 42 5588
Google Map to Prince Snow Resort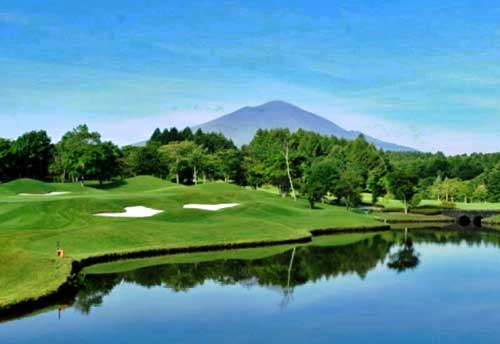 President Resort Hotel Golf Course, Karuizawa
Karuizawa Snow Park
Karuizawa Snow Park is part of the President Resort Karuizawa on a mountain well north of Karuizawa town. Karuizawa Snow Park consists of six quirkily named slopes, with three chairlifts and a snow escalator.
The President Resort Karuizawa Ski Slopes ski season is usually from about December to April.
Skis, ski wear (except for goggles and caps) and snowboards can be hired, and there is a ski and snowboard school.
There is a 200 meter tubing course for kids, complete with a curve and a tunnel.
A free shuttle bus is available from the south exit of Karuizawa Station, but must be booked by 5pm the previous day, Tel. 0279 84 7111.
Karuizawa Snow Park has parking for 700 cars.
Karuizawa Snow Park
2032-16 Kita-Karuizawa, Naganohara-machi, Agatsuma-gun, Gunma-ken 377-1412 Tel. 0279 84 1227
Google Map to Karuizawa Snow Park
Asama 2000 Park
West of Karuizawa, out of Karuizawa proper, is the Asama 2000 Park on Mt. Takamine. Asama 2000 Park has six ski courses, served by three two-person chairlifts and a four-person chairlift. The highest starting point is at 2,050 meters, just shy of the summit of Mt. Takamine.
A pole course is also available, for an extra fee, from about the beginning of January to about the end of March.
The ski season of Asama 2000 Park usually runs from about late November to early April. For most of the season, all chairlifts stop at 4 pm.
Asama 2000 Park has a play area for children, and also offers rides in a snowcat for one hour a day during much of the season.
Skis, ski wear, and snowboards can be hired, and there is a ski and snowboard school.
A guided two-and-a-half-hour, 3.5 km trek in snowshoes for groups of two to five people of the mountain and forest wilderness surrounding Asama 2000 Park is also available. Bookings must be made by 5 pm at least three days before. Tel. 0267 23 3124.
Asama 2000 Park Access
Asama 2000 Park is about 16 km from Karuizawa station by road.
Bus access is from Sakudaira Station on the Nagano Shinkansen Line (i.e. the next shinkansen stop going west after Karuizawa), via Komoro Station on the Shinano Line. Take a bus bound for Takamine Kogen, although just saying "Asama Ni-sen" (i.e. "Asama 2000") will suffice. The bus takes about 1 hour from Sakuradaira Station and about 45 minutes from Komoro Station.
Asama 2000 Park
Takamine Kogen, Komoro-shi, Nagano-ken 384-0000
Tel. 0267-23-1714
Read about skiing in the mountains of Japan's beautiful alpine resort, Karuizawa. All the information you need about skiing in Karuizawa.
All the themes of the city